Creamy Risotto with mushroom – Low Calorie Option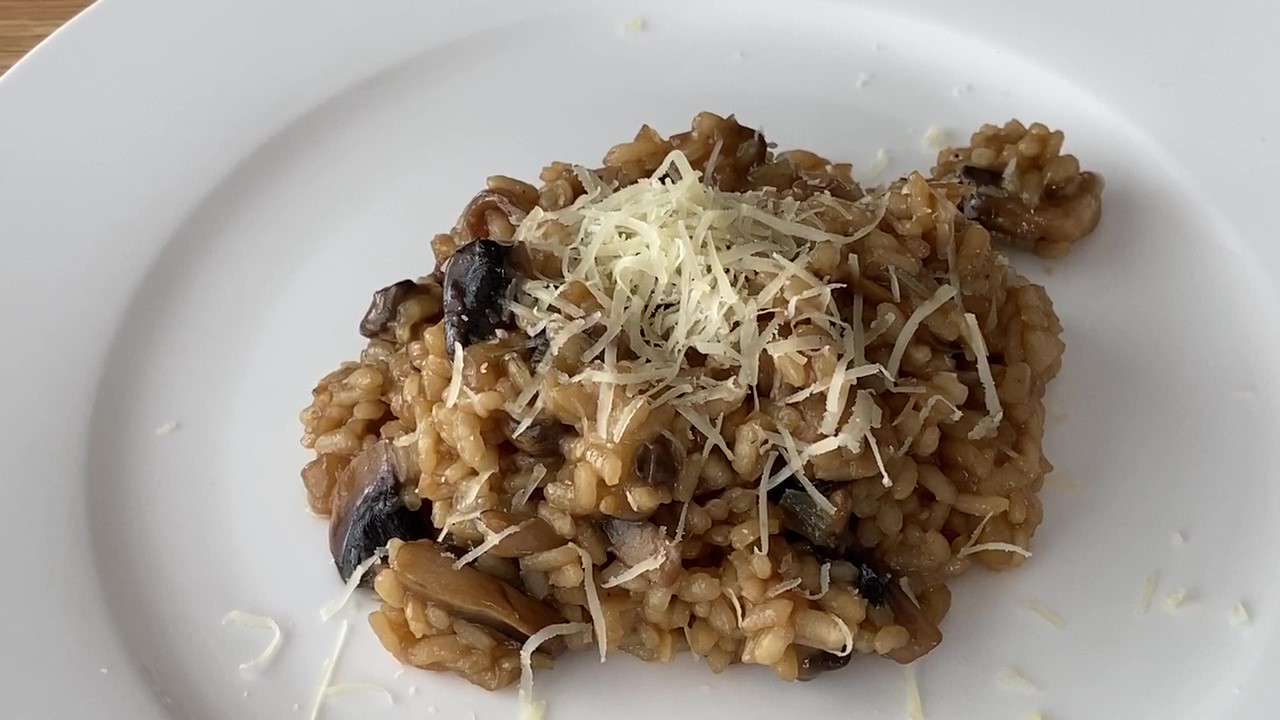 You can make this creamy mushroom risotto and eat it too 🙂 This low calorie option for risotto is just as good as the versions that require tons of butter and oil. One serving has 310 calories and over 14 grams of protein. Add some protein (chicken, fish or steak) and you have yourself an excellent dinner that you can have every night – if you wanted to, while staying in your calorie budget. That's a win in my book!
For step by step instructions visit the video below:
What kind of rice for creamy risotto?
There are different types of rice that you can use. One thing to keep in mind – it needs to be short grain rice. This type of rice gets creamy while cooked slowly. And 'creamy' is what you are looking for in a good risotto. In this recipe I used Valencia rice but many people use Arborio. I have used both and got the same results.
What type of vegetables for risotto?
Risotto is very versatile as far as vegetables go. My favorite options are: mushroom, butternut squash and green peas and spinach. But that's just me. I encourage you to experiment with flavors.
What to consider while making creamy risotto?
Pay close attention to rice so you do not over cook it. Do not leave it 'unsupervised' – I know, sounds weird but it is important. This is the type of dish that you will need to keep an eye on and constantly attend to it by adding more and more stock until it thickens. That process is what makes the risotto so creamy.
Also, make sure you do not let the liquid completely disappear while adding it in batches. When you see that the bubbles are thickening – add more stock.
I am sure you noticed that there is no wine added. I did not because I wanted to save calories. I am not sure how many calories would be left after the alcohol evaporates so I just do not add it. But if you want to add, do so right after you add rice and let it evaporate before you add first ladle of chicken stock.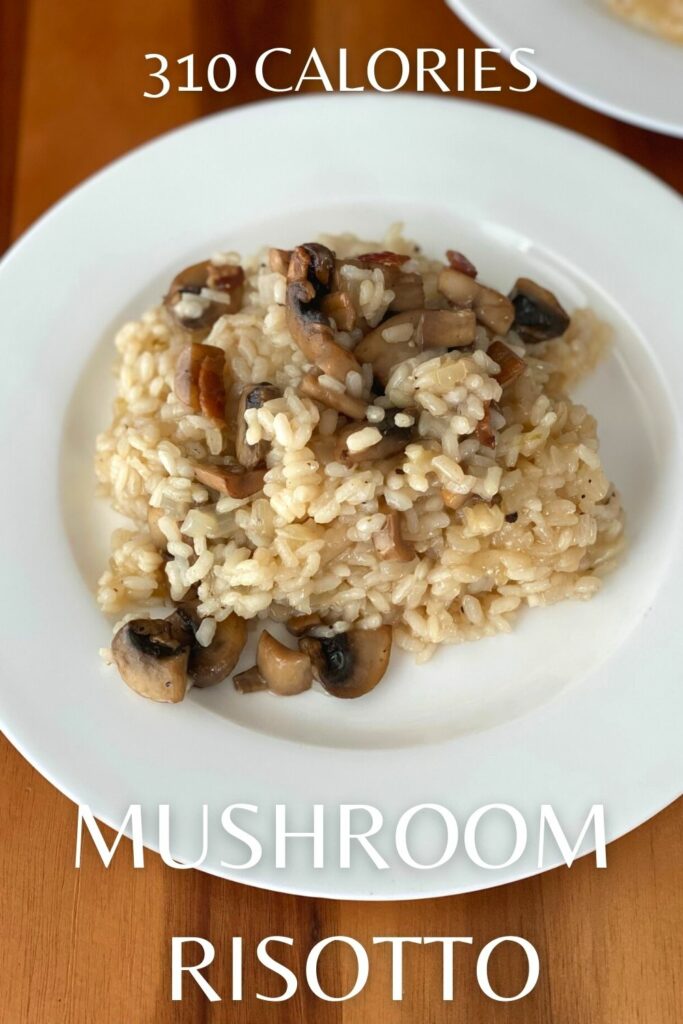 Does risotto have a lot of calories?
Risotto has a lot of calories because it is made with lots of butter, cheese and wine. Rice is the base of a risotto and for 40 grams of dry rice there is 160 calories. And 40 grams of rice is not much of food.
But with this recipe you can eat risotto every week or every day. There is only 2 tablespoon of butter and 1 once of cheese and no wine in this recipe. I add vegetables for extra volume so you end up with a good size portion. This mushroom risotto is still very creamy and rich in flavor.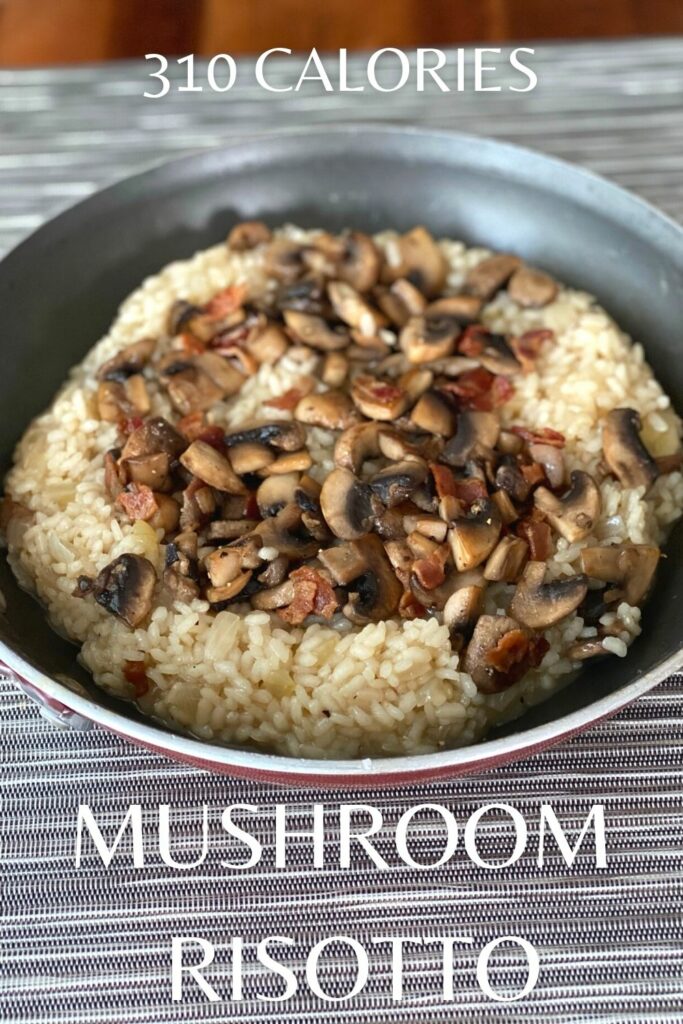 What can I use instead of white wine in mushroom risotto?
White wine can be skipped in mushroom risotto and replaced with more chicken stock. You can also add few sprinkles of fresh lemon juice for that extra flavor.
The difference in taste between risotto with wine and without is barely noticeable.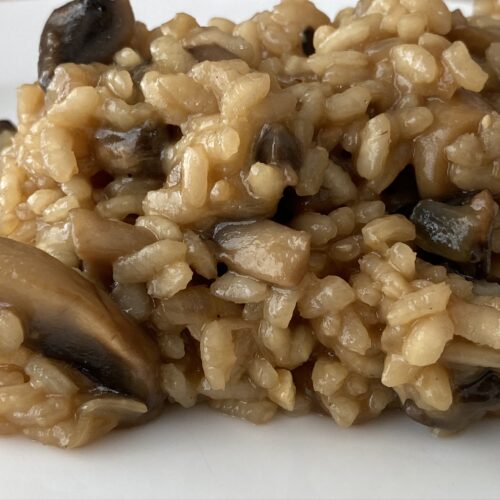 Creamy Mushroom Risotto Recipe
This risotto is easy and quick to make. You will need just few ingredients. Make sure you serve it immediately as when the risotto sits it will get thicker and slowly lose its creaminess.
Ingredients  
1

cup

Valencia (or Arborio) rice – short grain rice

5

cups

chicken stock

homemade or store bought

2

tbs

butter

1

oz

parmesan cheese

10

oz

mushroom

any type you have (wild would be great)

1

large

diced onion

about 11 oz

2

cloves

garlic

optional

1

tsp

salt

cracked pepper
Instructions 
Pour chicken stock into a small pot and heat it up – keep it on the stove on low heat

To a heated pan add 1 tbs of butter

Add onion and garlic and season with salt

Let it soften for few minutes until the onion becomes translucent and sweet

While onion is cooking – dice mushroom

Add 1/4 tbs of butter to onion and add diced mushroom

Once mushroom brown, add another 1/4 tbs of butter and add rice, stir well

Cook for 2 minutes and add first ladle of hot chicken stock

Stir and cook until the stock gets absorbed but not the point that the rice gets dry

Continue the process till the rice is al dente (not soft, just a bit chewy) – about 15-20 minutes

Add remaining butter and adjust seasoning if needed

Add grated parmesan, stir and serve
---
---