Omelet Recipe – High Protein Low Calories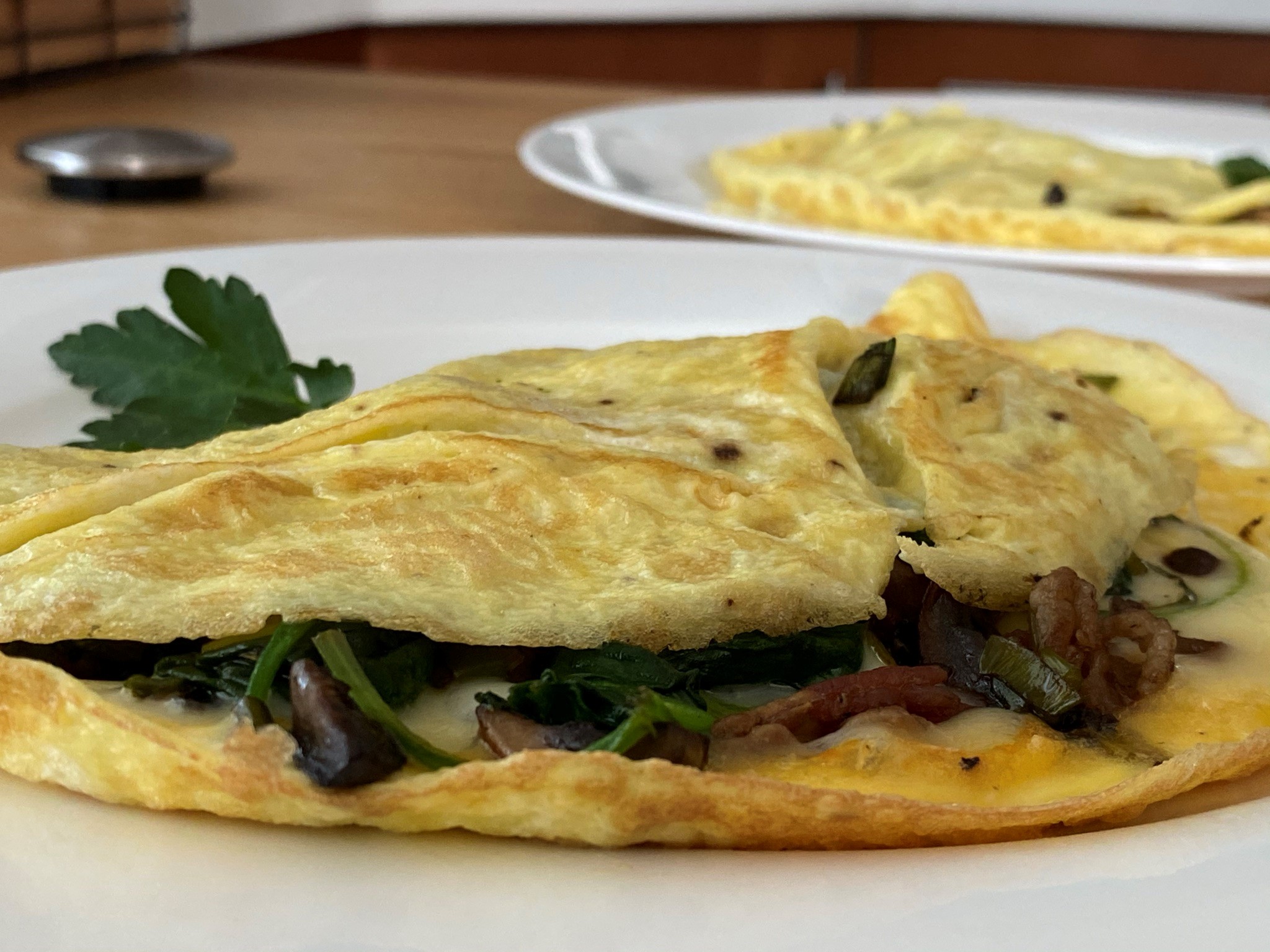 Omelet is a great start to every day. It is high in protein and low in calories if you use the tricks I use in this recipe. It is a great option for any time of the day.
There are different ways you can make an omelet. My favorite way is filling it with lots of vegetables to increase volume. Simply, making the food look big! Let's not forget, vegetables and spices add lots of great flavor. You can use any vegetables you like. Here you will see my two favorite ways of making an omelet, few tricks how to increase protein and lower calories.
For step by step instructions visit this YouTube video:
Are omelets good for losing weight?
Omelets are one of the best meals for weight loss. They are high in filling protein and low in calories. They are also very versatile, meaning you can customize them however you like. To make the best omelet for weight loss, make sure you do not use oil or butter – a nonstick pan works well. I like to smear my pan very lightly with butter (2 grams of butter) when my nonstick is not as nonstick as I want it to be.
Watch out for high calorie cheeses. There are lots of choices for high protein and low calorie cheese – I recommend you use those and one slice goes a long way.
Is a 2 egg omelette healthy?
Two egg omelet is healthy. One of the tricks for making your omelet even healthier and better for fat loss: make it big by using only 2 eggs and adding egg whites for extra volume. Egg whites are very high in protein and low in calories. You won't even taste them when you mix them with eggs.
Do omelets have a lot of calories?
Omelets are actually a very low calorie meal. Two eggs in an omelet go a long way. They usually appear to be quite big. If you add vegetables inside your omelet, it will look enormous! As long as you stay away from the oil, butter and high calorie cheeses, your omelet will be very low calorie. Two large eggs have only 140 calories. Add light cheese – 50 calories extra. Vegetables are very low in calories and tons of them won't exceed 50 calories per omelet. You can even add some lean protein like turkey bacon (35 calories per slice).
Ingredients for high protein omelet
Eggs – there are different ways you can approach making an omelet. You can make one with 2 eggs, 3 eggs or if you want to maximize protein without losing any flavors, use 2 eggs and 2 ounces of egg whites. That way I feel full and satisfied.
Cheese – to minimize calories and add more protein I use light swiss cheese. It has 50 calories per ounce and 7 grams of protein. The flavor is superb!
Vegetables – mushroom and spinach have lots of nutrients and are very low in calories. That alone makes them a great choice for any omelet. Peppers, onions and zucchini are other great choices that I use often. I add spices like paprika, cumin, chili powder to add flavor.
Extra protein – my favorite choice is turkey bacon. It is low in calories and high in protein. You can use any type of meat you like. If you have bigger calorie budget you can even use bacon.
Follow these steps to make this high protein omelet
Prepare 2 whole large eggs plus 2 ounces of egg whites. Add salt and pepper to taste. Whisk them together. Set aside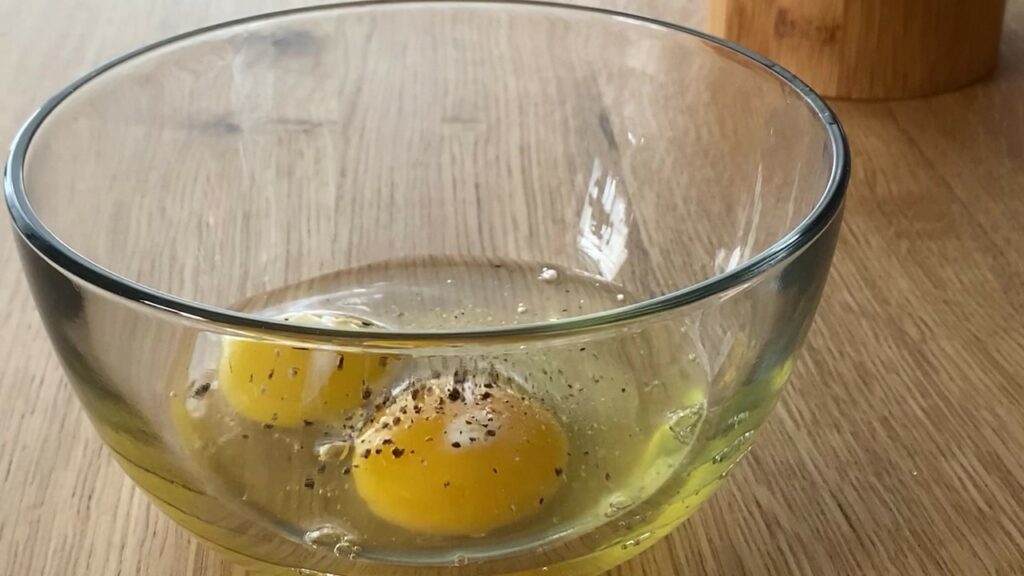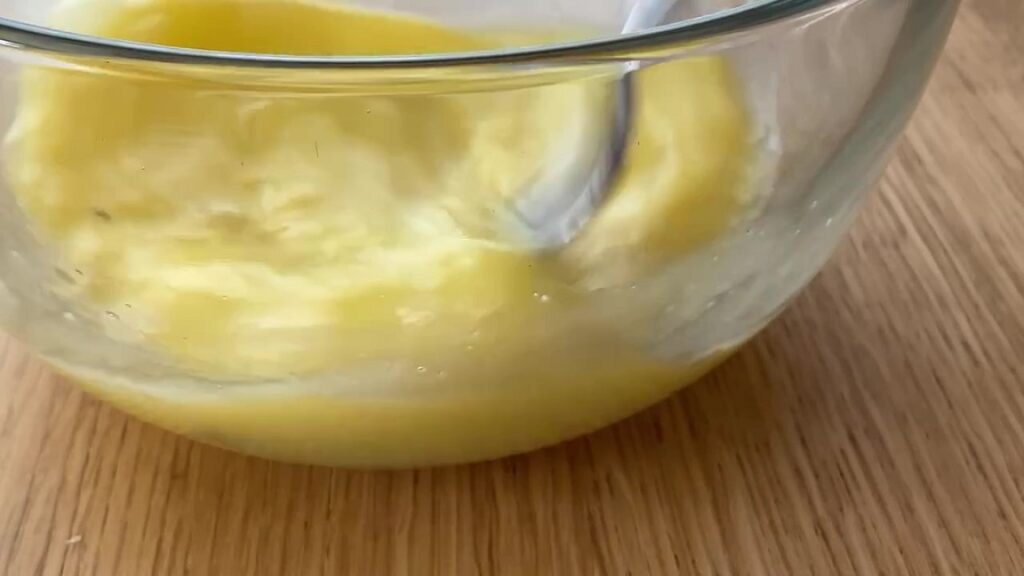 Next, chop 2 slices of bacon – by using bacon instead of oil or butter, I add protein and do not need any extra grease. There is 60 calories in one slice of low sodium bacon and it adds lots of grease – enough to sauté vegetables.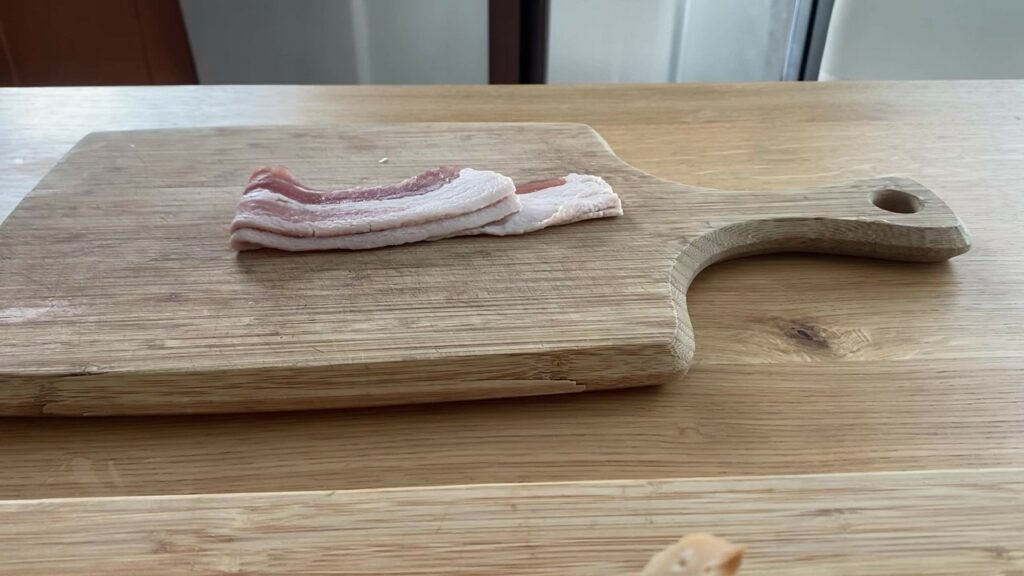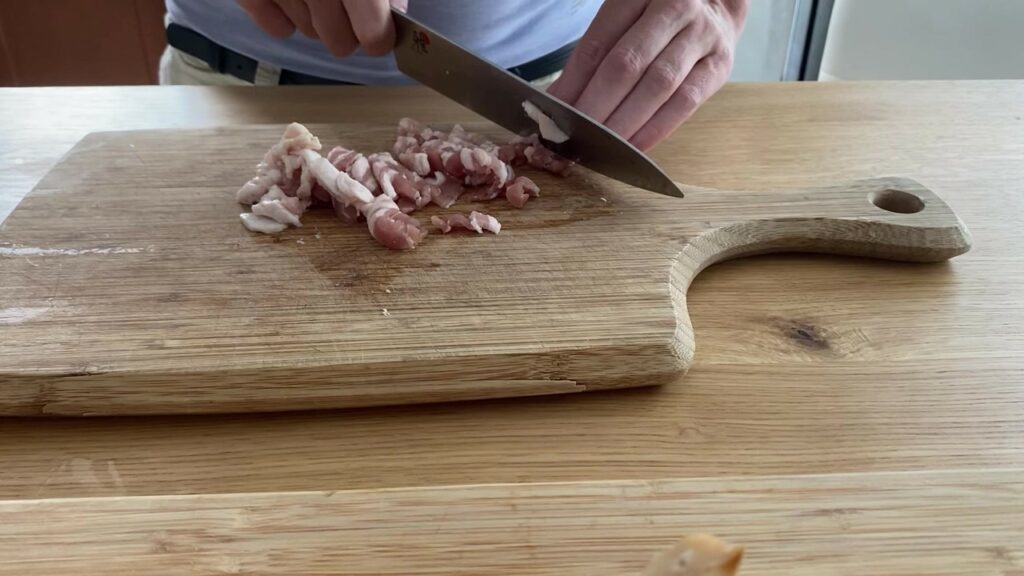 Chop vegetables. Both veggie option will have enough filling for 4 omelets.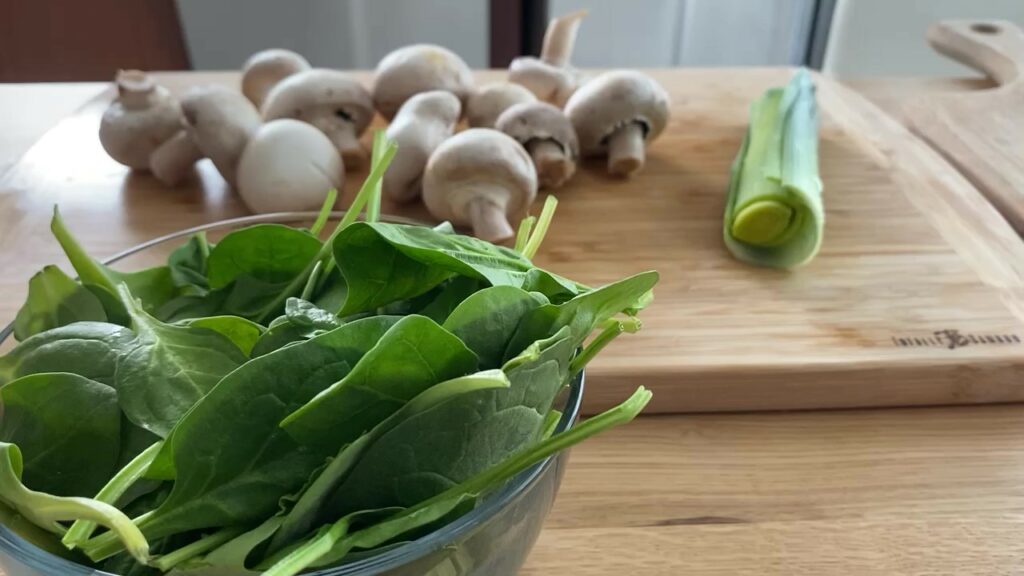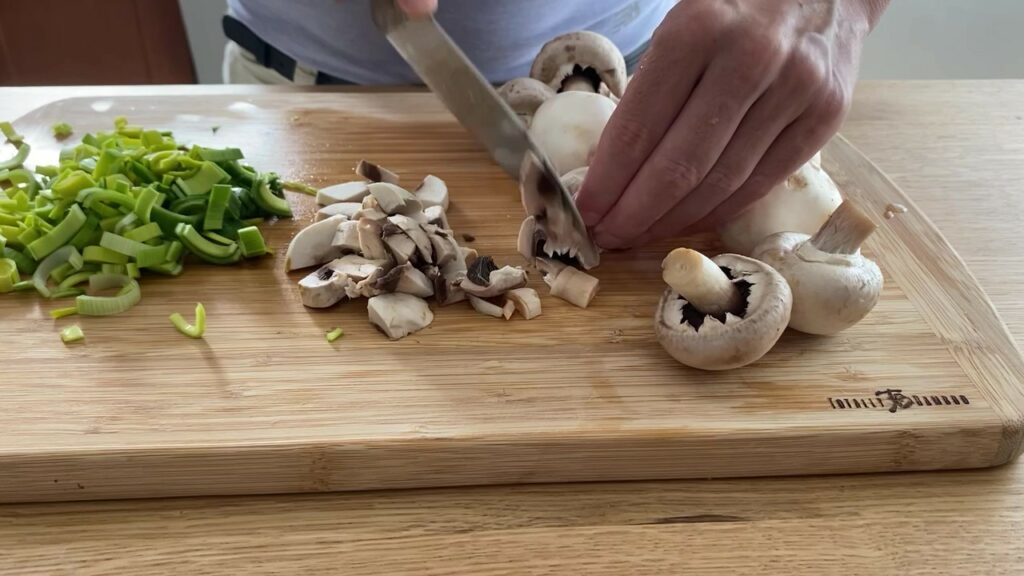 For Spinach and Mushroom Omelet
Preheat nonstick pan and add bacon.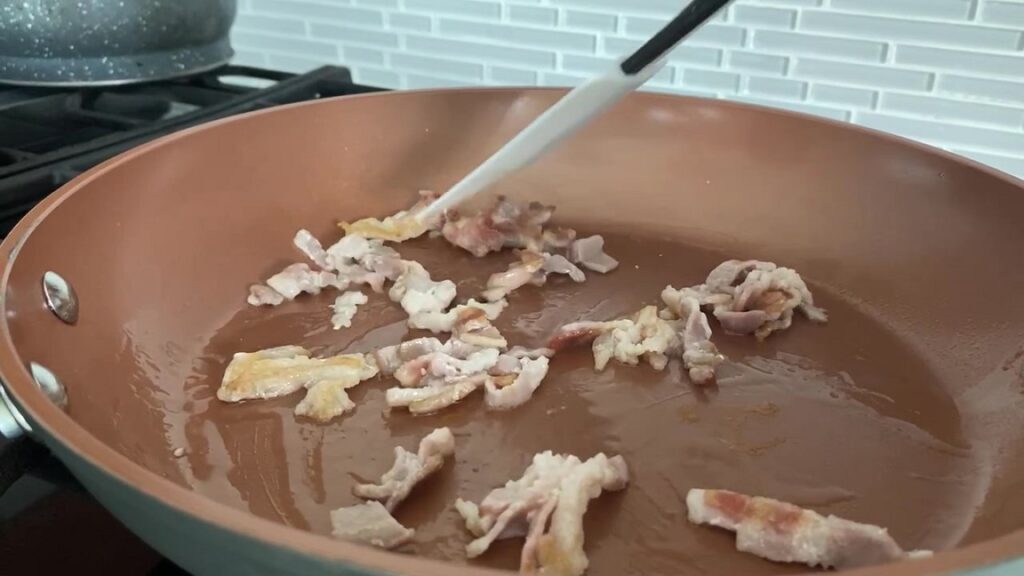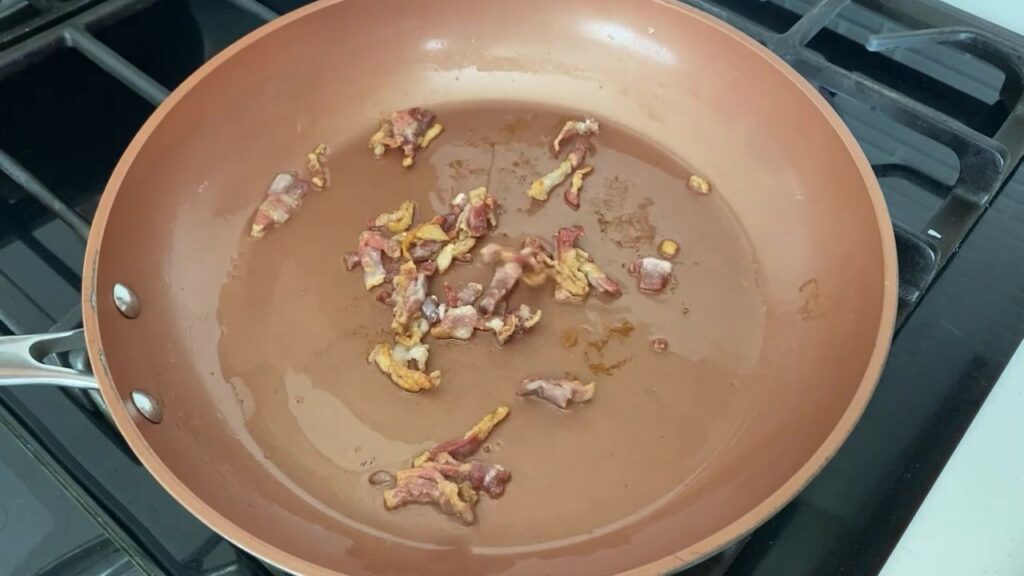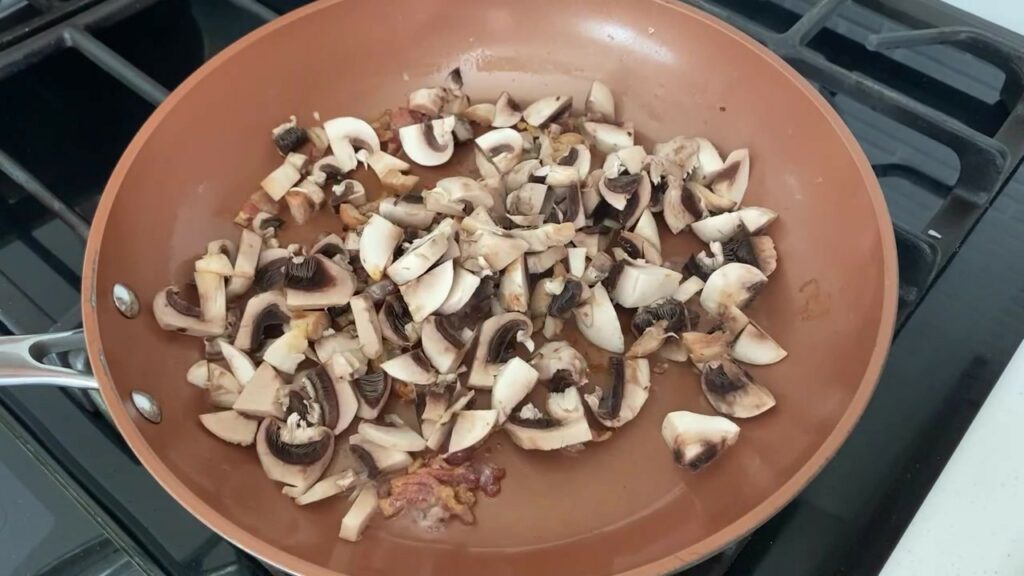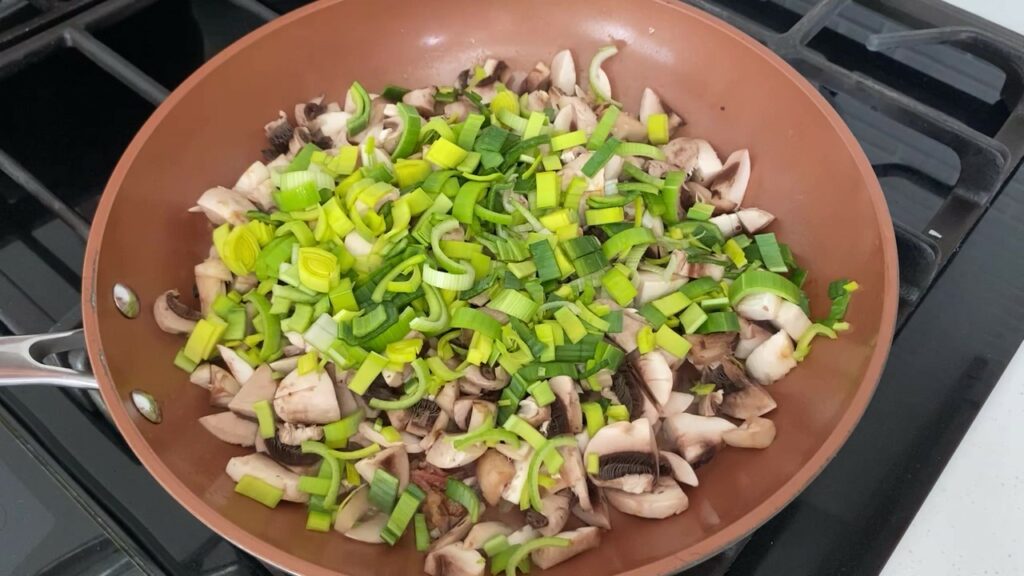 It will take 5 minutes for mushroom and leaks to brown.. Once the veggies are browned, add spinach and stir. Spinach will wilt very quickly and the mushroom filling is done. Set aside. Preheat turkey bacon. I use it for extra protein. You can skip the bacon if you prefer all veggie omelet.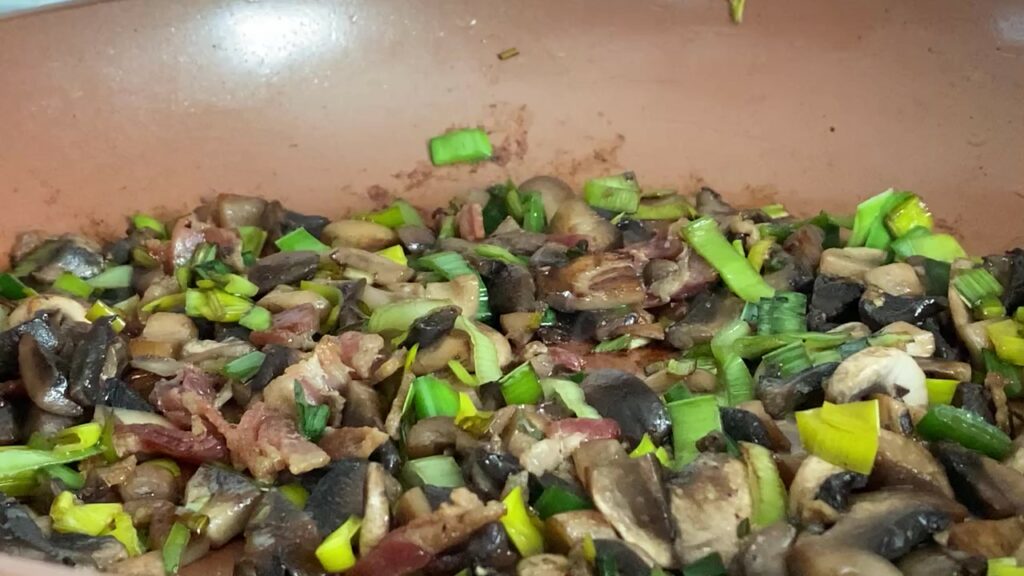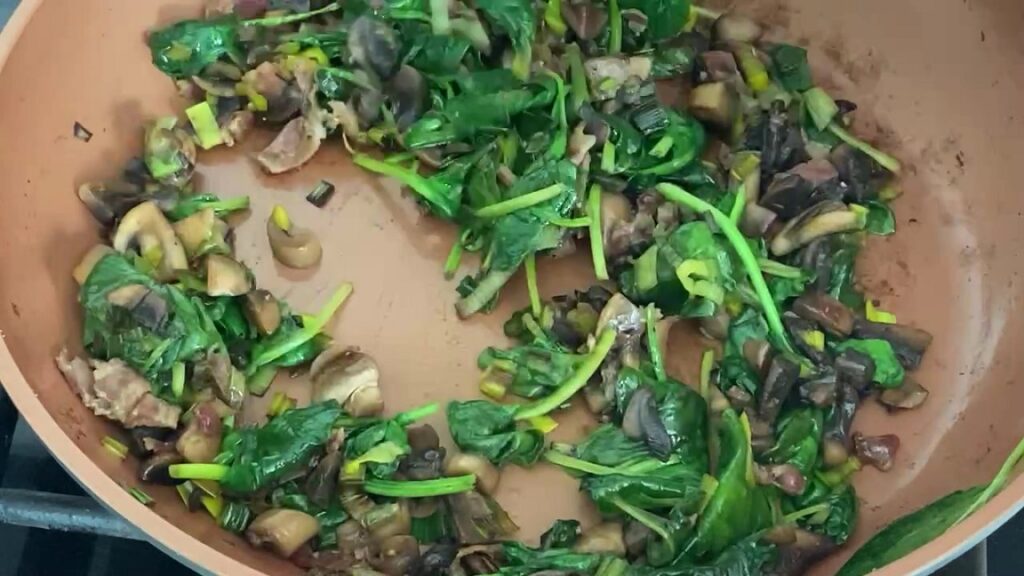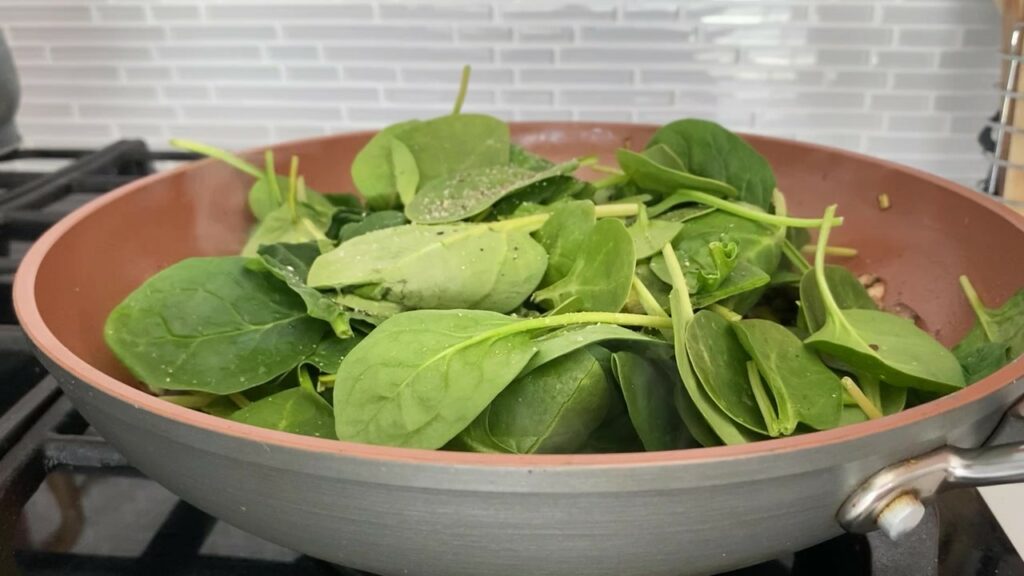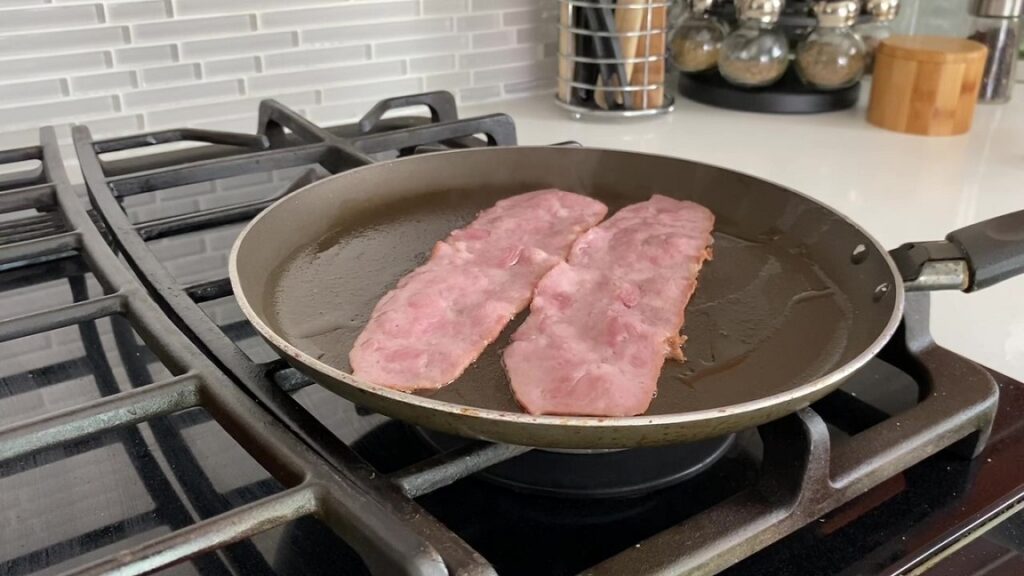 Preheat nonstick pan and grease a little bit with butter. Just to coat it slightly. I actually measured it and realized that there is no more than 2 grams of butter this way.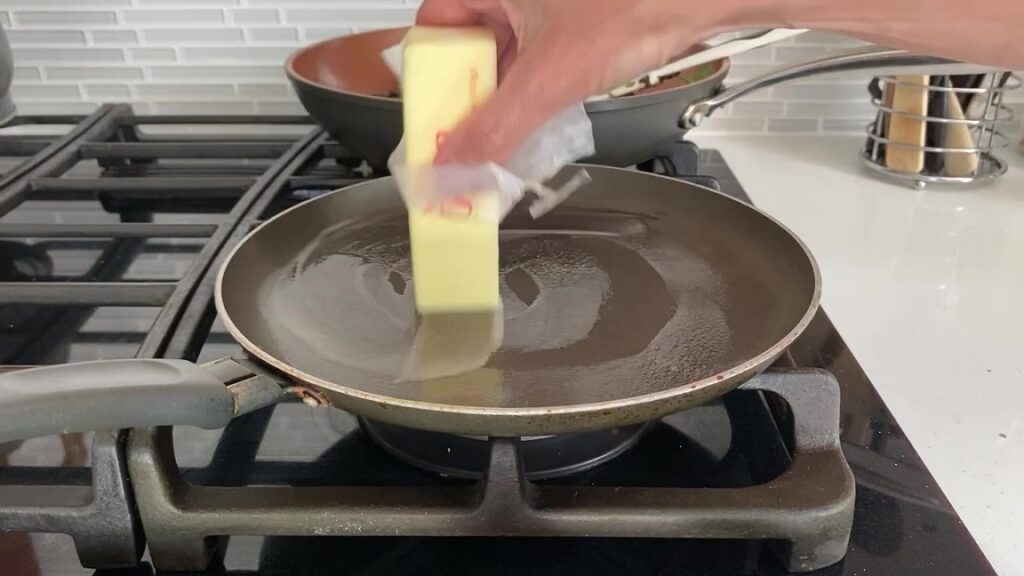 Add eggs and spread all over the pan. Reduce the heat to low.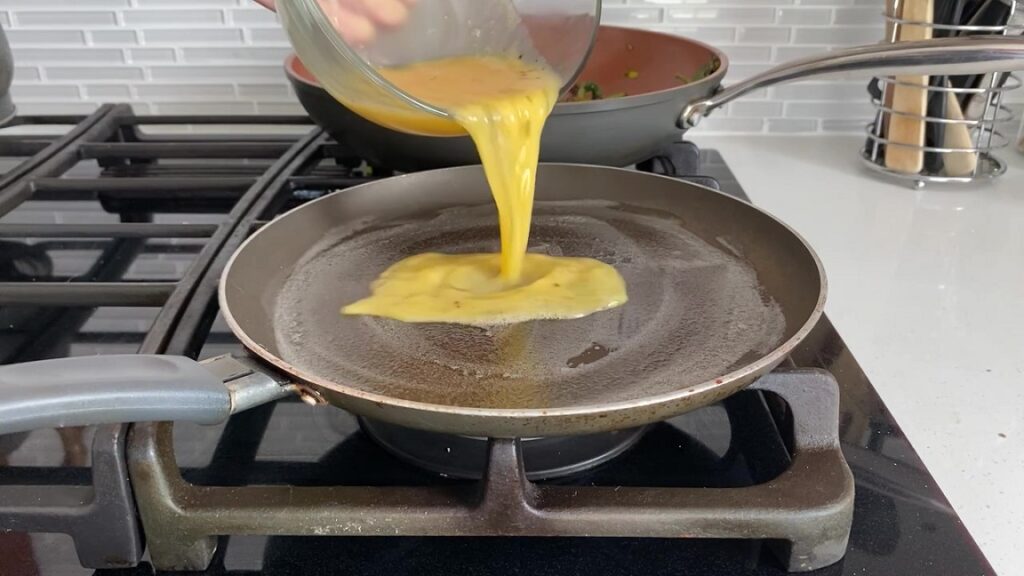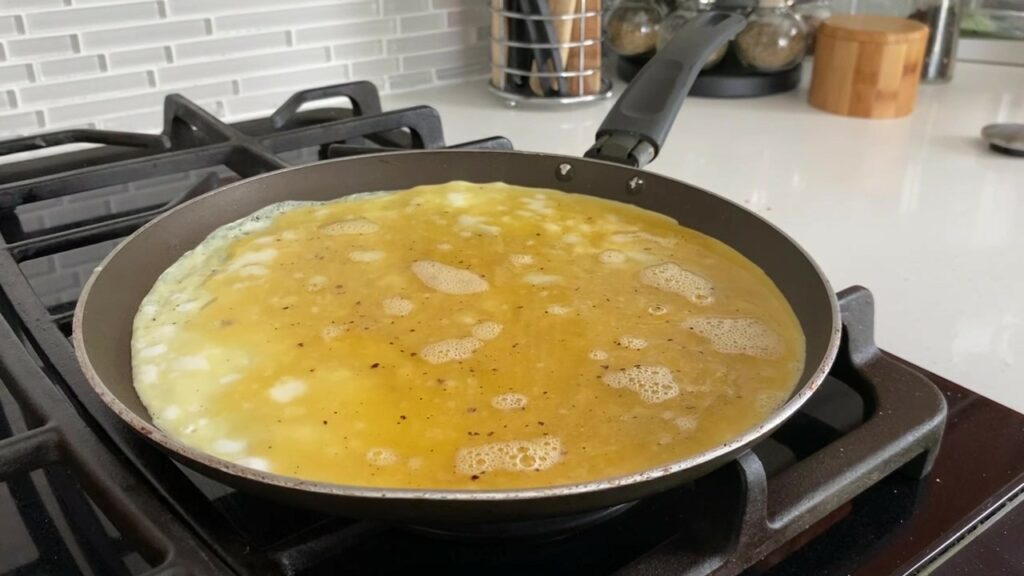 Once the eggs start to set start lifting sides inward to fill the pan with egg liquid.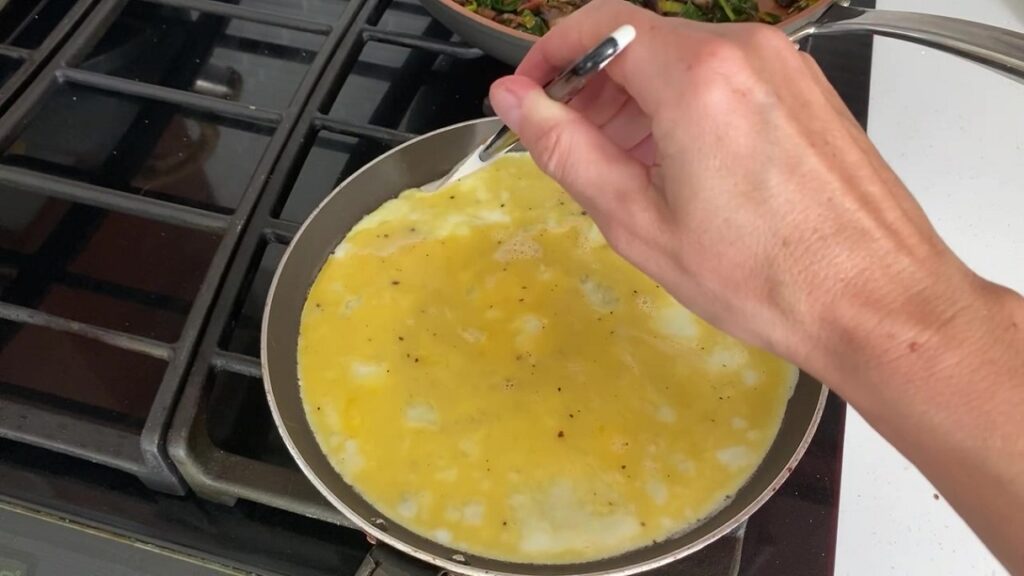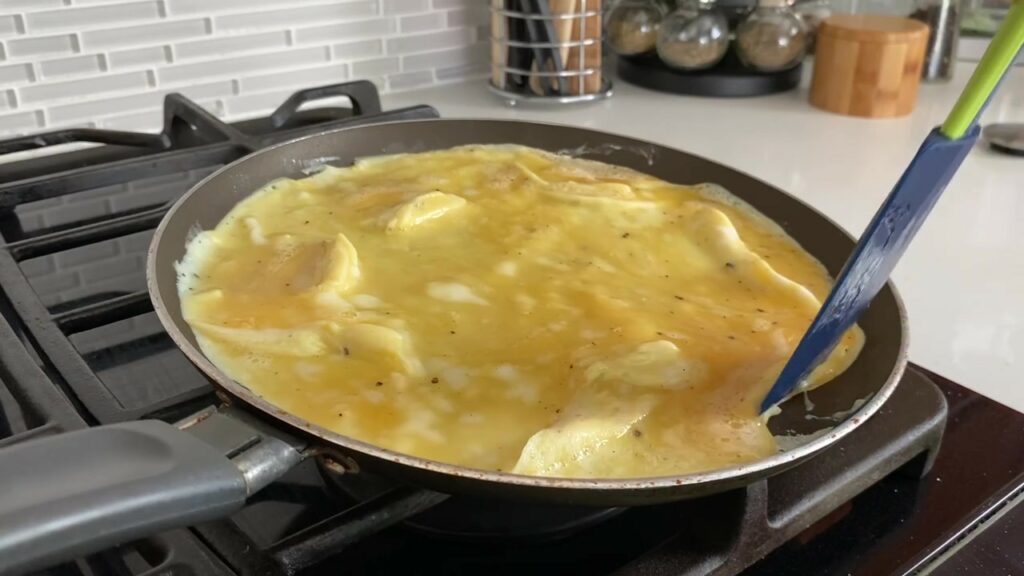 Add cheese to one side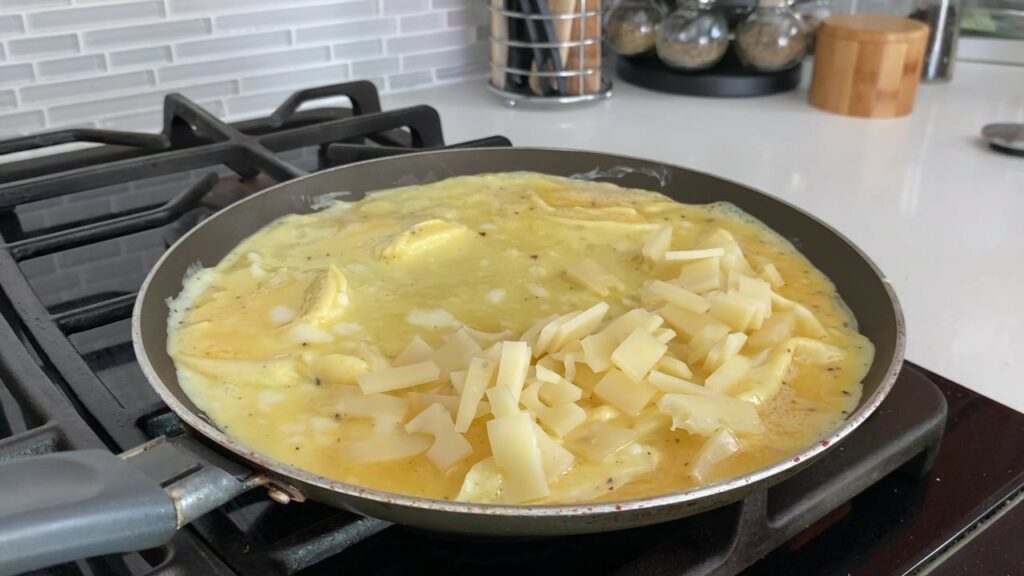 Add sautéed vegetables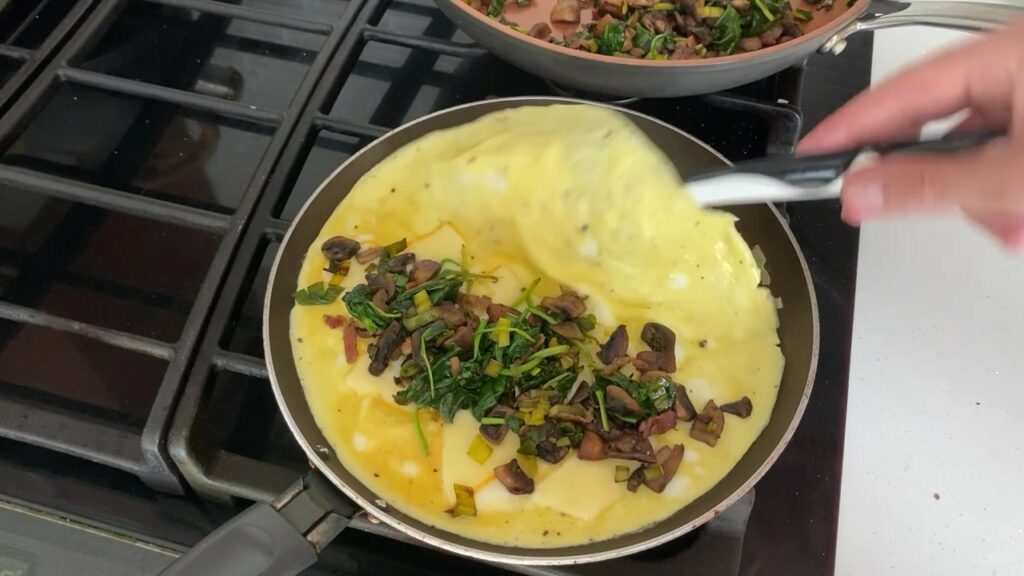 Fold the omelet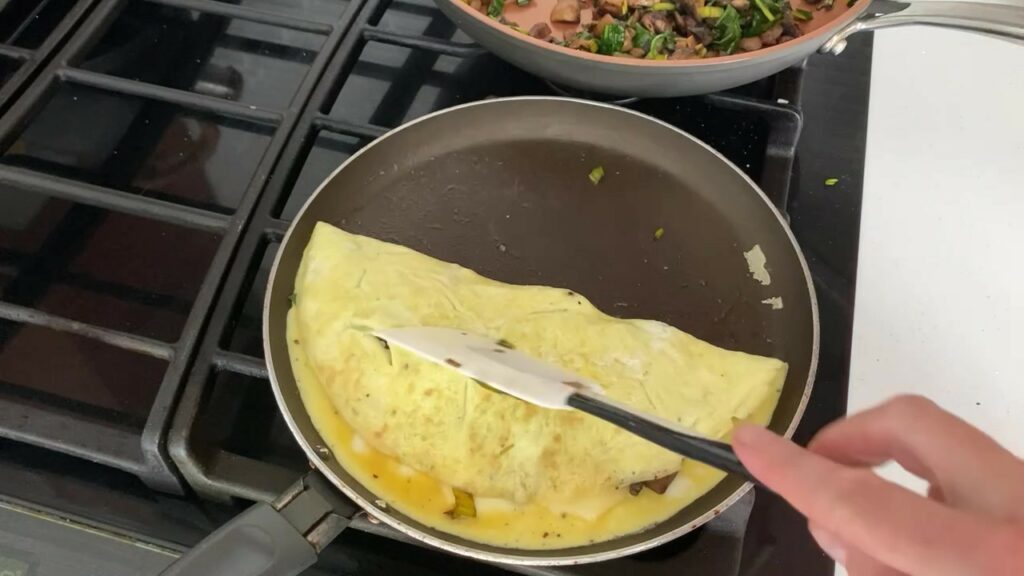 For Mexican Omelet
Prepare and dice: 1 medium red bell pepper (5 oz), 1 small onion (4 oz), 1 small zucchini (4 oz), 1 jalapeno (optional), 2 slices of bacon. For spices and extra flavor: salt and pepper to taste, 1/4 tsp cumin, 1/4 tsp sweet paprika, 1/4 tsp chili powder
Render fat from bacon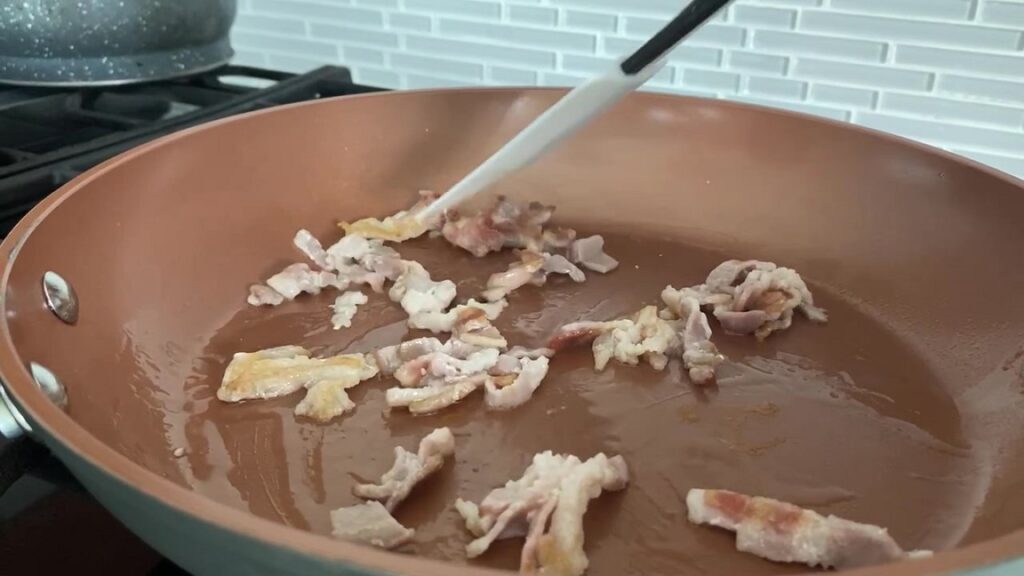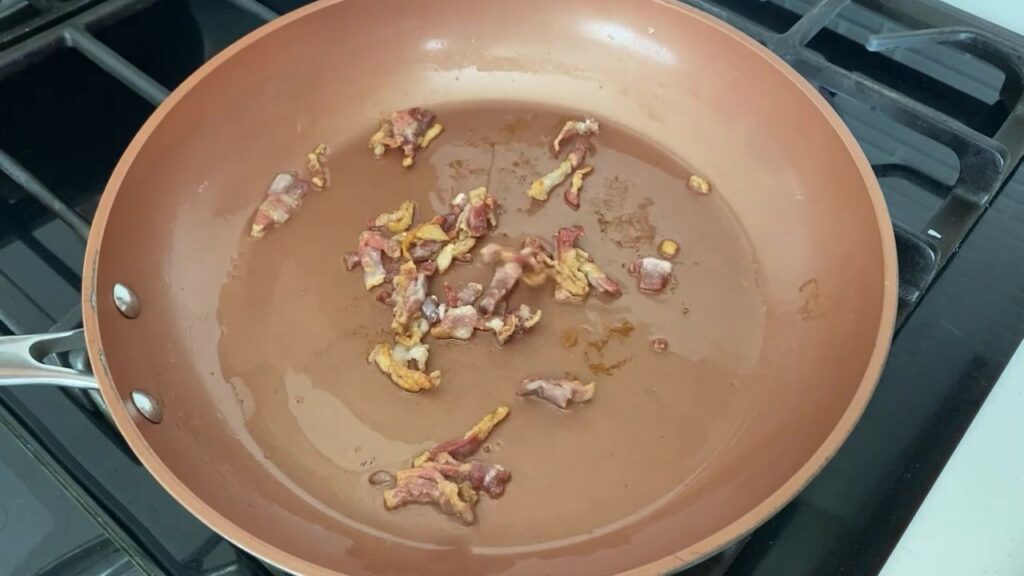 Sauté all veggies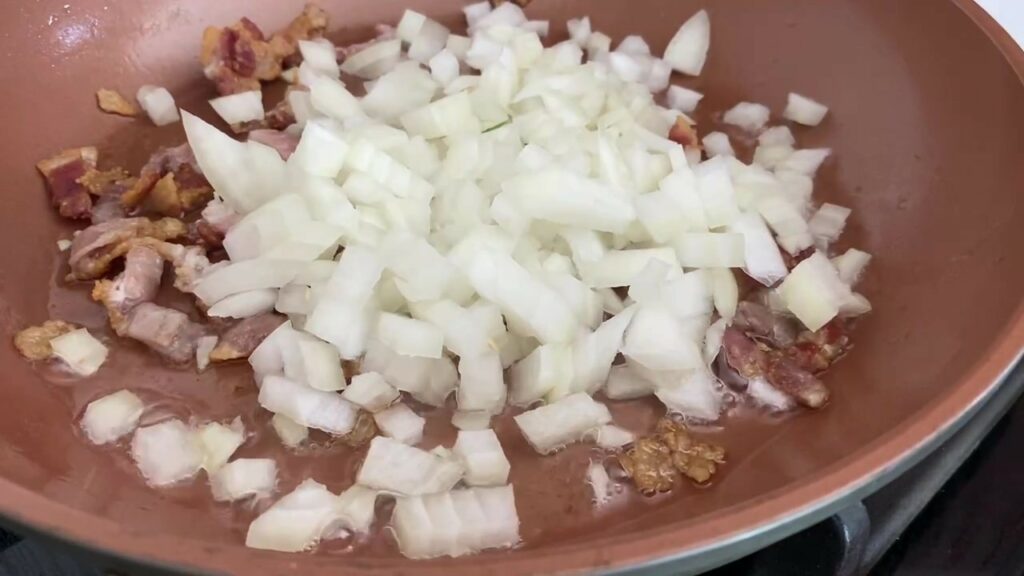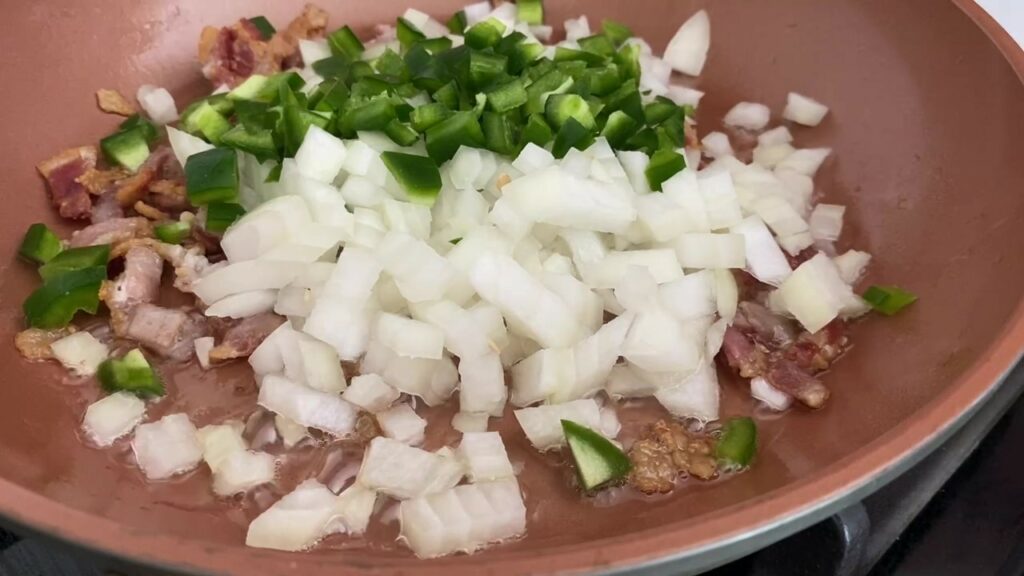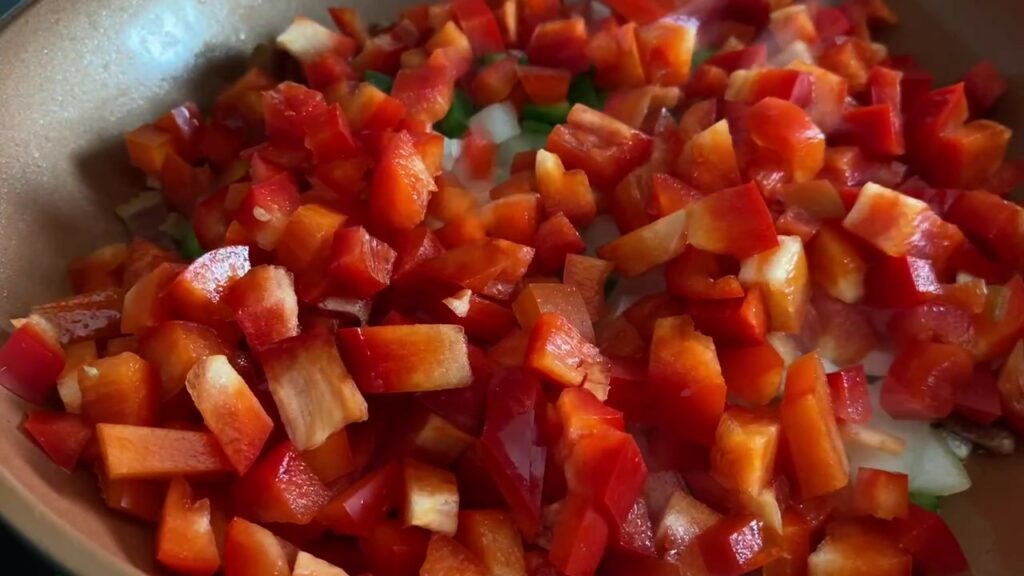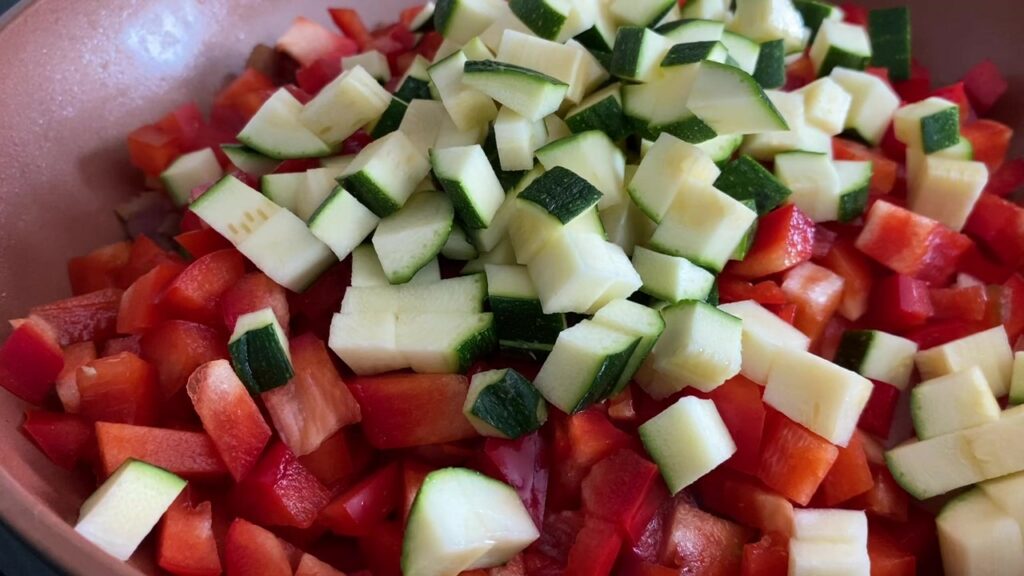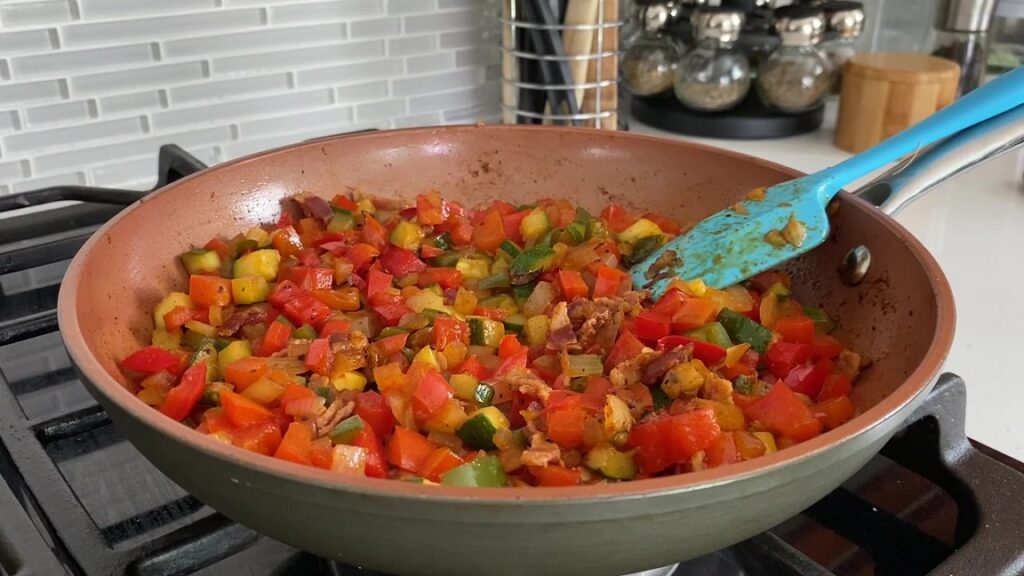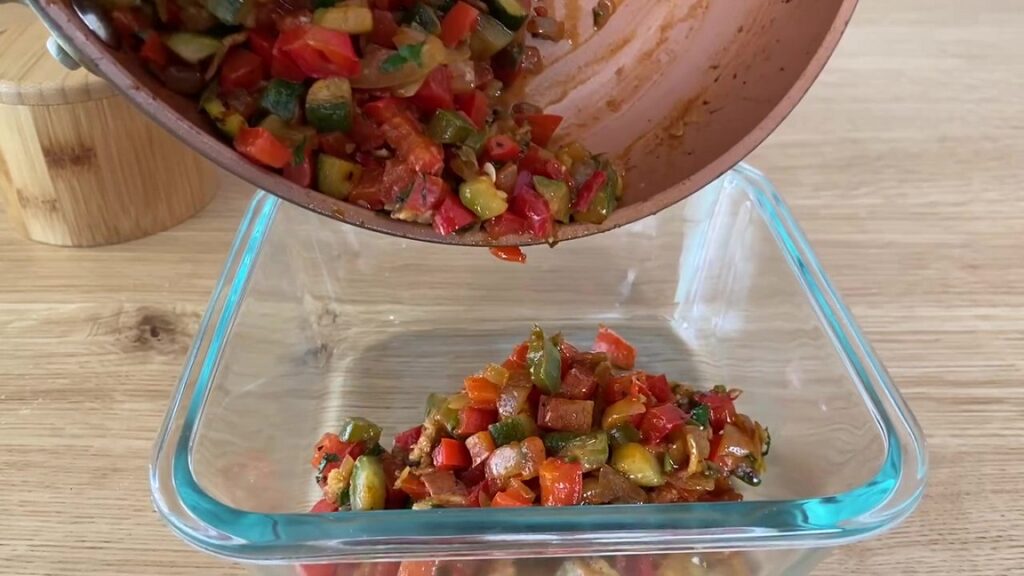 Follow the above steps for mushroom omelet
Important to Notice
Both vegetable filling options are for 3 to 4 portions. Meaning, you will be able to make 4 different omelets from one filling.
After the vegetable fillings cool, you can store them in the fridge for at least a week. This way, you can make your breakfast much easier and faster. Now, it will take you 5-10 minutes to make these omelets for breakfast.
Calories and Protein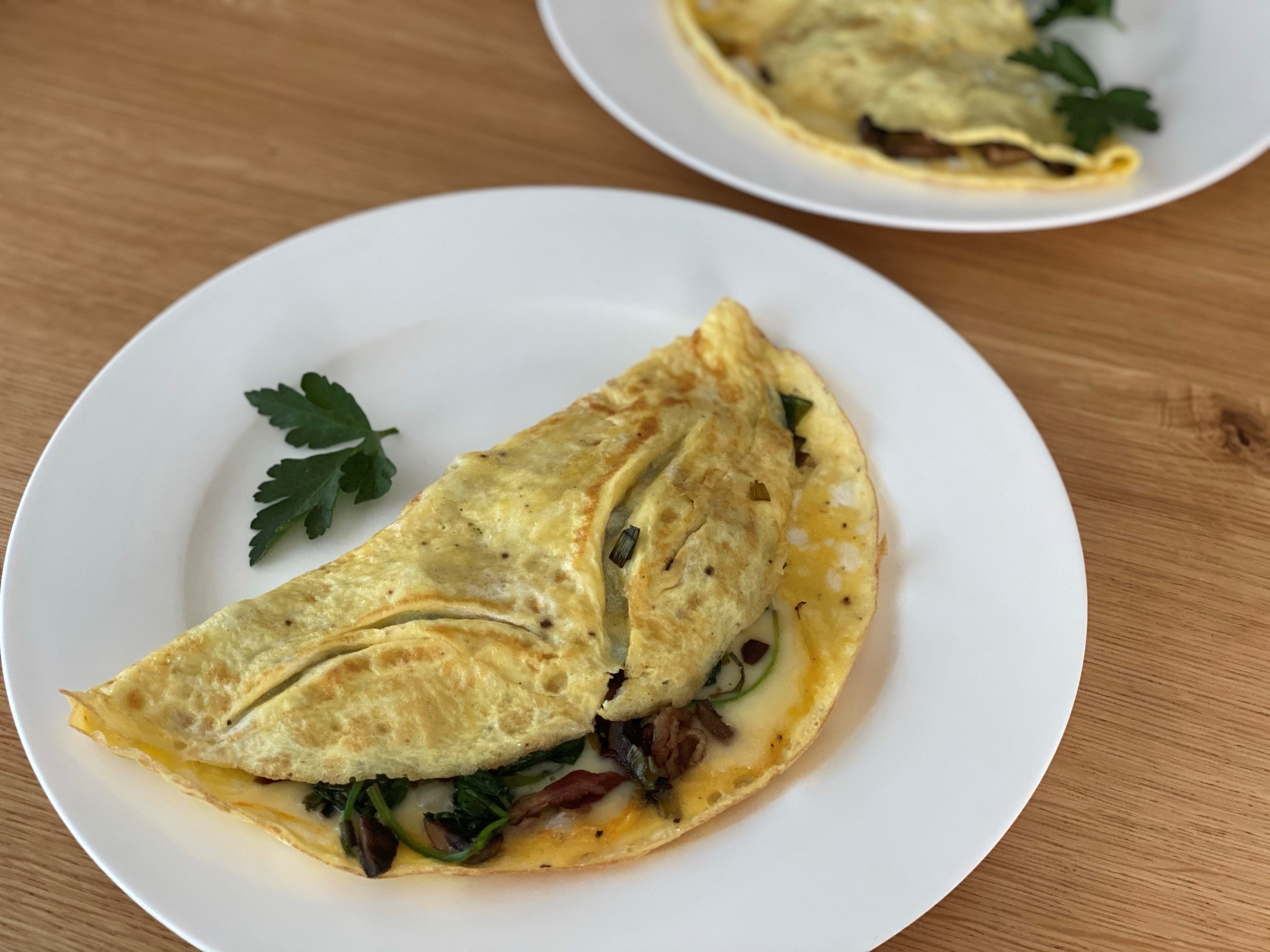 One Mushroom and Spinach Omelet
2 large eggs
2 oz egg whites
one slice of light swiss cheese
third of the filling
2 g butter for greasing the pan
340 calories and 33 grams of protein!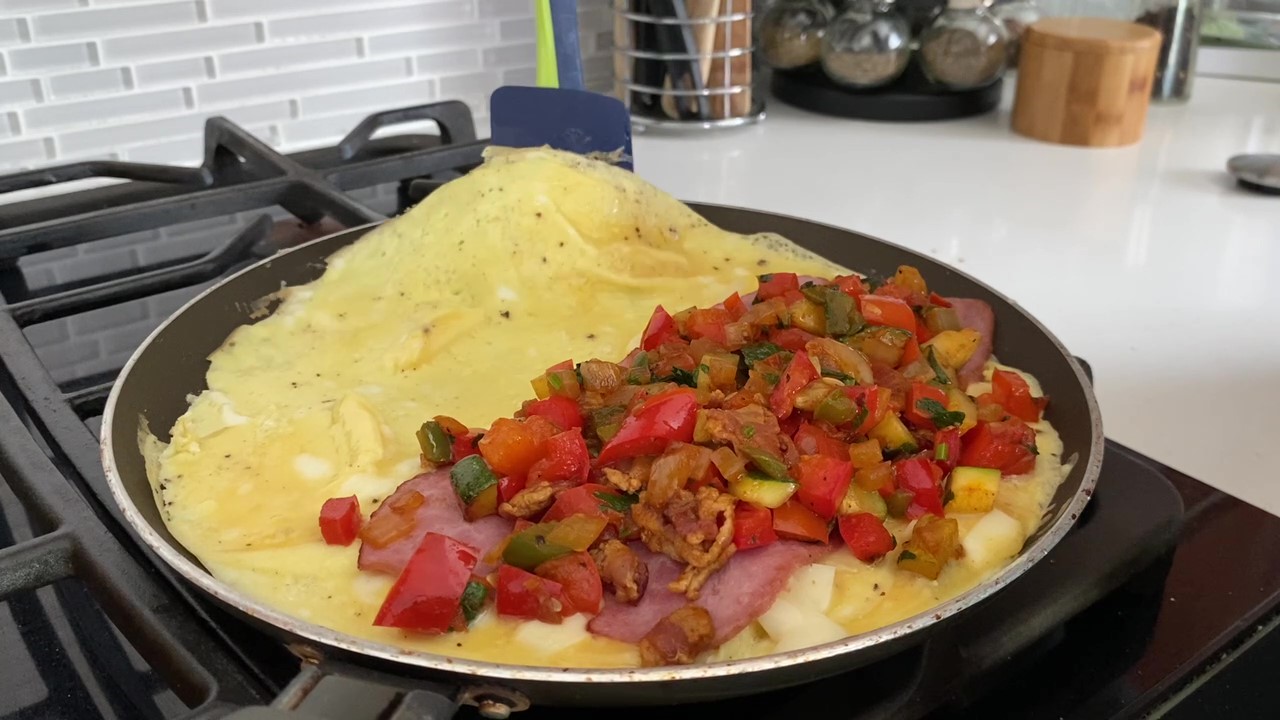 One Mexican Omelet
2 large eggs
2 oz egg whites
one slice of light swiss cheese
third of the filling
2 slices of turkey bacon (optional)
2 g butter for greasing the pan
408 calories and 42 grams of protein!
I encourage you to make one of the omelets (or create your own). You will see how big these omelets are! It's incredible! Some of you may not even be able to finish it. It is a great way to eat lower calorie foods yet, not even knowing you are!
By adding egg whites instead off extra whole eggs, you increase protein without adding lots of calories. And because you still have 2 whole eggs, you keep the flavor intact. Win-win:)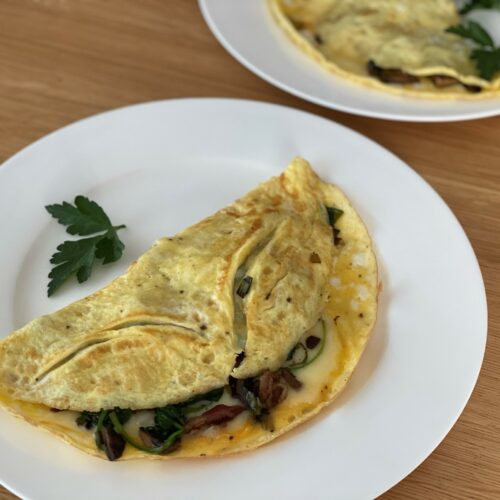 High Protein Omelet Recipe
Mushroom, bacon, and spinach go together very well. This amount of veggies can make 3 omelets. I like to make more so the next day it will only take me 5 minutes to make this omelet. These veggies can be stored in the fridge for at least a week so you can do not have to have the same thing everyday, if you don't want to. You can also change the amount of eggs you use. I like my omelet to be high in protein so I like to add egg whites but you can make smaller omelet with just 2 eggs or large with 3 eggs.
Ingredients
2

large

eggs

2

oz

egg whites

1

slice

light swiss cheese

1 oz

2

g

butter for greasing the pan
For mushroom and spinach filling
2

slices

low sodium bacon

you can use any bacon you like

9

oz

mushroom

250 g

5

oz

leeks

150 g

2

cups

spinach
For Mexican omelet filling
2

slices

low sodium bacon

5

oz

red bell pepper (medium)

4

oz

onion (small)

4

oz

zucchini (medium)

1

jalapeno (optional)
---
---