Belgian Waffles with Buttermilk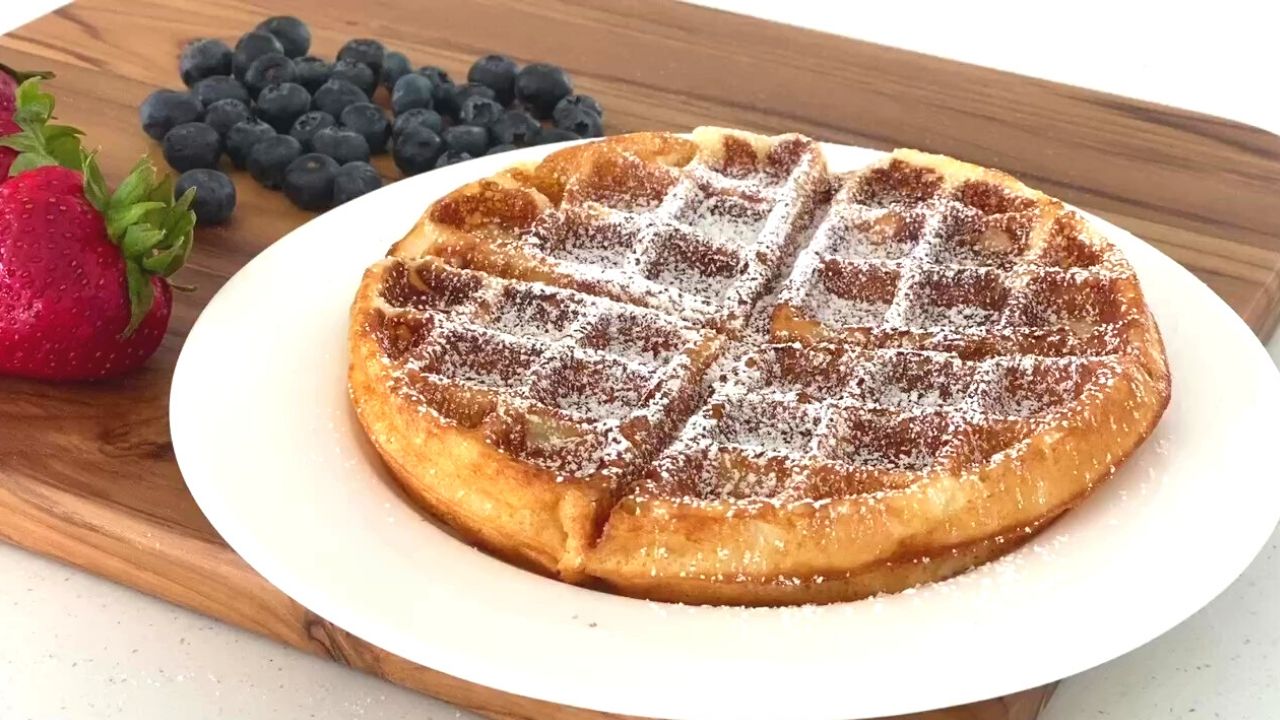 This Belgian waffles recipe is simple and quick to make. I add buttermilk because it creates much better soft and airy texture. It also adds nice flavor. Buttermilk makes these waffles light and moist. When you use milk only instead of buttermilk the waffles will be tougher and drier inside. They will still come out crunchy outside (if your waffles iron is hot enough) but they will taste buttery and will be moist.
Make sure to visit this recipe for video instructions:
What to serve Belgian Waffles with?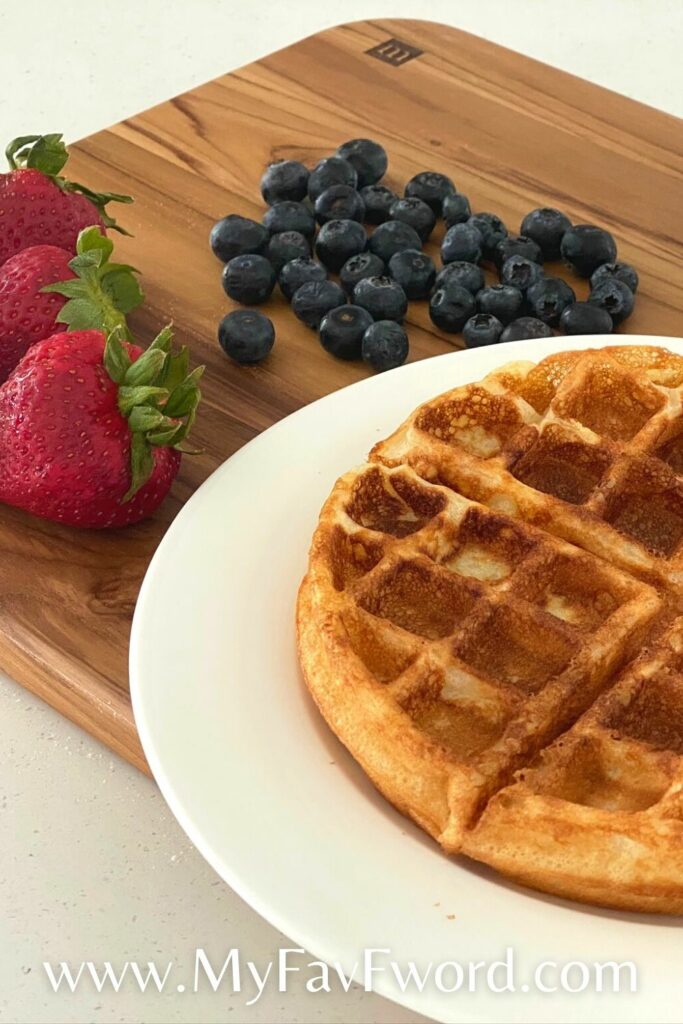 SYRUP
This one is obvious. Maple syrup is one of the best options but it packs tons of calories. If you want to reduce calories lightly, instead of drowning your waffles in syrup you can just add one tablespoon. Or use just sugar free syrup.
CHOCOLATE PEANUT BUTTER SAUCE
I went creative on this one. The ingredients for one large serving:
PB2 – powdered peanut butter. It is much lower in calories and high in protein. I used just one tablespoon
Cocoa Powder – one teaspoon
Vanilla Carmel flavored syrup – the kind you would use for a frappucino. You can use any flavor you like or not use it at all. I added one tablespoon
No sugar added pancake syrup – two tablespoons.
Mix it all together well to remove any clumps. This sauce has about 50 calories.
STRAWBERRY SAUCE
Strawberries are low in calories and pack lots of flavor. That's why they are one of my favorite fruits to use for a sauce. Blueberries are another great option. I have also used frozen berries (blueberries, raspberries, blackberries) to make this sauce. All are great options.
For just one serving of sauce you will need 140 grams of frozen of fresh strawberries and one tablespoon of sweetener (monkfruit in my case) or sugar.
Combine ingredients in a small pot and cook until it thickens
GREEK YOGURT
I use 5% plain Greek yogurt Fage. You can try to use low fat or non fat option but there is a significant difference in flavor for me. The non fat option tastes very sour for me.
WHIPPED CREAM
For those of you who do not care so much about calories, I have a recipe for this Whipped Cream that is easy and very fast to make.
JAM OR PRESERVES
When I was growing up in Poland, waffles were only available to buy in little street stands. We did not have waffle makers or even know how to make them. They were often served with jam or preserves. They were so good. Whipped cream was another option. Or if you wanted it simple you would go for just powdered sugar.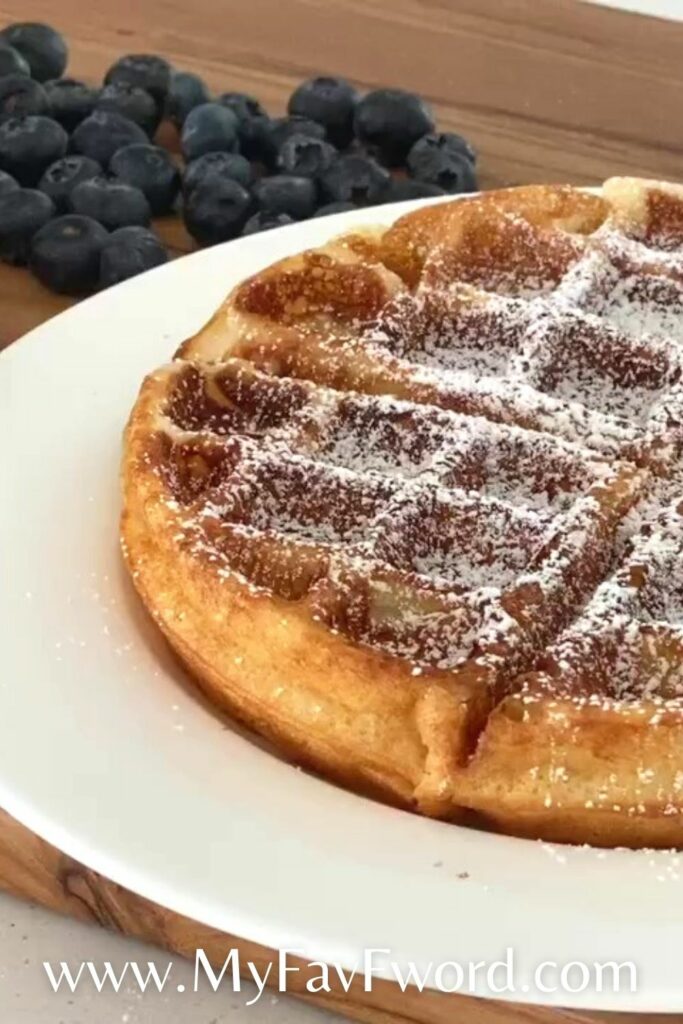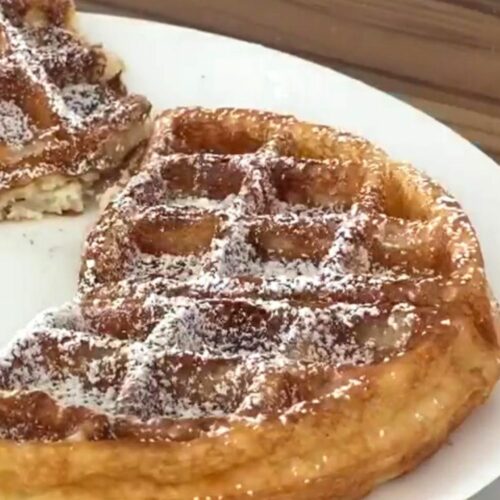 Belgian Waffles with Buttermilk
Light and moist waffles that are so easy to make. It will take about 10 minutes from start to finish. Buttermilk makes a huge difference in texture and flavor of these waffles.
Ingredients  
1

large

egg

2

tbs

melted and cooled butter

1 oz

1

cup

all purpose flour

120 g

1

cup

buttermilk

250 g

¼

cup

2% milk

1

tsp

baking powder

¼

tsp

baking soda
Instructions 
In a large bowl combine egg and sugar and whisk

Add buttermilk and milk, whisk

Whisk just to combine. Do not over mix

Prepare waffle maker and follow the manufacturer instruction
---
---