Banana Oat Muffins with Cranberries – No Sugar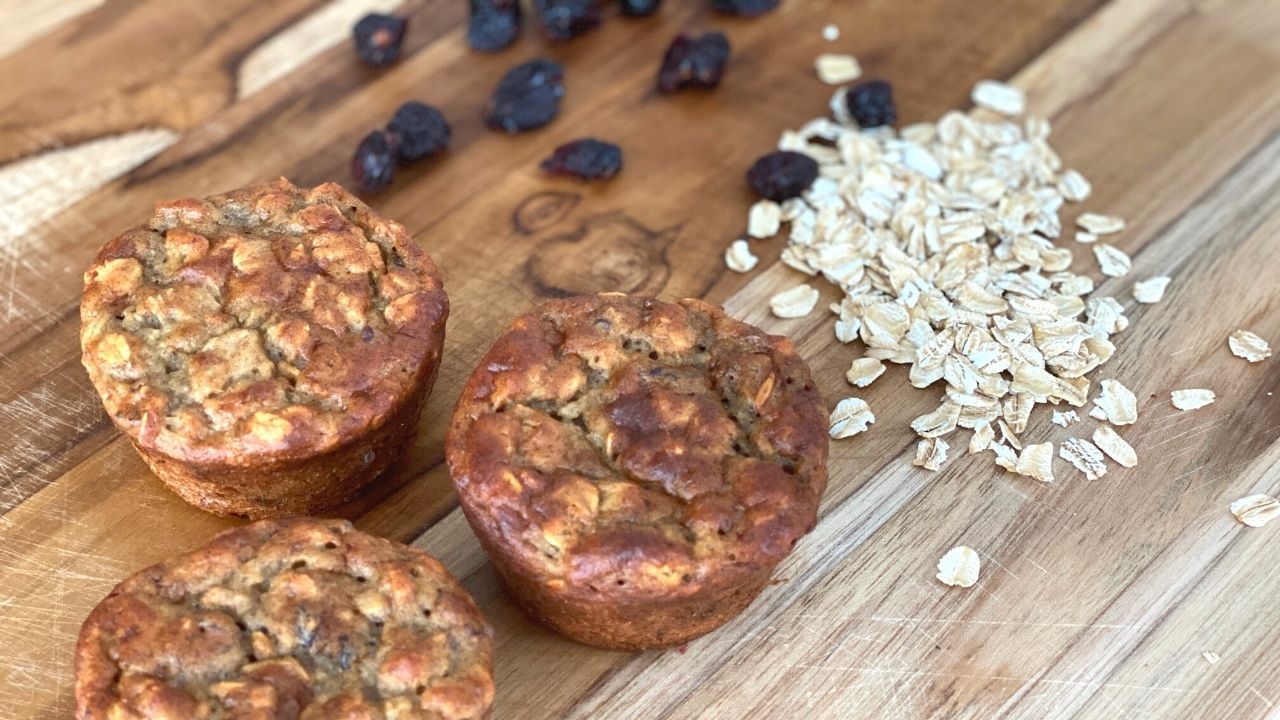 These banana oat muffins with cranberries recipe is a great invention of mine. I have been trying to make a muffin that can be eaten for a healthy and nutritious breakfast. And not filled with lots of sugar and butter. Not there is anything wrong with those ingredients. But for everyday breakfast it doesn't seem like it's a great idea to add the extra calories.
These banana oat muffins are sweeten with bananas and dried cranberries. Greek yogurt replaces butter and oats reduce the amount of regular flour but you can only use oats and grounds oats if you so desire. It is basically reconstructed oatmeal. I seem to be making lots of that lately :).
Make sure you watch this Banana Oat Cranberry Muffin video for detailed instructions:
What will you need to make Banana Oat Muffins?
Oats – I use old fashioned oats
All purpose flour but if you prefer you can use oat flour or just grind oats to get flour
Bananas – very ripe is the key, Just when they start getting those brown spots. Since bananas will be sweetening the muffins you want to make sure they are sweet enough
Greek yogurt – for baking I like to use non fat greek yogurt (save some calories)
Dried cranberries are great for texture and add extra sweetness
Eggs
Baking soda, baking powder, vanilla extract and cinnamon
Baking Tips for Banana Oat Muffins
I have learned throughout the time I have been baking that not all ovens are created equal. So if my oven bakes these muffins to a perfection at 350F in 25 minutes, your oven might not do the same. I suggest that you experiment and learn how your oven works. It may take time and you will go thru a trial and error but once you figure it out it will make you baking that much easier.
These muffins are very moist and I love them this way. I also like to eat them hot and they are even more moist when they are straight from the oven. Try them out and if they are too moist for you, add more oats next time to make the dough a bit more dense.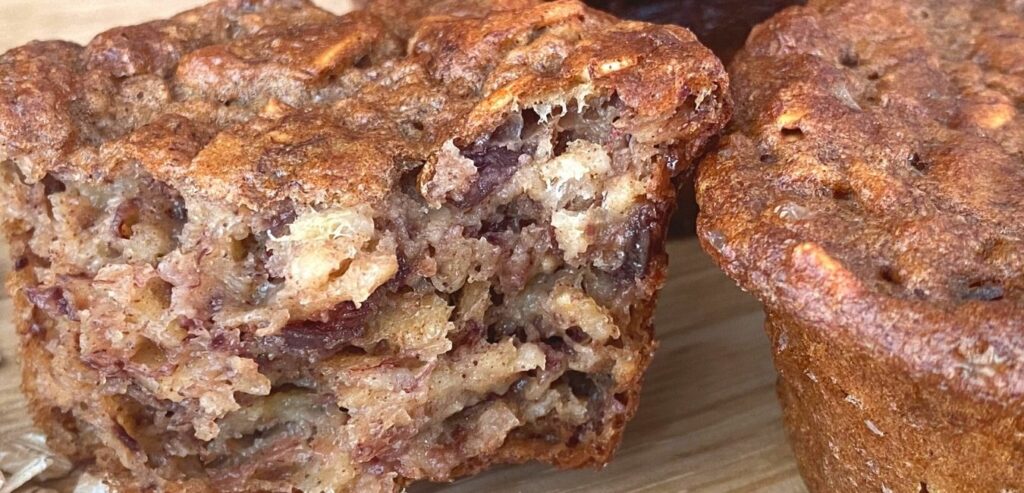 Frequently asked questions
Are banana muffins bad for you?
Not these ones. Most regular muffins are not great as they contain lots of sugar and butter or oil. Those add tons of calories. Most muffins are just small cakes and should be treated as a dessert. You can eat these banana oat muffins for dessert or breakfast. Almost like you were eating oatmeal.
Is oatmeal and banana healthy?
Yes they are. Oatmeal has fiber and if you include it in a recipe where you add wet ingredients it expands making your food bigger in volume and more filling. Why would that be important? You feel like you are eating more without getting any extra calories. That makes you more satisfied and less likely to overeat. Bananas have nutrients like potassium and add volume to these muffins. Comparing to sugar, it is a better option to sweeten muffins. However, bananas are calorie dense so eating lots of them daily may not be ideal.
What is the secret to making moist muffins?
You won't have to worry about these muffins as they are very moist. But if you have an issue with any other recipe, it could be milk. Substitute with buttermilk or yogurt and you will have nice and moist muffins.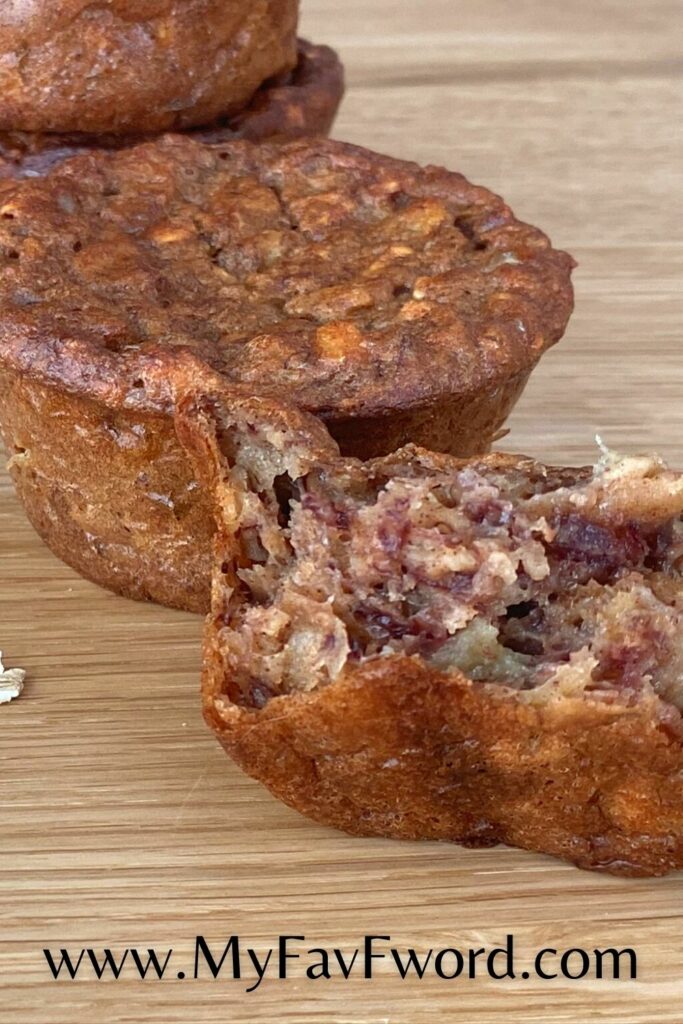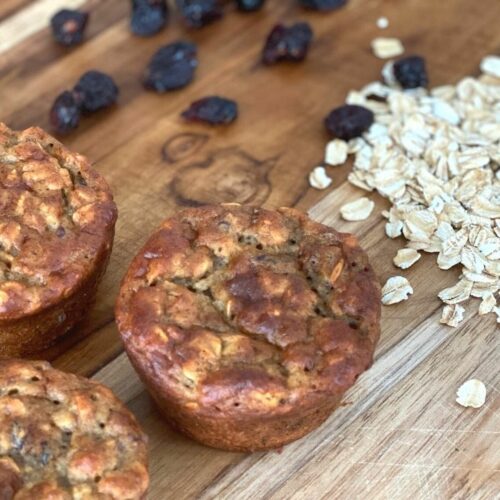 Banana Oat Muffins with Cranberries
This banana oat muffin recipe is a great option for a dessert as well as breakfast. No sugar added, no oil or butter makes the muffin a healthy and nutritious one. Easy and fast to make. Comes out perfectly moist.
Ingredients  
3

small

ripe bananas

about 3.5 oz each

1

cup

old fashioned oats

½

cup

all purpose flour

2

large

eggs

5.5

oz

non fat greek yogurt

150 g

1.5

oz

dried cranberries

40 g

1.5

tsp

baking powder

1

tsp

baking soda

1

tsp

cinnamon

½

tsp

salt
Instructions 
Peel and using a form smash the bananas until smooth

Add egg, yogurt and vanilla and mix

Mix flour, oats, cinnamon, salt, baking powder and baking soda

Add dry ingredients to wet ingredients and mix until just combined – do not over mix

Add chopped dried cranberries and mix them in

With an ice cream scoop fill 12 cup baking tray. I like using silicone baking sheet because it is easier to get the muffins out

Bake at 350F for 25 minutes
MAKE SURE TO LOOK AT THESE NEXT
BELGIAN WAFFLES WITH BUTTERMILK
FRENCH TOAST – HIGH PROTEIN AND LESS CALORIES
---
---