Low Calorie Coleslaw – no mayo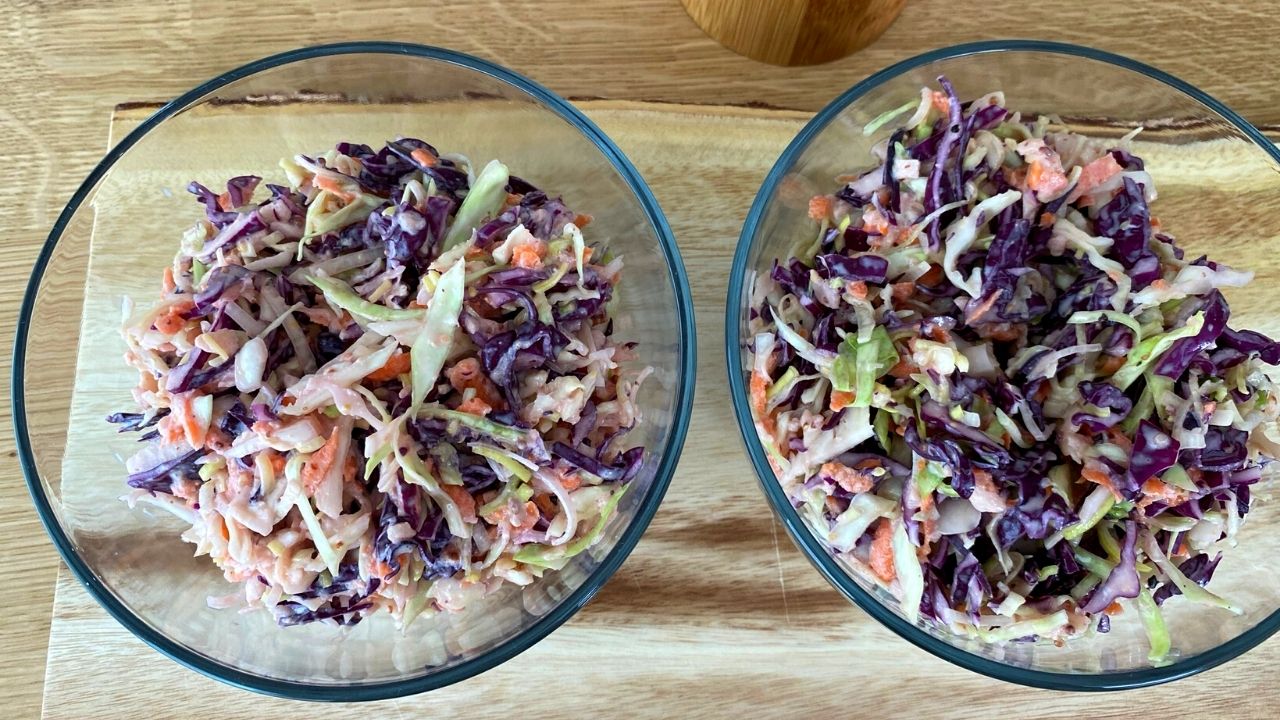 Coleslaw is a such a popular side dish. It seems like so many countries have their own recipe. With the worldwide presence of KFC, coleslaw got extremely popular everywhere. But the type of coleslaw that is served at KFC is not a healthy one. It is loaded with mayo which has tons of calories. In this recipe I will show you how to make a low calorie coleslaw that you can enjoy any time you wish. If you just remove just one ingredient, the rest of this side dish is very healthy and low in calories.
In Poland, I grew up eating coleslaw with sour cream based dressing. Although sour cream is not a low calorie ingredient, it is a fraction of calories that you find in mayo.
In this recipe I will share with you a Polish version of coleslaw and my own, improved, low calorie coleslaw.
For detailed video instructions visit the link below:
Is coleslaw good for weight loss?
Coleslaw is very good for weight loss as long as your dressing doesn't include mayo. There are so many way to make coleslaw without using mayo and you will enjoy it just as much. Coleslaw is made of very nutritious vegetables like: cabbage, carrots, some add onion (I like leeks) and apple for sweetness. Overall this is a great side dish for weight loss. I make my low calorie coleslaw with Greek yogurt and this is a great way to reduce calories and keep the flavor intact.
What ingredients go into low calorie coleslaw recipe?
Cabbage – I like to mix red and white for extra color but you can use one or the other, whichever you have on hand
Carrots – they add extra sweetness and flavor
Apples – apples, jus like carrots will sweeten the coleslaw
Leeks – I like to use leeks instead of onion as they have a sweeter taste to them. If you try them once for this recipe I am confident you will want to use them all the time. Leeks may be hard to find in some areas, so if they are not available in your local store, onions are just fine.
Dressing – and this is the part that can either make or break your diet. Most recipes for coleslaw include mayo. And in many restaurants or store bought slaw there is tons of mayo. That ingredient alone makes a very healthy side dish, unhealthy. There is nothing wrong with mayo but if you unaware how much goes into the recipes you can add many unwanted pounds to your weight. Substituting yogurt or sour cream for mayo will make coleslaw a very healthy side dish and I assure you it will taste just as good.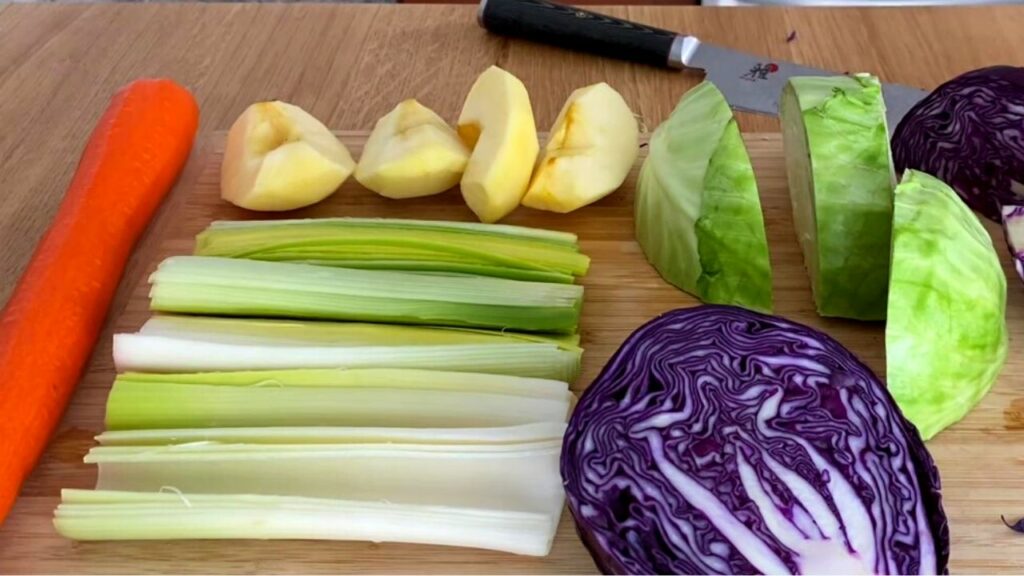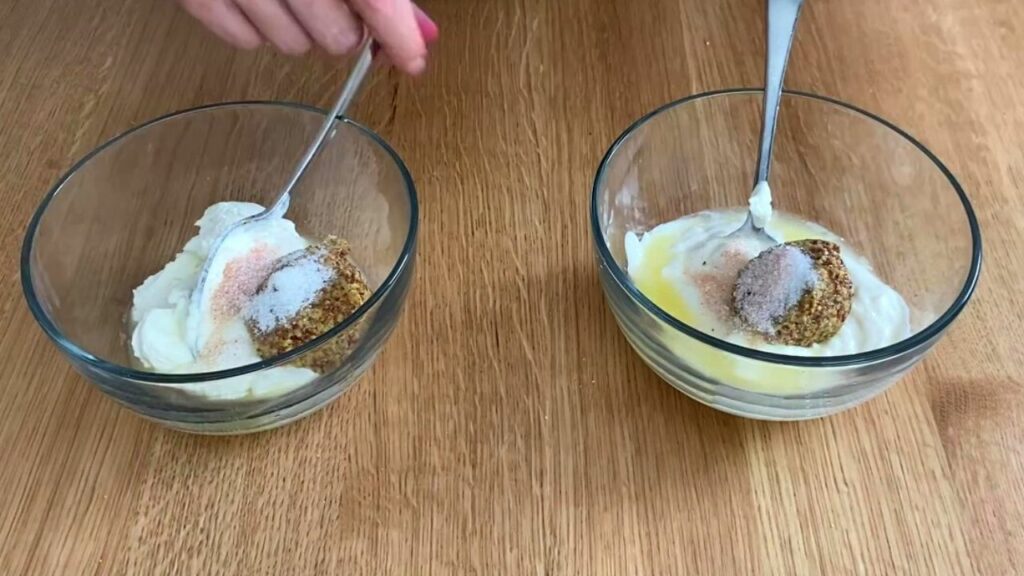 How many calories are in a low calorie coleslaw?
There are 79 calories per serving in low calorie coleslaw with yogurt based dressing. 105 calories in coleslaw with sour cream dressing. Comparing this to mayo based dressing with the same amount of ingredients: 210 calories! By swapping just one ingredient, you can make any coleslaw a very healthy and low calorie side dish that you can freely enjoy every day if you choose to.
There is so much flavor in this coleslaw that you would not even know that it was made a bit differently. It is still creamy and sweet and simply delicious.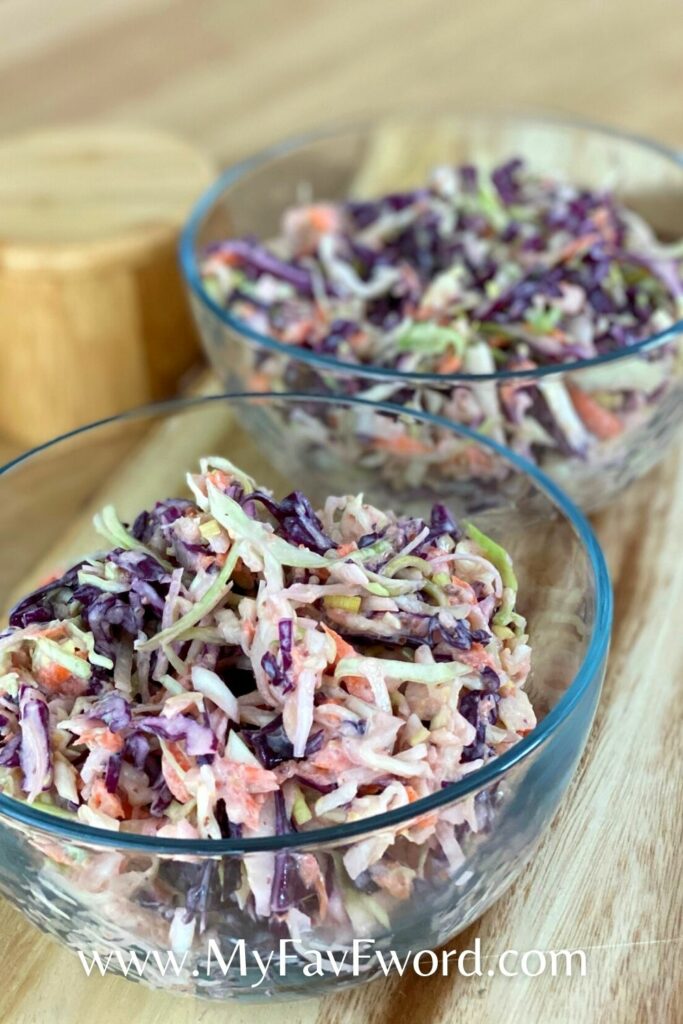 Which is healthier coleslaw or potato salad?
Coleslaw is a healthier option than potato salad. It is lower in calories and higher in nutrients. There are lots of healthy vegetables included in a coleslaw where potato salads usually includes potatoes and tons of mayo. You can make potato salad healthier by swapping mayo for a lower calorie option like yogurt but slaw will still have more nutrients and be lower in calories.
What food goes with this low calorie coleslaw?
Obvious choice is some type of barbeque meat. Who doesn't like some pulled pork with a side of a slaw? I know I love it! I like to serve coleslaw with any type of meat, it goes really great with braised meats. It also goes well with fish. If you have some leftover slaw you can make tacos.
How long does coleslaw last in the fridge?
Coleslaw can last in the fridge for up to 5 days. I recommend to eat it within 2 days though. The longer the slaw sits in the dressing the softer it gets. So after a couple of days, coleslaw will stat loosing its flavor.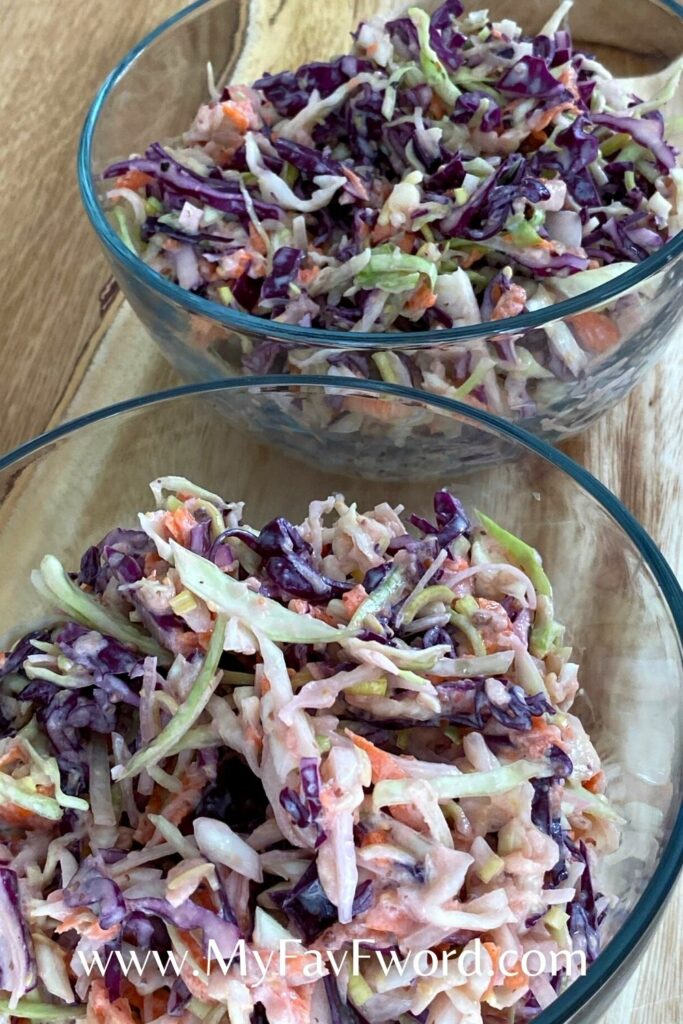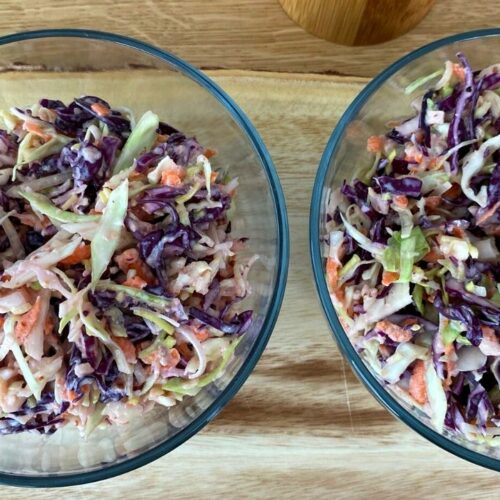 Low Calorie Coleslaw
This is a recipe for two different versions of coleslaw. One with sour cream and one with yogurt. Both are great; greek yogurt version is even lower in calories than sour cream one so choose whichever fits your diet needs best. The amount of cabbage depends on how much you want to prepare, this is just a suggestion. Feel free to also adjust the ratios: maybe you like more carrots, maybe less. The same for dressing, use more or less.
Ingredients  
To be divided into 2 recipes
12

oz

white cabbage

12

oz

red cabbage

1

large

carrot

or 2 medium carrots

4

oz

leeks

1

large

apple

salt and pepper to taste
For sour cream dressing
3

oz

sour cream

1

tbs

mustard

1

tbs

sugar

or sweetener

1

tbs

lemon juice

1

tsp

sea salt
For yogurt dressing
3

oz

greek yogurt

5% fat

1

tbs

mustard

1

tbs

sugar

or sweetener

1

tbs

lemon juice

1

tsp

sea salt
Instructions 
Prepare all vegetables, clean, peel

Dice the cabbage into small pieces – you can use Cuisinart food processor to speed up the process and cut the cabbage in even pieces.

By using box grater grate apple and carrot

I divided all vegetables into two bowls but if you chose which dressing is best for you, you can skip the step: half the veggie amount in the recipe or double the dressing

Combine cabbages in a big bowl and sprinkle with salt, I used about half a tsp of sea salt (different salts have different level of saltiness so use caution and taste often)

Using your hand, mix salt into cabbage and squeeze cabbage lightly

Set aside for about an hour for the cabbage to soften. It may release water. If it does so, drain the water

Add the rest of ingredients and mix
For dressings
Mix all ingredients in a small bowl

Taste before adding to slaw – make sure you have your desired sweet to sour ratio
YOU MAY ALSO LIKE:
BANANA OAT MUFFINS WITH CRANBERRIES – NO SUGAR
HEALTHY BANANA BREAD – LOW CALORIE OPTION
*Links in this blog post are affiliate links, which means at no extra cost to you, I will make a small commission if you click them and make a qualifying purchase*
---
---