Polish Blueberry Buns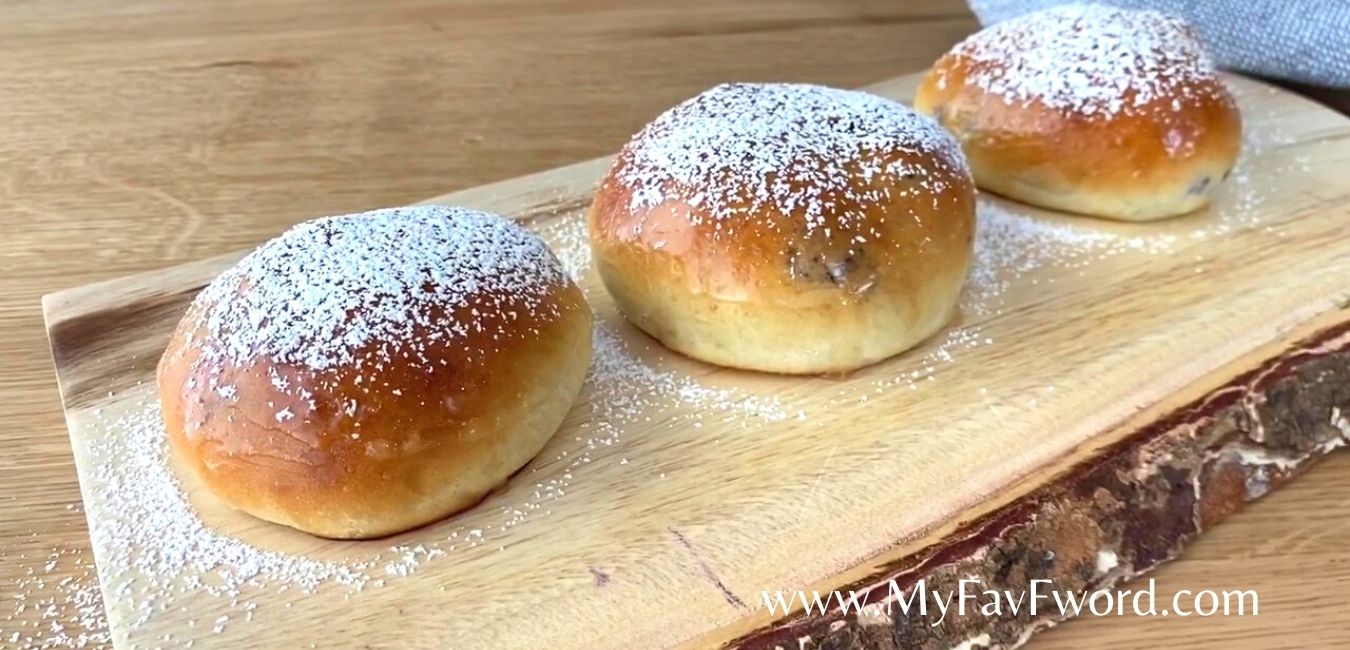 I grew up eating these blueberry buns. Polish bakeries make these buns now year round, however, when I was a child, these were the best in the summer when blueberries were in season. I always made it my business to go to the store early in the morning to get them still hot. And not all of them were created equal. Some were stingy with the blueberry filling. The best blueberry buns were the ones that were filled heavily with blueberries. Yes, blueberries, not some jam or preserves.
You may wonder why I included them here? These blueberry buns are fairly low in calories. Each bun has about 190 calories and 5 grams of protein. And that's without changing anything about the original recipe. Polish desserts are just low in sugar and this yeast dough doe snot have much butter in it either. It is just a great, comfort dessert that is also very easy to make.
These Polish blueberry buns take some time to make because they are made out of yeast dough. So it will need time for rising. I can promise you it is worth the wait!
Make sure you see this Polish Blueberry Buns video for video instructions:
How many calories in these Polish blueberry buns?
Overall, yeast dough tends to be on lower calorie side, mainly because it is low in sugar and low in fat. This recipe yields 10 buns and each has 190 calories and 5 grams of protein. That includes the blueberry filling.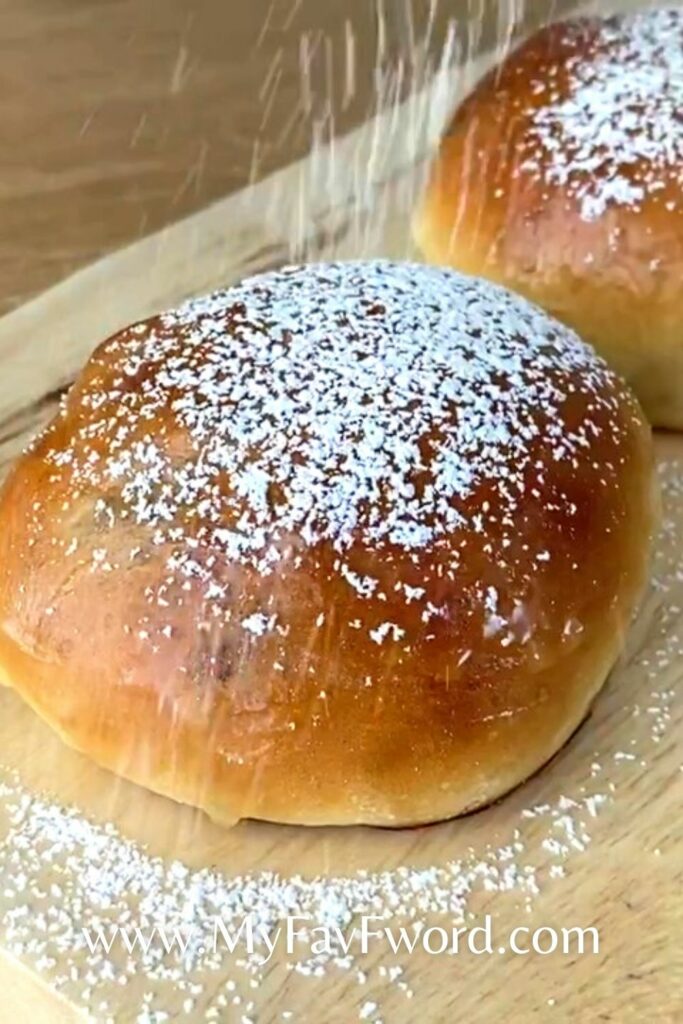 Why are my yeast buns dry?
Too much flour makes yeast dough dry and very dense. Measuring flour may be tricky depending if you measure it by cups or by weight. If you pack flour too much in a cup you may end up with too much flour.
Can I use different fruit for yeast buns?
I made these buns with many different types of fruit from apples (I made the apples the same way as in this recipe), strawberries, blackberries, raspberries all the way to jams and preserves. All of them work well.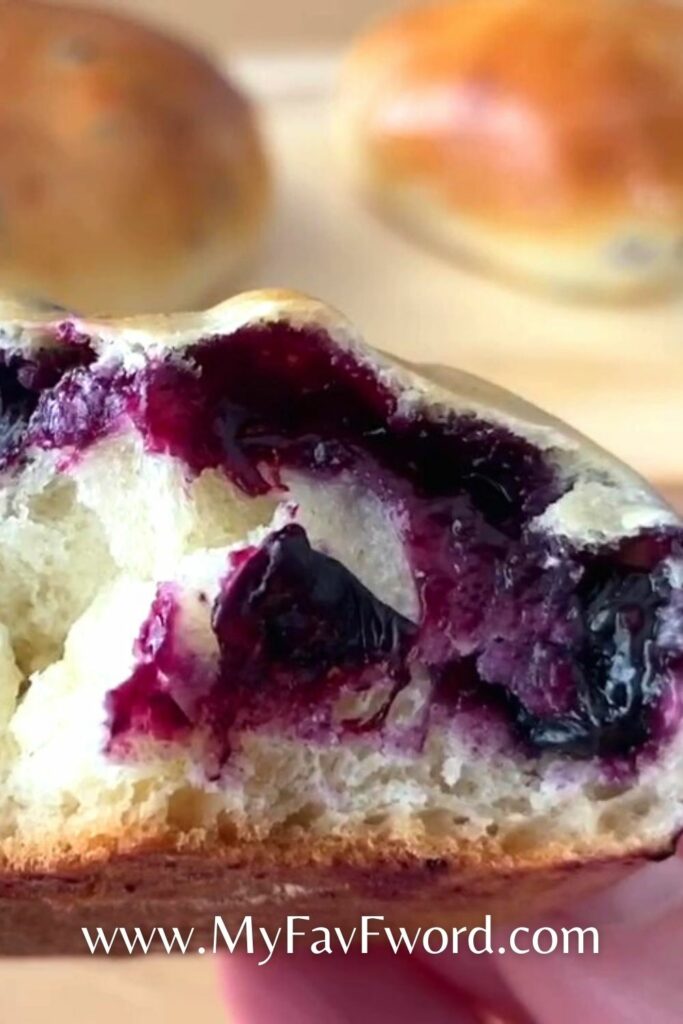 How much should dough rise with yeast?
The yeast dough should double in size while rising. Depending on the outside temperature time will vary. I live in a warm and humid climate and I noticed my rise time is way less than the recipes call for. Therefore, keep an eye on the dough and assess by looking at the volume – if it doubled in size the dough is ready. Make sure you keep the dough in a warm place as yeast dough loves warm temperature.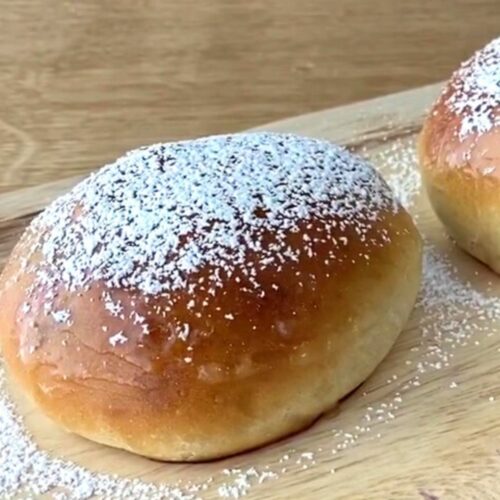 Polish Blueberry Buns
These buns are made with yeast dough and stuffed with fresh blueberries. You can add some sugar to the blueberries for extra sweetness as the dough is not that sweet. These blueberry buns are low in calories and make a great dessert, or even breakfast.
Equipment
Electric mixer like Kitchen Aid equipped with hook attachment
Ingredients  
350

g

all purpose flour

4

tbs

sugar

1

large

egg

20

g

melted and cooled to room temperature butter

160

g

room temperature milk or a bit warmer

7

g

dry yeast

½

tsp

sea salt

1

tsp

vanilla extract

7

oz

fresh blueberries or more

200 g
Instructions 
Bring milk to room temperature or slightly higher (about 115 F)

Mix milk and butter together

In a mixer bowl combine flour, sugar, salt and dry yeast

Add vanilla extract and egg

Using electric stand up mixed with hook attachment knead the dough for about 10 minutes on medium speed. If you do not have a mixed you can knead by hand. The dough is ready when it is smooth to touch and doesn't stick much to your hand.

Cover with a clean towel and place it in a warm area, let it rise until dough doubles in size. Time will vary depending on your climate. It took me an hour.

punch the dough and spread it on well floured surface. Roll it to about an inch thickness

Divide into 10 pieces (as even as you possibly can)

Prepare blueberries and sugar. I used 0.7 oz of blueberries and ¼ tsp of sugar per bun. You can fill as much as you can fit and adjust the sugar to your preferences

Start closing the bun by bringing corners in

Continue pinching the sides to glue all holes together

Continue pinching until all well sealed

Place all buns onto baking sheet

Cover with a clean towel and let it rise for 40 minutes

Bake at 350F for 17-18 minutes. Baking time may vary depending on your oven.

Prepare a glaze by combining lemon juice (or water) and powdered sugar

Brush freshly baked buns with glaze

Sprinkle with powdered sugar if desired
---
---