How to Make Frappuccino Healthier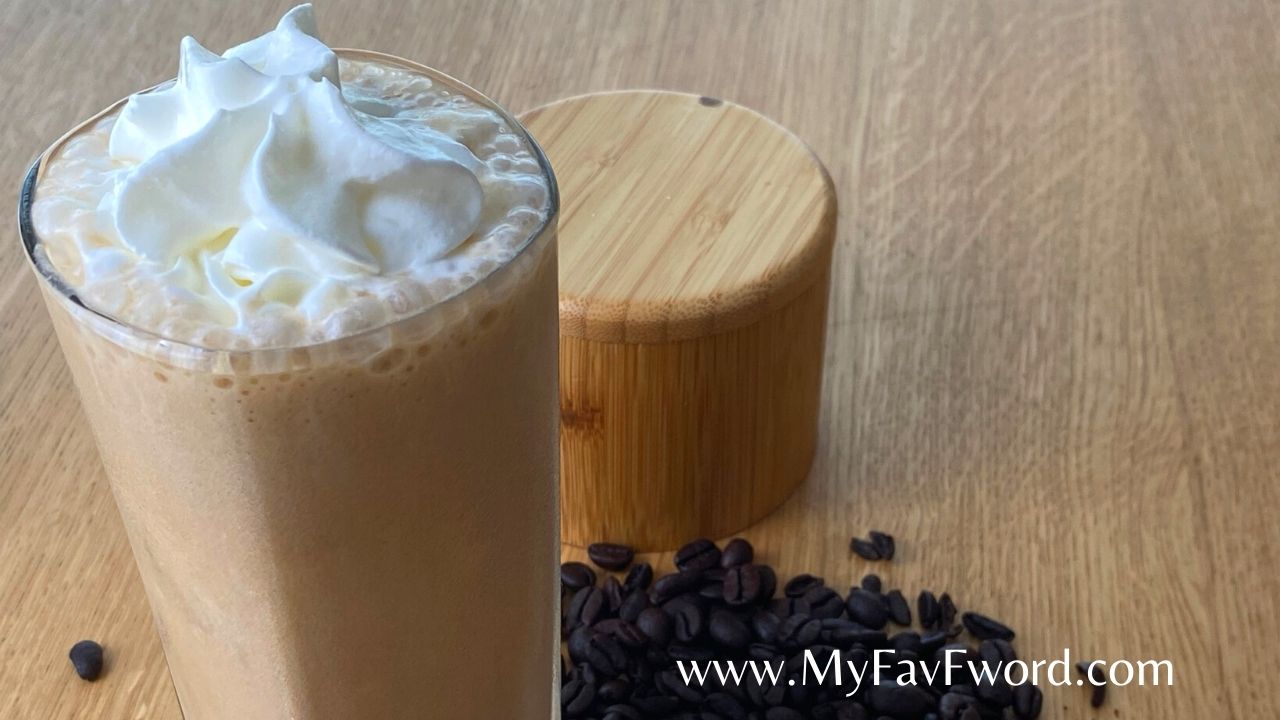 My kid always asks me to get her a Caramel Frappuccino from Starbucks. Most of the time the answer is no because it is filled with sugar and most of the time I do not feel like driving there just to get one drink. And let's not forget – a pricy drink. So how to make a frappuccino a healthier drink?
The other day I came across a 0 calorie 0 sugar syrup: Caramel Vanilla Creme by Skinny Syrups. I decided to try and see if it tastes any good and if it can actually be used to make a Caramel Frappuccino that is mine and my daughter's favorite. I have not had one for years as the calories are very high and I rather eat my calories than drink them. So needless to say I was excited to see if I could make a Frappuccino at home and make it with no sugar added ingredients.
It came out unbelievably great! I think it is even better than Starbucks version. And this coffee beverage is very low in calories so you can have it every day.
For step by step video instructions visit this Frappuccino video on YouTube:
What are the ingredients in a Starbucks Frappuccino?
According to Starbucks website ingredients in Starbucks Frappuccino are: Ice, Milk, Coffee Frappuccino Syrup [Sugar, Water, Natural Flavor, Salt, Xanthan Gum, Potassium Sorbate, Citric Acid], Coffee. There are different flavors so every drink with vary as far as additional ingredients go or flavors of syrup being used.
While developing my own recipe for frappuccino I realized how important the ratios are to achieve the perfect flavor. If you add too much or too little ice the flavors and consistency change. The same goes for the rest of ingredients. Keep in mind though, we all have different tastes and preferences. My recipe is tweaked to my perfection. If you try this recipe and feel you would like it less or more sweet, thinner or thicker consistency – by all means – change it and leave a comment below.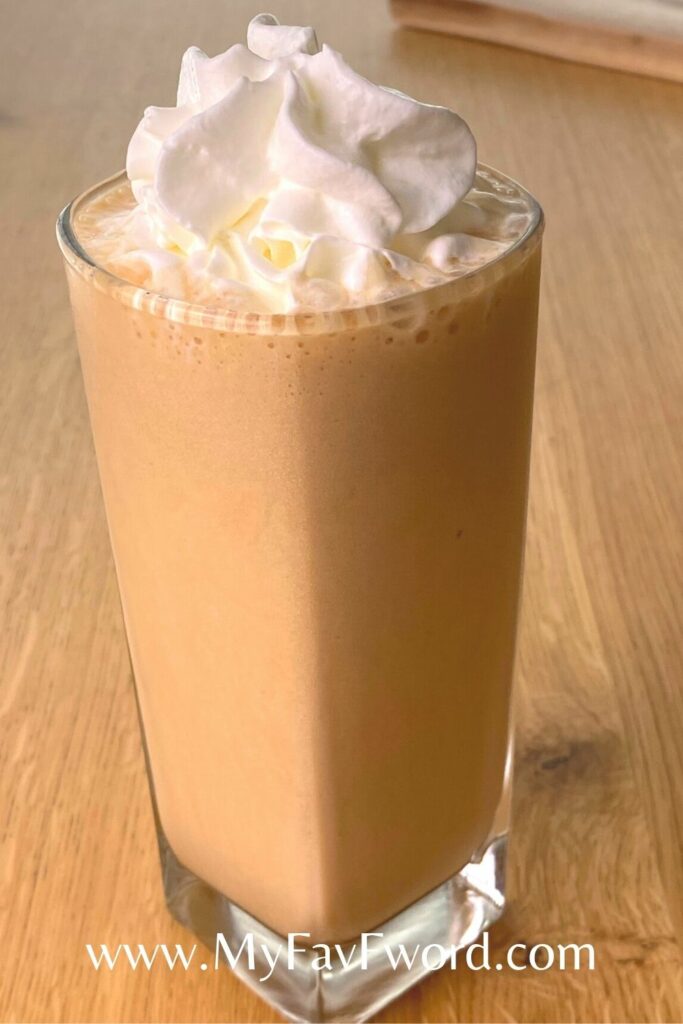 How is Starbucks Frappuccino made?
Pour all the ingredients in a blender and blend it on a high setting for 15 – 30 seconds until the ice becomes smooth.
Now we need to make it lower in calories and better. After many tries I put together the ultimate Frappuccino.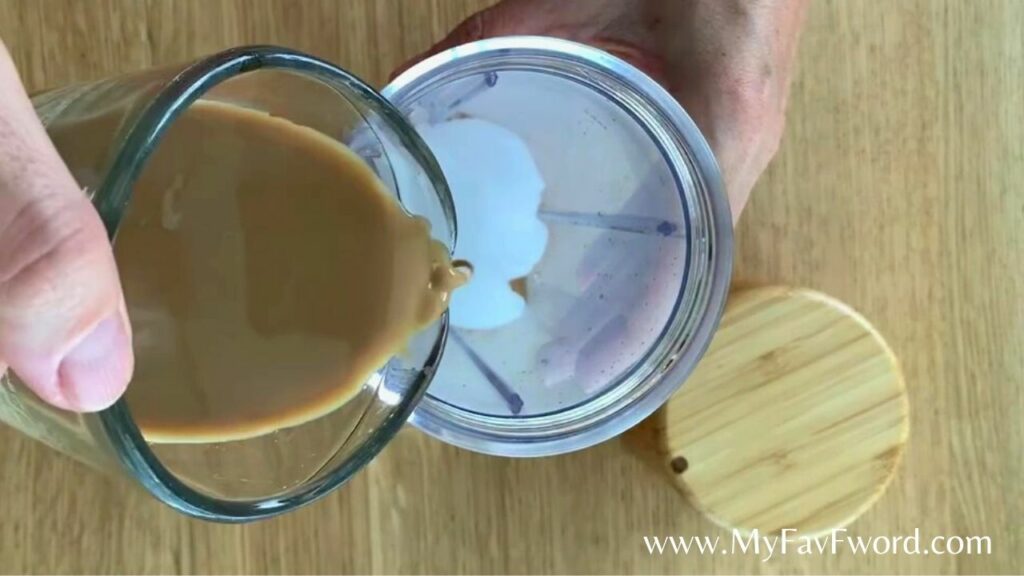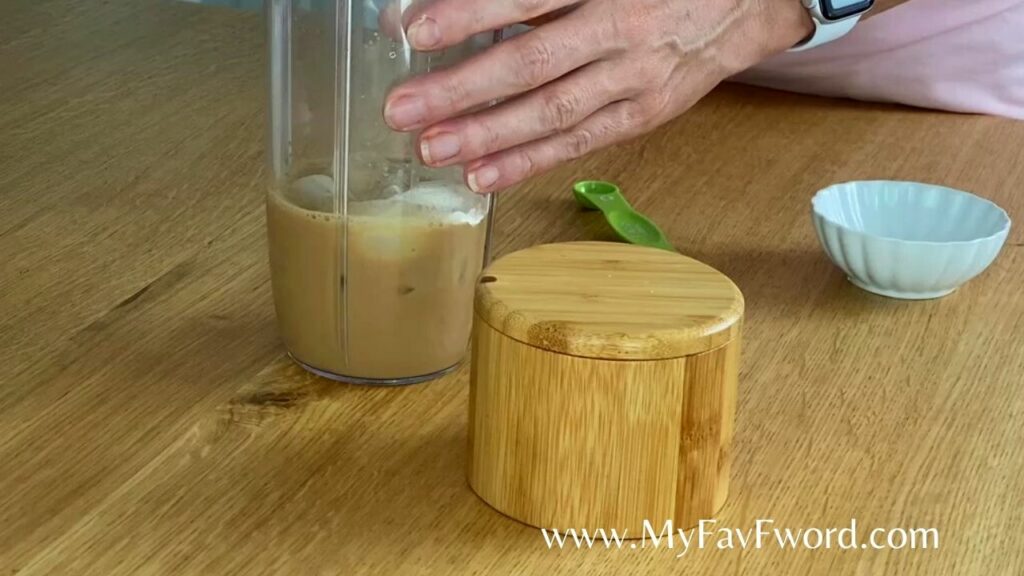 Do Frappuccinos have coffee?
Yes, all coffee Frappuccino drinks do and in Starbucks they already have pre-made syrups with coffee in it already. Starbucks has a line that's called Creme Frappuccino and those do not include coffee.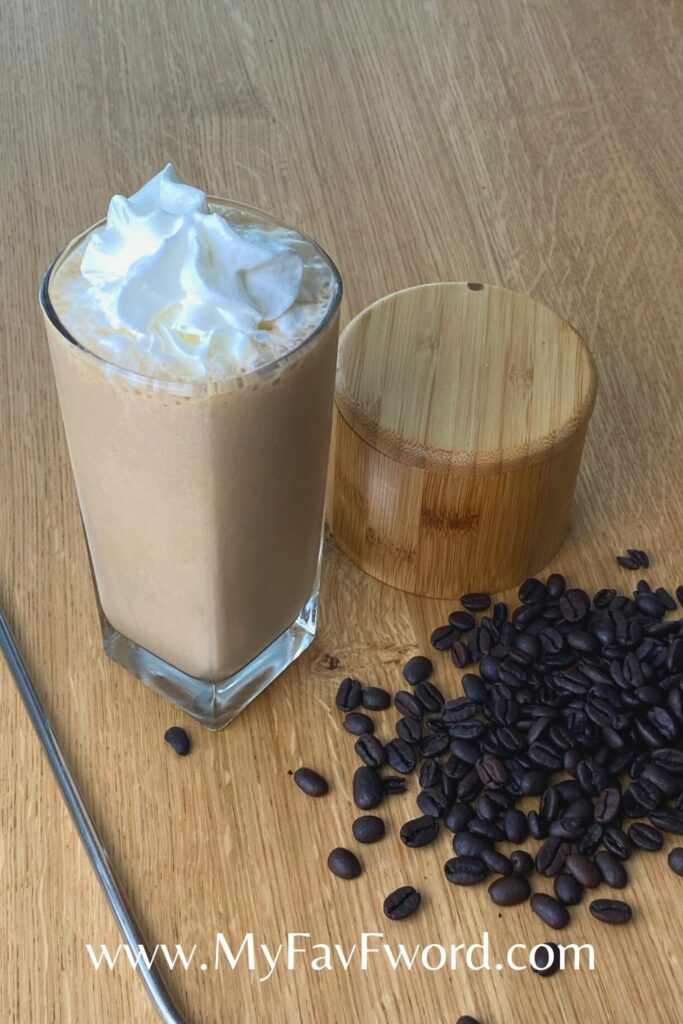 What will you need to make Frappuccino healthier?
Ice
Coffee – if you have an espresso machine and can make a good quality shot that would be ideal. If you don't – you can use instant coffee. Make sure you make the coffee strong
Syrup – there are lots of zero calorie syrups out there. For this recipe I use Caramel Vanilla Creme by Skinny Syrups. I find it the best if you are into caramel flavors. But you can try any other flavored syrups you like. I bought them at TJ MAXX but if you cannot find it there, look for it here.
Milk – I use 2% milk. Feel free to use any milk that you use for your coffee.
Xanthum Gum – this ingredient sounds a bit complicated and you may wonder if you can buy it anywhere, in fact, you can actually find it in your grocery store or you can purchase it online here. It is a starch that will thicken the coffee and make it very smooth. You will need very small amount – do not add more as it gets very thick. You can make the drink without it but the consistency of ice will be a bit choppy and ice tends to separate from the liquid and lump more without it.
Salt – just a little pinch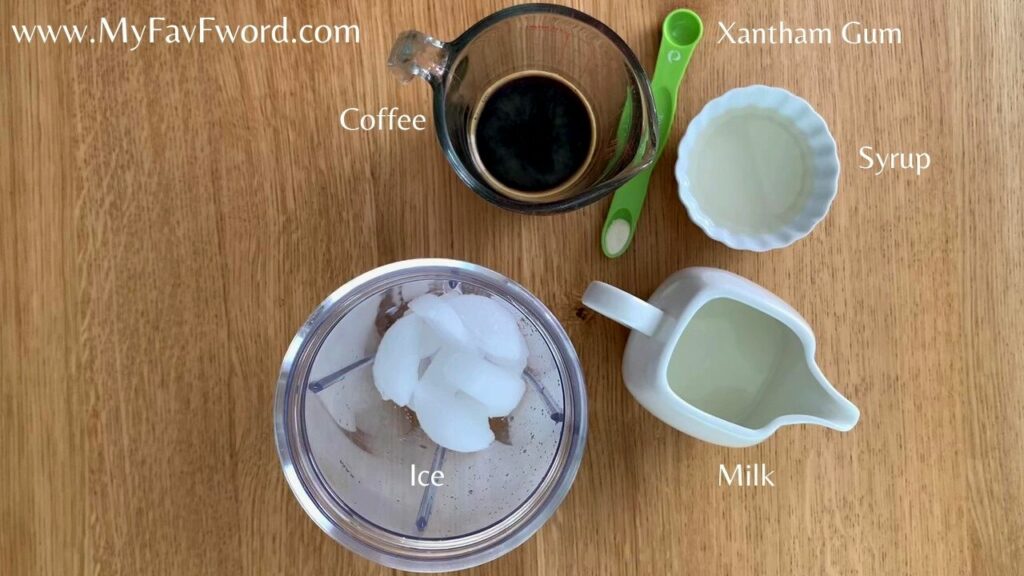 Why are frappuccinos bad for you?
They contain lots of sugar and are very calorie dense. Caramel Frappuccino from Starbucks, the small one (12 oz) has 260 calories. And most people order medium or larger. That can drive the calorie count to 500 calories. That is a meal. If you have one every now and then, it won't hurt you but if you like to drink it every day or few times a week that can add up.
Instead of giving up on your favorite frappuccino, create your own at home. You can lower the calories by 200 on a small caramel frappuccino without sacrificing any flavor. And you can make it in the comfort of your own home – no need to drive anywhere. Best of all, you can have it every day.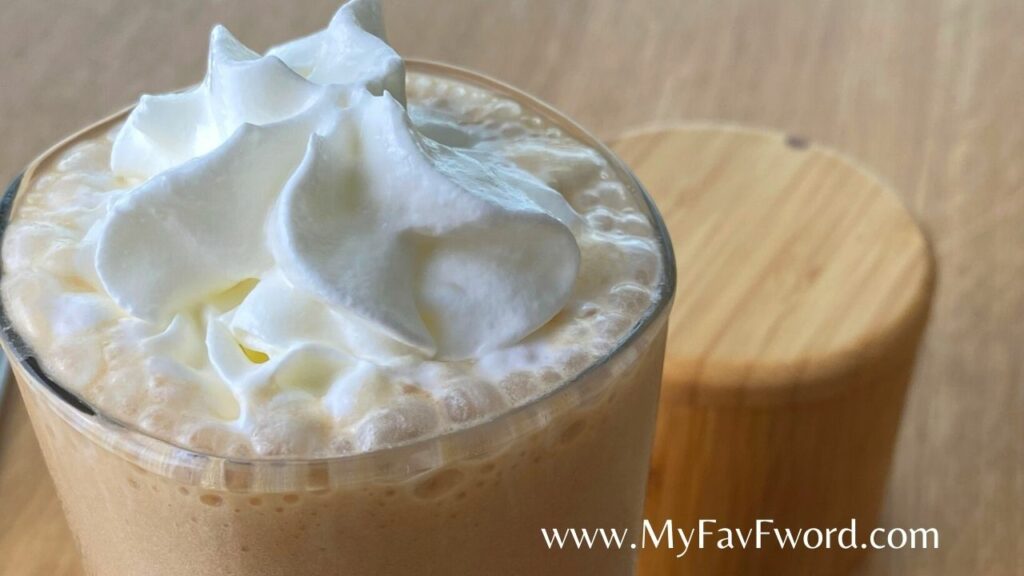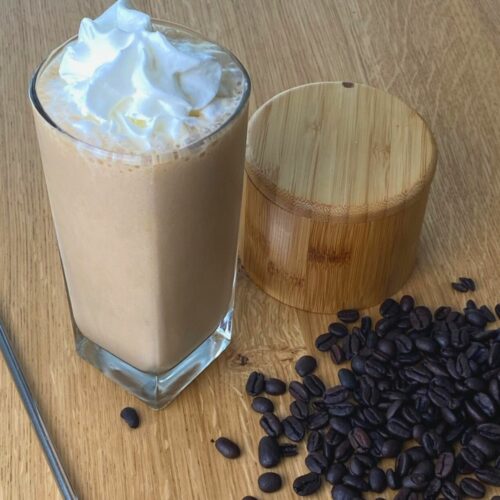 Frappuccino but Lighter
This recipe makes a delicious frappuccino in 5 minutes. No sugar added, just 2% milk and sugar free syrup. Dress it up however you like but if you are conscious of your calorie intake enjoy it without any toppings – that's how I enjoy it. It is so good I do not need any extras.
Equipment
Nutribullet or another blender you have

Breville Esspreso Maker Barista
Ingredients  
1.5

freshly brewed espresso

or instant coffee

3

oz

2% milk

1

oz

Vanilla Caramel Creme

Skinny Syrups

4.5

oz

ice

⅛

tsp

xanthan gum

pinch of salt
Instructions 
Blend on high for 15 – 30 seconds
CHECK OUT THESE RECIPES NEXT:
BELGIAN WAFFLES WITH BUTTERMILK
FRENCH TOAST – HIGH PROTEIN AND LESS CALORIES
PEACH COBBLER WITH OATMEAL- LOW CALORIE
*Links in this blog post are affiliate links, which means at no extra cost to you, I will make a small commission if you click them and make a qualifying purchase*
---
---