Peach Cobbler with Oatmeal- Low Calorie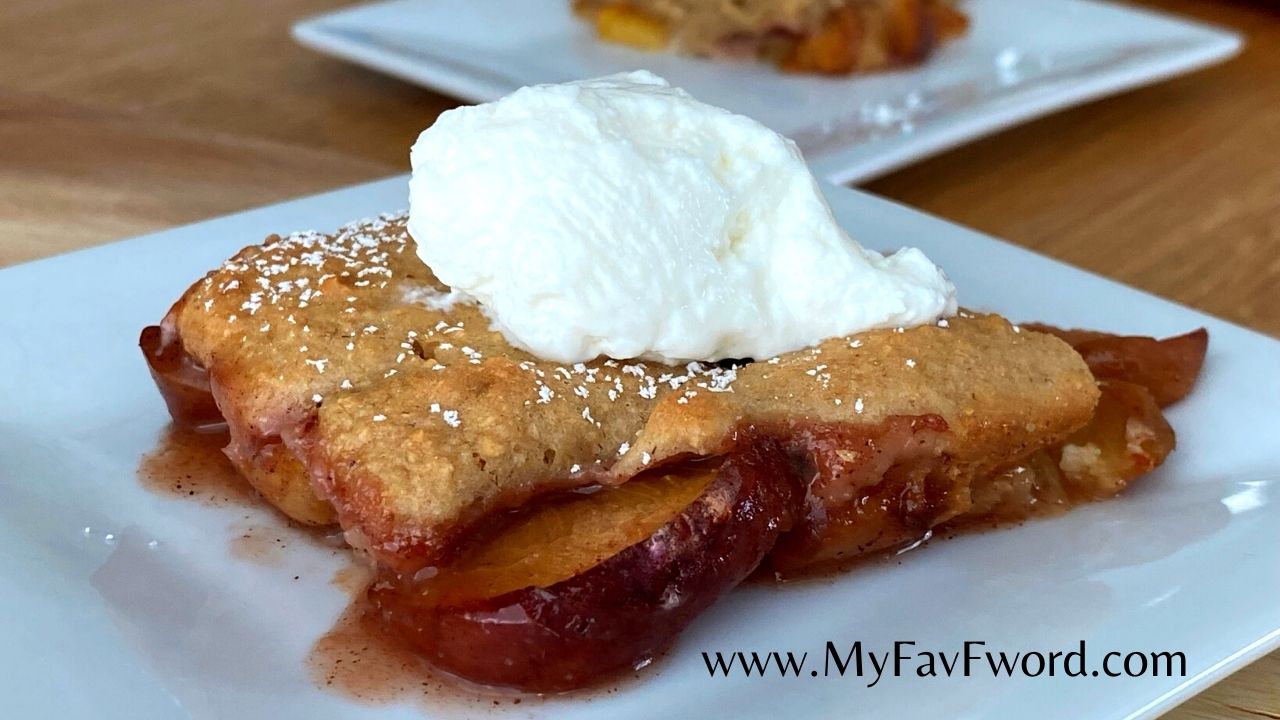 This Peach Cobbler is a cobbler that can be enjoyed for breakfast because it has no flour or butter and very little sugar. You can even have no sugar if you decide to use sugar substitute.
I am always blown away when I remove butter from a recipe and replace it with yogurt and the dessert tastes amazing. No, it doesn't taste exactly like the original but it is still delicious. And very often I find myself liking the lower calorie version more. And this peach cobbler is no exception. You can add as many peaches as you like or even replace peaches with any other fruit you like.
For video instructions visit link below for Peach Cobbler:
What do you need to make this Peach Cobbler?
Peaches of course! Ripe peaches are the best: juicy and soft. I often make a cobbler when the peaches are so ripe and soft that I do not want to eat them anymore but I will enjoy them baked. It is a good way not to throw your fruit away if it doesn't look perfect anymore.
Oats – I use old fashioned oats and grind them fine until it looks like flour. You can also use oat flour but this option tends to be more expensive.
Sugar or any sugar substitute. I realize that nowadays sugar or sweeteners are very controversial and everyone has an opinion about health of the product. I, myself, have been going back and forth and decided that I do not mind the taste of sweeteners (Monkfruit is by far my favorite) and I have not seen any evidence that is deadly. But if you feel that honey, agave or maple syrup are worth the extra calories (they are very high in calories) than feel free to use any of those. I tend to use either sugar or sweeteners depending what I can get away with 🙂
Greek yogurt – non fat Fage is my favorite option here. Low in calories, high in protein and in baked goods you will not taste the difference between full fat and non fat yogurt.
Milk – I use 2% milk. You can use full fat (calories will change slightly) or any type of milk that you prefer
Spice it up with cinnamon and vanilla extract
Corn starch to thicken peach juices a little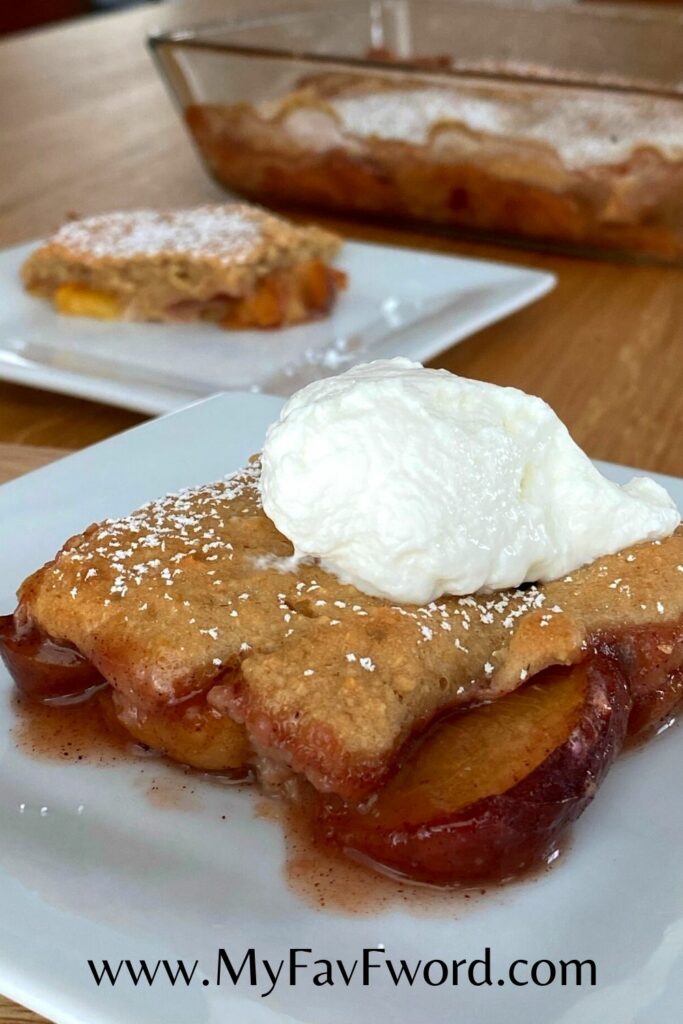 Frequently Asked Questions
Can I use canned peaches instead of fresh?
Absolutely! The only problem with canned peaches is that there is alot of added sugar. So if you want to make a low calorie and low sugar peach dessert I recommend you use fresh peaches or look for a low sugar canned peaches.
What's the difference between crisp and cobbler?
Cobbler is a softer, runny dough that has sort of cake like texture. Crisp has a crunchy top that needs good amount of butter to be crispy. Usually, crisp is a thin layer of crumbly pieces of dense pieces of dough.
Is peach cobbler bad for you?
It can be depending on ingredients you use. The regular recipe for peach cobbler is heavy in sugar and has lots of butter. It tends to be very calorie dense dessert.
However, if you swap lots of sugar and butter for lighter options like yogurt and sweetener, just like I did in this recipe, you can feel good about eating it. It is a low calorie, no butter and low sugar option. Additionally, making it from scratch at home helps you control the ingredients – you know exactly what's in it. Restaurants make their dessert very high in fat and sugar as those ingredients make everything taste better. I cannot blame them for it – it is their business and they want to make sure their food tastes amazing but that is not a good thing when you want to eat healthy.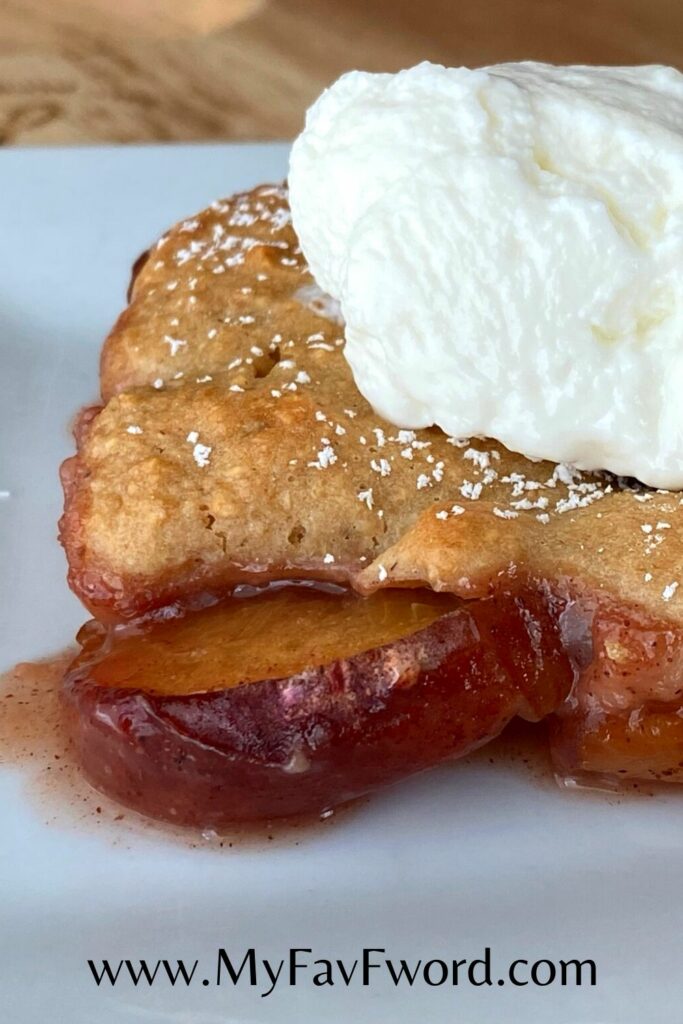 How do you thicken peach cobbler?
The best thickening agent is corn or potato starch, but be careful not to over do it. A little goes a long way.
Why is my peach cobbler runny?
You may have had extra juicy peaches or you did not add enough of corn starch. But do not worry about it. If you let it sit for 15 – 30 minutes it will thicken.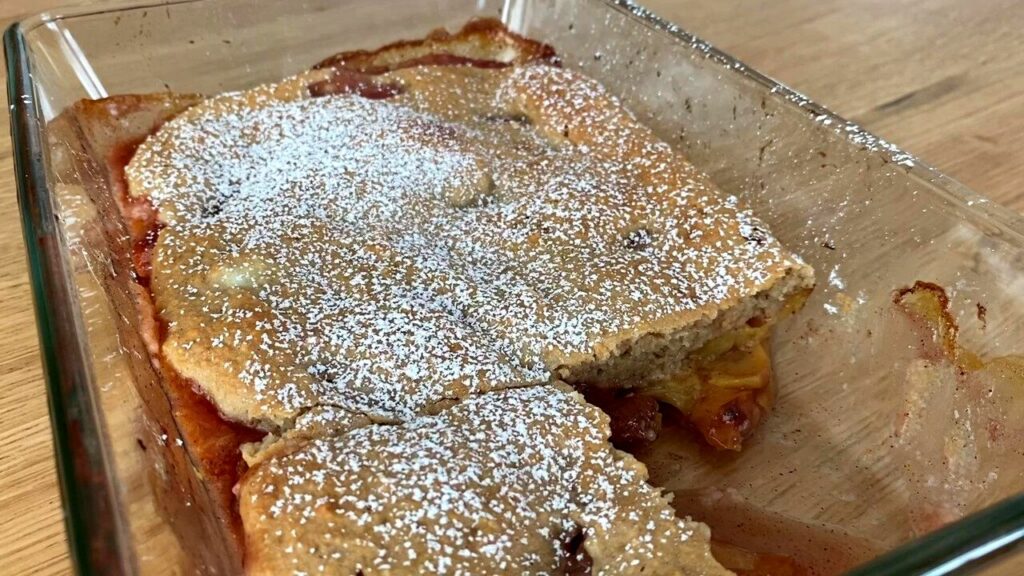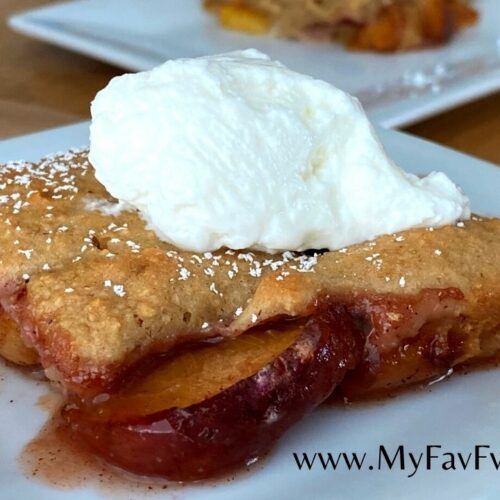 Peach Cobbler – with oats
This is a recipe for a peach cobbler that can be served for breakfast. No butter, no flour, tons of fruit and low in sugar.
Ingredients  
FOR PEACHES
5

medium

peaches

4 oz each

1

tsp

cinnamon

1

tsp

corn starch

1

tbs

sweetener

zest of half a lemon
DOUGH
100

g

old fashioned oats

a bit more than one cup

25

g

brown sugar

6 tsp

85

g

non fat greek yogurt

½

cup

milk

125 g

1

tsp

baking powder

1

tsp

vanilla extract
Instructions 
FOR PEACHES
Remove seed and cut up in moon shape pieces (or any type of pieces you prefer)

Sprinkle with cinnamon, corn starch and sweetener and mix well

Bake at 350F for 10 minutes
DOUGH
In a large bowl combine dough ingredients – add milk gradually to reach desired consistency

Remove peaches from oven and spread the dough evenly over the peaches

Bake at 350F for 30 minutes
CHECK OUT NEXT:
---
---