Healthy Peach Crisp with Oats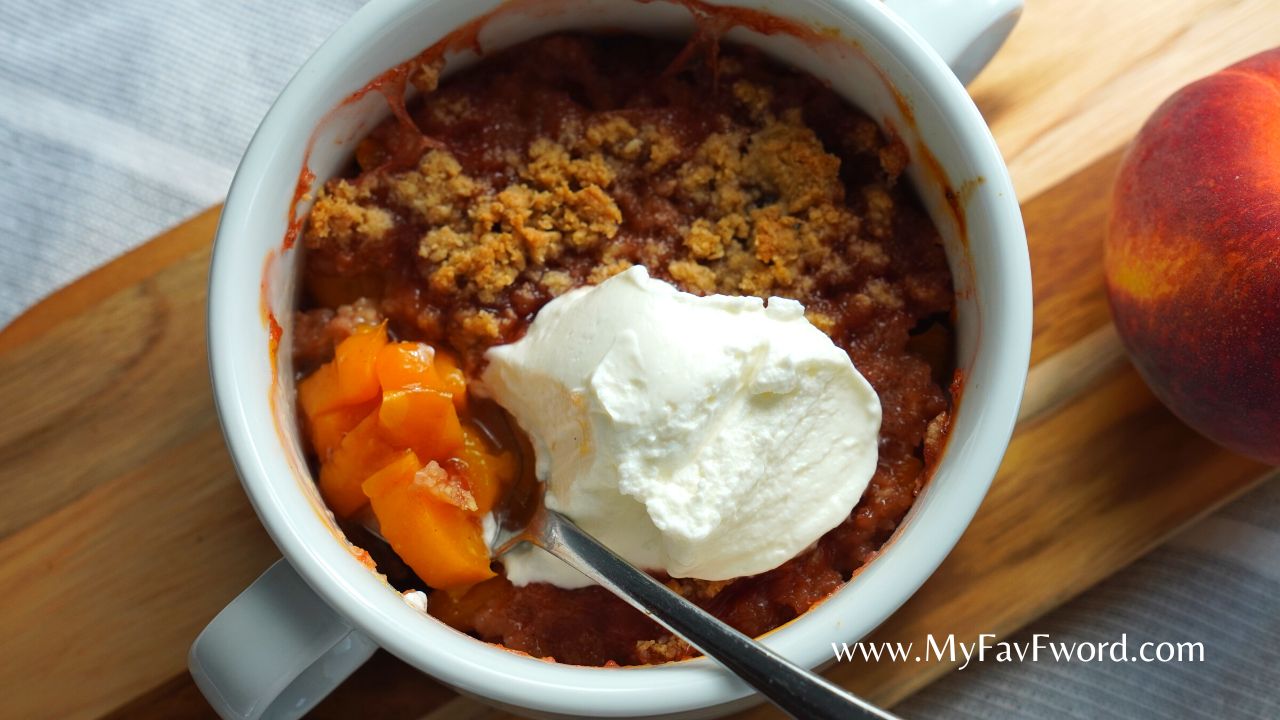 To make a peach crisp healthy all we need to do is remove the amount of sugar and butter that you will find in a traditional recipe. I also replaced flour with oats to make it a bit more wholesome and filling. Instead of ice cream or whipped cream, I like to serve it with 5% far Greek yogurt (Fage being my favorite). All these changes make this peach crisp worthy of being served for breakfast.
For step by step video instructions visit this video:
Can you leave skin on peaches for healthy peach crisp?
There is no need to remove skin from peaches before making peach crisp. I like the texture that skin brings. Also, it saves time!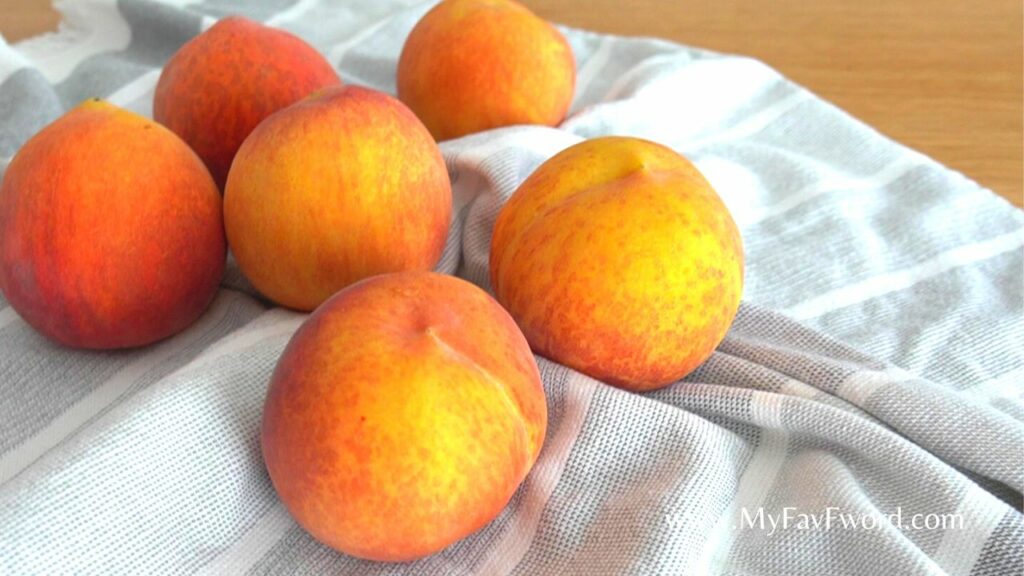 How do you keep peach cobbler from getting soggy?
When you have very juicy peaches the peach cobbler may get a bit soggy. To prevent soggy cobbler, add corn starch to the fruit. If you are like me, and don't like adding corn starch to fruit, cook the peaches down in a pot until the liquid thickens. The dryer the fruit the less soggy the crisp will be. Also, the crisp will be bubbling when you remove it from the oven and if you let it sit for few minutes it will thicken.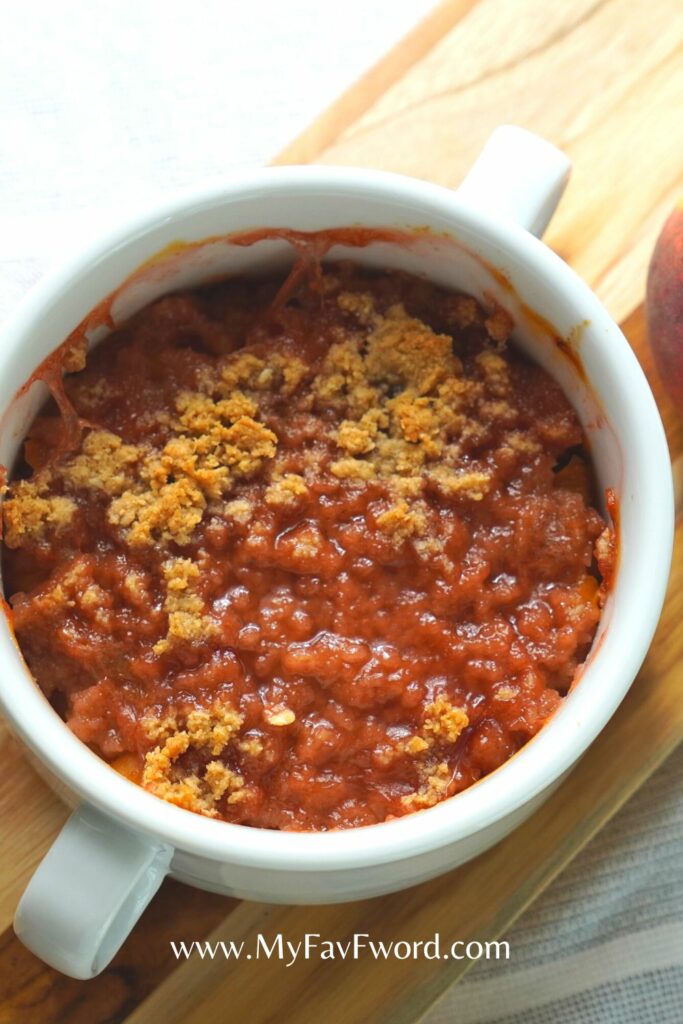 I accidently burnt peaches on a pan and came to a realization that using a frying pan and slightly browning the peaches not only removes all the liquid but also adds tons of flavor! This way I achieved perfect peach cobbler.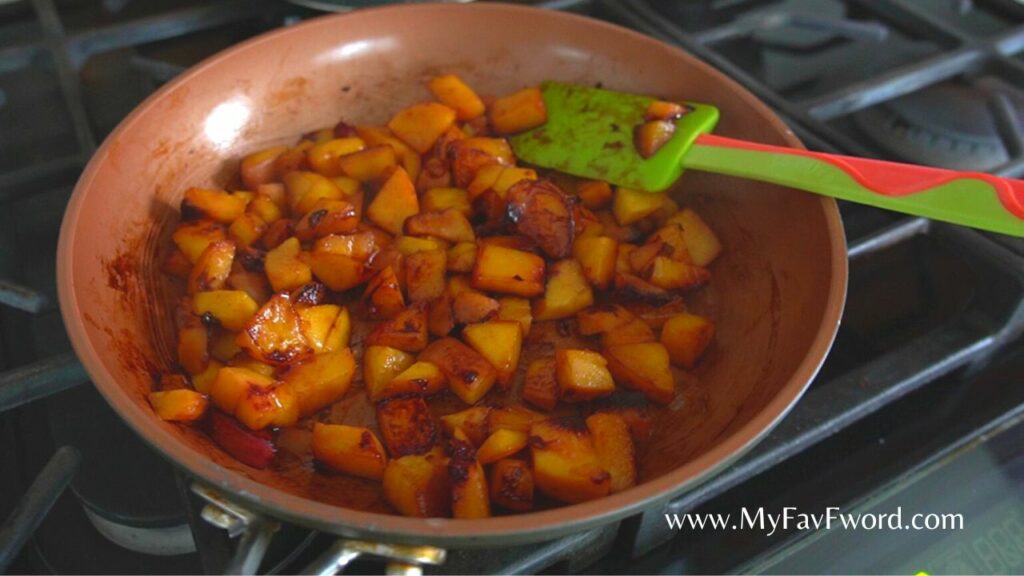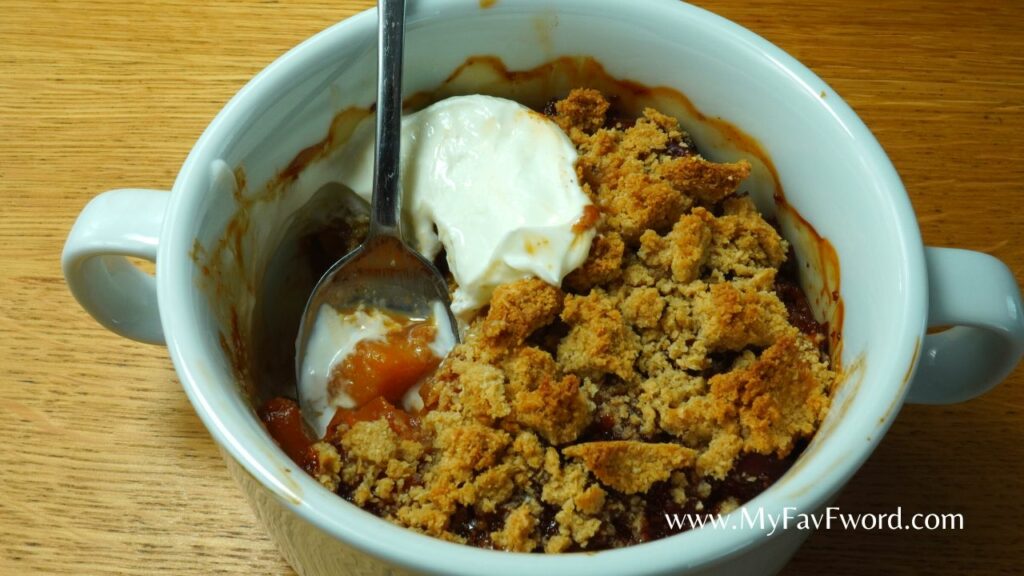 How to make a healthy peach crisp with oats
This is a perfect recipe for peaches that you may have had for a while and they are not that great to enjoy by themselves. Or maybe you bought peaches that are too dry or not as delicious as expected. That happens a lot here in southern Florida. It is a hit or miss when it comes to peaches. Sometimes I get juicy, tasty peaches and some other times, they are just not so great. And that is how this recipe was born.
You can also try this Peach Cobbler or in case you want to use a different fruit like apples, try this Healthy Apple Crisp.
Start with preparing peaches but cutting them in half and removing the pit. I like to dice the peaches so each piece is small enough to break down in a pot.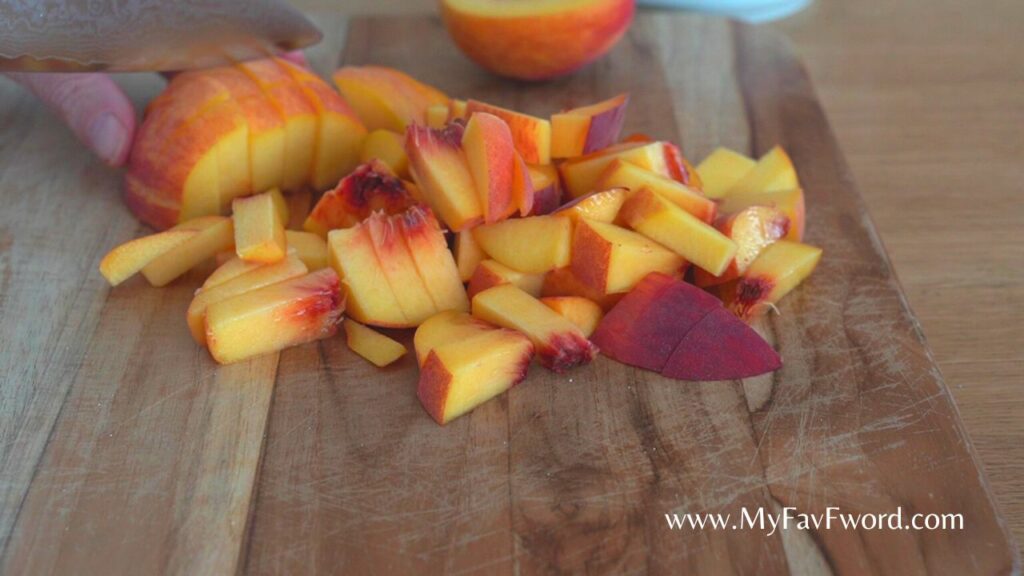 Transfer the peaches into a small pot and add a sweetener of choice. For low calorie crisp, use monkfruit or another 0 calorie sweetener.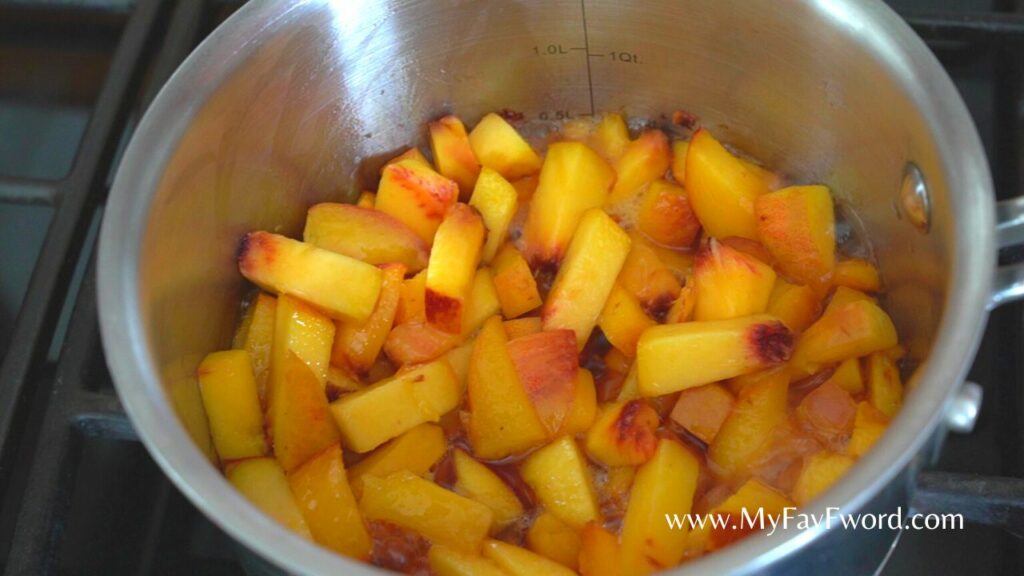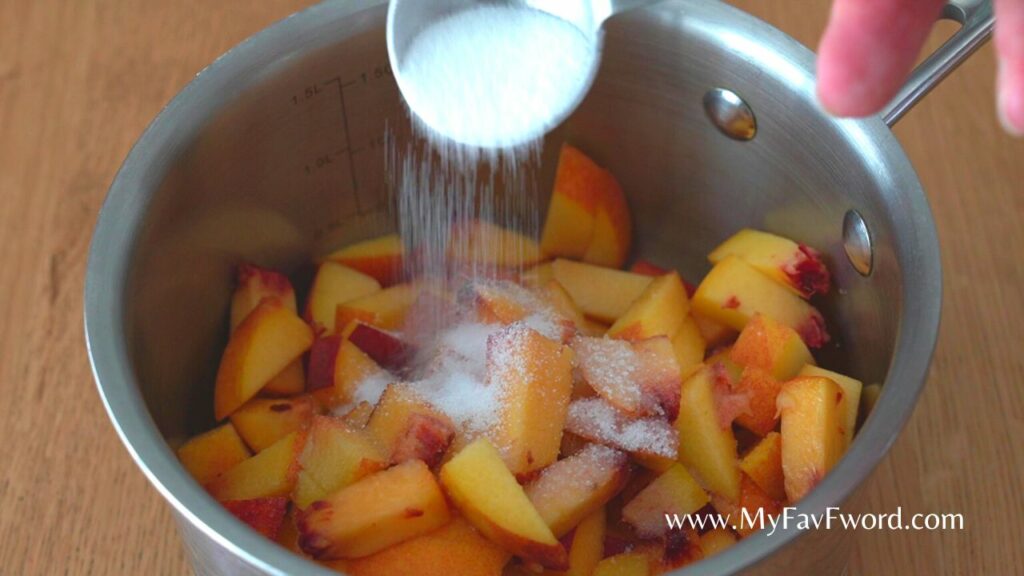 Cook until the sauce thickens or completely evaporates.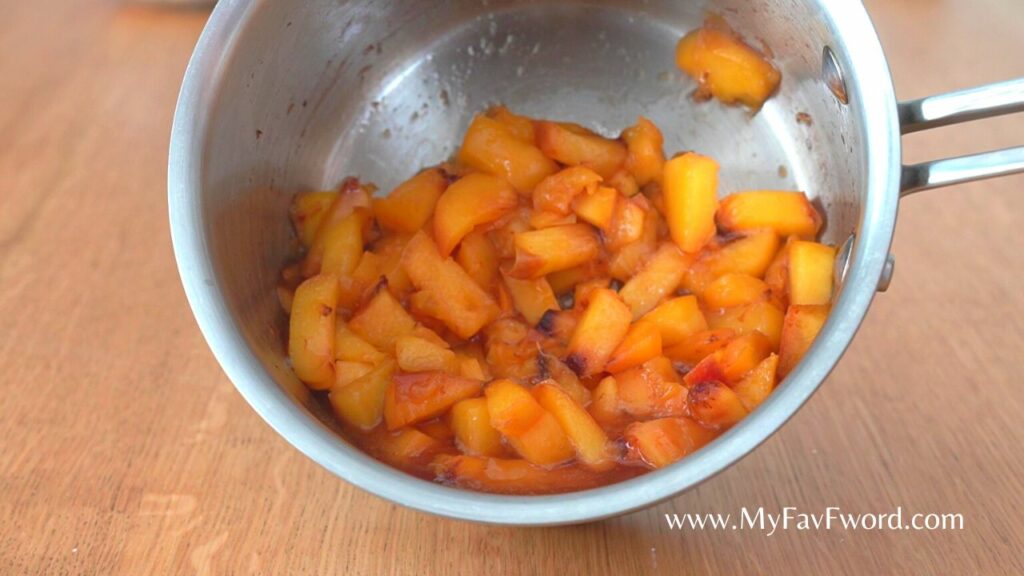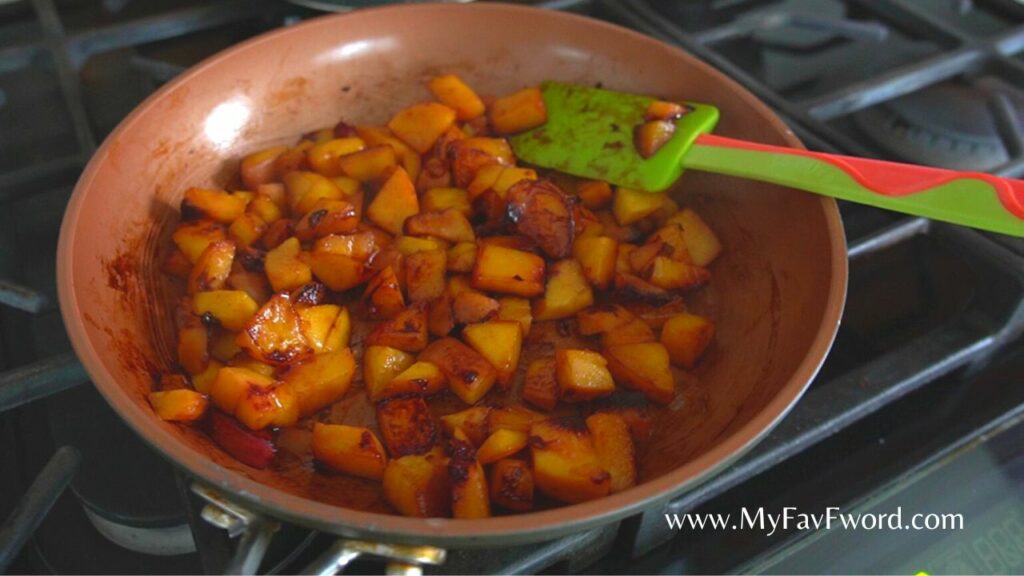 Transfer into an oven safe ramekin.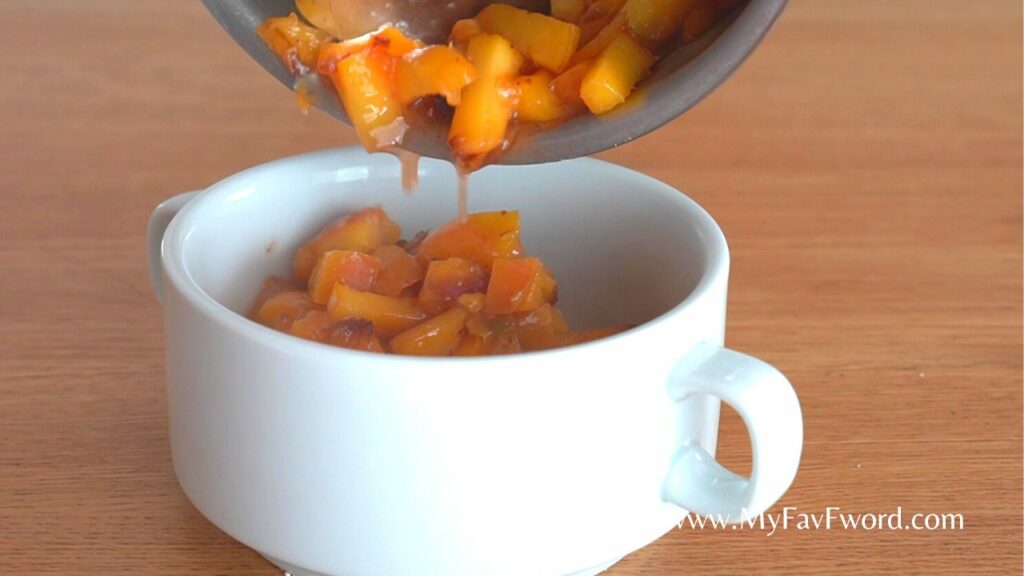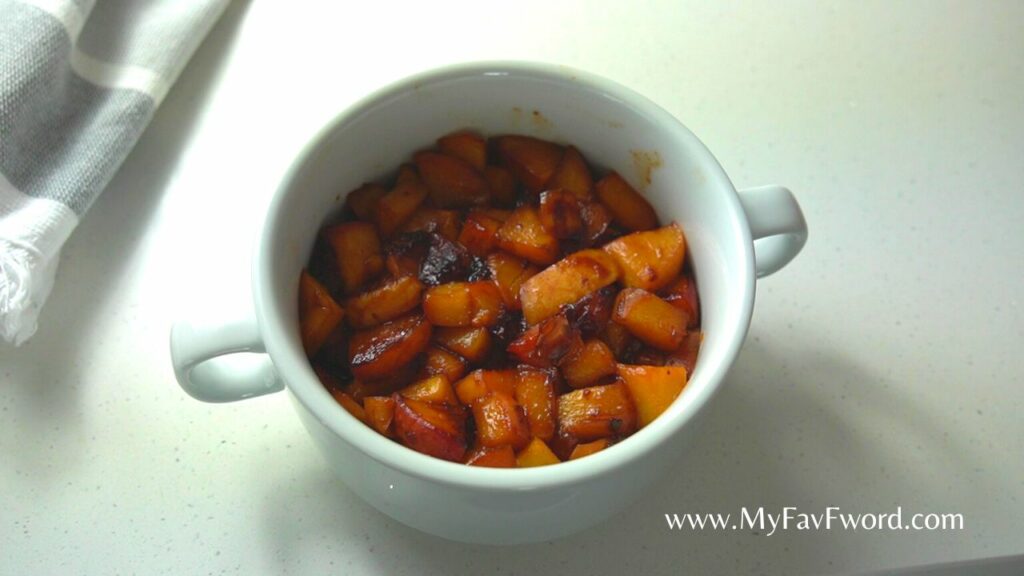 Prepare crumble (crispy topping) by combining oats, brown sugar and room temperature unsalted butter.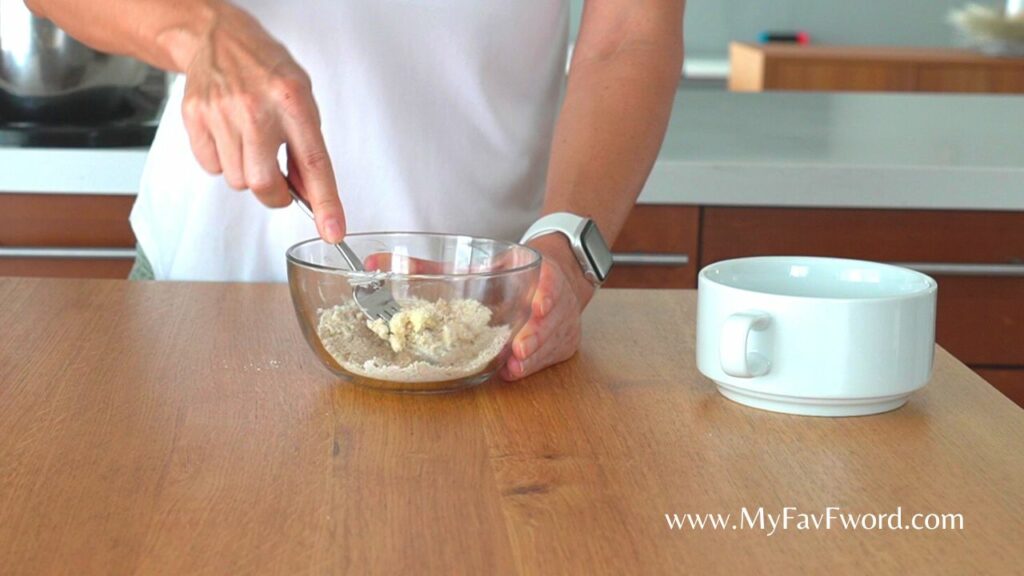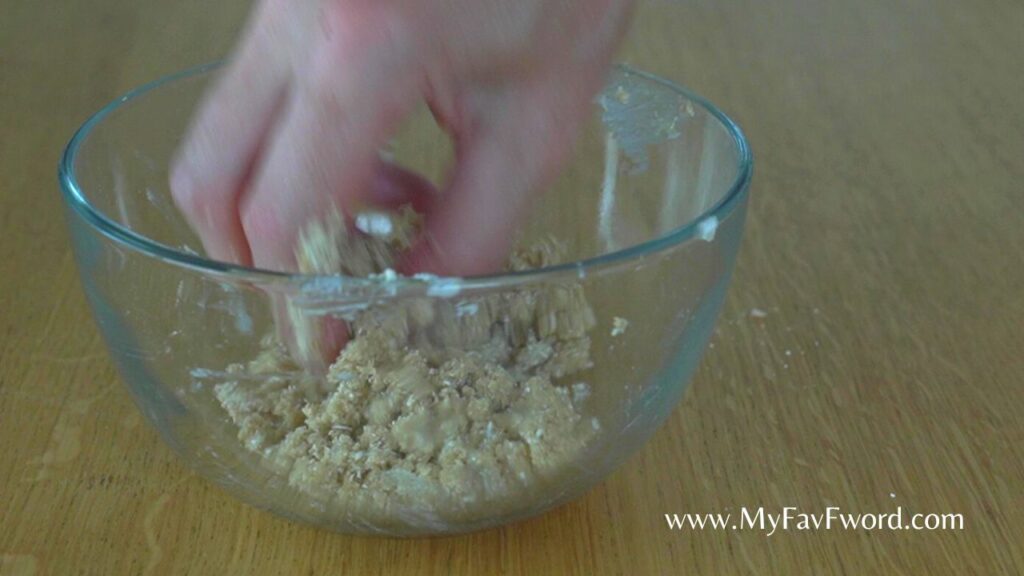 Spread the crumble oat topping on the peaches and bake at 375 F for 30 – 35 minutes.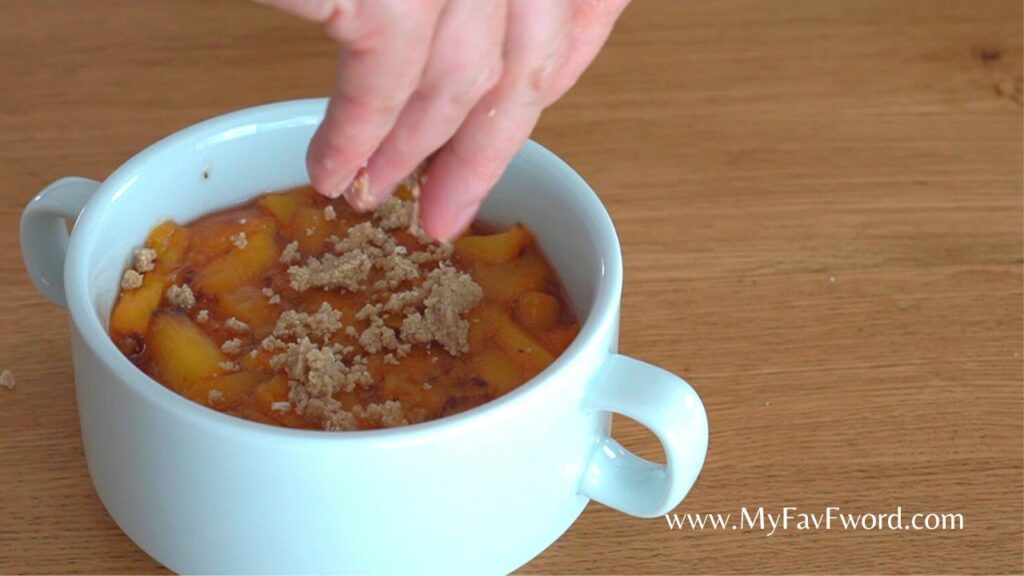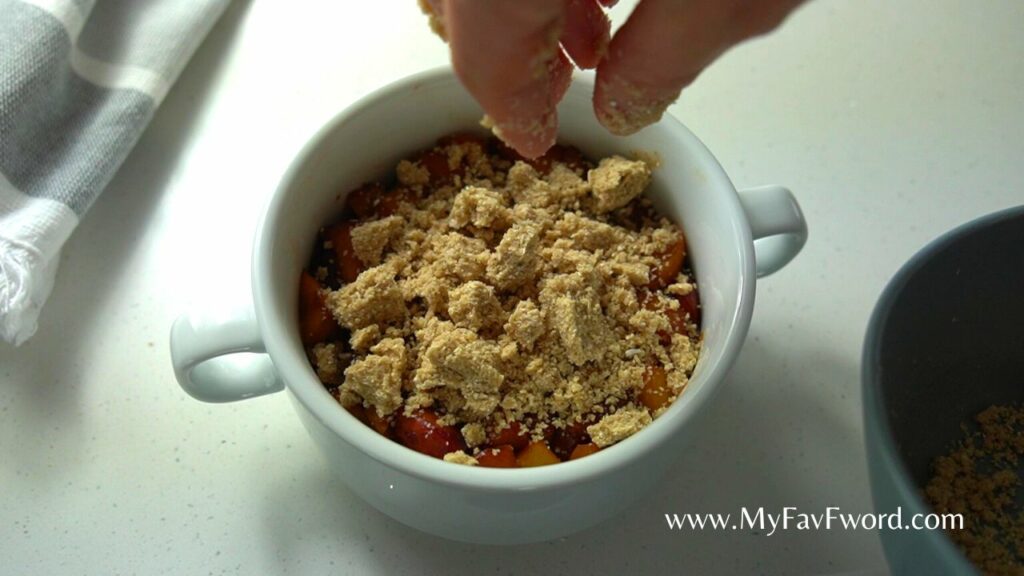 Serve with 5% fat Greek yogurt, Fage is my favorite. You can also have it with ice cream if you don't mind adding extra calories. There are different low calorie high protein ice cream alternatives that could be a great option as well. My favorite is Fairlife – not the lowest in calories but the tastiest for sure (you can find it in Walmart or your local grocery store). Halo top is a decent option as well.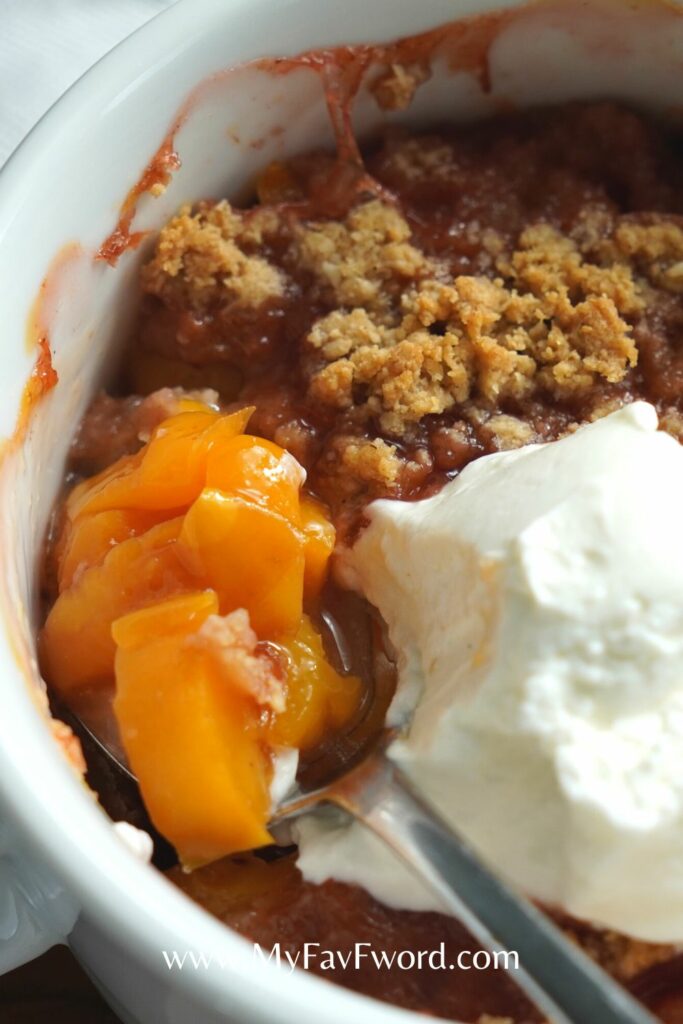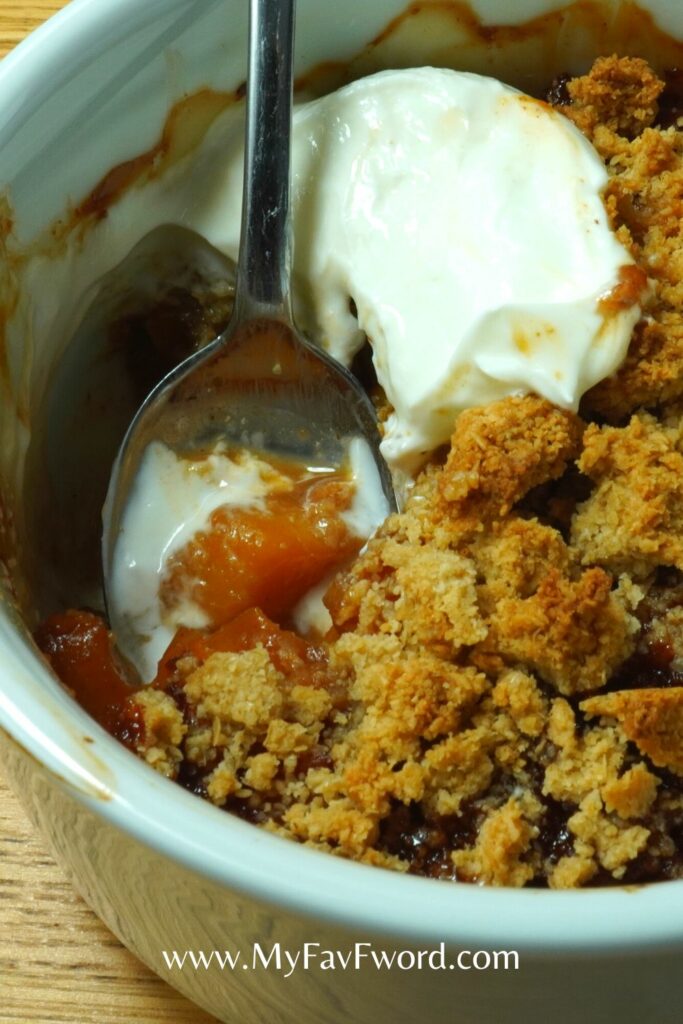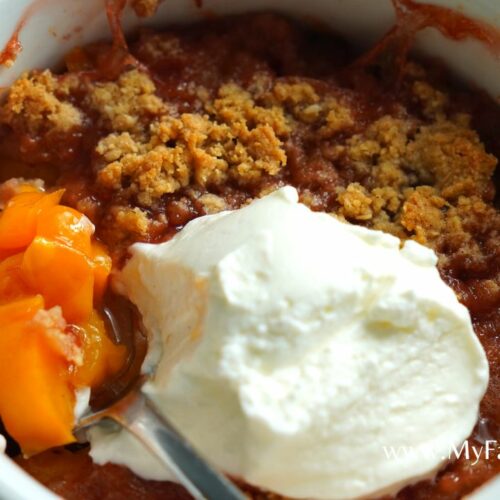 Healthy Peach Crisp with Oats
Peach crisp is a great dessert for any occasion. This one is even better because it is a healthier, lower calorie, lower sugar version. It is an easy dessert to make if you are in a hurry. No peaches? No problem, use plums, berries, apples… and enjoy!
Equipment
1 oven safe ramekin (20 oz)

1 small pot
Ingredients  
Crisp Ingredients
¼

cup

old fashioned oats (grinded to flour)

20 g

½

tbsp

unsalted butter

1

tbs

brown sugar

pinch

salt

dash

cinnamon
Peach filling
2

large

peaches

14 – 15 oz (420 g)

1

tbs

monkfruit sweetener
Instructions 
For the crisp
Combine all ingredients: oats, sugar and butter and create a crumbly topping
For Peaches
Cut the peaches in half and remove the pit

Transfer into a small pot and add sweetener

Cook on medium high until the juice reduces
Assemble
Transfer the peaches into oven safe ramekins

Bake at 375 F for 35 minutes

Serve with Greek yogurt or ice cream
GUILT FREE DESSERT RECIPES
NO BAKE YOGURT STRAWBERRY CHEESECAKE
COFFEE CHOCOLATE CHIP YOGURT ICE CREAM
*Links in this blog post are affiliate links, which means at no extra cost to you, I will make a small commission if you click them and make a qualifying purchase*
---
---