French Toast – High Protein and Less Calories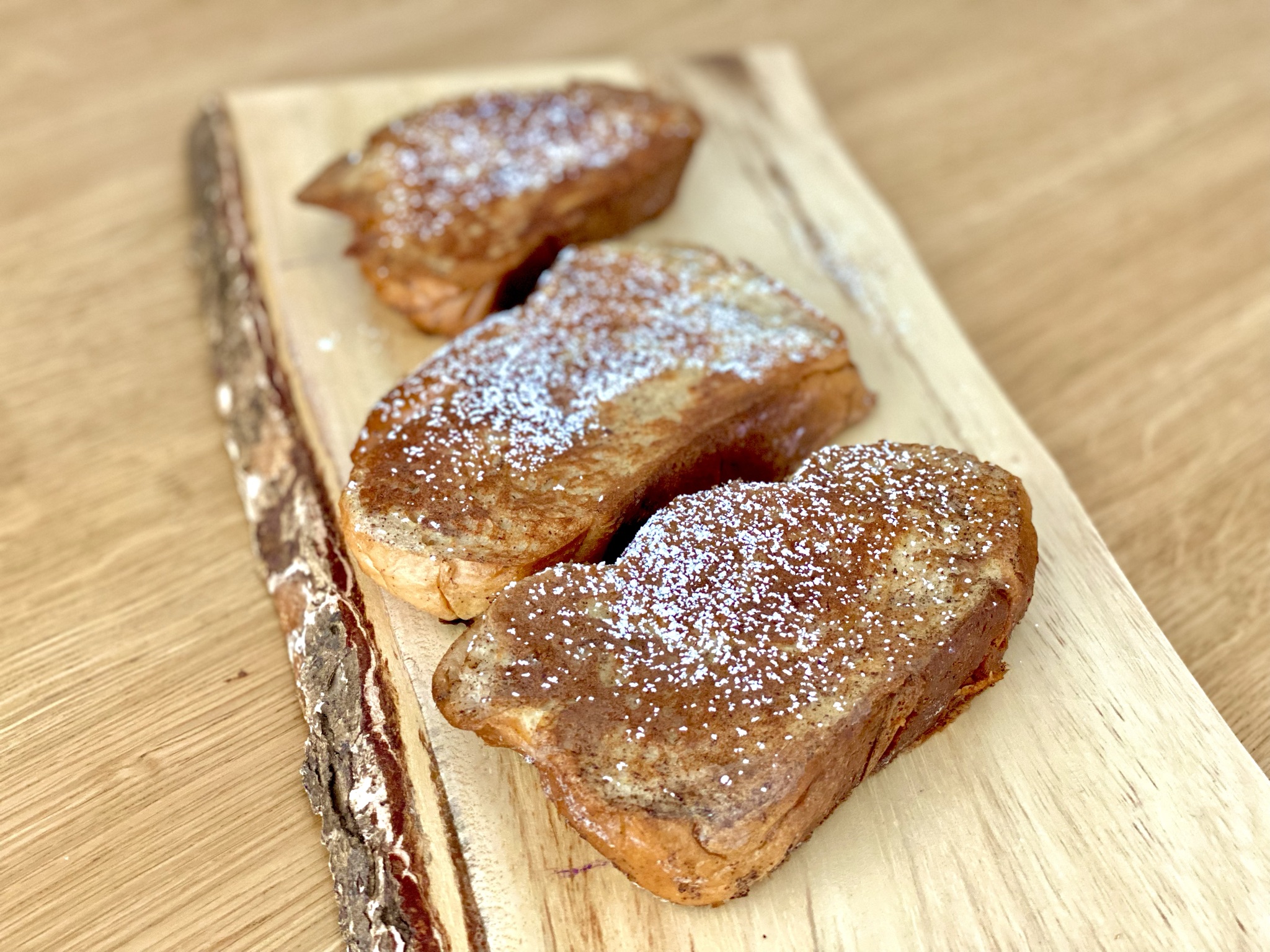 French toast can be a very indulgent and rich breakfast that packs tons of empty calories. I recently came across a recipe that adds lots of protein to French toast. I had to try it. Also, I had to make changes to it to fit my taste buds.
When I first saw the recipe I was skeptical about it and I imagine you might feel the same way. But when you try to make it you will be blown away. I make my traditional French toast by using challah bread and a egg marinate. Since I a m calorie conscious I use 2% milk, eggs and add minimal amount of sugar. But it can be even more calorie friendly with added protein. The trick is to replace eggs and milk with egg whites. Yes, only egg whites. I know, it sounds almost gross but read on and check the recipe. It is amazing.
For detailed instructions watch the French Toast video below:

What will you need to make high protein French Toast?
There are even fewer ingredients in this high protein french toast than there is in any other. If you don't count the spices, there are only 2 major ingredients.
egg whites – buy them in a cartoon, most stores carry them
challah bread – in my opinion this is the best bread for any french toast. Even better for this high protein option as you will need a bread that can soak lots of liquid. Challah bread definitely can. Let's face it – it is also extremely delicious!
cinnamon, sweetener (I used monkfruit) or sugar, vanilla extract. All of these are optional.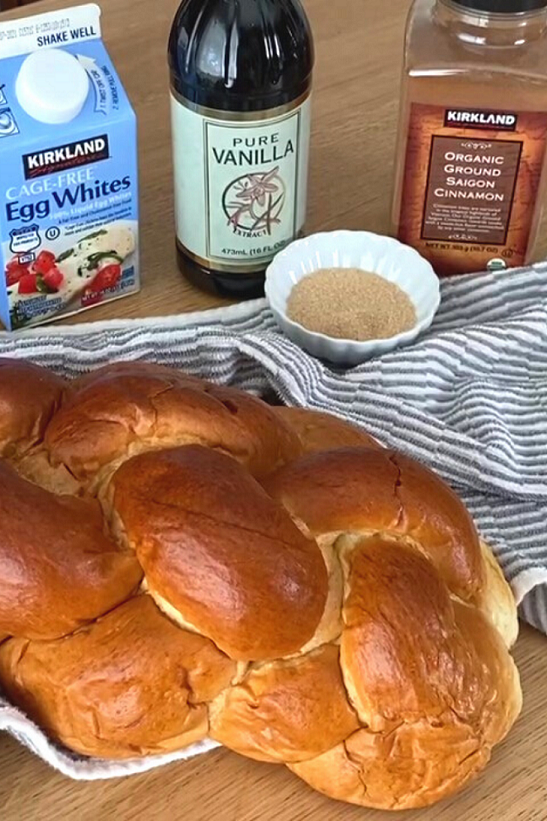 What to serve this French Toast with?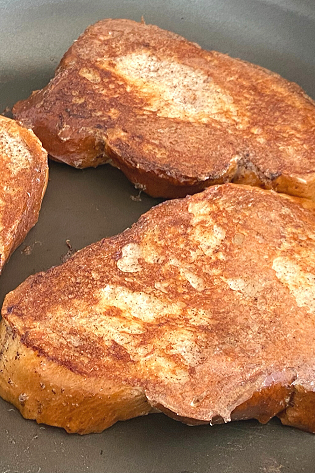 Sky is the limit here. But I will share with you what I served it with to maintain low calorie theme.
Syrup
This one is obvious. I used lower calorie option but if you do not mind adding extra calories, maple syrup is the best. Instead of drowning your toast in syrup you can just add one tablespoon.
Chocolate Peanut Butter Sauce
I went creative on this one. The ingredients for one large serving:
PB2 – powdered peanut butter. It is much lower in calories and high in protein. I used just one tablespoon
Cocoa Powder – one teaspoon
Vanilla Carmel flavored syrup – the kind you would use for a frappucino. You can use any flavor you like or not use it at all. I added one tablespoon
No sugar added pancake syrup – two tablespoons
I added also a splash of vanilla extract
Mix it all together well to remove any clumps.
Strawberry Sauce
Strawberries are low in calories and pack lots of flavor. That's why they are one of my favorite fruits to use for a sauce. Blueberries are another great option.
For just one serving of sauce you will need 140 grams of frozen of fresh strawberries and one tablespoon of sweetener (monkfruit in my case) or sugar.
Combine ingredients in a small pot and cook until it thickens
Greek Yogurt
This topping can make you wonder. And for someone who loves to eat her french toast with lots of whipped cream, it was a questionable choice at first. But it is really good. I used 5% plain Greek yogurt Fage. You can try to use low fat or non fat option but there is a significant difference in flavor for me. The non fat option tastes very sour for me.
Whipped Cream
For those of you who do not care so much about calories, I have a recipe for this Whipped Cream that is easy and very fast to make.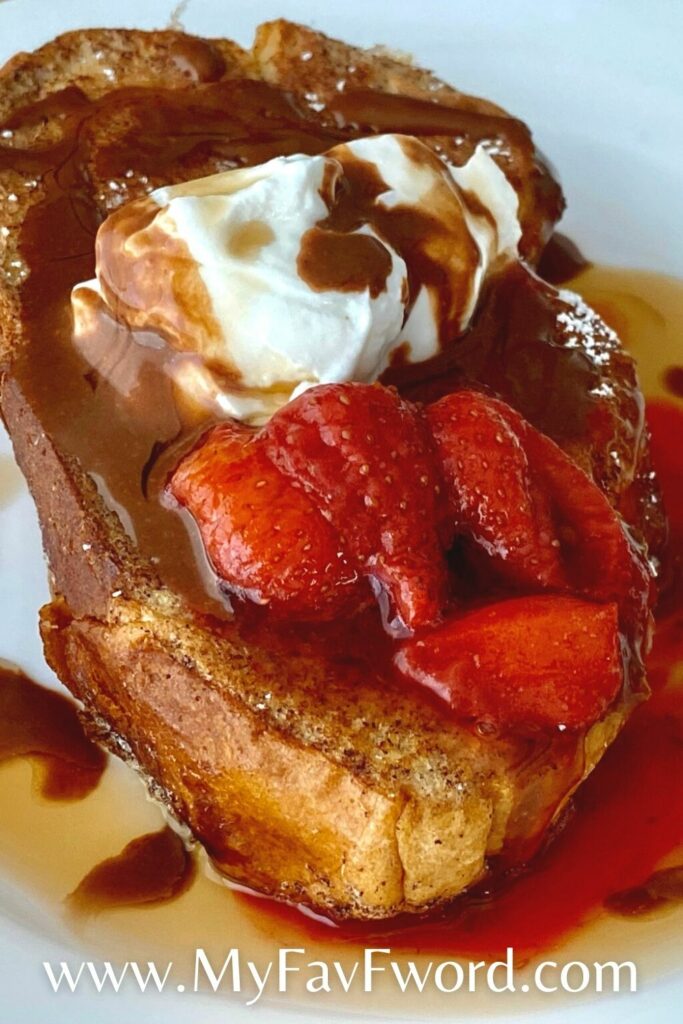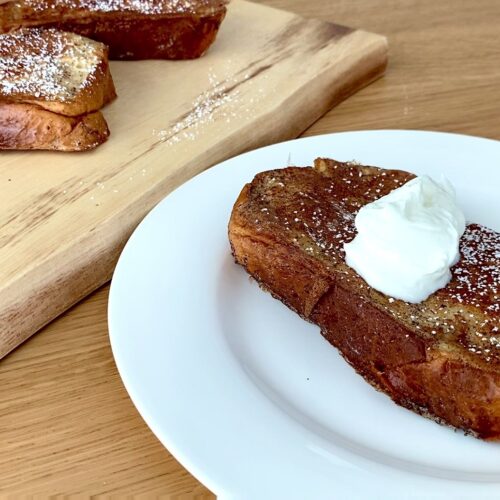 French toast recipe with egg whites
Try this French toast recipe with egg whites instead of the heavy in calories egg and cream counterpart. You will never look back when you do. It is as good as the traditional. But this recipe will save you lots of calories and add much needed satisfying protein.
Ingredients  
8

oz

challah bread

about 6 slices

1

container

egg whites

16 oz (454g)

1

tsp

cinnamon

optional

1

tsp

vanilla extract

optional

1

tbs

monkfruit sweetener (or any other)

if you don't like sweeteners – use sugar
Instructions 
Slice challah bread (each slice weighs between 1-1.5 oz)

Empty whole container of egg whites into a large baking dish

Blend all ingredients together

Soak challah in egg white marinade

Let the bread stay in the marinade until is soaks up all the liquid – it will

You do not need to use any butter or oil but if you want to grease the pan slightly you can.

Add the toast to the pan and cook on low heat until it browns, about 3-5 minutes

Top with your favorite toppings and enjoy
---
---