How to Roast Butternut Squash in the Oven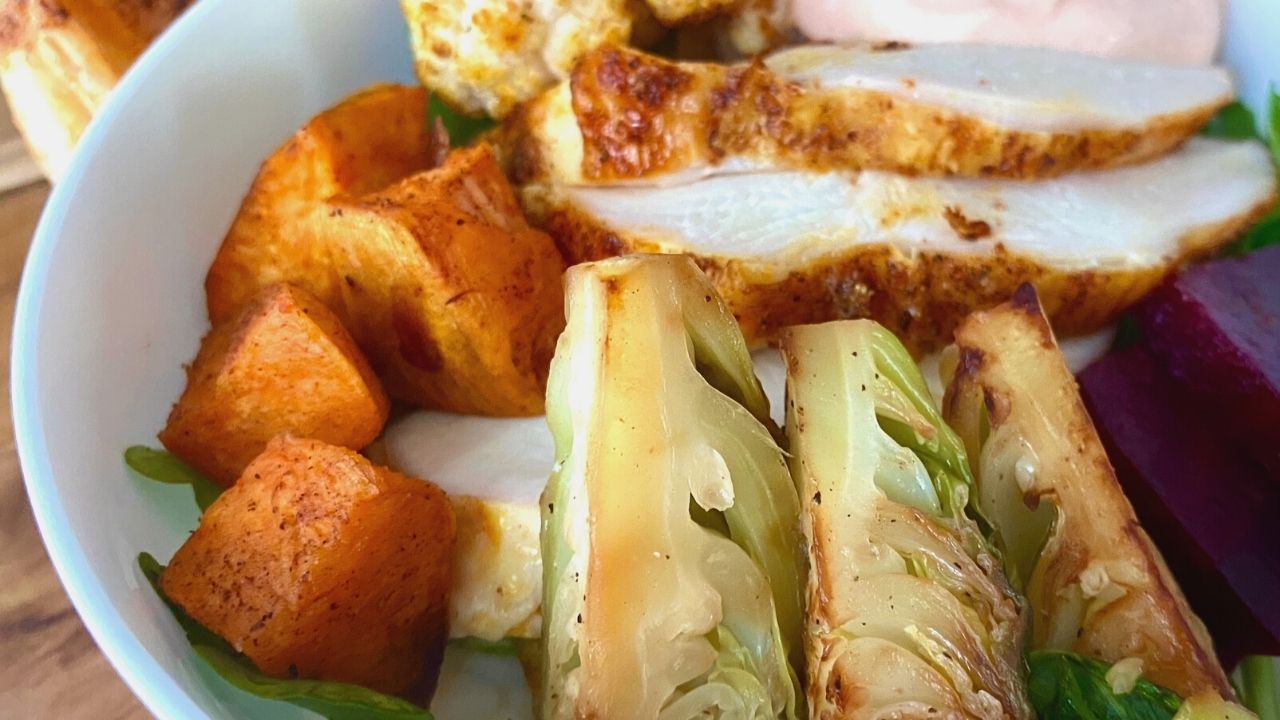 Butternut squash is one of those vegetables that I always have at home. First, because you can store it for months outside and it doesn't go bad. Second, it is such an awesome, diverse and amazingly tasting vegetable. It is very sweet but also surprisingly low in calories. I like to use it as a side dish – just plane roasted, in salads, soups and sometimes I would even blend it in my macaroni and cheese. So how to roast butternut squash so it tastes amazing?
For detailed video instructions check out this How to Roast Butternut Squash in the Oven video:
Do I need to peel butternut squash before roasting?
No, you do not have to peel it if you roast in as a whole – meaning, you cut it in half, season and put in the oven to roast. I choose to peel butternut squash and cut it in small cubes in order to speed up the roasting process and also, I like to use the leftovers in salads so the cubes work better for me this way.
Whether you are going to roast your butternut squash unpeeled or peeled and cubed, you will still have to do the work. If you decide to peel, you will do the work at the beginning and if you decide to roast it by just cutting it in half, you will have to scoop the flesh out and if you do decide to use it in a salad or a bowl, you will still have to dice it.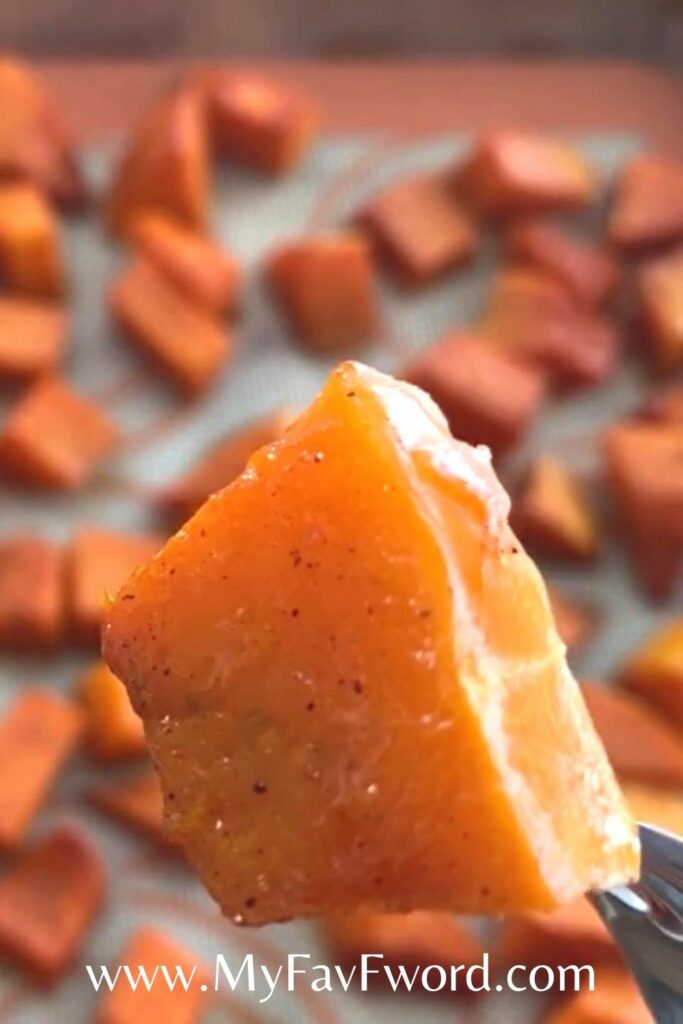 Is butternut squash healthier than potatoes?
Butternut squash is better than potatoes as far as calories go. In 100g of butternut squash there is 45 calories and in 100 g of white potatoes 77 calories, in sweet potatoes 86 calories. Considering the potatoes as well as butternut squash are rich in potassium and other nutrients, butternut squash is definitely healthier as it is lower in calories than any type of potatoes.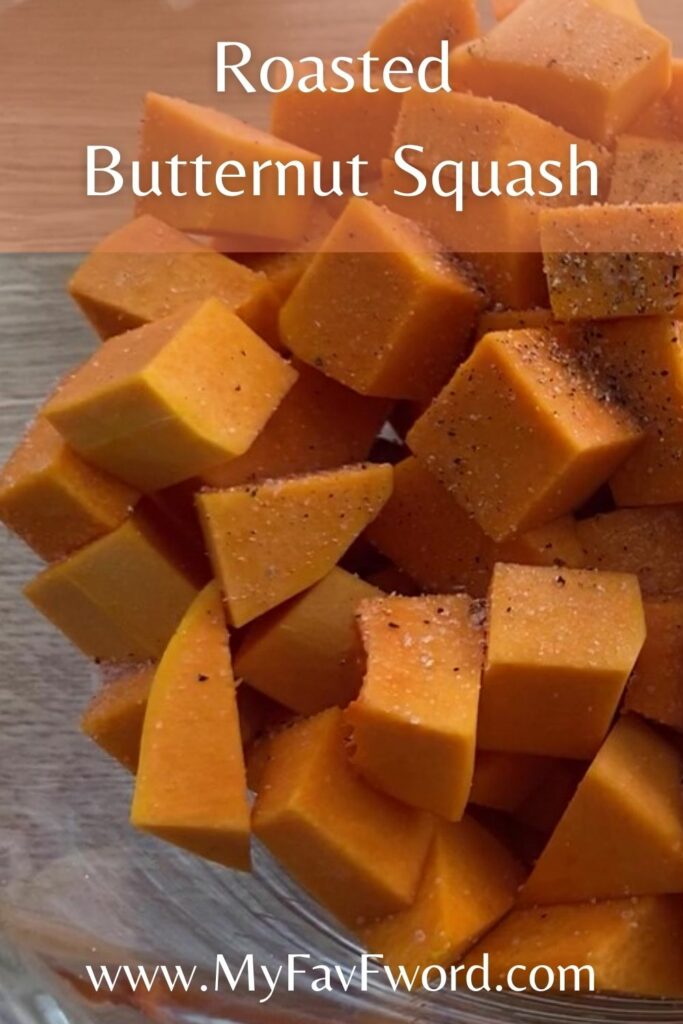 Is butternut squash good for weight loss?
Butternut squash is a great vegetable to include in your diet, especially when you are trying to lose weight. It is surprisingly low in calories considering how sweet and delicious it is. That means you can add it as a side to your favorite protein and it will fill you up. It is half the calories per ounce than sweet potato so you can have twice as much, which is very helpful on a weight loss journey.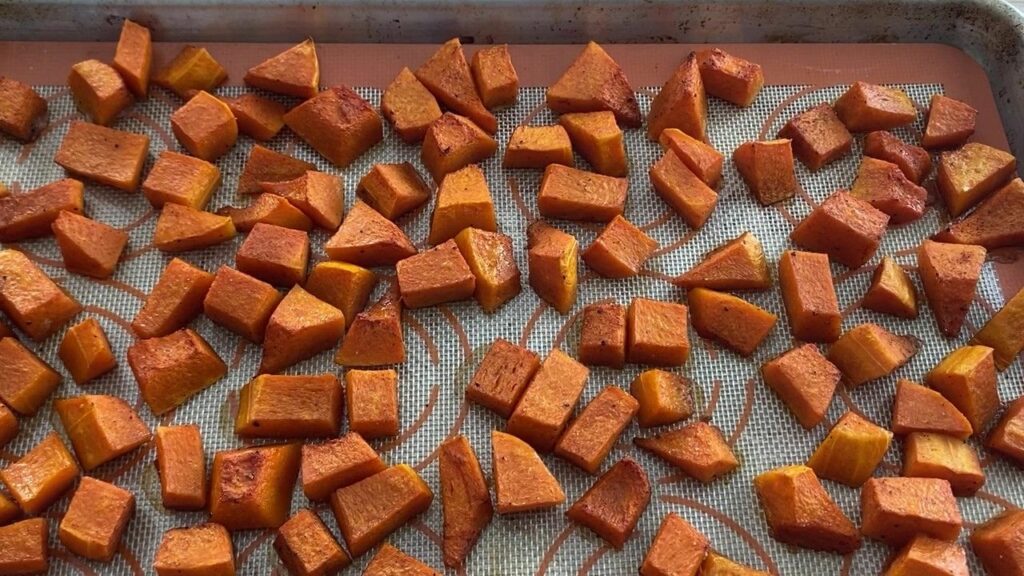 What to make with butternut squash?
Butternut squash is a great stand alone side. However, if you have leftovers there are alot of different options:
Blend it in a soup
Use it in a salad like this Salad with Salmon
Build your favorite veggie and protein bowl – add your favorite grain (quinoa, rice, bulgur, etc), vegetables and sauce.
Blend it and add to macaroni and cheese – really good!
Add to risotto
Add to pasta
Make a puree and serve it as a side dish for a steak or any type of protein you prefer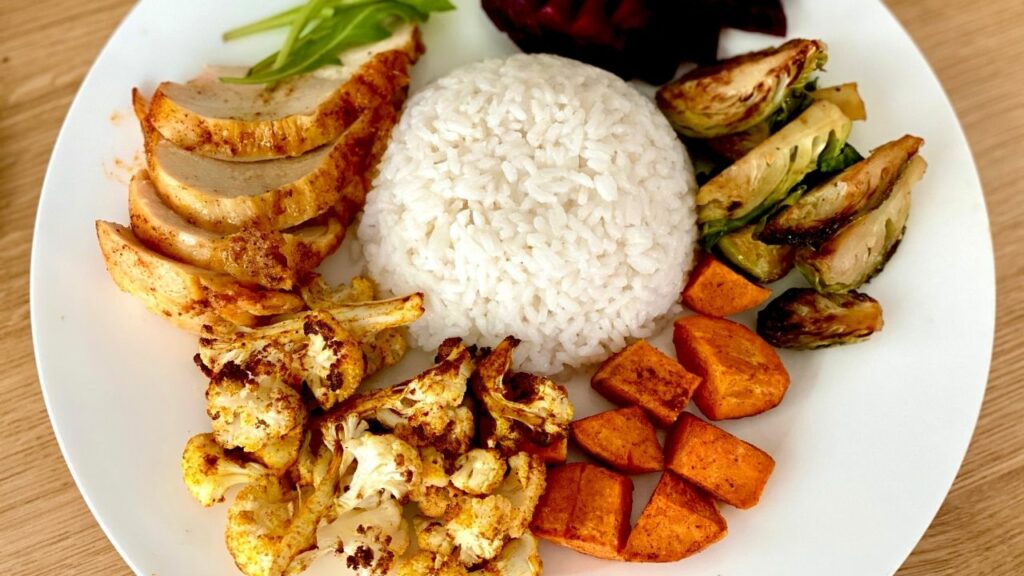 How to prepare butternut squash for baking
There are many different ways to approach preparing butternut squash for baking. You can just cut in in half, scoop the inside, season with salt and pepper and throw into preheated oven.
My favorite way is to peel it and cut in in cubes. First, because this way I do not have to use the whole squash at once. Second, I like the taste better, as every single cube is seasoned and lightly browned bringing the most sweetness.
I start with washing butternut squash
If the goal is to peel it before roasting, I like to cut it in half right where the long part of butternut squash turns into a round ball. I find it easier to peel this way.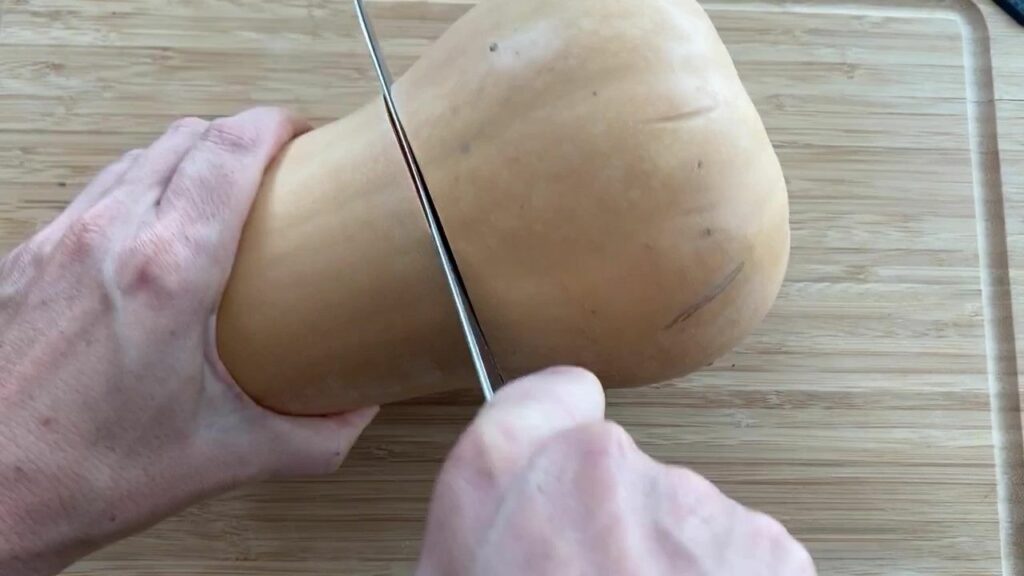 3. Peel it with a knife or vegetable peeler. With a knife you will be able to cut more, where vegetable peeler will cut thin. I do not like too much of the light part of the skin underneath the peel of squash so I prefer to cut more off with a knife.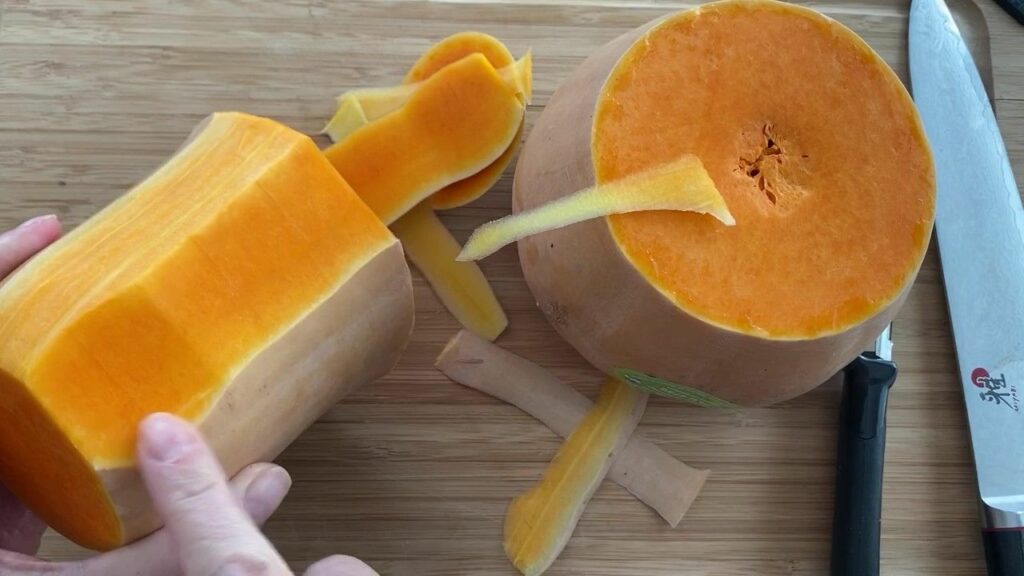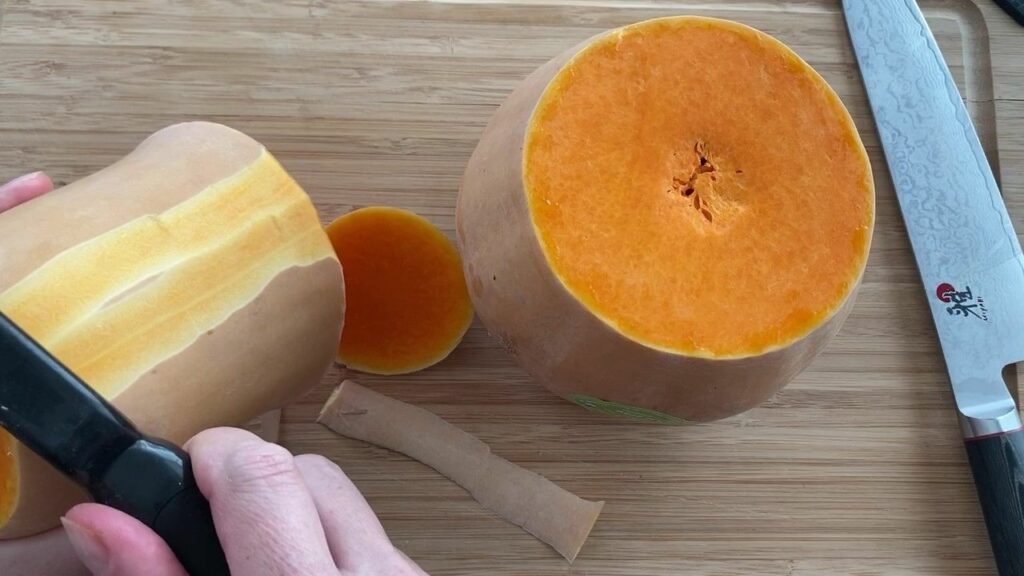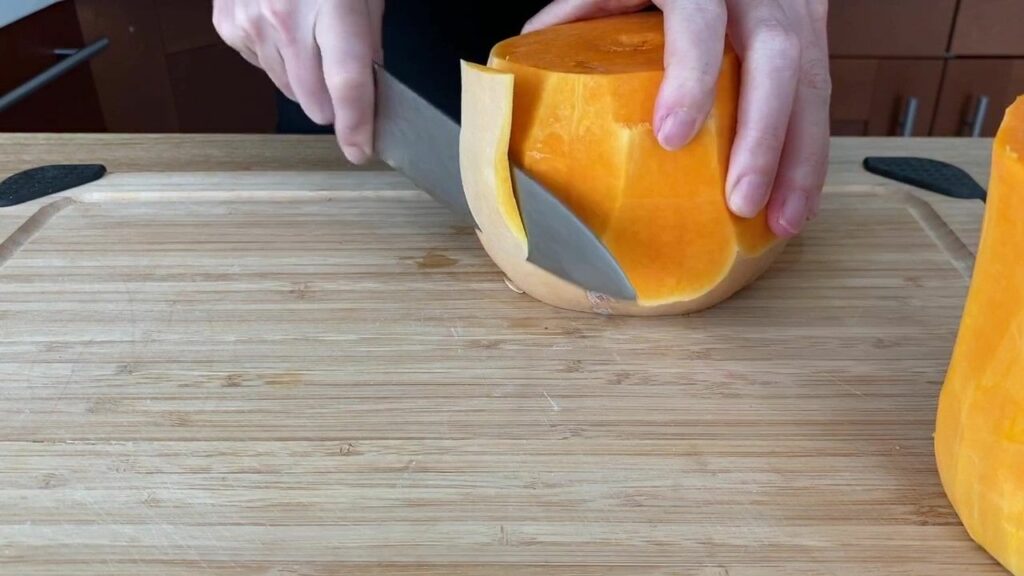 4. Once the whole squash is peeled cut the ball like part in half and remove the seeds and strings with a spoon. Alternatively, you can first slice the squash and remove the insides from each slice.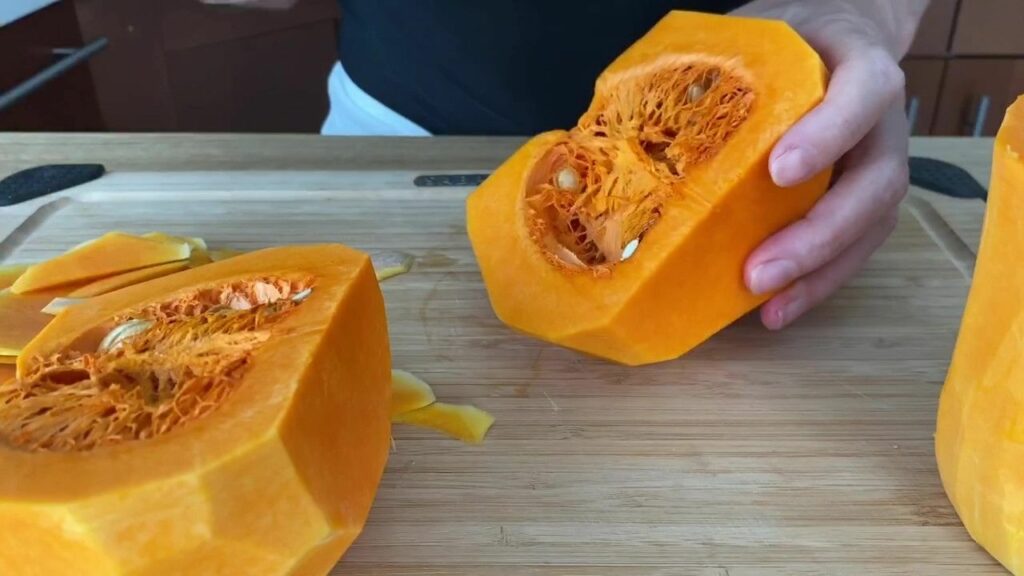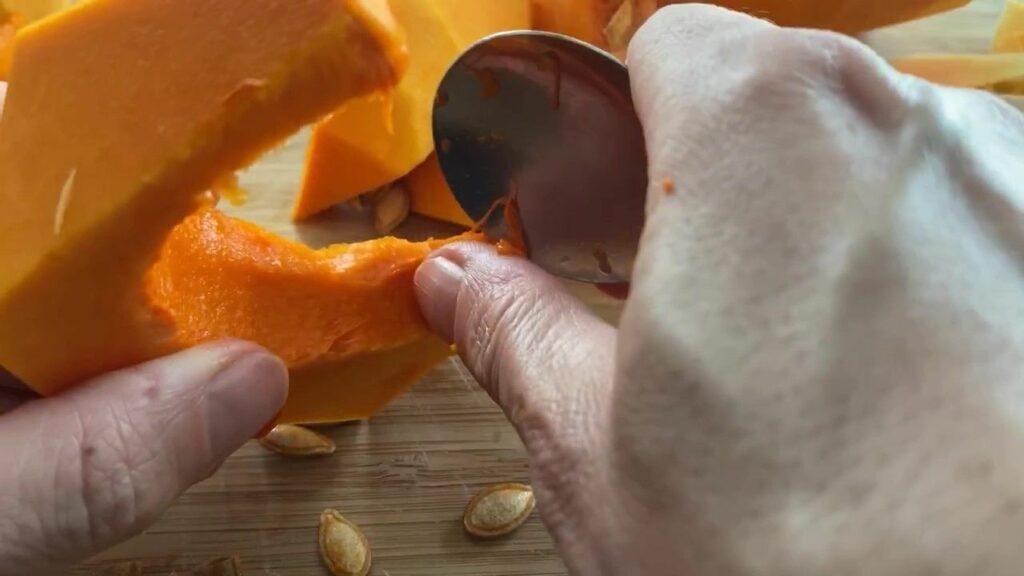 5. Dice the squash in fairly even cubes – not too big and not too small.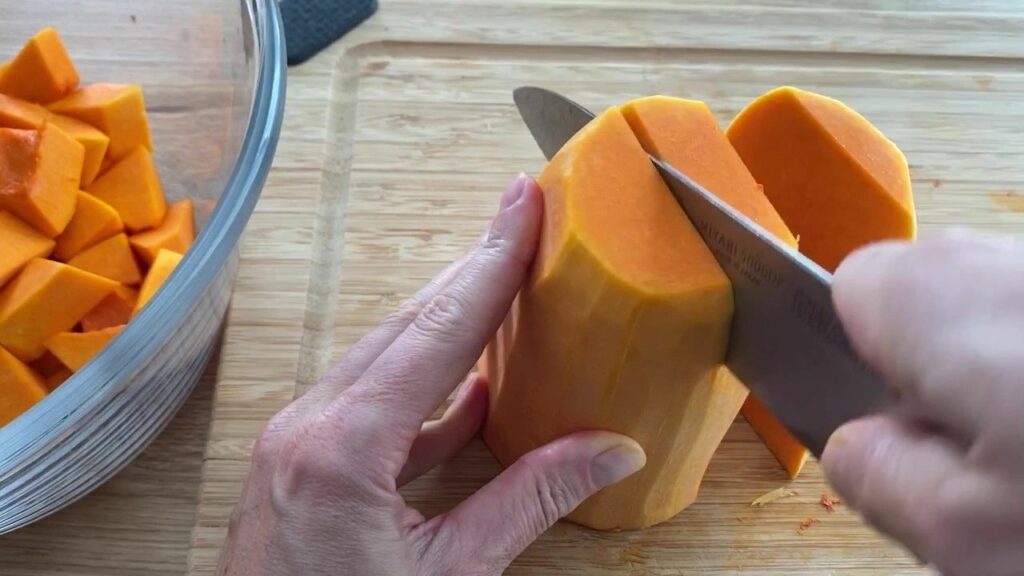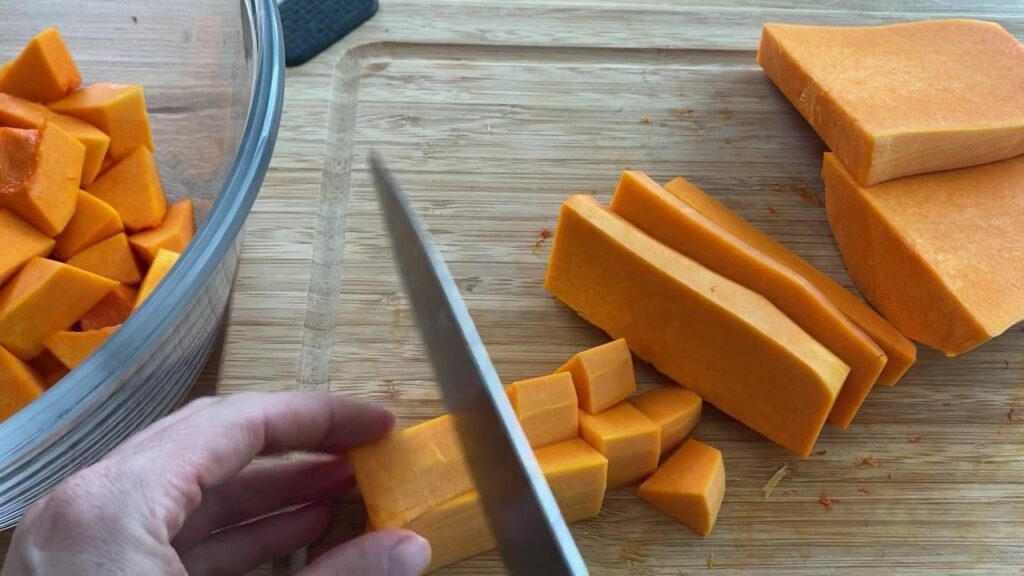 6. Place all cubes in a large bowl and season with salt and pepper, sprinkle with cinnamon and one tablespoon of oil of your preference. I used coconut oil.
7. Line a large baking sheet with a silicon mat or parchment paper and spread the cubes evenly throughout the sheet, making sure the pieces have space around them and they do not touch each other. This insures more even baking.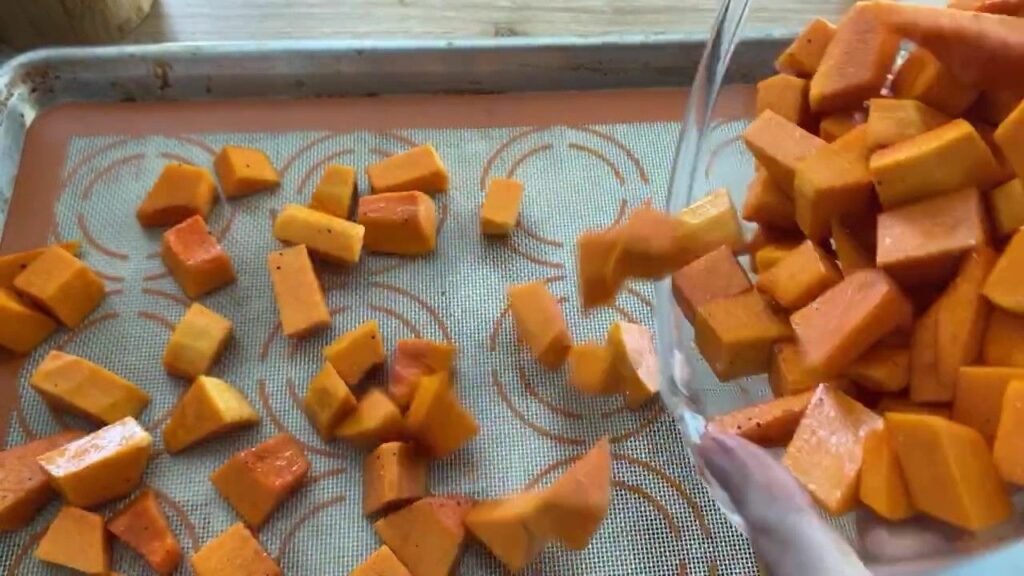 8. Bake at 400 F for 30 minutes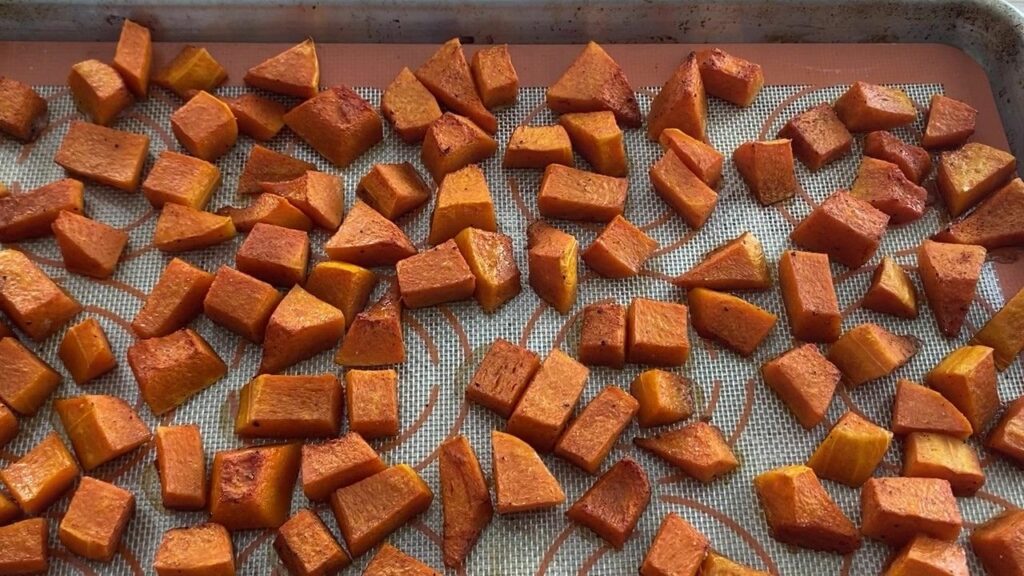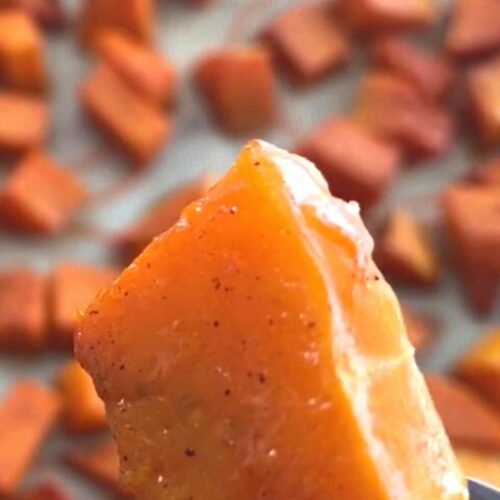 Roasted Butternut Squash
Butternut squash is a perfect vegetable for roasting and this process is simple and easy. Grab salt, pepper, cinnamon and oil and you are ready to roast this delicious vegetable. I have here about 36 ounces (1000 grams) of peeled and cleaned squash.
Equipment
Baking Sheet

Vegetable peeler

Silicon baking mat

Sharp knife
Ingredients  
36

oz

butternut squash (peeled)

1000 grams

1

tbs

coconut oil

½

tsp

cinnamon

salt and pepper to taste
Instructions 
Start with washing butternut squash

Cut it in half right where the long part of butternut squash turns into a round ball

Peel it with a knife or vegetable peeler

Once the whole squash is peeled cut the ball like part in half and remove the seeds and strings with a spoon

Dice the squash in fairly even cubes – not too big and not too small

Place all cubes in a large bowl and season with salt and pepper, sprinkle with cinnamon and one tablespoon of oil of your preference. I used coconut oil.

Linea large baking sheet with a silicon mat or parchment paper and spread the cubes evenly throughout the sheet, making sure the pieces have space around them and they do not touch each other. This insures more even baking.

Bake at 400 F for 30 minutes
*Links in this blog post are affiliate links, which means at no extra cost to you, I will make a small commission if you click them and make a qualifying purchase*
---
---