How to Reduce Calories in Pasta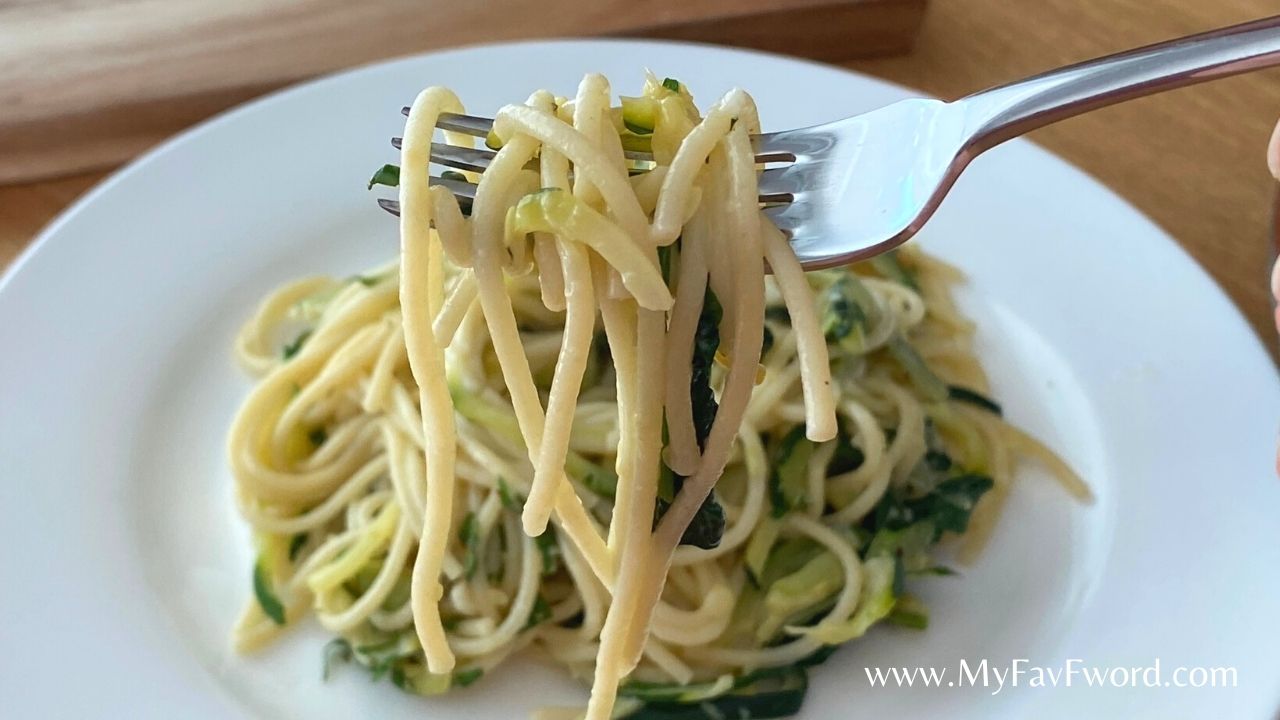 Pasta dishes have a bad wrap as far as healthy eating goes. And for the right reason. Pasta itself has lots of calories, on average 200 per 2 ounces for just noodles and that is a very small serving. On top of that, there is a heavy sauce that come with it and you end up with 1,500 to 2,000 calorie dish. For most people that is a whole day worth of calories. So, how to reduce calories in pasta, I have been asking myself. Because I do want to be able to enjoy it and not ruin my weight loss or weight maintenance efforts.
Is pasta a low calorie food?
No, pasta is a very calorie dense food. For 2 ounces or 56 grams of any pasta there are 200 calories and 5 to 6 grams of protein. 2 ounce of pasta is a very small portion. Most people will eat at least 2 or 3 servings per one dish. That can bring the calories up to 400-600. And that does not include anything else: no sauce, protein, or oil.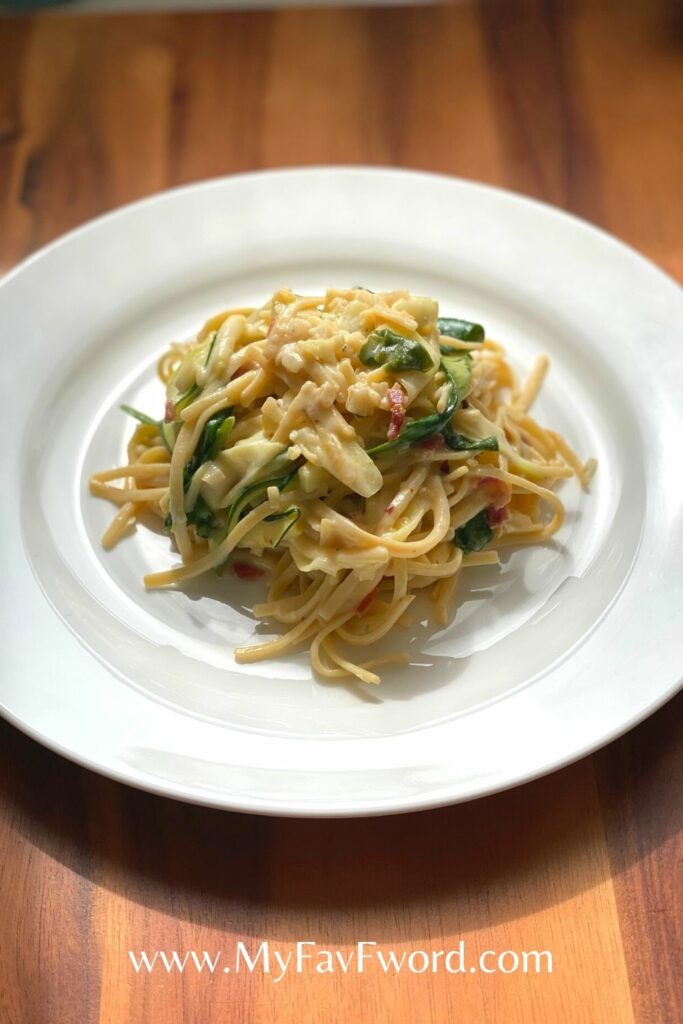 How do you reduce calories in pasta?
The key to reduce calories in pasta dish is to add more low calorie volume like vegetables. That way you can keep pasta portion small (one 200 calorie serving) and create large and filling meal by adding low calorie vegetables. This is the best way to still enjoy regular pasta on weight loss journey.
This zucchini pasta recipe has only 281 calories per serving and it is a large serving. Most importantly, it is so delicious that you would never suspect this is a low calorie pasta dish. I add bacon and heavy whipping cream – 'forbidden' ingredients on any diet. Yet, even after adding protein you end up with 500 calories or less for the whole meal. I don't know about you but for me this is a great case scenario.
For detailed video instructions take a look at this Zucchini Pasta video:
Which pasta is lowest in calories?
There are more and more types of pastas on the market that are low in calories.
Shirataki noodles – are probably the lowest type of pasta that you can find. If you wash them well they do not have any flavor and are a great way to add pasta to your life. The texture, however, is not anything like pasta. It is more like seaweed. Shirataki noodles are made from glucomannan that comes from the konjac root. It is not the best tasting noodle option but it is the lowest in calories that you can find out there. For one serving size (3 ounces/85 grams) there are only 5 calories. The best way to use these noodles is to add to regular type of noodles to add extra volume. This way instead of having 2 servings of regular pasta (400 calories) you can have one serving plus another serving or even two of shirataki noodles (210 calories tops!).
Palmini Pasta – is another pasta made out of a vegetable. This pasta is made out of hearts of palm and if cooked properly resembles regular pasta. It is also very low in calories. One serving of 75 grams (almost 3 ounces) has only 20 calories. For those of you who like to eat low carb foods this is a great option.
Zucchini – yes, just a plain vegetable. If you are careful not to overcook it (it cooks extremely fast) zucchini is a great pasta substitution. A big portion (300 grams/12 ounces) have only 60 calories.
Spaghetti squash – another vegetable that you can use to replace regular pasta. Spaghetti squash is slightly higher in calories than zucchini at 93 calories per 300 grams.
Fiber Gourmet Pasta – this is a brand name that I found online. It is almost like regular pasta but it has way more fiber and half the calories. Per 2 ounces/56 grams serving there are only 100 calories. It is very pricey though
Chickpeas pasta – there are lots of different brands out there. They are only slightly lower in calories than regular pasta but they do have double the amount of protein. This type of pasta taste almost the same as regular pasta. I found Banza brand in my local store and this is what I have been using lately as it tastes just like regular pasta. The price is as high as some other pasta substitutes.
When you are looking for low calorie pasta options pay close attention to serving size in reference to calories. Some manufacturers like to sneak 'good news' in by manipulating the serving size. Most of us will not notice. We will look at the calorie count and omit the serving size. I know I have made that mistake few times. When I took a second look at the nutrition label I realized that the calories are lower but the servings size is lower as well.
What is the healthiest way to make pasta?
Serving size and what you put in your pasta dish will decide how healthy your meal is. The healthiest pasta has a moderate serving size and good amount of nutrients in form of vegetables. All low calorie noodles, like shirataki and palmini are very healthy options and you cannot go wrong when you use them.
But… I want to have the real pasta taste. That is why my zucchini pasta recipe is such a great option, like 'having a cake and eat it too'. It is healthy and under 300 calories. It is filling and absolutely delicious.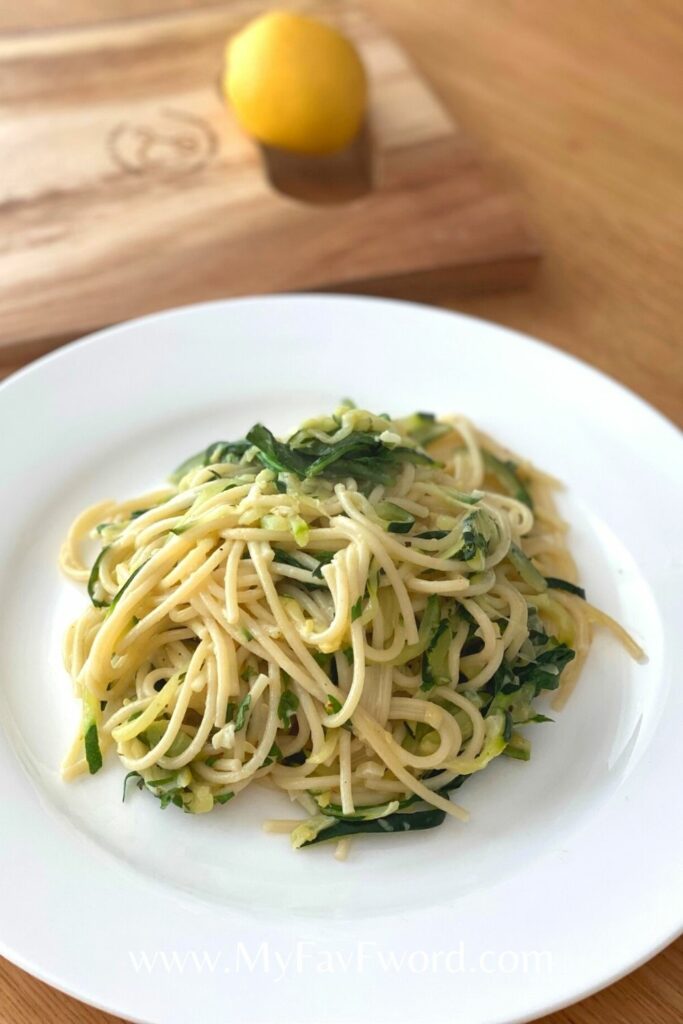 Ingredients for low calorie pasta
Banza chickpeas pasta – it taste just like regular pasta and it is not really much lower in calories (190 per 2 ounces) but it does have double the protein of regular pasta (12 grams). And that is why I use it instead of regular pasta
Zucchini – very good option for increasing volume in any type of dish. Zucchini does not have much flavor so it makes a great vegetable to make a dish bigger and more filling.
Bacon – I use bacon for the flavor but mainly to render fat for frying.
Spinach for even more volume and tons of great nutrients
Heavy whipping cream or butter – I prefer to use the cream as for the same calories I can use more than butter. One tablespoon of butter has the same calories as one ounce of whipping cream
Garlic
Red Pepper Flakes for extra flavor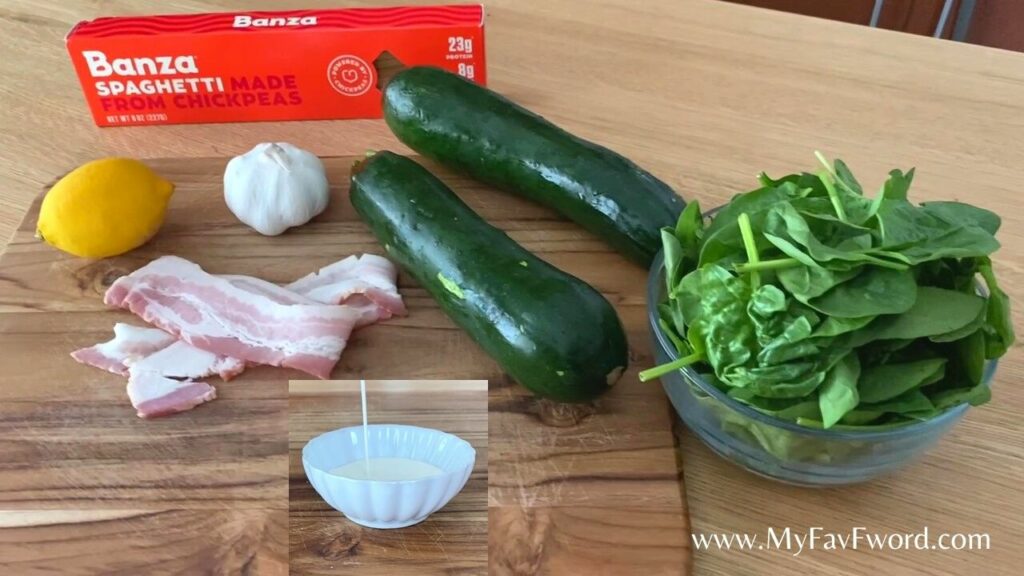 How to make a lower calorie pasta
It is very important to prepare all ingredients ahead of time, before you grab the pan and start cooking. The cooking process takes literally 2 – 3 minutes and you do not want to overcook the noodles or zucchini.
Start with filing pot with water for the noodles. Cover it up and bring to boil.
While waiting for the water to boil, chop bacon, garlic and zest one lemon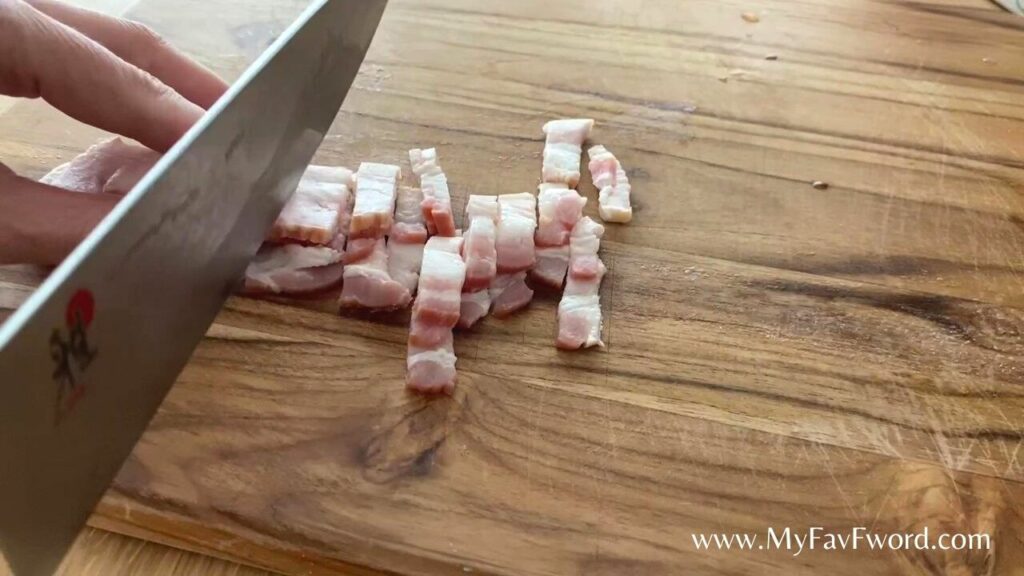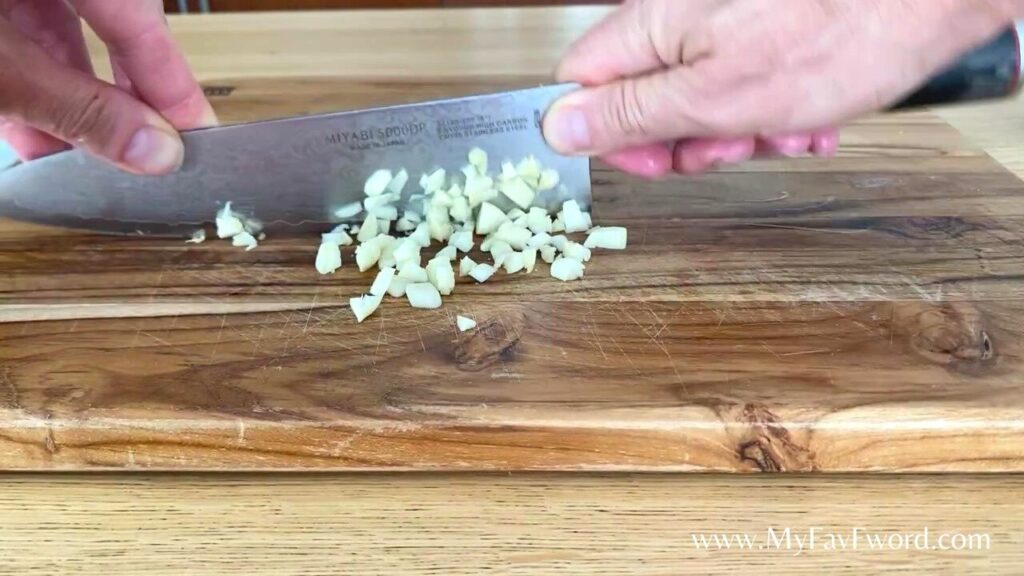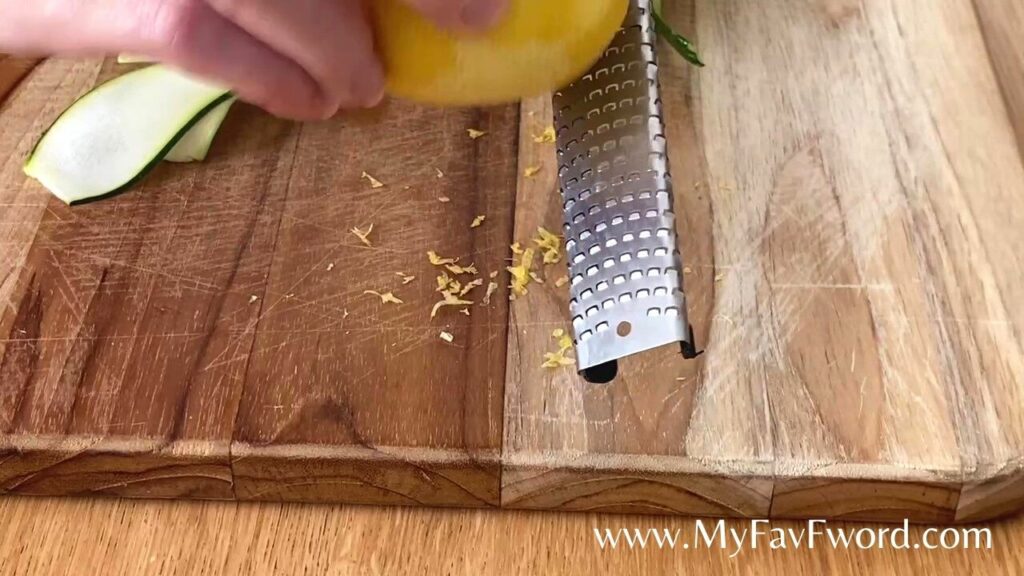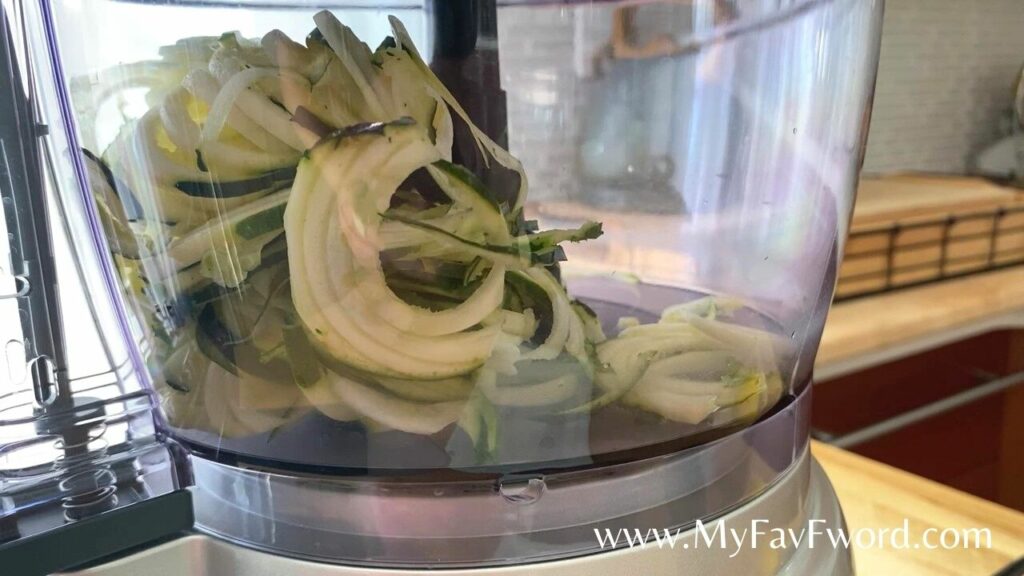 When the water starts boiling, salt it generously and put the pasta in. The cooking instructions on banza spaghetti or linguini is 8-10 minutes. I always reduce it to 5 -6 minutes. First, because I like my pasta al dente, second, I will cook it for a minute or two in the sauce.
Before draining the pasta, reserve one cup of pasta water and set it aside
Heat a large nonstick pan and add bacon. Keep the heat at medium.
When bacon is browned add red pepper flakes and garlic. Cook it for a minute for the garlic to soften. Do not allow to brown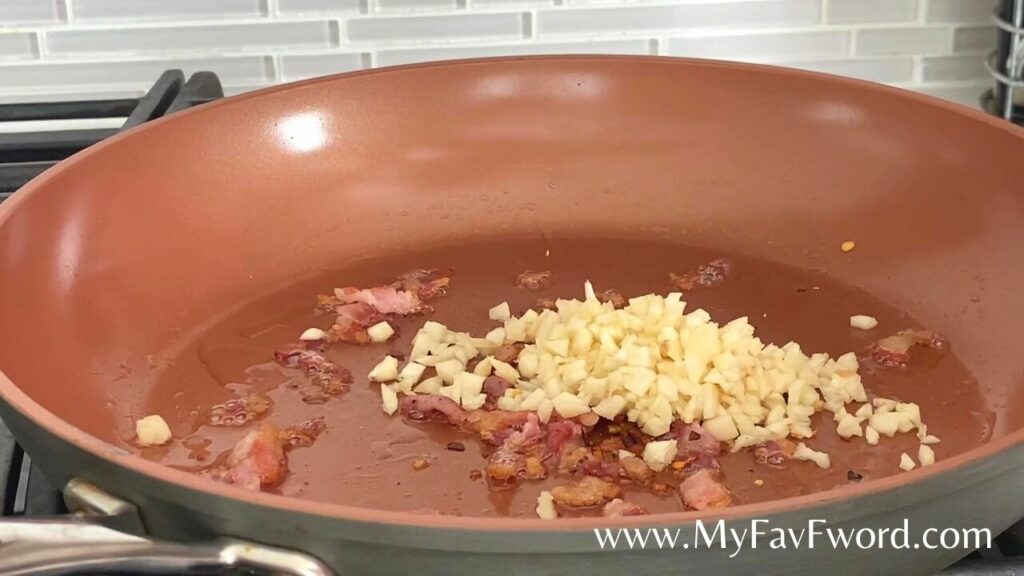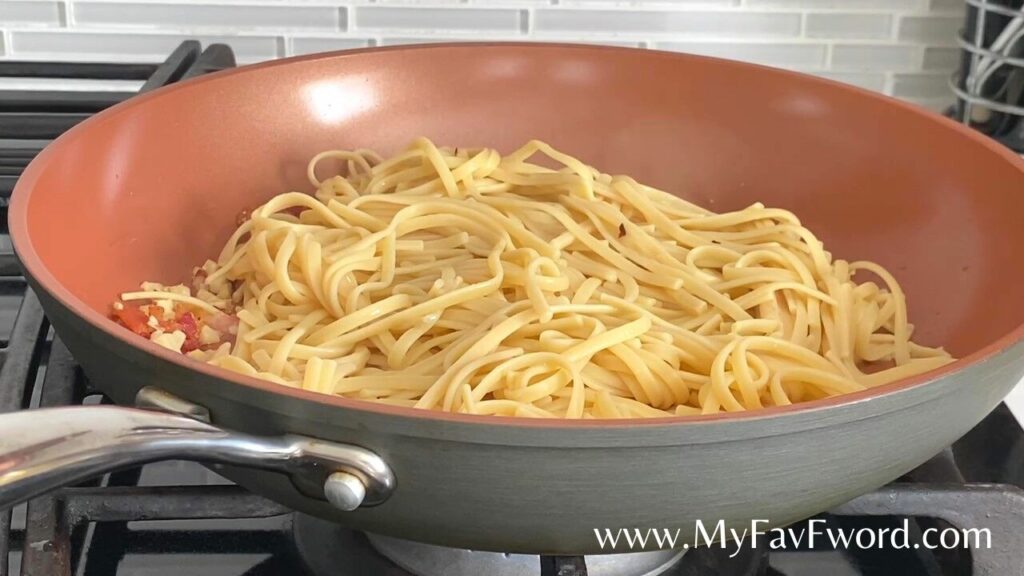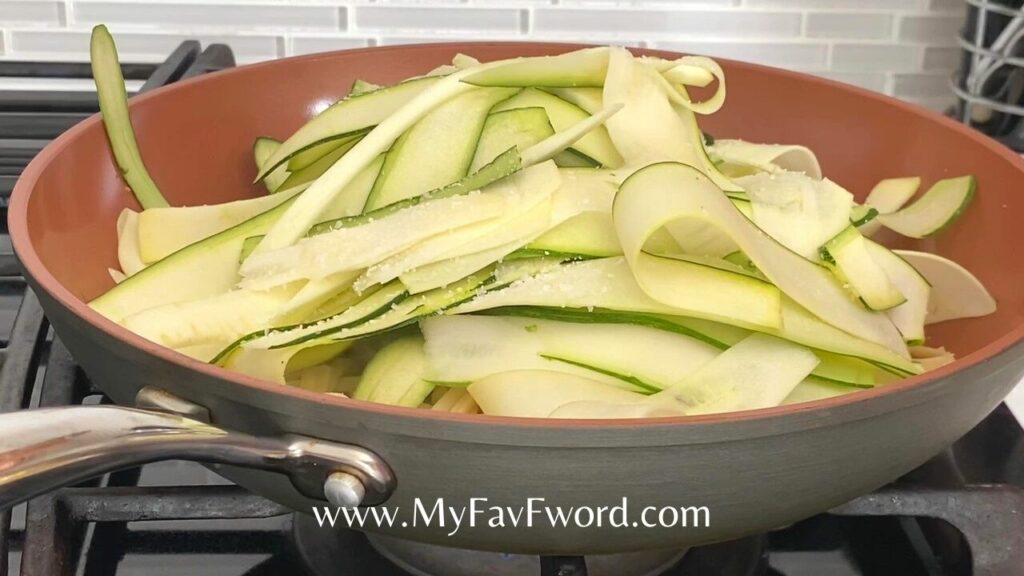 Salt and pepper to taste and toss it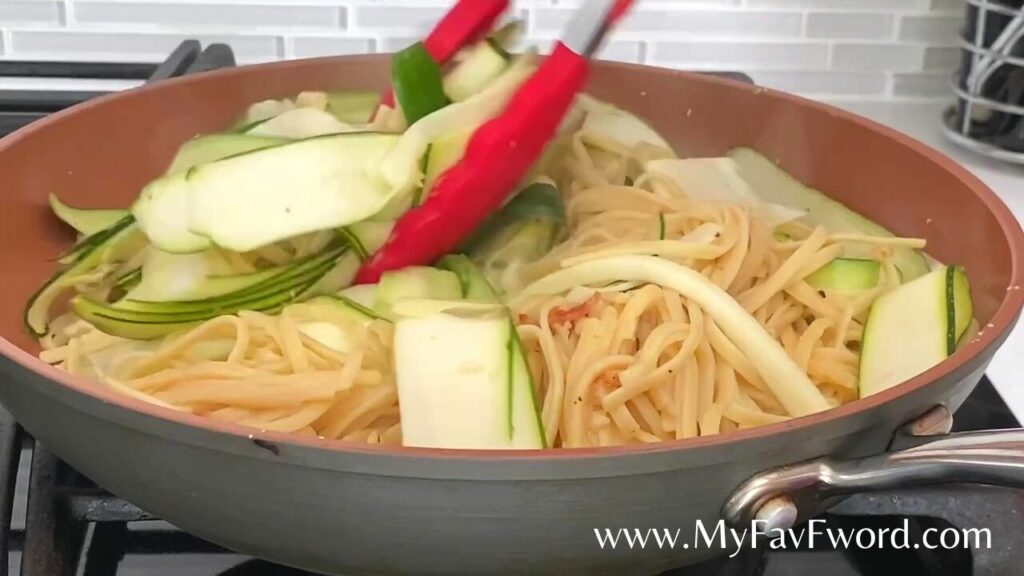 Add a half a cup of reserved pasta water, stir and see if you need more. Cook for one minute.
Add spinach, juice of half lemon and cream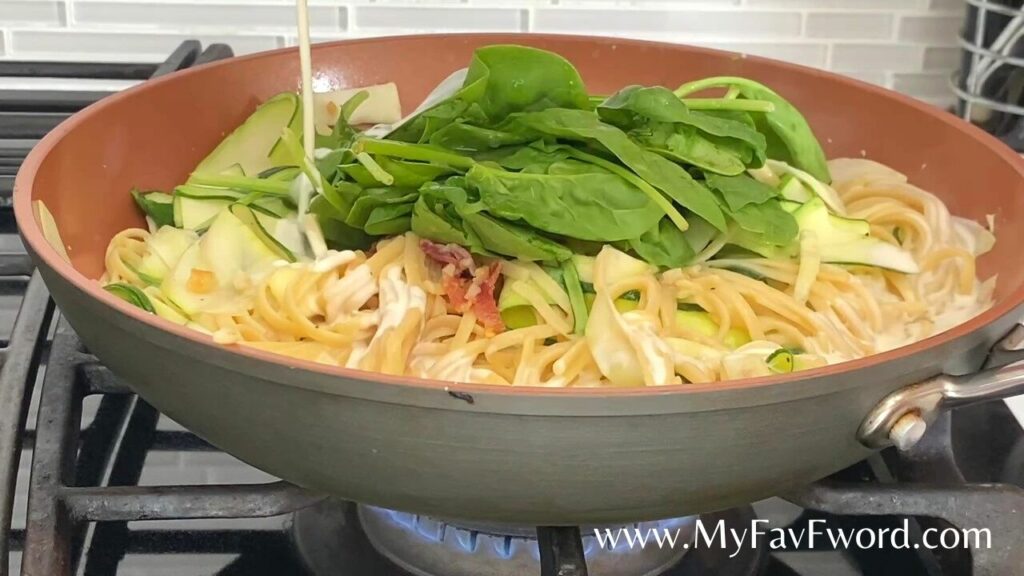 Cook it for a minute and let the sauce thicken
Turn off the heat, add lemon zest and serve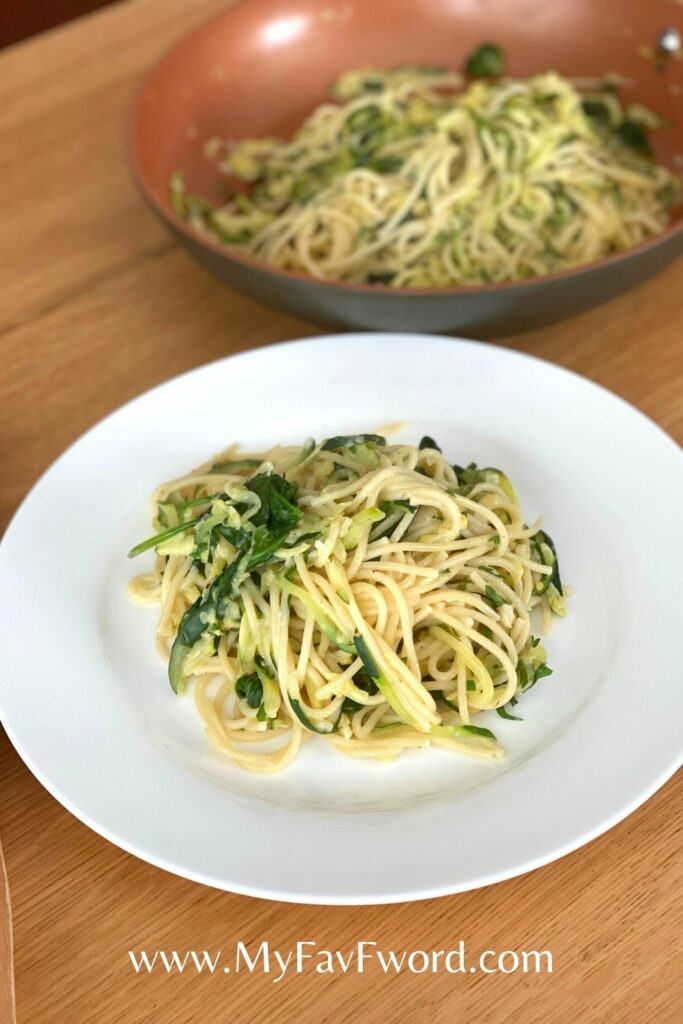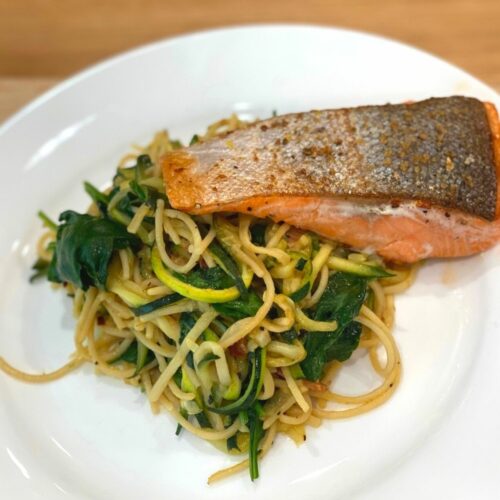 How to reduce calories in pasta
This recipe is extremely fast to make. It only takes couple of minutes to assemble everything on the pan. Make sure you have all ingredients prepared and chopped before you turn on the pan.
Equipment
Cuisinart Food Processor

Knife

Vegetable peeler

Large nonstick pan
Ingredients  
6

oz

banza spaghetti or linguini noodles

2

medium

zucchini

12 oz/300 g

2

slices

bacon

60 calories per slice

1

oz

heavy whipping cream

or 1 tbs butter

2

cups

spinach

4

cloves

garlic

½

tsp

red pepper flakes

optional

½

lemon

zested and juiced

salt and pepper to taste
Instructions 
Start with filing pot with water for the noodles. Cover it up and bring to boil.

While waiting for the water to boil, chop bacon, garlic and zest one lemon

Prepare zucchini noodles. You can make spiral noodles using a food processor or thick ribbons using a vegetable peeler

When the water starts boiling, salt it generously and put the pasta in

The cooking instructions on banza spaghetti or linguini is 8-10 minutes. I always reduce it to 5 -6 minutes.

Before draining pasta, reserve one cup of pasta water and set it aside

Heat a large nonstick pan and add bacon. Keep the heat at medium

When bacon is browned add red pepper flakes and garlic. Cook it for a minute for the garlic to soften. Do not allow to brown

Salt and pepper to taste and toss it

Add a half a cup of reserved pasta water, stir and see if you need more

Add spinach, juice of half lemon and cream

Cook it for a minute and let the sauce to thicken

Turn off the heat, add lemon zest and serve
*Links in this blog post are affiliate links, which means at no extra cost to you, I will make a small commission if you click them and make a qualifying purchase*
---
---