Is Caesar salad good for weight loss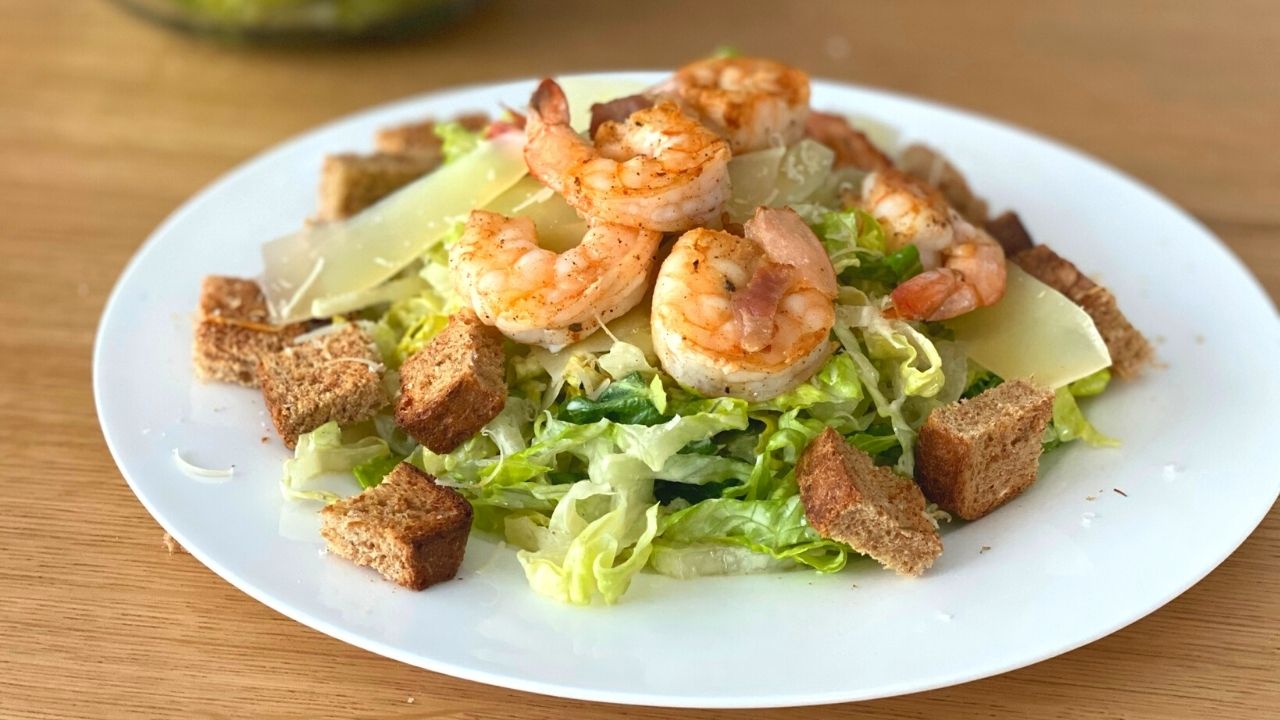 Caesar salad is a very popular salad served all over American restaurants. Many may not be aware that this salad can pack up more calories than a regular meal. Creamy and rich dressing that is served with this salad is made out of high fat ingredients like egg yolk and lots of olive oil. These ingredients do not make Caesar salad good for weight loss. In this recipe I will show you how to reduce calories in the dressing and make a much healthier salad option without sacrificing the flavor.
Is Caesar salad high in calories?
Yes, Caesar salad is very high in calories. The calorie count varies from restaurant to a restaurant, from 770 calories for Applebee's Caesar salad with grilled chicken to 1,500 calories in Cheesecake Factory Caesar salad with grilled chicken. The amount of calories will depends on size of the salad.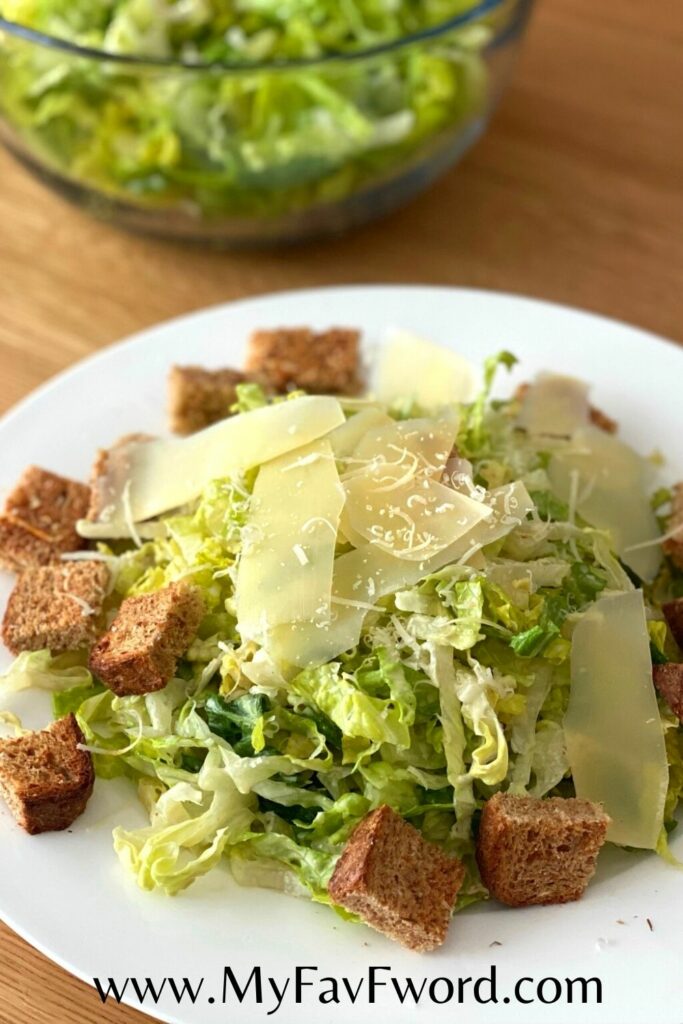 What makes Caesar salad high in calories?
There are two components to Caesar salad that make it high in calories:
Dressing that includes mainly egg yolks and olive oil
Croutons
I am going transform both into better, low calorie delicious options.
What can I substitute for Caesar dressing?
You can substitute large amount of oil with non fat greek yogurt. This trick will reduce the calories dramatically. Just one tablespoon of olive oil has 125 calories, compare it to one tablespoon of non fat greek yogurt – 8 calories.
Another way is to reduce amount of olive oil and add a whole egg instead of just the egg yolk. This way you increase volume by adding egg whites which are low in calories.
Let's compare different caesar dressings
I will not include parmesan cheese in my calculations, although cheese is an ingredients in this dressing
Original high calorie recipe include: mayonnaise, or more authentic Caesar dressing will have egg yolks and olive oil, lemon juice, anchovies, Dijon mustard, garlic. The first main ingredients is what makes Caesar dressing very high in calories. The recipes I have found on the Internet usually had these ingredients and yield one cup of dressing:

6 anchovies in oil
2 egg yolks
3 garlic cloves
1/4 cup lemon juice
2 teaspoons dijon mustard
1/2 cup olive oil
Yields one cup and all together that is 1,215 calories. One cup is 16 tablespoons and one serving for a salad usually ends up to be 2-3 tablespoons. That's 150 to 225 calories per serving.
My favorite low calorie Caesar dressing includes: whole egg, olive oil (small amount), anchovies, lemon juice, and garlic. Let's look at how the ingredients and calories compare:

6 anchovies in oil
one whole egg
3 garlic cloves
juice from one lemon (about 1/4 cup)
2 tablespoons of Dijon mustard
4 tablespoons of olive oil
Yields one cup as well but has half of the calories: 650. The taste is very similar to the original as I am using the same ingredients.
Greek yogurt low calorie Caesar dressing includes: Greek yogurt, olive oil (small amount), anchovies, lemon juice, and garlic

75 grams/ 3 oz non fat greek yogurt
6 anchovies in oil
1 garlic cloves

juice from one lemon (about 1/4 cup)
1 tablespoons of Dijon mustard
1 tablespoon of olive oil
Yields one cup and has 225 calories, which makes it the lowest calorie Caesar dressing. But there is a difference in taste. It tastes like diet dressing, therefore, this is not my favorite option.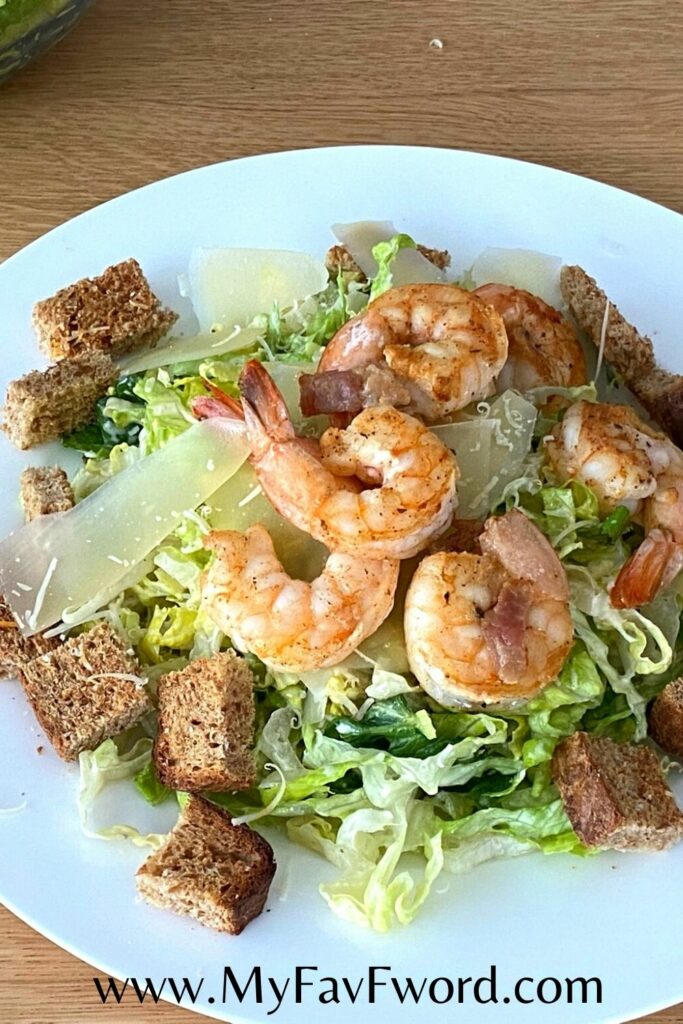 TIP: in order to know how much of dressing you are using in terms of calories, weigh the whole dressing and weigh each portion while serving
What will you need to make Caesar salad for weight loss
Romain lettuce – this is the best type of lettuce for Caesar salad. It has some crunch to it and absorbs dressing very well
Dressing – my low calorie Caesar dressing with whole egg is the best option. If you do not like eggs, use the Greek yogurt option above
Croutons – I make them from scratch using a low calorie bread. Best option is a regular toast bread with 45 calories per slice or less. I also found low carb bread that has only 30 calories per slice and this bread was also a great option. Do some searching in your local grocery store and I am sure you will find a good low calorie option.
Parmesan cheese – this is where I do not try to remove calories. A good parmesan cheese is important and you do not have to use very much to make a big difference in taste. I use a small amount in the dressing itself and few shavings on top of the salad.
Protein – I am using shrimp. For a low calorie option chicken breast is also a good choice.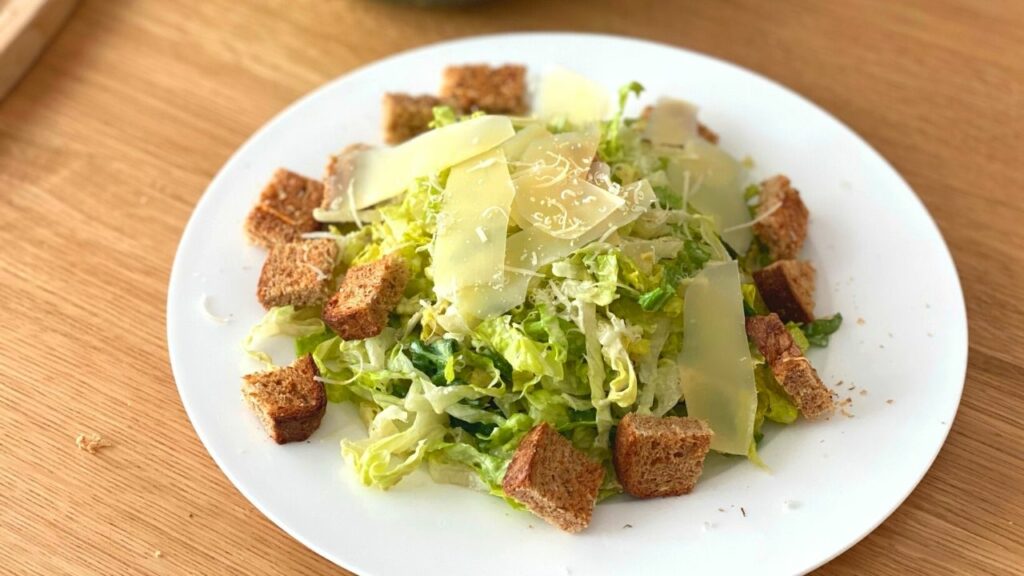 How to make a healthy Caesar salad
Chop the lettuce, wash it and use the salad spinner to remove all water. Wet lettuce will dilute the dressing and change the taste of the salad.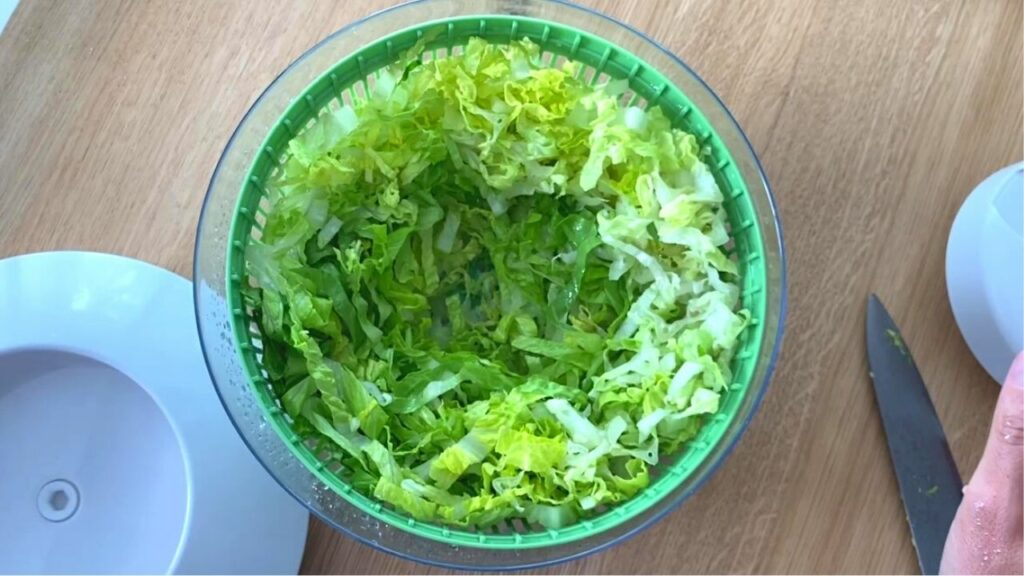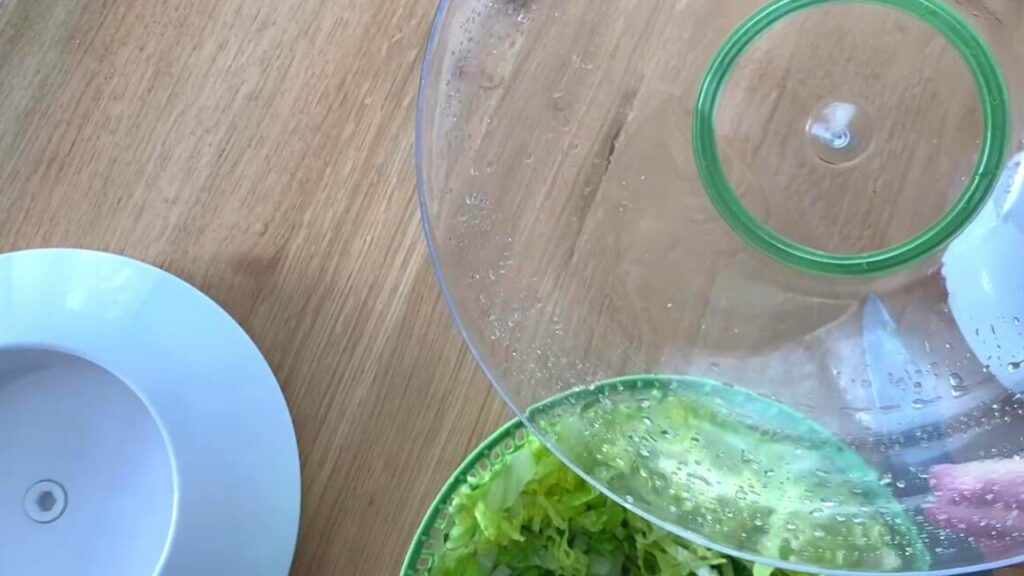 Mix salt, paprika, garlic powder and oregano. I am going to use it for the croutons and shrimp.
Prepare the croutons by lining toast bread on a baking tray with a rack. The rack will let air to move around the bread, not allowing it to sweat and become soft. This way you get a crispy toast.
Sprinkle the toast with spice mix. Bake in the oven at 450F for 10 minutes, keep a close eye on it. Different breads will have different toasting time. Yours might be shorter or longer.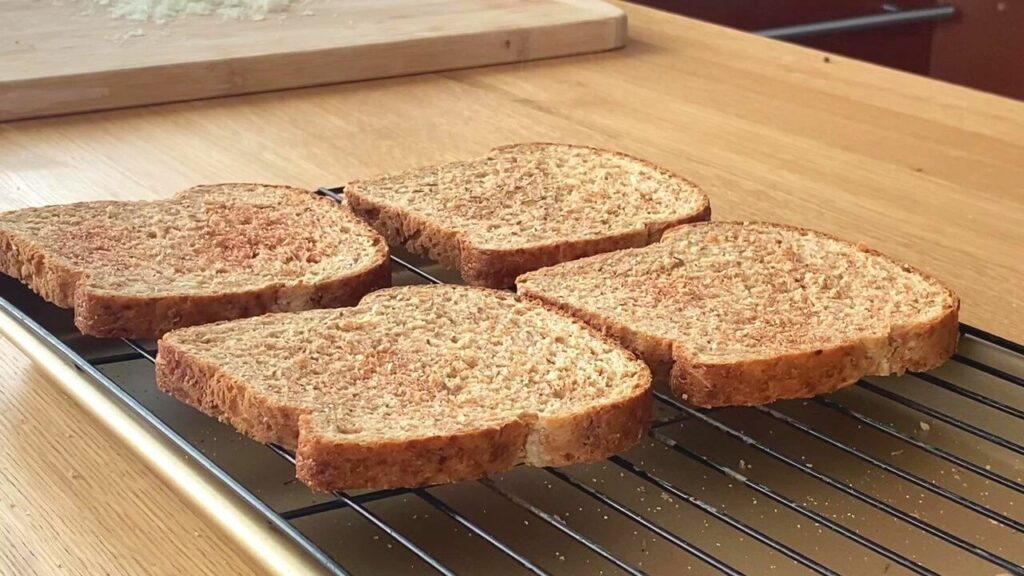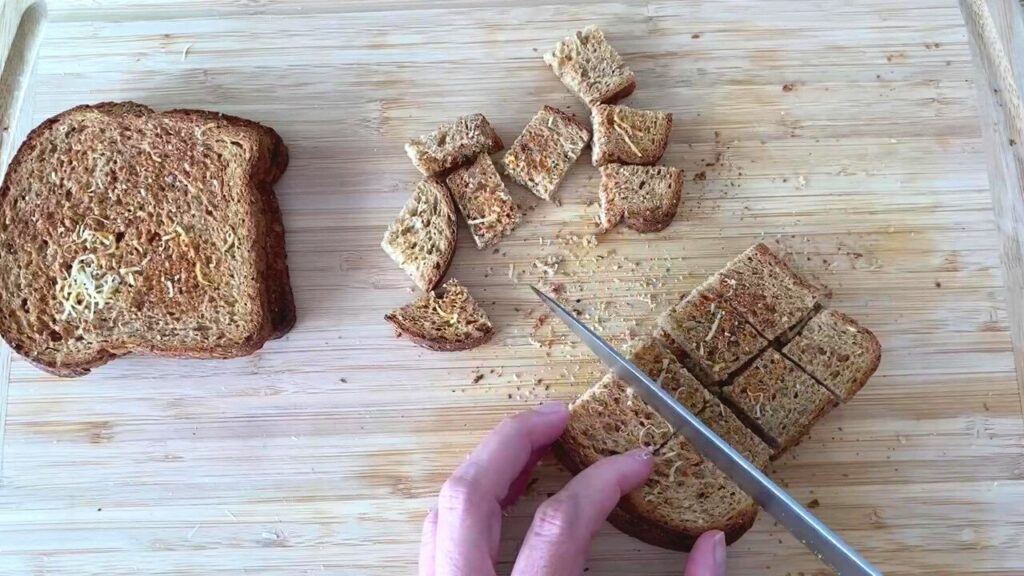 Prepare the dressing by adding all ingredients but the parmesan cheese (you will add it at the end) and blending them. Look at this short Caesar dressing video for step by step instructions:
Prepare the shrimp by adding the rest of the spice mix. Toss well.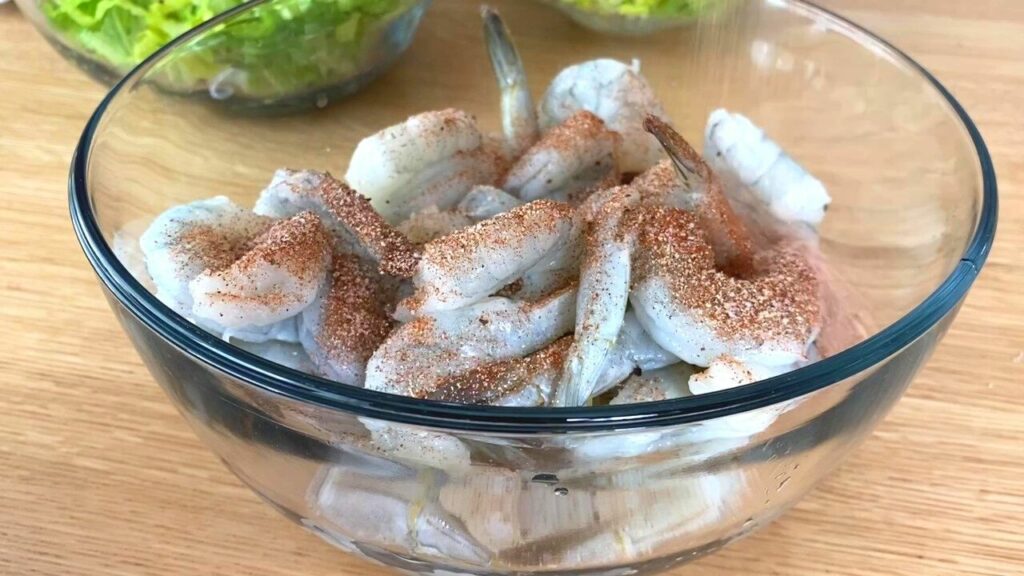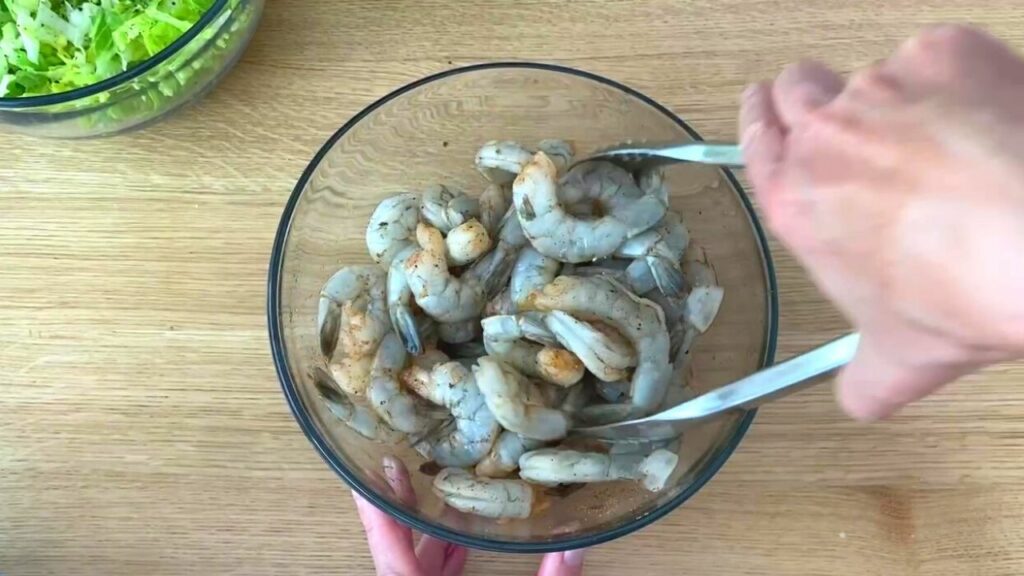 Preheat a pan and add one slice of bacon (60 calories). I like to use bacon to render fat and use it for greasing the pan.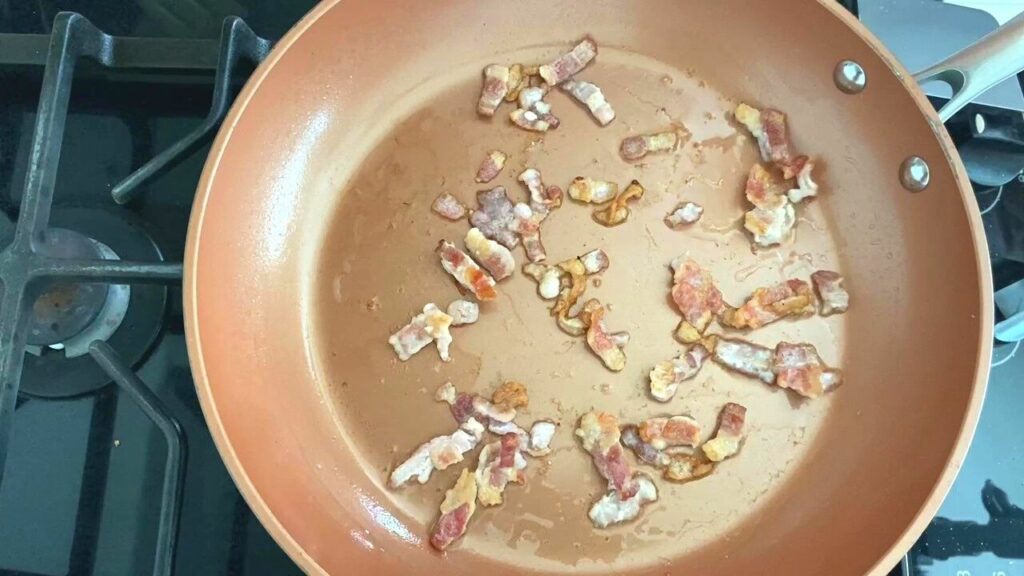 Add shrimp and fry about a minute per side.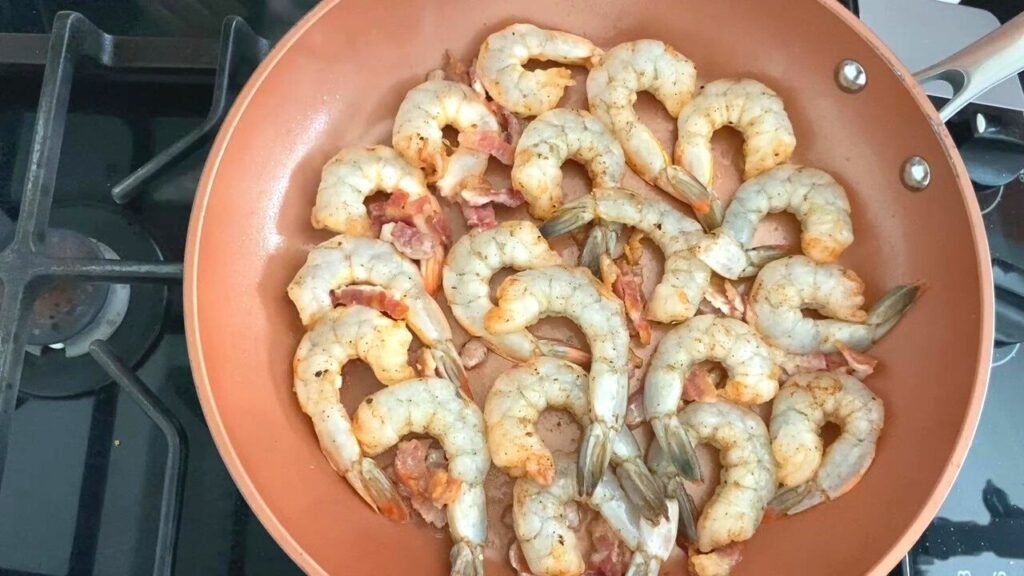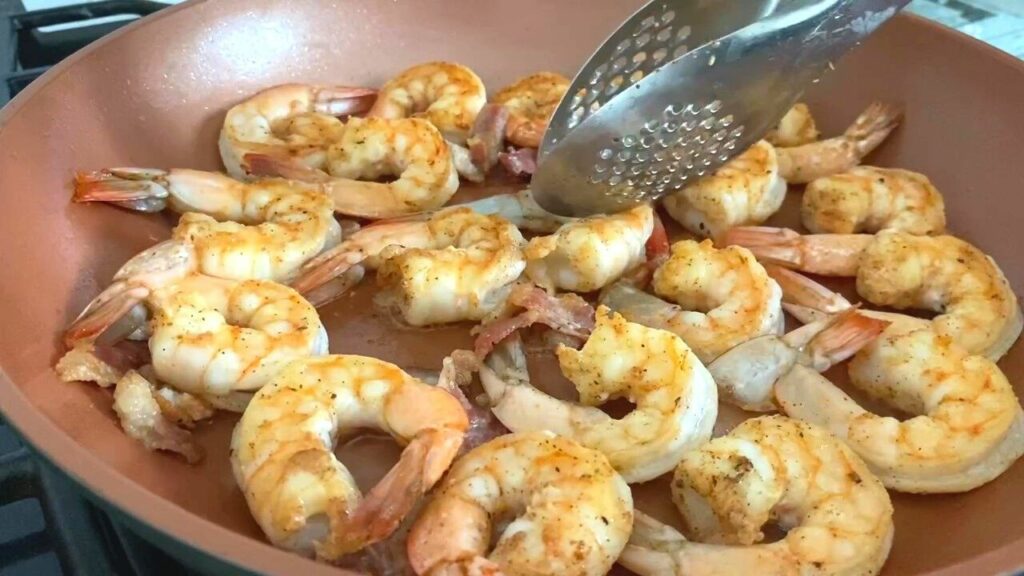 Shave parmesan cheese to top the salad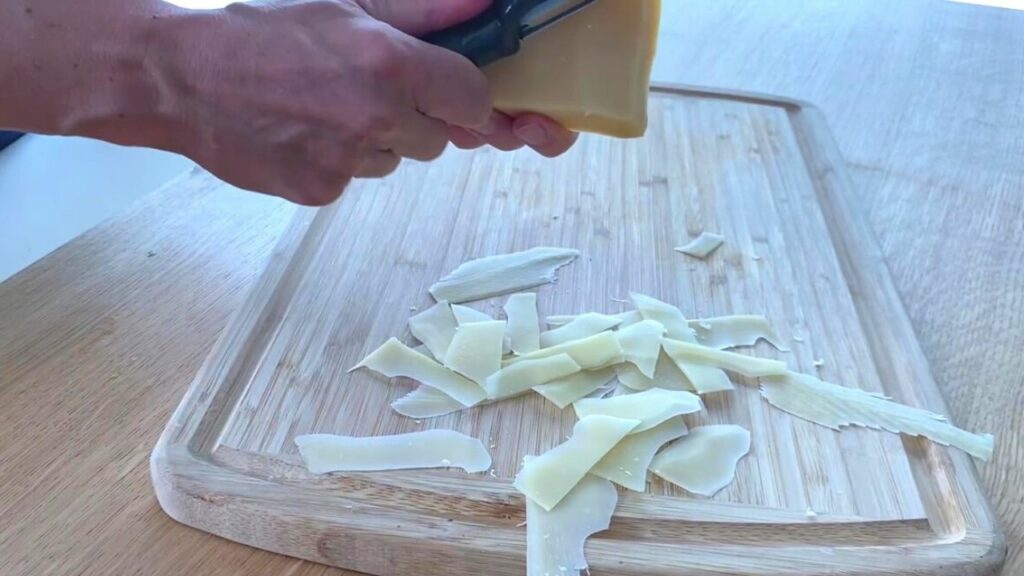 Put it all together and serve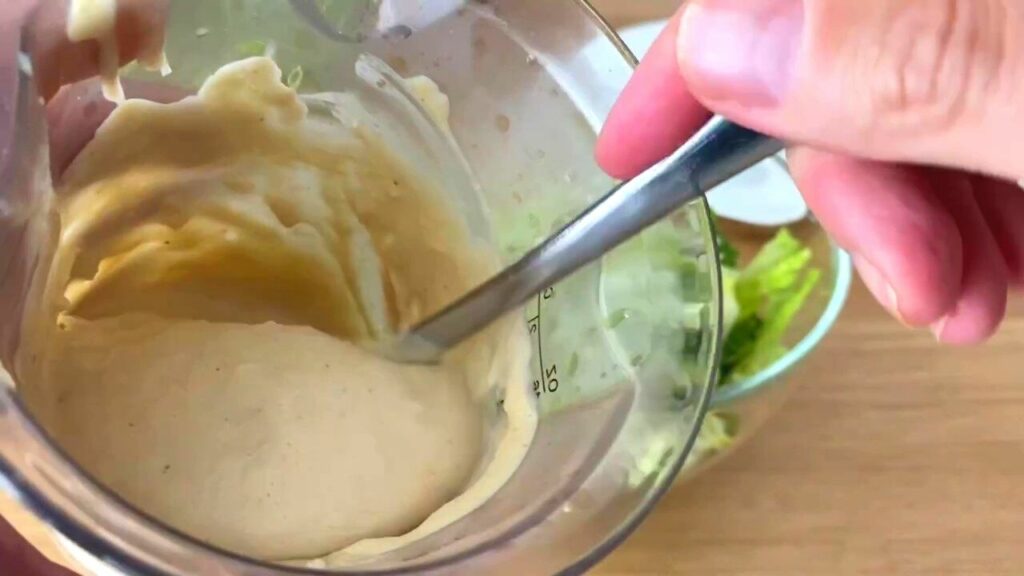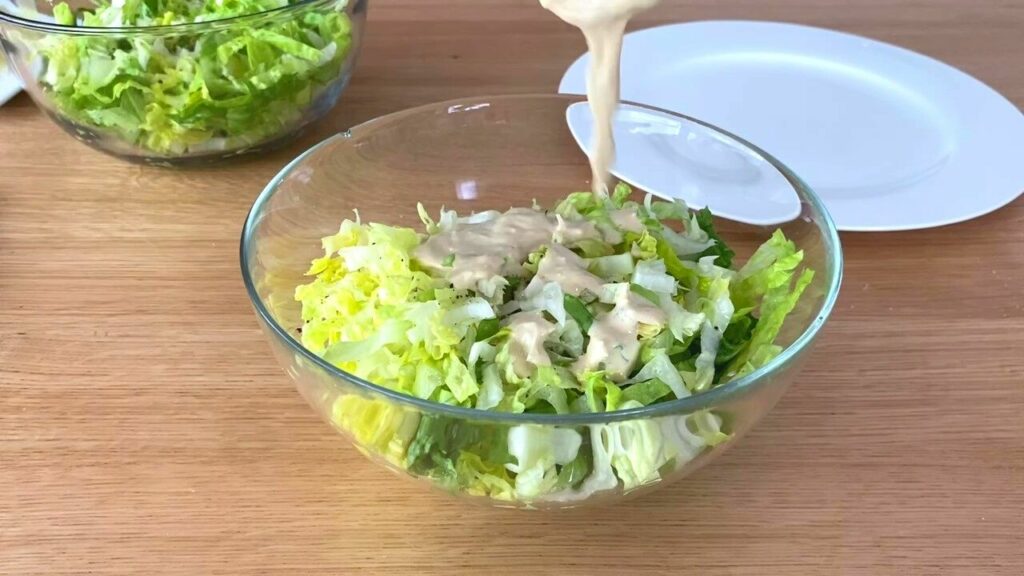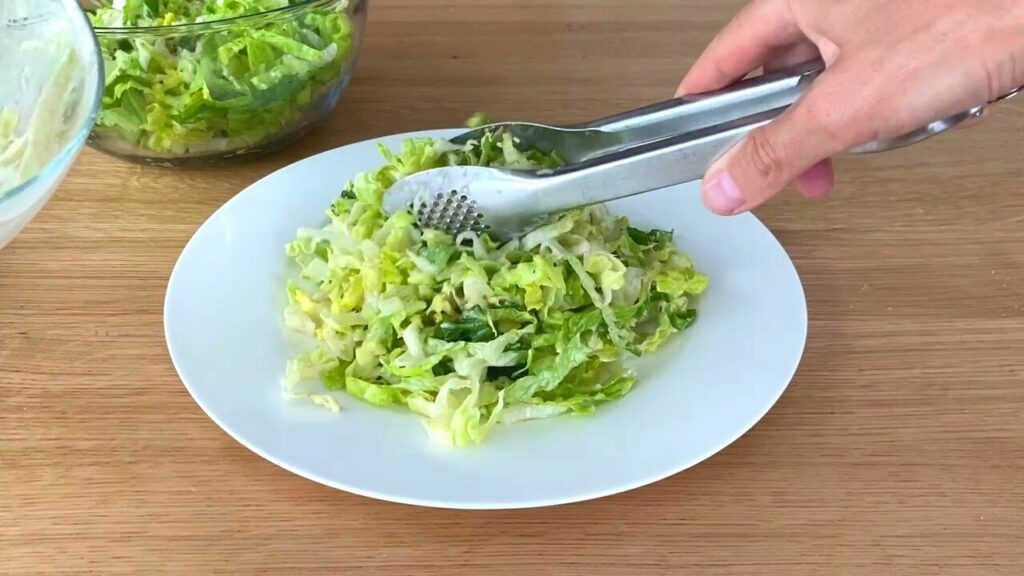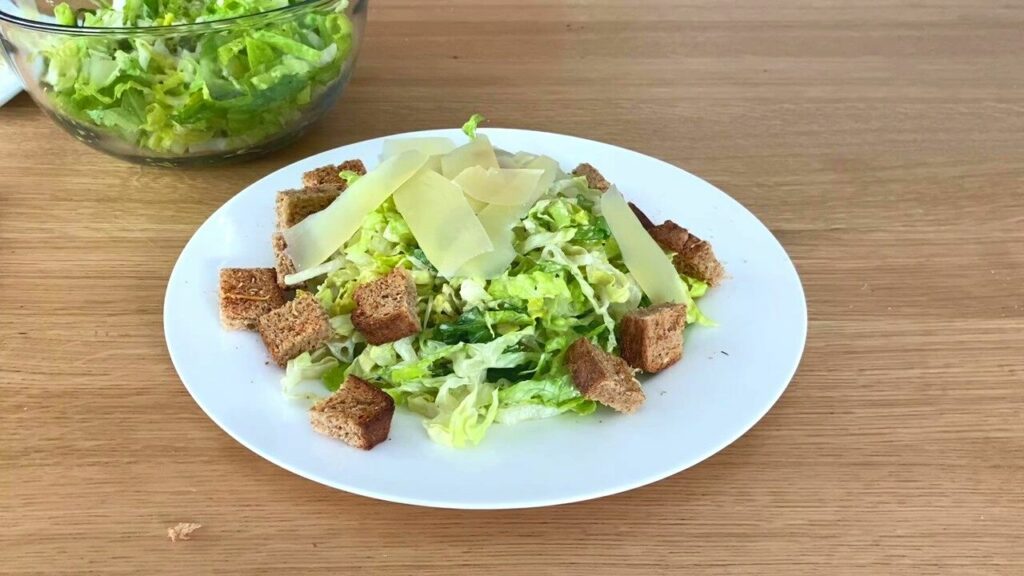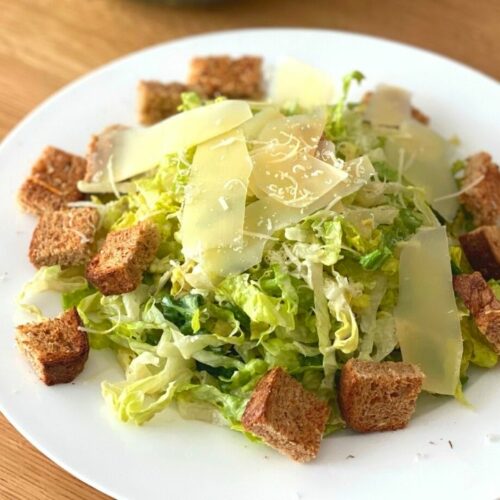 Low Calorie Caesar Salad
This recipe for Caesar salad is low in calories and you would never know when you try it. To make it a low calorie option I made the dressing lighter – one dressing with egg and one with yogurt for you to choose from. I also made homemade croutons from a low calorie toast bread.
Equipment
Immersion blender

Baking Sheet

Mixing bowls

Frying pan
Ingredients  
For salad
2

heads

romaine lettuce

2

servings

croutons

recipe follows

3

oz

caesar dressing

recipe follows

12

oz

shrimp

1

slice

low sodium bacon

60 calories per slice

1

oz

parmesan cheese

shaved

1

squeezed lemon
For caesar dressing with egg
1

whole

large egg

4

tbs

olive oil

1

oz

Dijon mustard

2

cloves

garlic

½

oz

anchovies

½

oz

grated parmesan cheese

salt and pepper to taste
For Greek yogurt dressing
75

g

non fat Greek yogurt

1

tbs

olive oil

1

clove

garlic

¼

cup

lemon juice

1

tbs

Dijon mustard

½

oz

anchovies

salt and pepper to taste
For Croutons
4

slices

low calorie bread

45 calories or less

½

tsp

spice mix

ingredients below

sprinkle of grated parmesan cheese
Spice mix for shrimp and croutons
½

tsp

salt

½

tsp

paprika

½

tsp

garlic powder

½

tsp

dried oregano
Instructions 
Salad
Spin the lettuce in lettuce spinner to remove all water

Divide into to bowls and add 1.5 oz of dressing into each serving

Add croutons, parmesan shavings (½ once per serving) and shrimp
Dressings
Add all ingredients besides cheese into a blender (I used nutribulet) and blend well

Pour into a container with a lid so you can store it for later. The dressings yield one cup

Add parmesan cheese and mix
Croutons
Line the toasts over a baking sheet with a rack

Sprinkle ½ tsp of the spice mix and sprinkle with parmesan cheese

Bake at 450F for 10 minutes, keeping an eye on them so they do not burn

Cut the bread up in small pieces
Notes
---
---