Healthy Breakfast Pizza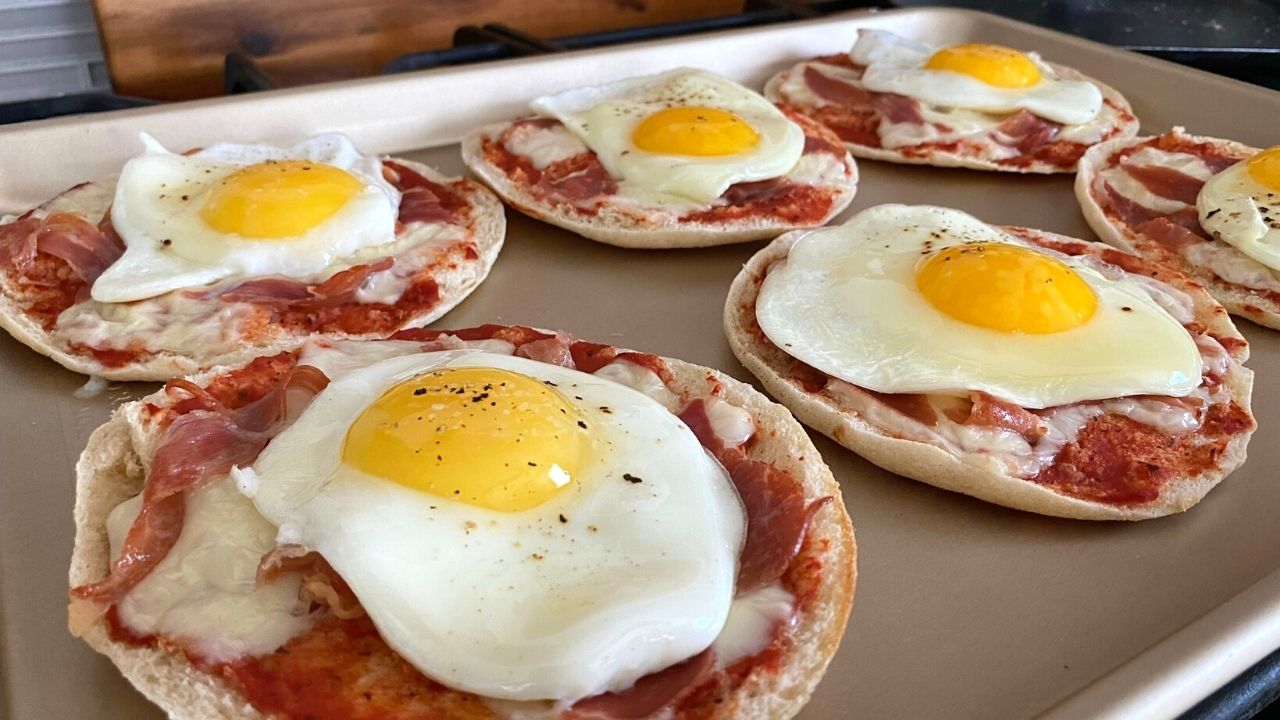 This healthy breakfast pizza is low in calories and high in protein. It tastes so good you would never guess it is a healthy low calorie version. I use pita bread for pizza dough and top it with prosciutto, cheese and an egg. To tie it all together I make a killer tomato sauce that is so easy to make, you may just never buy it in a store.
Go ahead and replace the pita bread with any type of flat bread or tortilla you like, you can even use a pizza dough. But this is the fastest, easiest and tastiest ways to put this pizza together. It takes only 5 minutes to assemble and 8-10 minutes to bake. You can make it on your busy day and feel good about your nutrition.
Look at this Breakfast Pizza video for detailed instructions:
What is the healthiest way to make pizza?
To make a healthy pizza make sure to grab good low calorie ingredients:
make your homemade simple tomato sauce instead of buying high calorie sauces
choose low calorie cheese. I use light swiss cheese that has only 50 calories per slice; you can even use high moisture fresh mozzarella cheese as it only has 70 calories per once and it would pair great with this breakfast pizza
choose low calorie protein instead of high calorie pepperoni. Prosciutto is a much better option at only 60 calories per ounce. If you like pepperoni, you can reduce calories by choosing turkey pepperoni
pizza dough is not very high in calories if you choose thin crust but it is a time consuming to make at home. To save time, I chose pita bread. It is a really good option for pizza crust at 140 calories per pita. I split it in half and I have 2 pizzas. You can also use tortilla or flat bread. My favorite low calorie tortilla is Crab Counter tortilla at 45 calories per tortilla.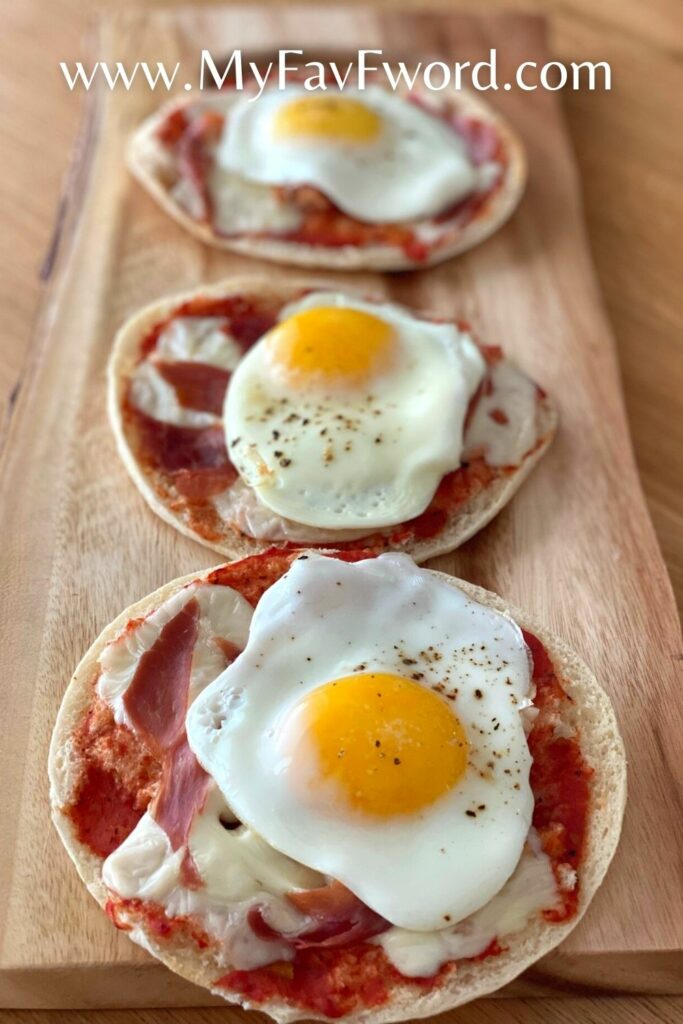 How to make healthy breakfast pizza
Prepare pita bread by cutting it in half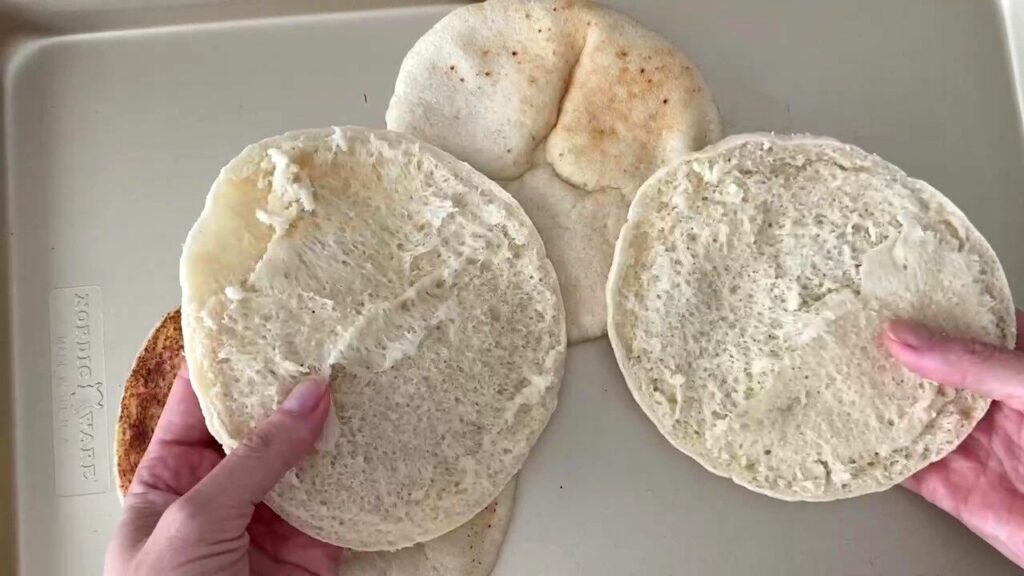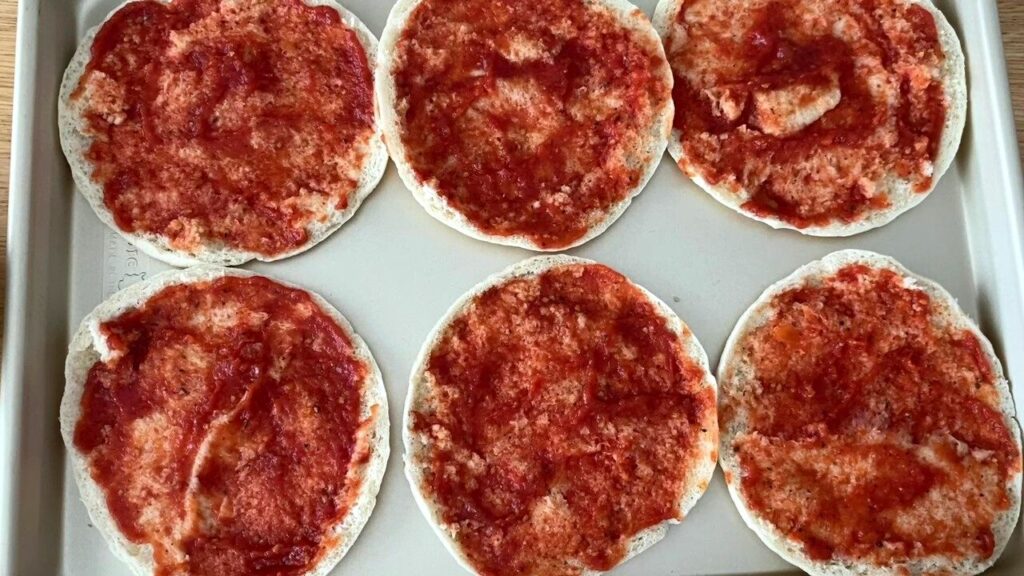 Top with cheese, one 21 gram slice per pizza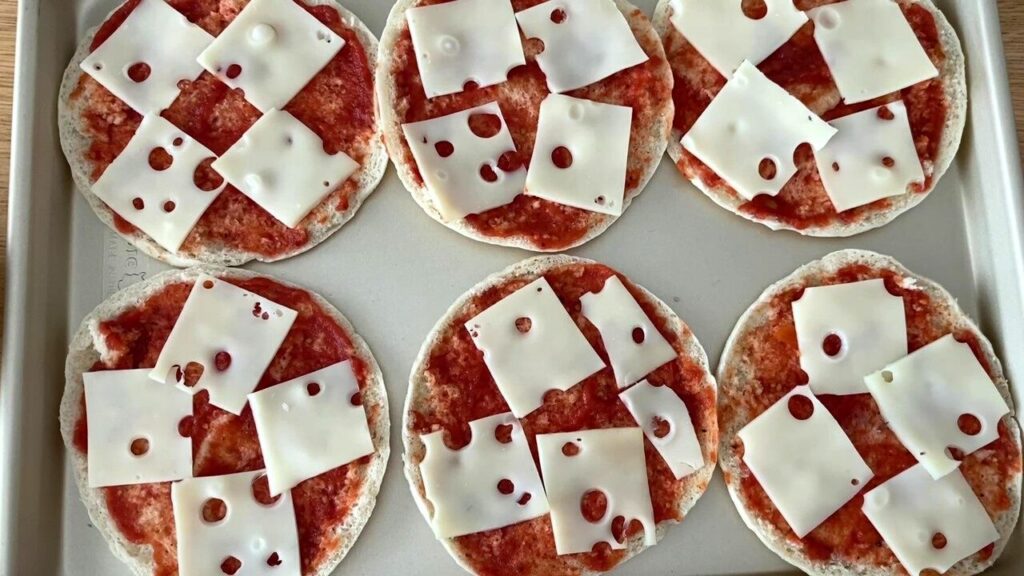 Prosciutto, one 15 gram slice per pizza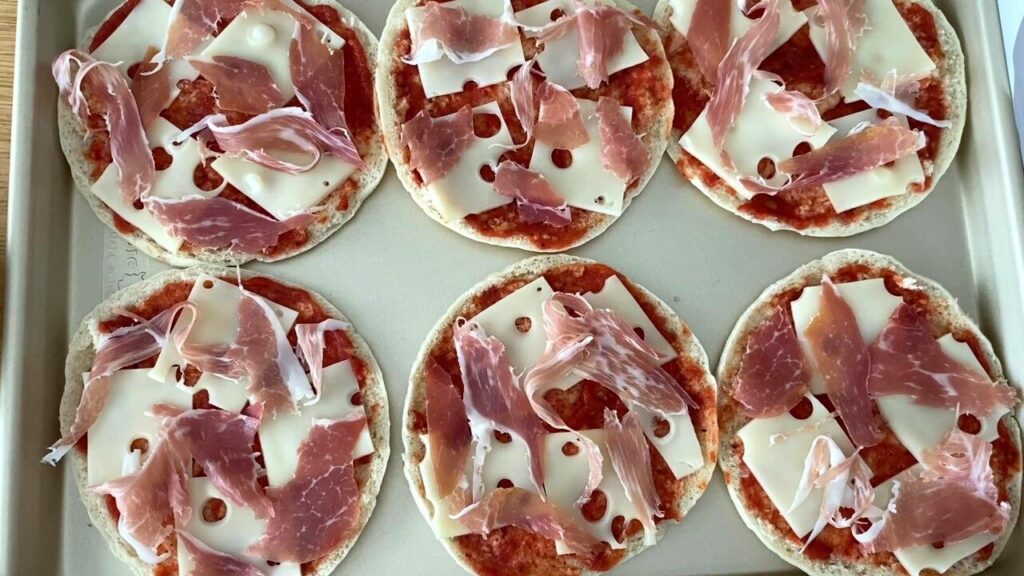 Preheat the oven to 450 F. If you have a pizza stone, place it in the oven while the oven is heating up. Alternatively, you can place pizzas on a baking sheet.
Bake it for 8 – 10 minutes, depending how crispy you like it.
While the pizzas are baking, prepare the eggs by frying them on non stick pan. I do not use any fat and the eggs cook perfectly and do not stick.
Season with salt and pepper and a dash of oregano.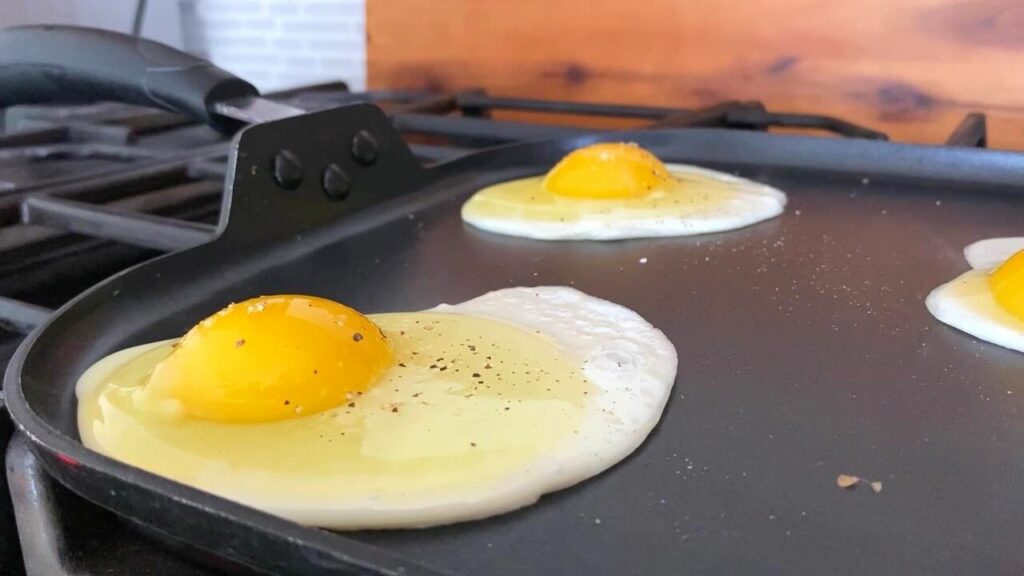 I like my eggs runny so I leave it on a low heat on the pan until the egg whites set slightly. You can either cover the eggs to set on top or put it on top of pizzas and broil for 30 seconds or longer (depending on how set you like your eggs)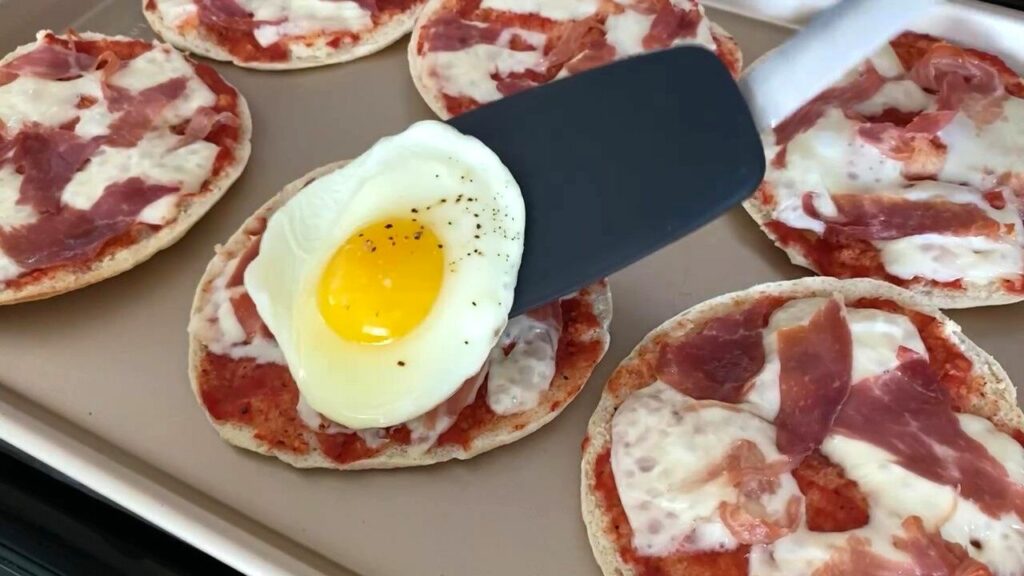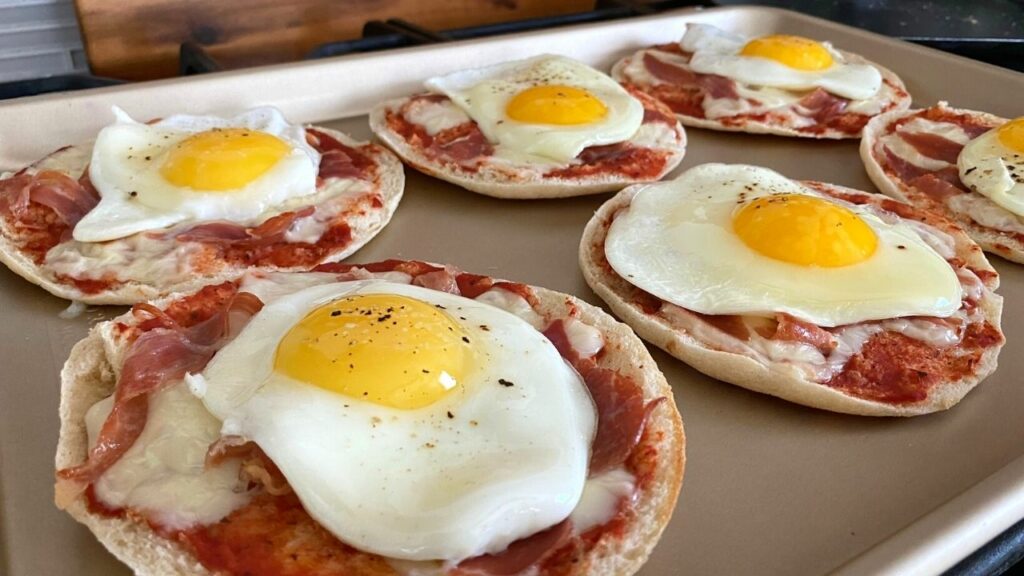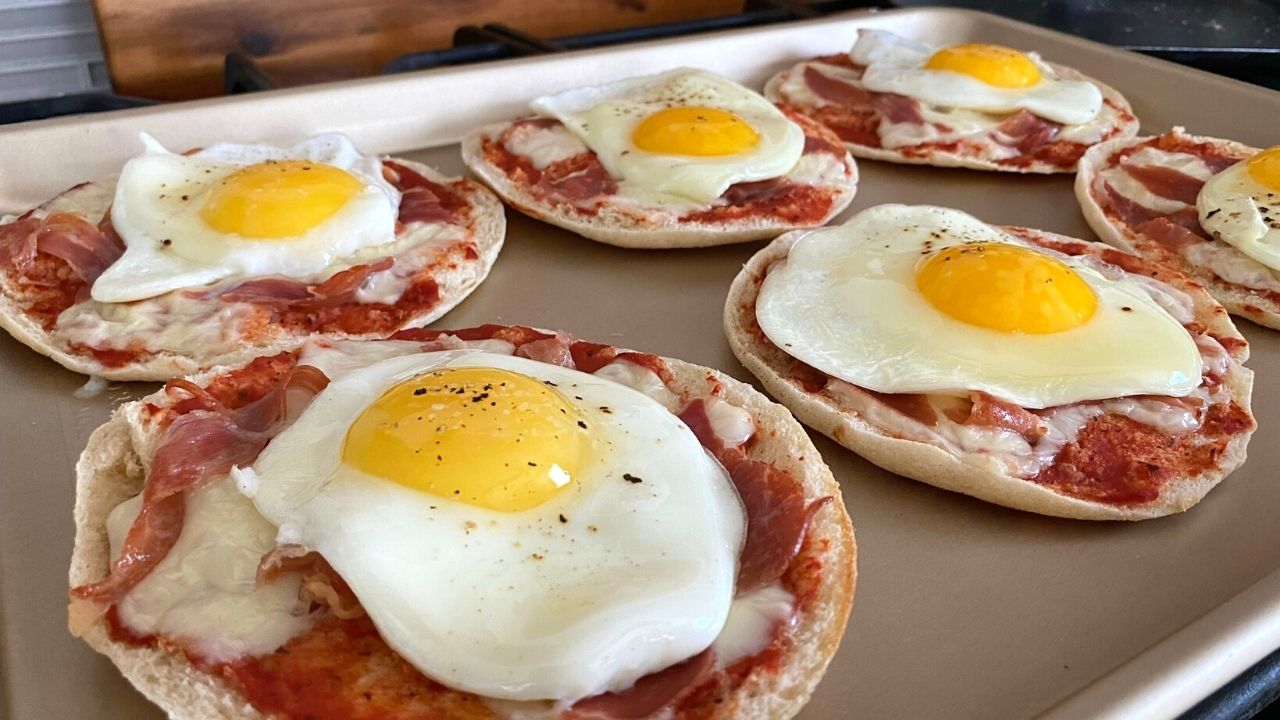 What other ingredients can be use to make breakfast pizza?
I have made different version of this pizza by using low calorie, full of nutrients ingredients like mushroom and onions. Swap swiss cheese for fresh mozzarella cheese that goes really good with prosciutto. I also use a low calorie tortilla for the crust.
The options are endless and they all taste great.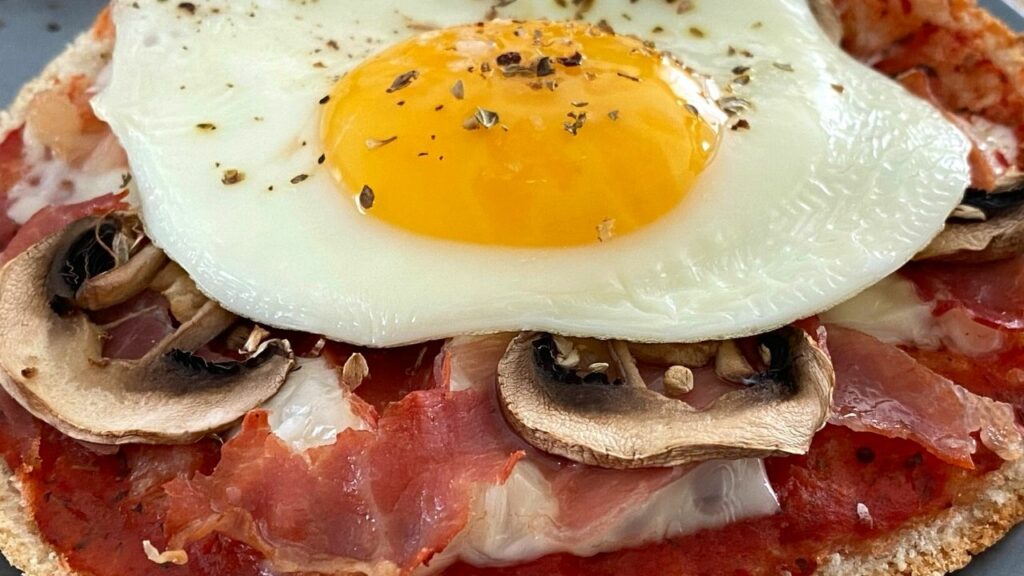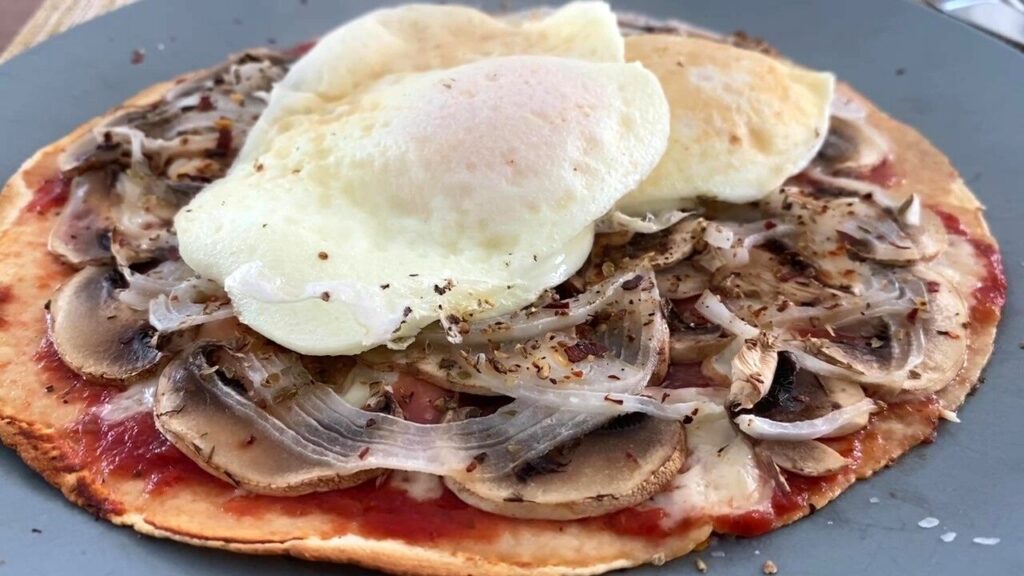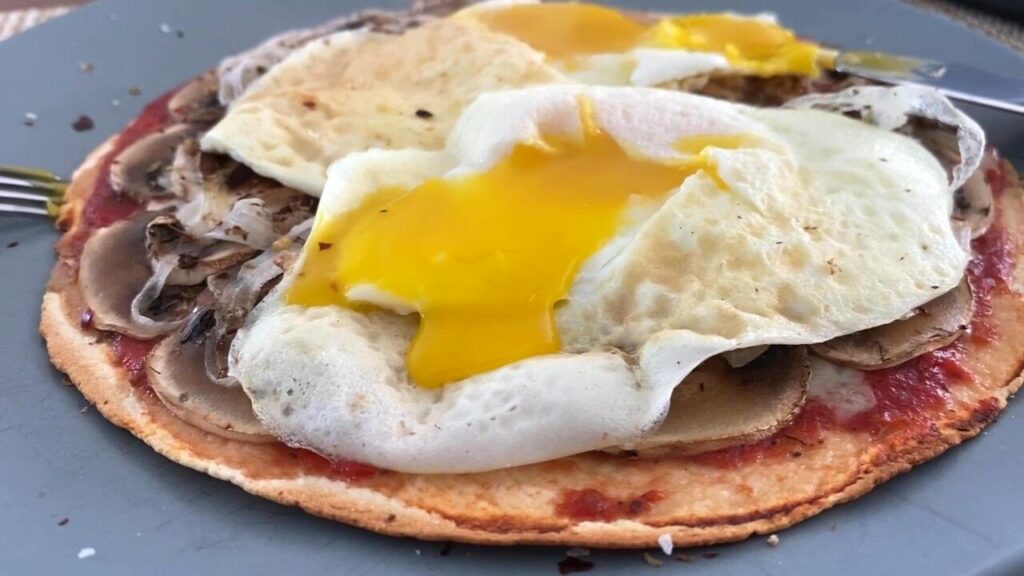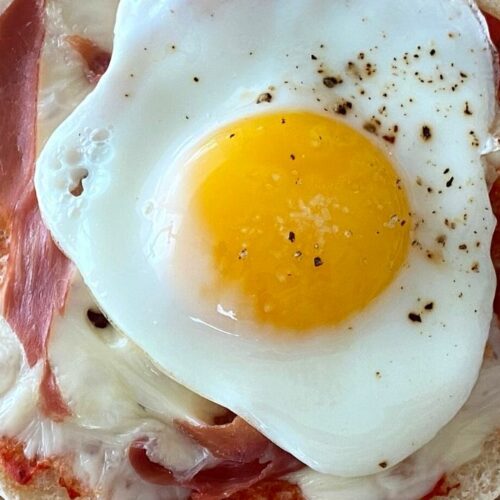 Healthy Breakfast Pizza
This is a healthy breakfast pizza recipe that you can enjoy pretty much every day if you wish to. Only few simple ingredients and few minutes to make. It is nutritious and delicious!
Ingredients  
3

pitas

mine have 140 calories each

3

oz

prosciutto

6

slices

light swiss cheese (or mozzarella)

21 g each

6

large

eggs

10

oz

homemade tomato sauce

link to recipe: https://myfavfword.com/easy-5-minute-pizza-tomato-sauce/
Instructions 
Top with cheese and prosciutto

Bake at 450F for 8-10 minutes

Fry eggs on nonstick pan until egg whites start setting

Top pizza with an egg and broil for 30 seconds or more for the egg to set to your desired texture
---
---