Low Calorie Pumpkin Muffins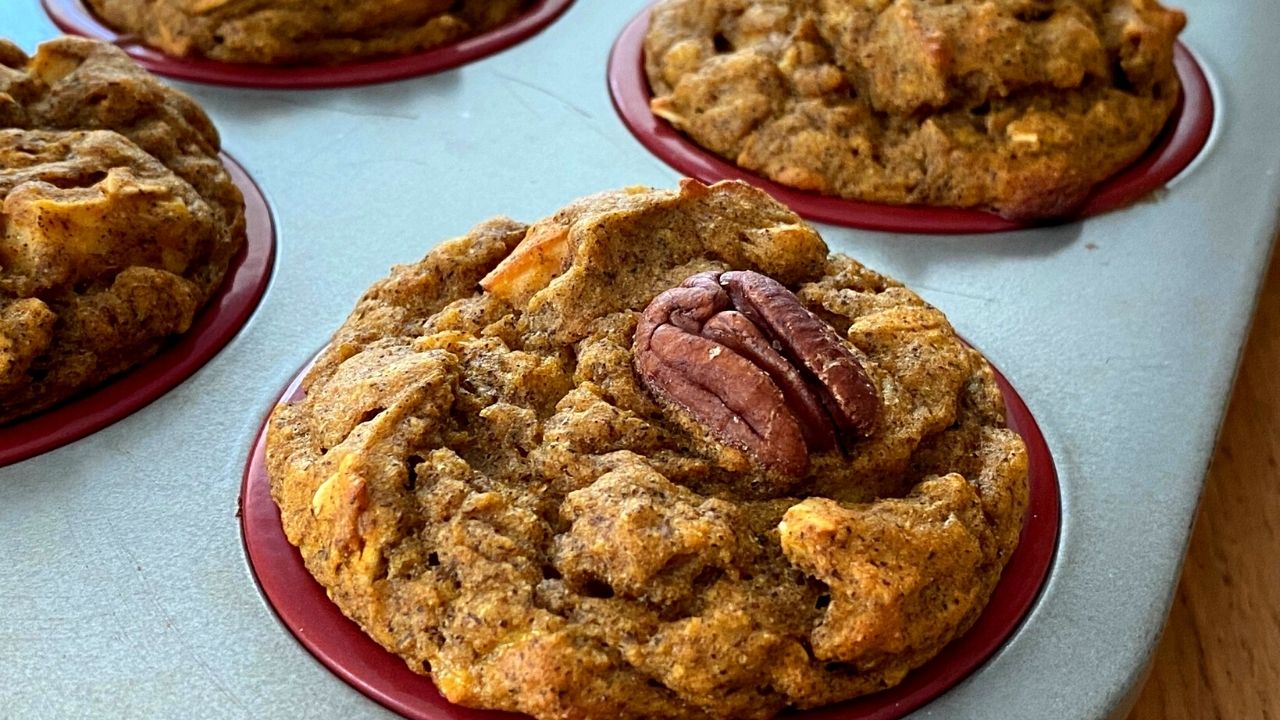 These low calorie pumpkin muffins have no all purpose flour nor oil. It is a healthy option whether you want to have it as a dessert or breakfast. With only 84 calories per muffin you can feel good about having them everyday.
For detailed instructions look at this Low Calorie Pumpkin Muffins video:
Is eating a muffin for breakfast healthy?
You can eat muffins for breakfast if:
you make them yourself at home and know exactly what's in the muffin. Store mixes are not a good option unless you find a low calorie option with good ingredients.
ingredients are crucial to make a good and healthy muffin. If you want to make a muffin an everyday breakfast item make sure it has protein, does not include alot of sugar and substitute flour for other higher protein and fiber flours like oat, garbanzo or buckwheat flour.
These muffins offer all that and are low in calories.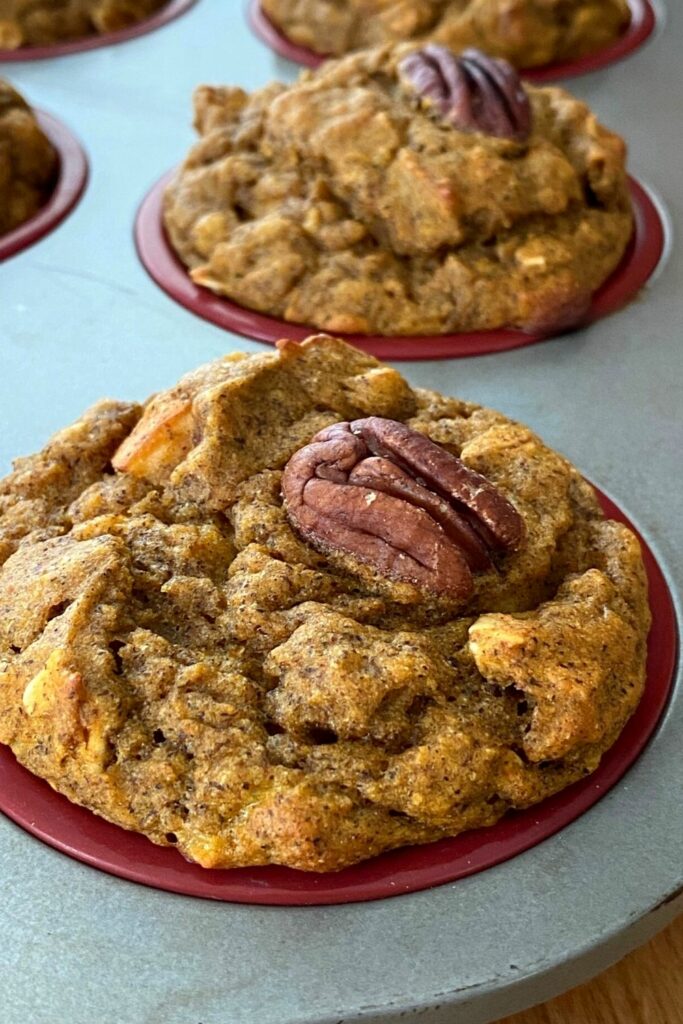 What will you need to make these low calorie pumpkin muffins
Pumpkin: you can use canned or roast fresh pumpkin, just make sure the canned pumpkin does not include any added sugar.
Bananas for extra sweetness
Flours: garbanzo bean, buckwheat flour and oats (you do not have to grind them unless you want to)
Greek yogurt – very good way to replace butter
Eggs
Monkfruit sweetener: but if you have something against sweeteners and prefer adding sugar it is ok
Spices and baking essentials: baking soda, baking powder, cinnamon, nutmeg, pinch of salt and vanilla extract (optional)
Apple: any type you like. It adds nice texture, extra sweetness and great flavor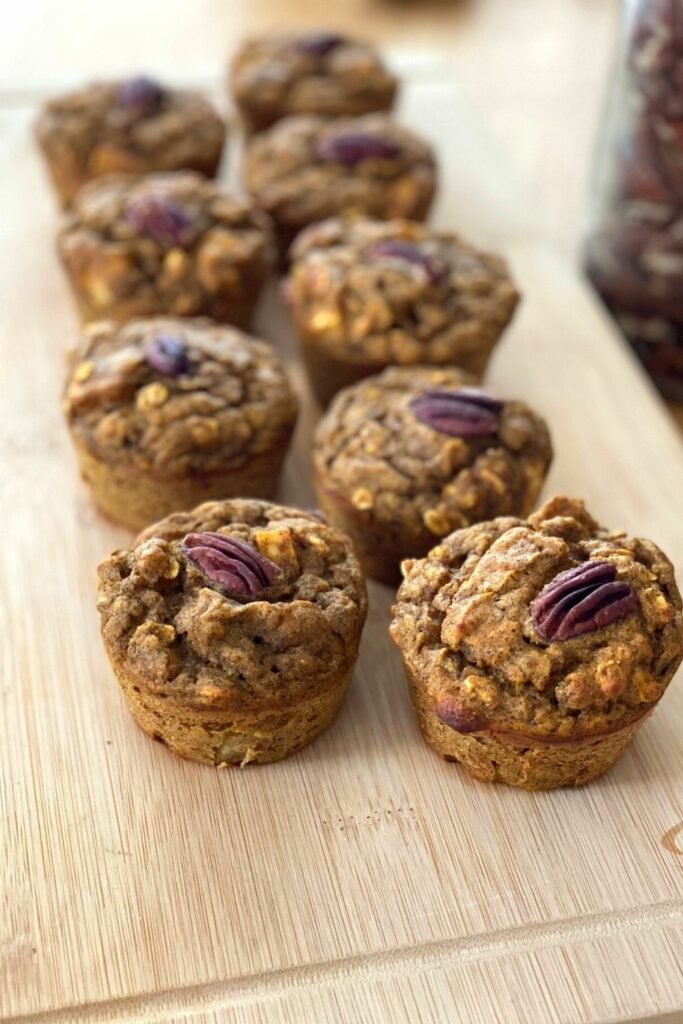 What to expect from these low calorie pumpkin muffins
One thing that you will notice is the texture. It is not as dense as regular muffins. There is no gluten in the recipe so the texture is very soft. Some may love it, some may not. Me and my daughter, we absolutely love the texture and the flavor, my husband was not crazy about the texture. He does like the store bought cake though… alot! 😉
If you have baked cakes and pastries without regular flours, you won't be surprised about the texture. In my opinion, these muffins are delicious. They are soft, sweet and healthy.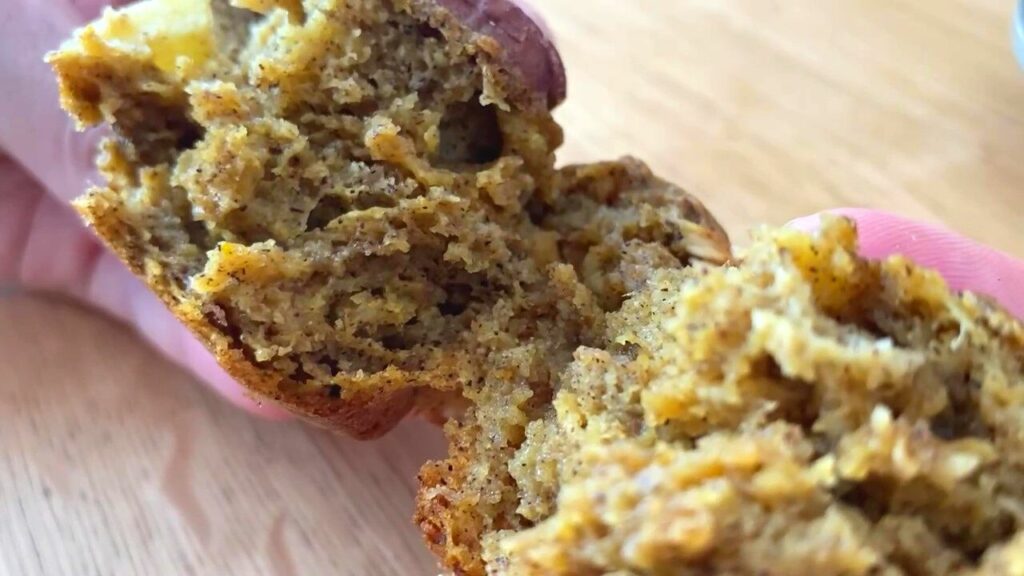 How to make pumpkin muffins
The process is very easy as you just put all ingredients in a bowl, mix them up, divide into muffin baking pan and bake.
I like to start with mixing wet ingredients and add dry ingredients after wet ones are well combined.
Start with mashing 3 medium bananas. That's about 12 ounces of bananas.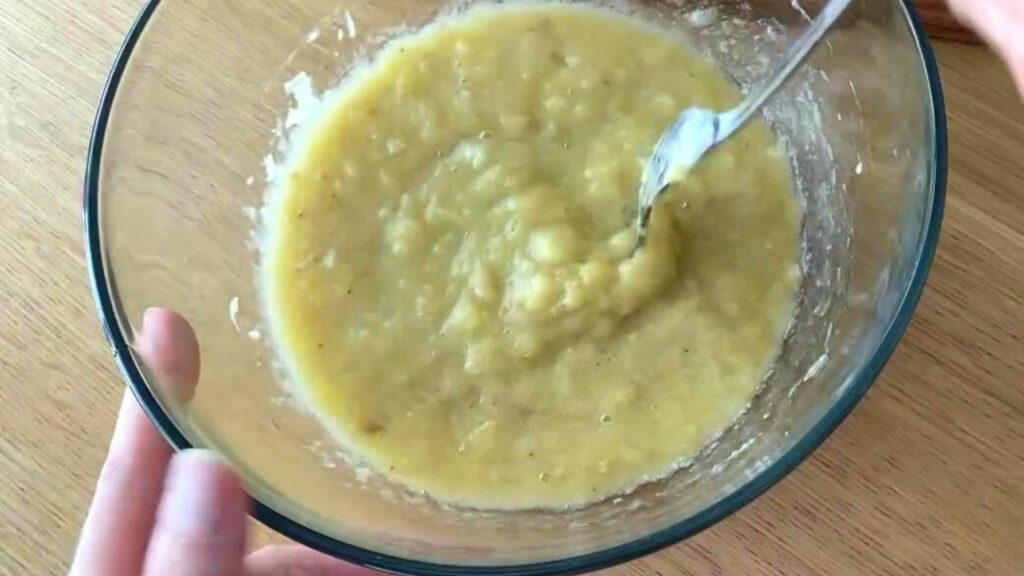 Add eggs, pumpkin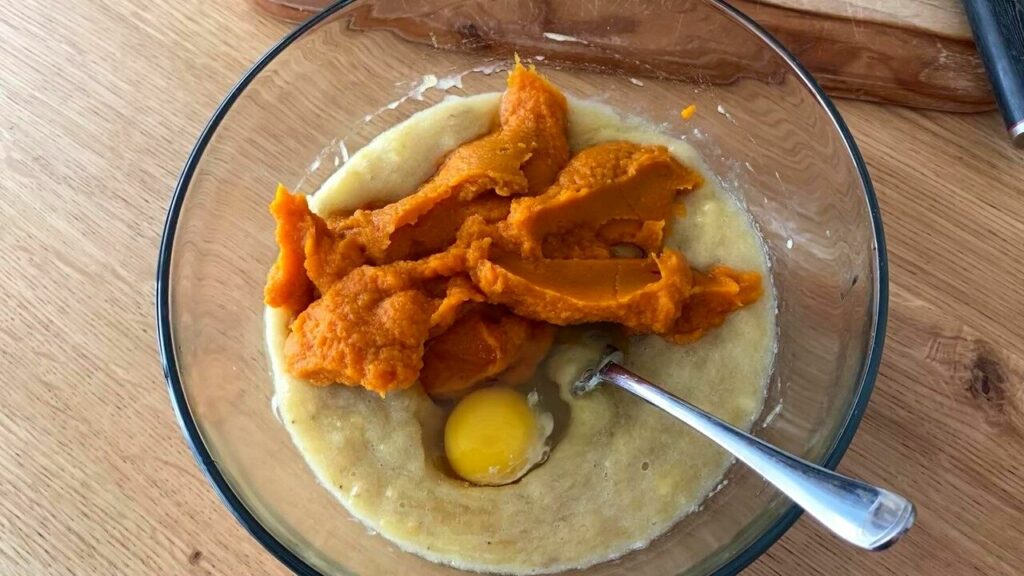 Greek yogurt, sweetener (or sugar), baking soda, baking powder, cinnamon, ground nutmeg and mix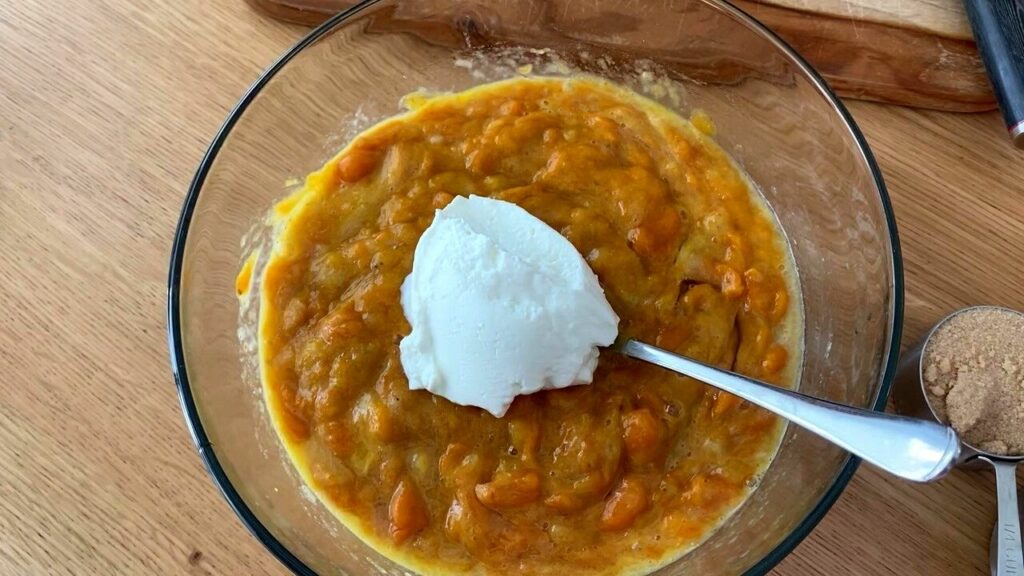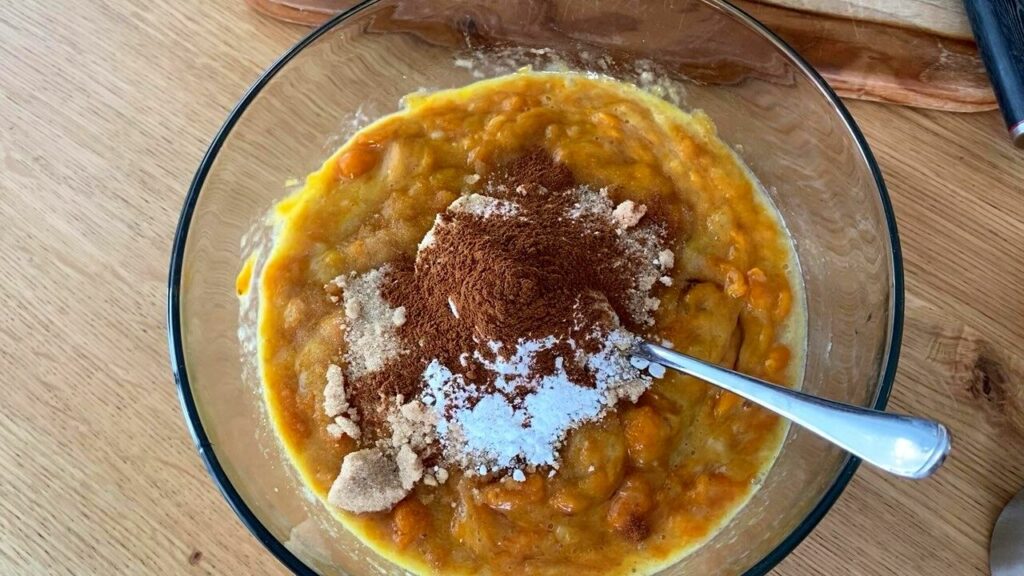 Add buckwheat and garbanzo flours and old fashioned oats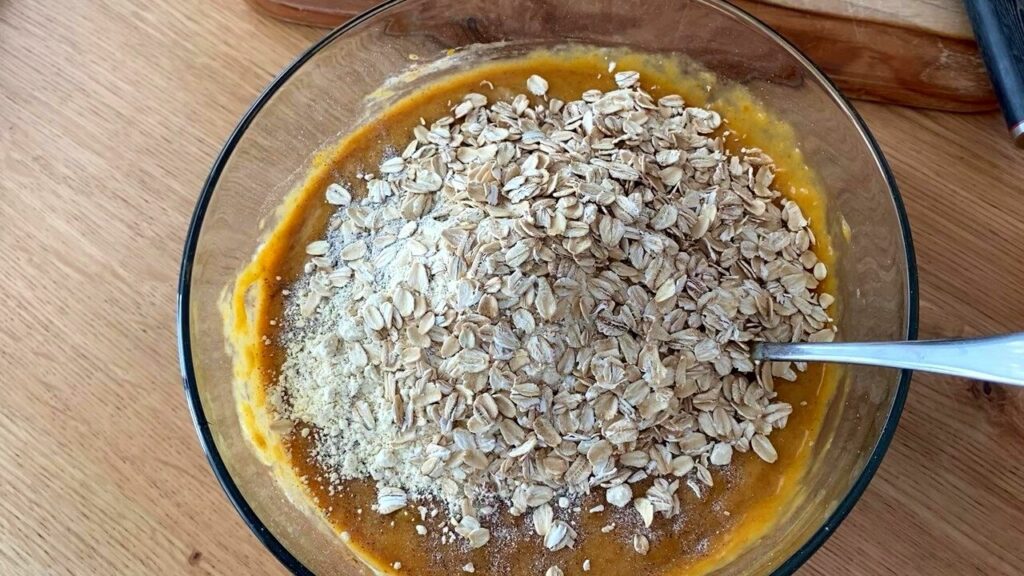 Chop one apple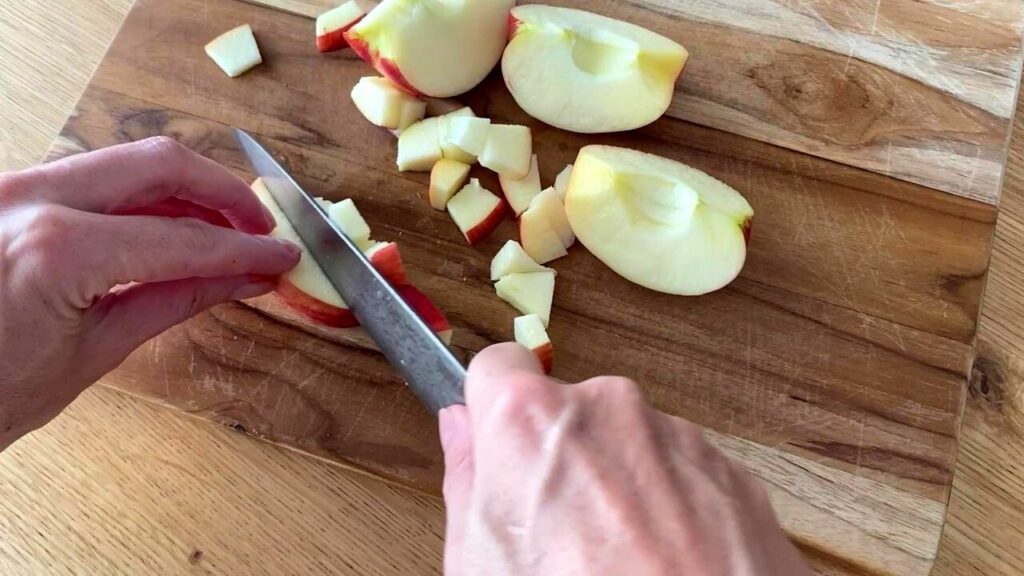 Mix chopped apples into the dough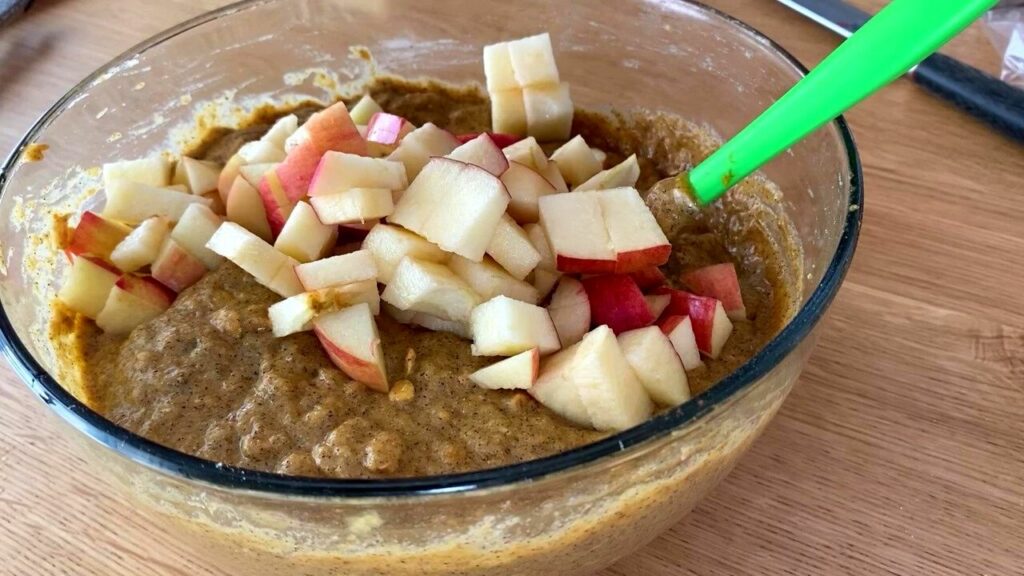 Divide into 17 cups and bake at 350F for 25 – 30 minutes.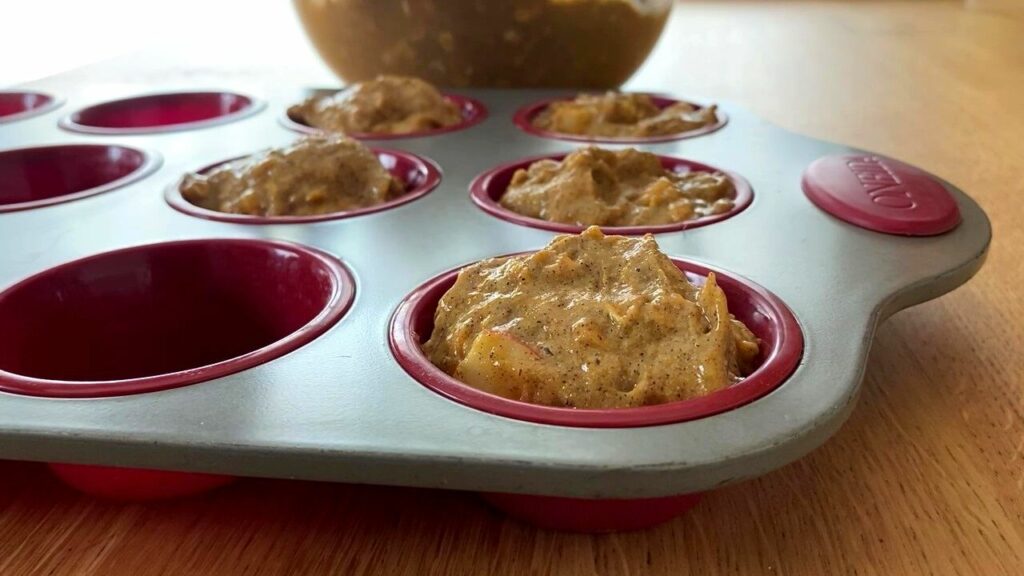 You can also add a not or chocolate chip on top for garnish or better presentation 🙂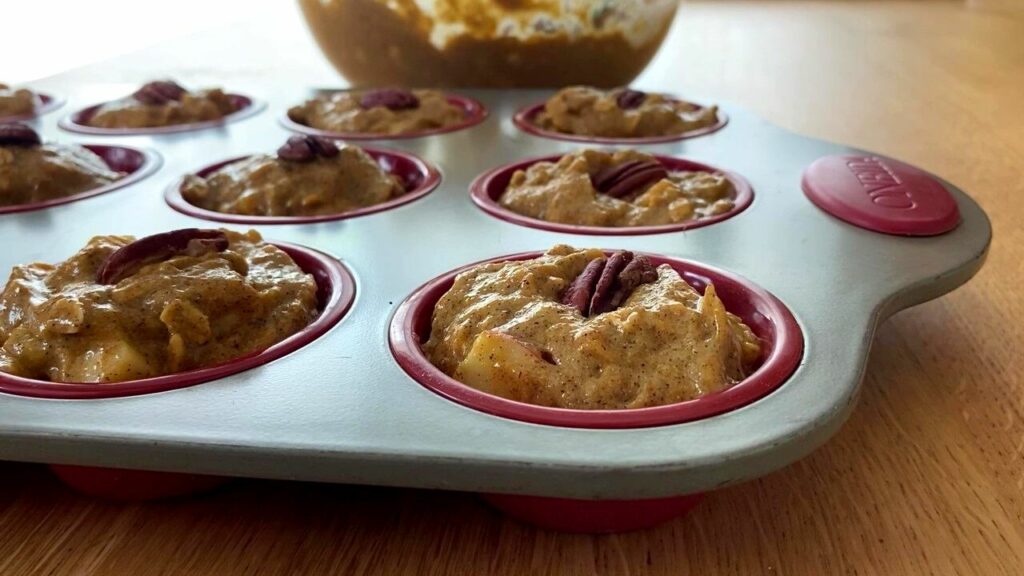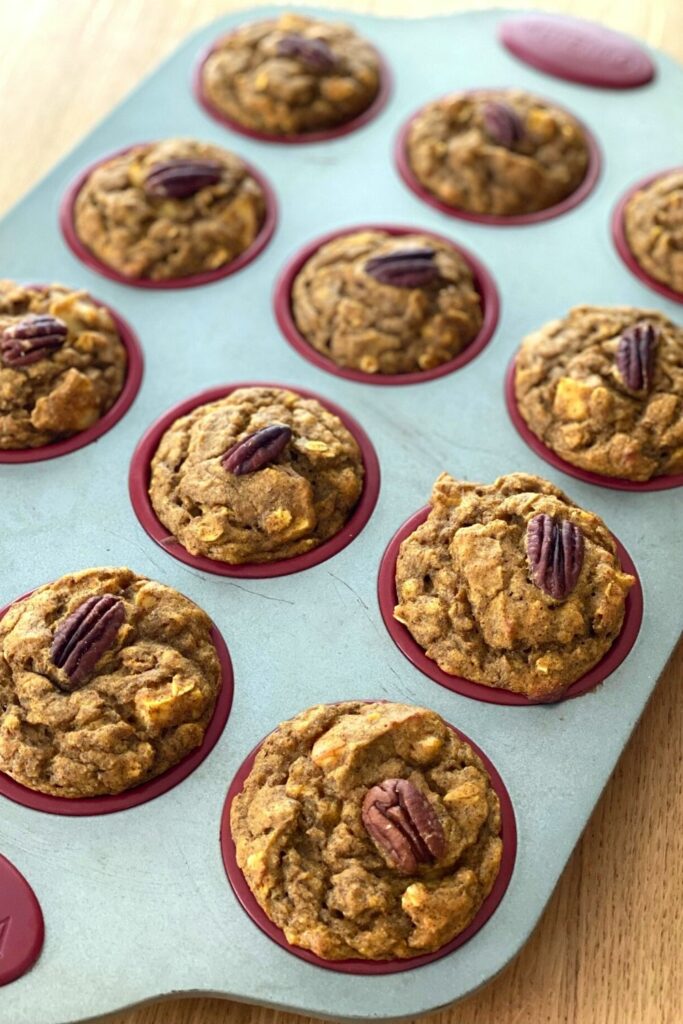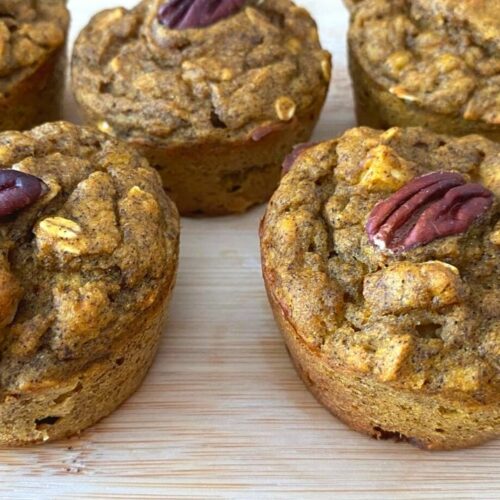 Low Calorie Pumpkin Muffins
These pumpkin muffins are low in calories, are made without regular flour, butter or oil. There is no regular sugar, I replaced it with monkfruit sweetener and bananas. They are a healthy option for anybody that likes to enjoy muffins for breakfast
Equipment
12 Cups Silicone Muffin Pan

Mixing glass bowls
Ingredients  
3

medium

bananas

12 ounces

1.5

cup

canned pumpkin (sugar free)

360-370 grams

2

large

eggs

½

cup

non fat Greek yogurt

125 grams

¼

cup

monkfruit sweetener

70

g

buckwheat flour

70

g

garbanzo flour

41

g

old fashioned oats

½ cup

1

tsp

baking powder

½

tsp

baking soda

½

tsp

cinnamon

pinch

of

salt

¼

tsp

nutmeg

1

tsp

vanilla extract (optional)
Instructions 
Add Greek yogurt, sweetener (or sugar), baking soda, baking powder, cinnamon, ground nutmeg and mix

Add buckwheat and garbanzo flours and old fashioned oats

Mix chopped apples into the dough

Divide into 17 cups and bake at 350F for 25 – 30 minutes

You can also add a not or chocolate chip on top for garnish
Notes
*Links in this blog post are affiliate links, which means at no extra cost to you, I will make a small commission if you click them and make a qualifying purchase*
---
---