How to make brussel sprouts taste good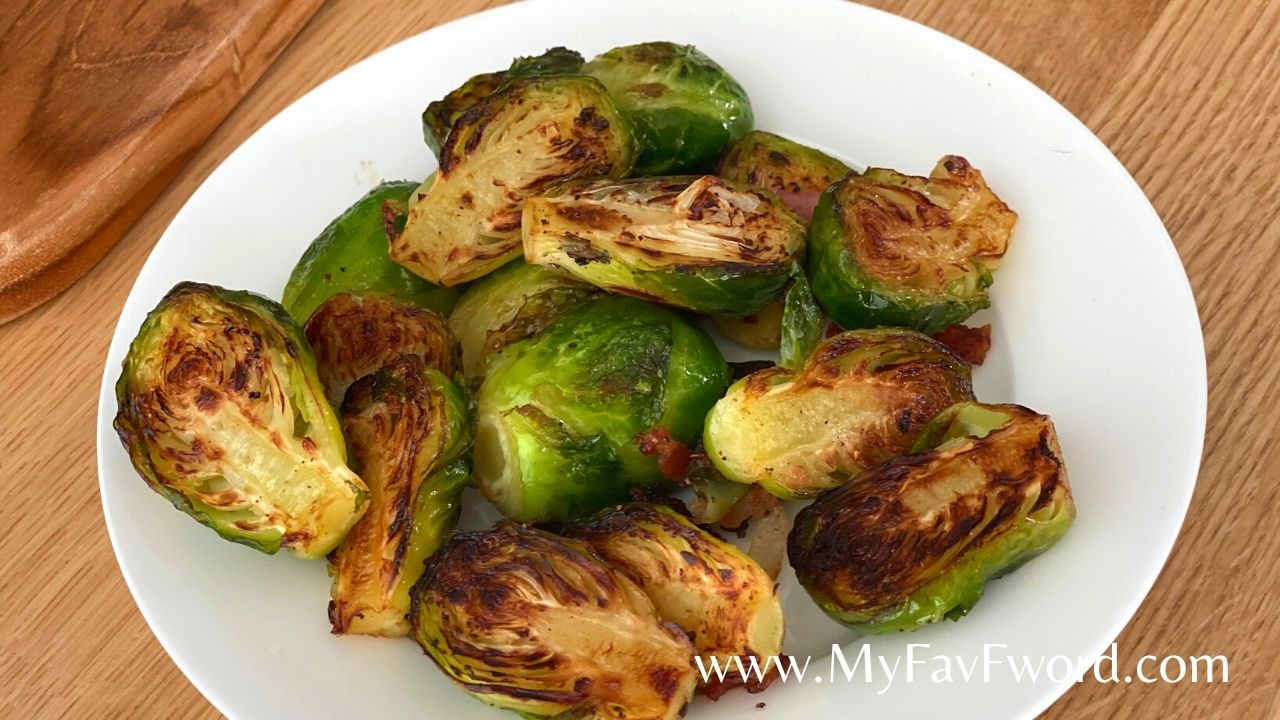 Why are brussel sprouts the worst vegetable?
Brussel sprouts seem to have a bad wrap. Most kids do not like them and many adults claim do not like them as well, probably because they remember from their childhood that they did not like them. Vicious cycle. As a child, I remember not liking them either. I can still remember the smell and very undesirable texture. And that's exactly what put the brussel sprouts in such a bad light. People cooked them wrong. Poor little veggie was not to blame at all. In this recipe I will share with you how to make brussel sprouts taste good.
And back to my grandma… I loved her baking and cooking but she loved to overcook vegetables and pasta. She claimed that pasta al dente is under cooked and it will cause a stomach ache. Same goes for vegetables. I am imagining that since so many people do not like brussel sprouts, my grandma was not the only one who had overcooking tendencies.
Why are brussel sprouts so bad?
Brussel sprouts is one of the vegetable that tastes disgusting when overcooked. Overcooking causes it to literally change the flavor. Texture becomes almost slimy. But when prepared and cooked properly, brussel sprouts are one of the best vegetable that you can have.
On the other hand, if you under cook it you will taste the bitter flavor that brussel sprouts do have but it almost disappears when cooked properly.
How to make brussel sprouts taste good
Do not over cook them. Once overcooked, brussel sprouts change their flavor and they can have undesirable taste.
If you pan fry them, first preboil them for couple of minutes.
They go very well with any type of bacon, pancetta is a good choice.
While panfrying make sure the pan is set on medium high heat. The goal is to get them browned and crispy.
Do not overcrowd them on the pan. Each brussel has to have it's own space and be touching the pan directly
For step by step video instructions look at this Roasted Brussel Sprouts video:
Follow these steps to make your brussel sprouts taste good
Boil a pot of water
When the water is boiling add salt and brussel sprouts
Cook for about 2 minutes and drain
Peel (if needed) the yellowish leaves and cut the tip off
Cut the brussel sprouts in half
Prepare bacon by chopping it in small pieces
Preheat a large pan and add bacon
When bacon just starts browning and releasing far add sprouts placing them cut side down to absorb the fat from bacon
Add salt and pepper
Cook for 10-15 minutes until the sprouts start browning, I like them on a darker side
When they get to a desired color flip them and continue cooking for another 5 minutes. Be sure not to over cook them
What is the healthiest way to eat brussel sprouts?
The healthiest way to cook any vegetable is to steam it. But steaming will not make for best tasting brussel sprouts. I always like to find a happy medium. This recipe has only 68 calories per serving. Healthy can be such a controversial word at times. Especially nowadays with all these different diets circling around. Healthy for me, means I have nutritious food that is not loaded with calories. If I add a tablespoon of butter to a meal that feeds 3 people, the meal is still a healthy meal. I add 2 thin slices of bacon to a pound of brussel sprouts that yield 4 servings.
My favorite way is to prepare them on a pan with pancetta (Italian bacon) or bacon. I do not add any extra fat since even one slice of bacon will ender enough fat to coat brussel sprouts enough to brown and become delish.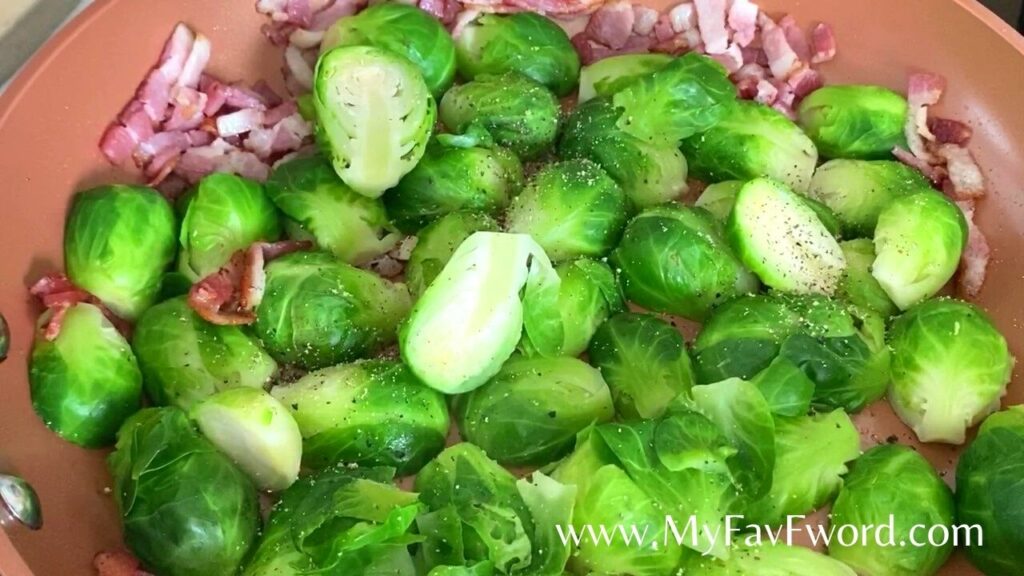 Can you lose weight eating brussel sprouts?
Brussel sprouts are a great vegetable to include in your diet when you are trying to lose weight. It is full of nutrients and has only 38 calories per cup (88G), according to USDA data.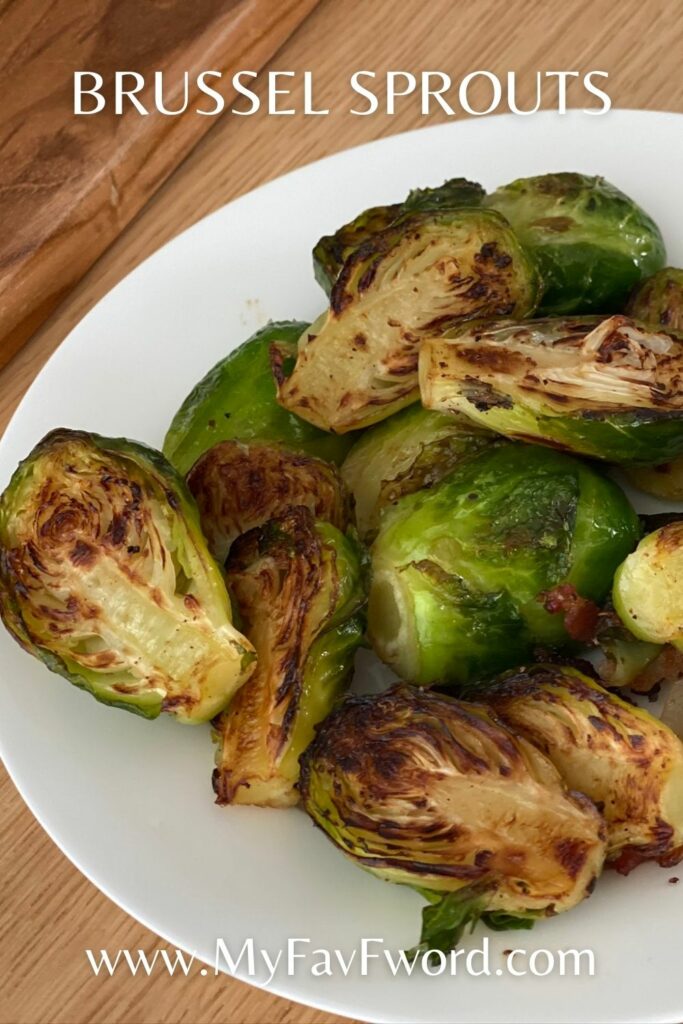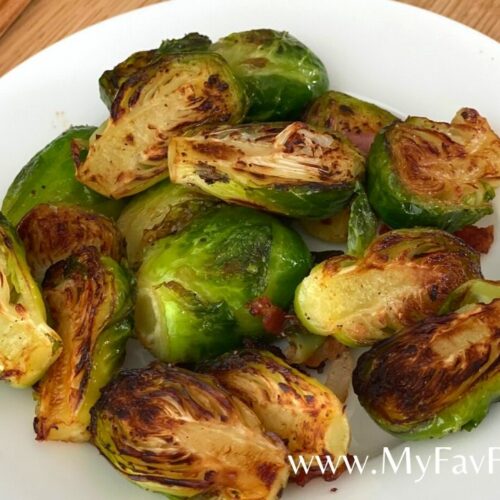 Roasted Brussel Sprouts
This is a recipe for pan fried brussel sprouts with bacon, If you have a pancetta bacon, it will be even better. More expensive but better. There is no need for extra fat, oil or butter as bacon will release enough to nicely coat all brussel sprouts. That is the reason why I use bacon instead of butter. I get a bit extra protein and the fat is taken care of.
Ingredients  
1

lb

brussel sprouts

2

slices

bacon

salt and pepper to taste
Instructions 
When the water is boiling add salt and brussel sprouts

Cook for about 2 minutes and drain

Peel (if needed) the yellowish leaves and cut the tip off

Cut the brussel sprouts in half

Prepare bacon by chopping it in small pieces

Preheat a large pan and add bacon

When bacon just starts browning and releasing far add sprouts placing them cut side down to absorb the fat from bacon

Cook for 10-15 minutes until the sprouts start browning, I like them on a darker side

When they get to a desired color flip them and continue cooking for another 5 minutes. Be sure not to over cook them
*Links in this blog post are affiliate links, which means at no extra cost to you, I will make a small commission if you click them and make a qualifying purchase*
---
---