Blueberry Scones with Oats – Low Calorie No Flour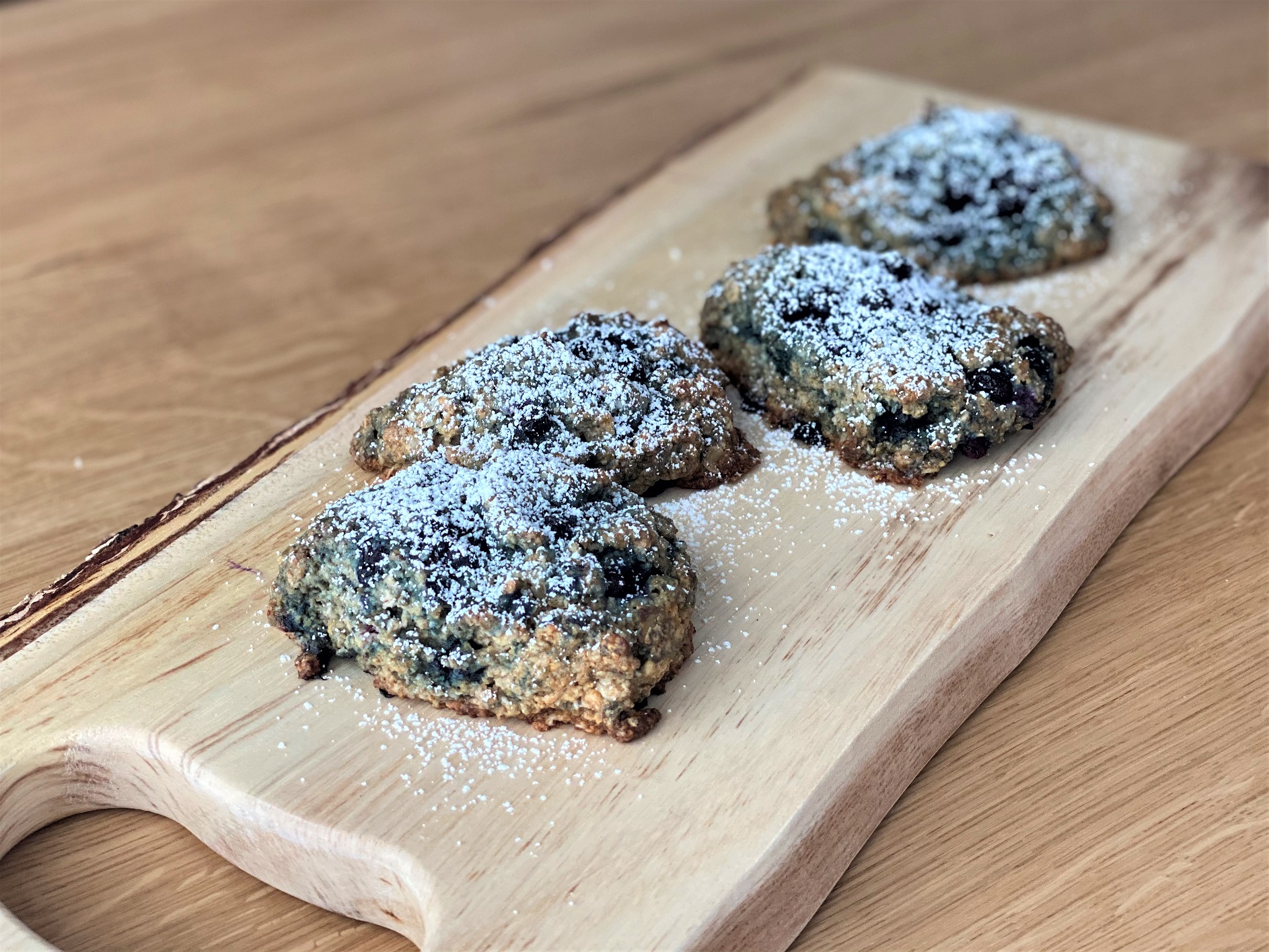 Scones are one of those desserts that people either love or don't like much at all. For me, scones are sort of comfort food. These blueberry scones are a healthier option than a typical scone recipe. My favorite recipe that I have used for many years had tons of flour, butter and heavy whipping cream. Those ingredients alone make it a calorie bomb. I have been tweaking this recipe for a while now and so far this is my healthiest yet. I completely replaced flour and used oats instead. Butter had to stay – I just used minimum required amount. My best tweak was replacing the whipping cream with buttermilk. Lots of calories saved but also it adds some moisture to the dough. Although scones are not meant to be moist they are really good this way. And I hope you will like them too.
For step by step instruction watch the video below:
Things to consider when making these blueberry scones
All ingredients must be very cold – especially butter. Make sure to cut the butter into little chunks and mix it in the dry ingredients fast and preferably not by hand. It is important that the dough stays cold. The texture of the scones depends on it:) There should be still little pieces of butter visible.
The dough will be very sticky – that is ok.
You can use any fruit you like – I love blueberries so I went with them. But to be honest if you use dry fruit or nuts it will be much easier to work the dough.
Because there is only oat flour and oats in the recipe, the scones will not hold as well as typical scones. Don't worry they are still delicious
Other Types of Flour?
I have used a mix of oats and regular flour before in my Cranberry Scones Recipe and texture is the best so far.
Almond flour is also a good choice. I do not use it because it is very high in calories.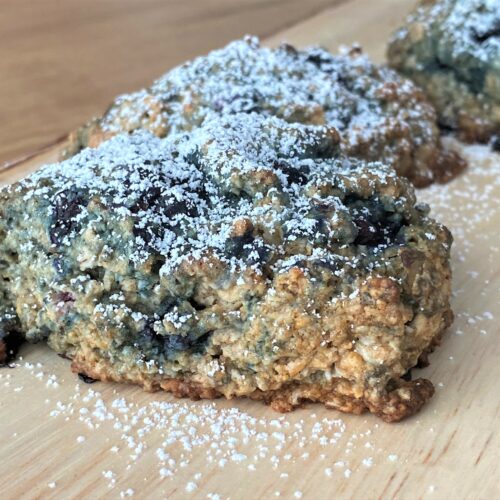 Blueberry Scones with Oats
This scone recipe is simple and quick to make. You can make them for breakfast or have a healthy option for a dessert. Feel free to replace blueberries with any other fruit
Ingredients  
8

tbs

very cold butter

113 g (one stick)

160

ml

cold buttermilk (or less, add gradually until the desired consistency is reached)

about 6 oz

1½

cup

oat flour (make your own by grinding old fashioned oats)

125 g

1

cup

old fashioned oats

82 g

2

oz

granulated sugar

56 g

1

oz

monkfruit sweetener like Lankanto (or granulated sugar)

28 g

1

tsp

baking powder

¾

tsp

baking soda

½

tsp

salt

1

tsp

cinnamon

3¼

oz

frozen blueberries

90 g

1

tbsp

heavy whipping cream for brushing
Instructions 
Grind 1.5 cup of old fashioned oats

In a large bowl combined both: old fashioned oats and oat flour

Add remaining dry ingredients: baking soda, baking powder, cinnamon, salt and sugars. Mix it well

Cut cold butter into small pieces, add to dry ingredients and using a fork or dough blender mix it in until the dough becomes a bit crumbly. Do not over mix.

Work the butter in fast so it doesn't become warm. If there are still little pieces of butter visible that is ok

Add buttermilk gradually. Do not add all at once. The dough will be sticky but you do not want it to become runny.

Add blueberries and fold them in

Put the dough into a flat surface and form a circle

Divide into 8 somewhat even pieces

Put the scones on baking sheet lined with parchment paper or silicon mat

Brush with heavy whipping cream

Bake at 375F for 18 minutes
---
---