Shakshuka – Eggs in Tomato Sauce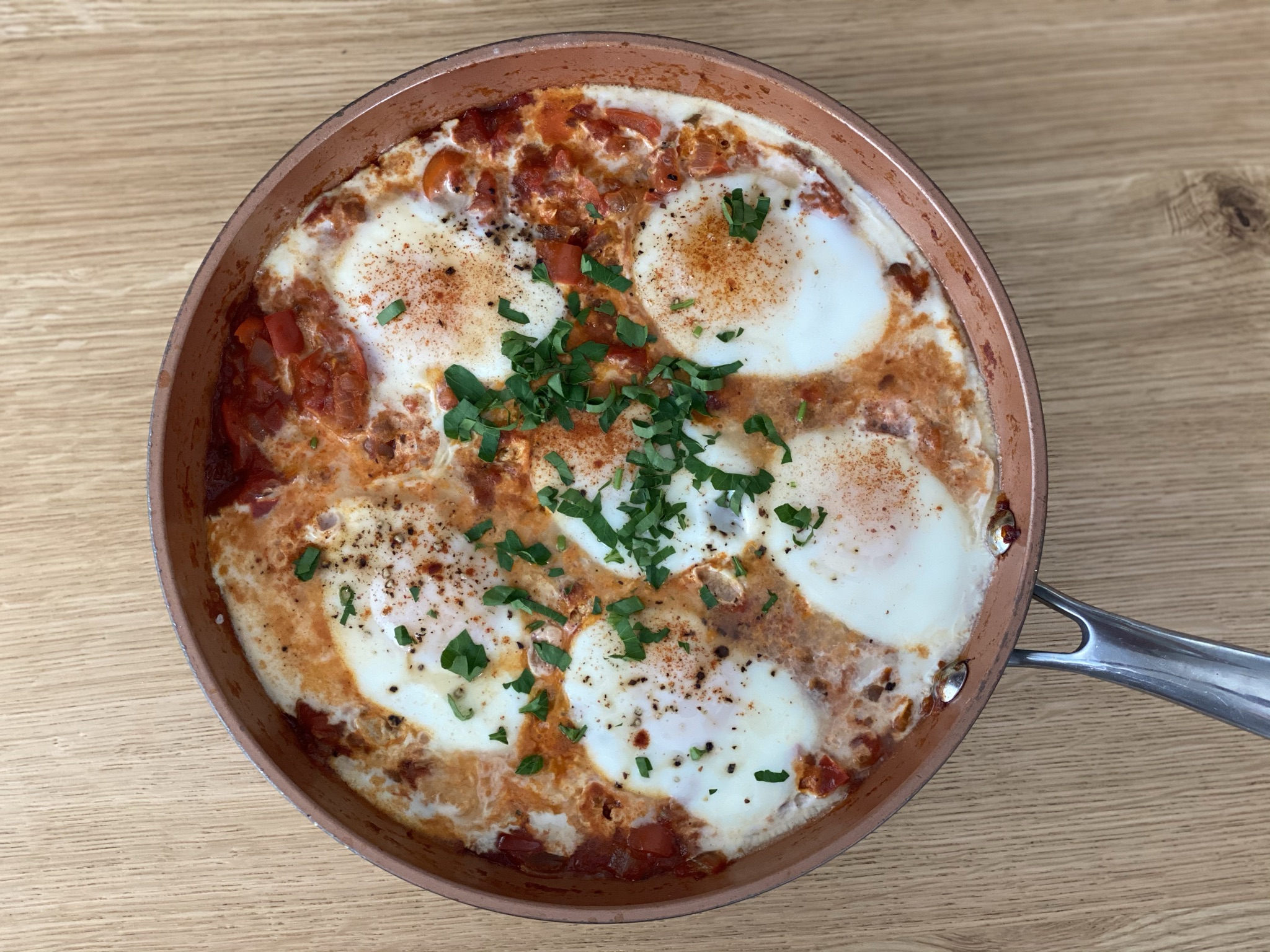 Shakshuka is a middle eastern dish that consists of tomato sauce and eggs. I like to serve it with warm pita bread and other high protein sides like hummus and sprinkle with fresh Israeli feta cheese. Shakshuka itself is very low in calories, it is a light dish, perfect for any diet.
Full of Nutrients
Not only is shakshuka rich in flavor but also full of nutrients. Onions, red peppers, tomatoes, healthy olive oil, garlic, spices (that's your spicy tomato sauce) and eggs is all you need to make this incredibly healthy meal.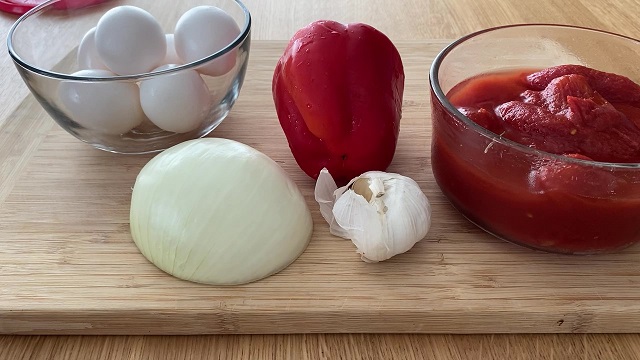 Easy to Make
Another great plus is that shakshuka is very easy and fast to make. Doesn't require many ingredients or special skills. You will need just one pan to prepare the dish. Because you will only need to chop two vegetables it will be a fast meal.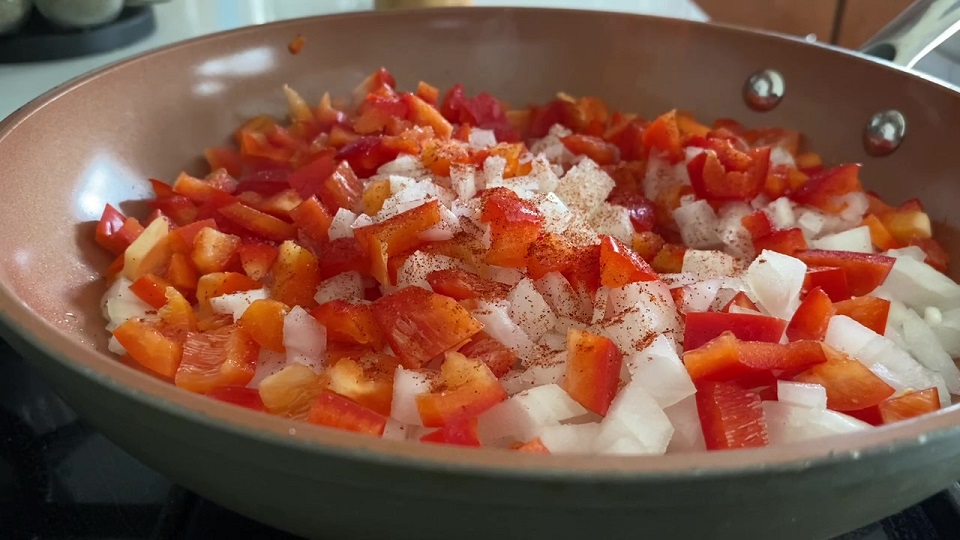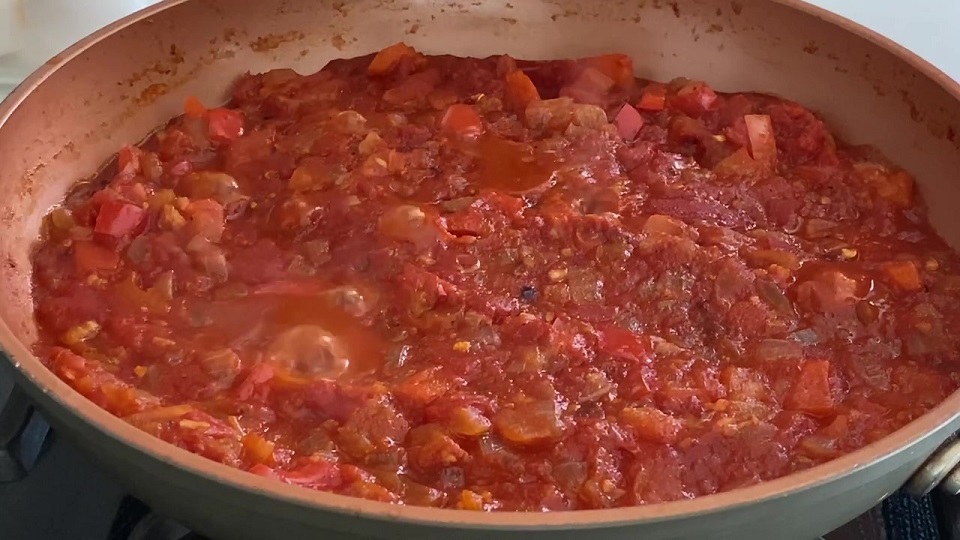 So your eggs in tomato sauce tastes great make sure:
you sauté onions and red bell peppers long enough so they release sweetness. Cook on medium low heat and keep checking so the vegetables do not turn too dark – light brown color is ok. This step is very important as it will affect the flavor tremendously. If you add tomatoes too early and the vegetables did not get enough time to become sweet, the sauce may taste rather bland.
you use good tomatoes – I suggest san Marzano style tomatoes. They are meaty, sweet and will make the sauce thick and delicious.
For step by step instructions visit this video:
What to serve shakshuka with?
You can eat the eggs in tomato sauce dish just by itself. I like to serve it with some warm pita bread, some hummus on the side. A sprinkle of good quality feta cheese gives it extra flavor and extra protein. For some freshness and color add some fresh chopped parsley.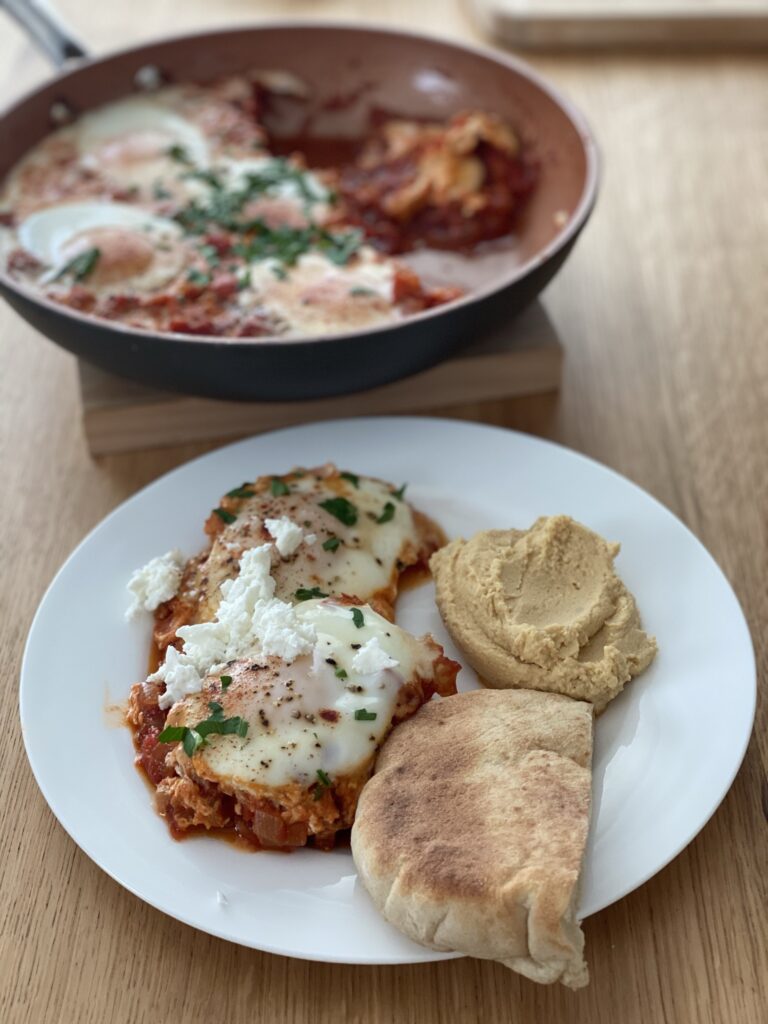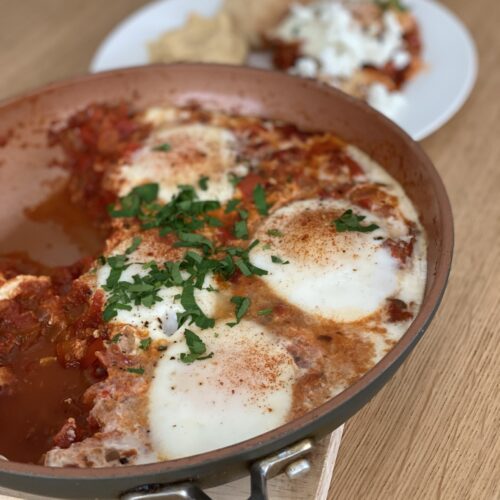 Shakshuka Recipe
Shakshuka is a middle eastern dish that is full of flavor. Eggs poached in delicious and rich tomatoes sauce. I like to serve 2 eggs per serving. This recipe makes 3 servings
Equipment
Large pan with a lid or skillet
Ingredients  
6

large

eggs

1

tbsp

olive oil

½

large

onion

1

medium

red bell pepper

26

oz

san marzano style tomatoes

3

cloves

garlic

1

tbsp

harissa mix

salt and pepper to taste

1

tsp

sweet paprika
Instructions 
To a preheated pan add half of a tbs of olive oil

Add chopped veggies and season with salt and pepper and some sweet paprika

Cook for 15 minutes uncovered until the vegetables become translucent

Add additional half a tbs of olive oil

Add 3 cloves of garlic – minced

Cook for additional 10 minutes on low heat until the peppers and onion become sweet and soft

Add tomatoes, harissa mix, salt and pepper and cook uncovered until sauce thickens

Create little indentation in the sauce to fit the eggs

Cover and cook for 5 minutes on a low heat for soft cooked eggs (add more time for harder yolks)
GUILT FREE DESSERT RECIPES
NO BAKE YOGURT STRAWBERRY CHEESECAKE
COFFEE CHOCOLATE CHIP YOGURT ICE CREAM
*Links in this blog post are affiliate links, which means at no extra cost to you, I will make a small commission if you click them and make a qualifying purchase*
---
---