Ricotta Tiramisu – Light and Creamy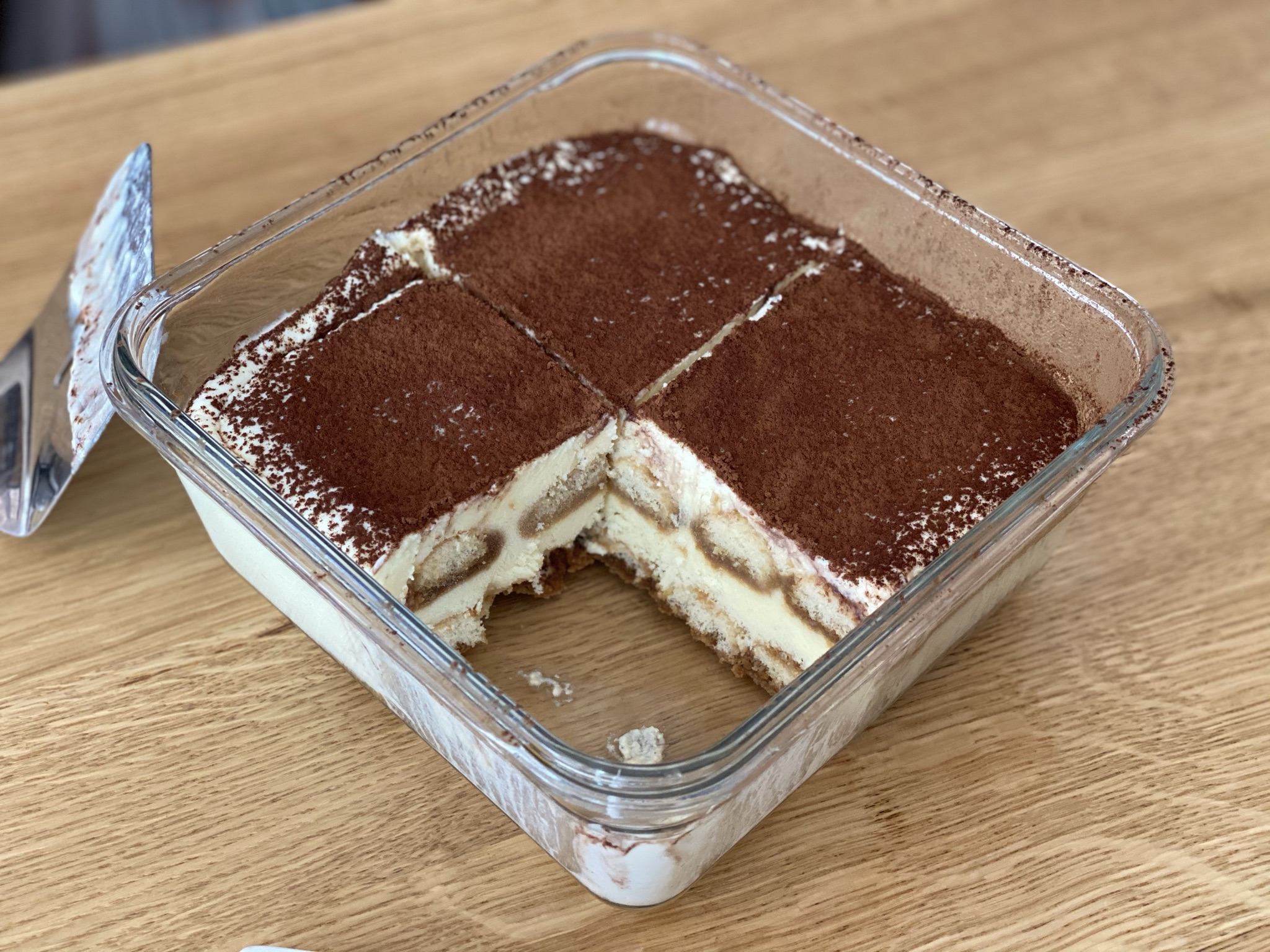 This ricotta tiramisu is a great light and creamy low calorie option to traditional mascarpone tiramisu. This ricotta cheese option is definitely different in texture, however, as much or maybe even more divine. This recipe is exactly the same as regular tiramisu recipe, the only difference is the type of cheese that is being used. Some recipes do use whipping cream to make the cake light and some use egg whites. If you care about your calories – egg whites are a better option.
I was very curious about using ricotta cheese instead of mascarpone cheese and skeptical at the same time. After I tried this version, I realized that most of the flavor in tiramisu comes from the cookies dipped in that delicious coffee flavored with the booze. Whether ricotta that has less calories or mascarpone that is packed with calories, I can still enjoy this desert the same. And let's not forget that ricotta has protein and mascarpone cheese has none. This version has 11 grams of protein per serving and mascarpone version with heavy whipping cream most likely has none. For me, this is just a cherry on top!
For detailed instructions visit the Ricotta Tiramisu video below
What do you need to make this recipe
You will need very few ingredients: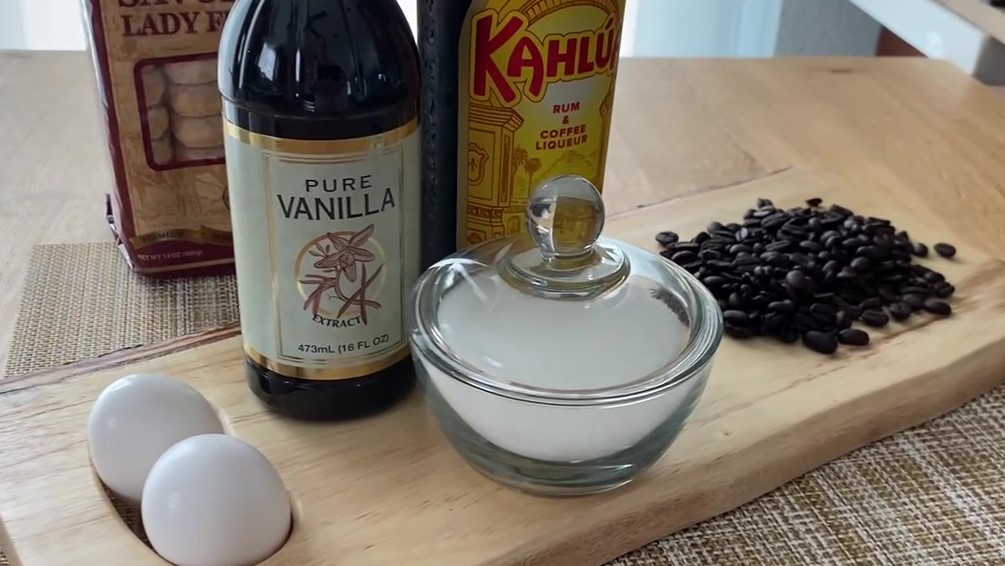 any type of ricotta cheese you like. I used full fat ricotta cheese. There is not much difference between light and full fat in calories (100 vs 80 per serving). There is a difference in taste. I am already replacing rich in flavor mascarpone cheese, there is no need to lower the calories even more and sacrificing the flavor. That's just me and my taste buds. Experiment and see what's best flavor for you.
good and strong coffee. I used espresso long double shot (by long I mean I brewed it for a bit longer to get about 4 oz of coffee). If you do not own an espresso machine, use instant coffee and make it strong.
coffee liqueur like Kahlua. There are different types of coffee liqueurs, choose the one that you like. I like to add extra alcohol to be honest. I add another half to an once of dark rum most of the time. Since not every body likes strong booze flavor I did not add it into this recipe. But if you like some booze feel free to add it to the coffee as well
two large eggs – separated yolks from egg whites. You will find recipes for tiramisu that add heavy whipping cream to lighten the cream and some recipes use egg whites. I always prefer to use egg whites since they are very low calories, and add some protein to this desert.
lady fingers – any brand you like or you can find in your store.
sugar – I only used 25 g or about 1 oz of sugar because Kahlua is already very sweet and I do not like the cream to be too sweet. In this recipe I suggest to use 25 to 50 g of granulated sugar – adjust to your taste.
vanilla extract
Follow these easy steps to make Ricotta Tiramisu
Start with draining ricotta cheese to make sure there is no liquid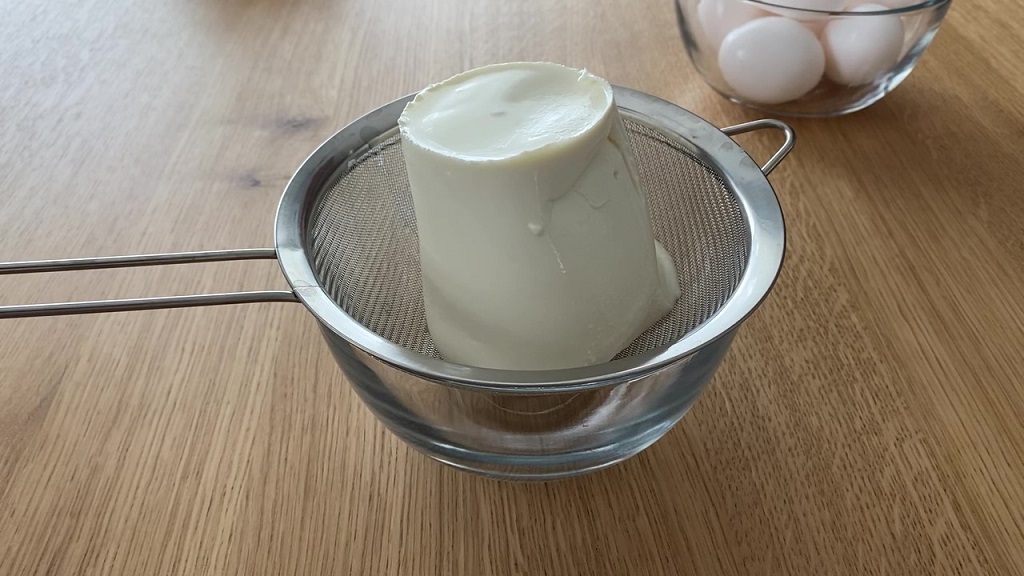 Make espresso shot and add coffee liqueur and vanilla extract – set aside to cool down
Separate egg yolks from egg whites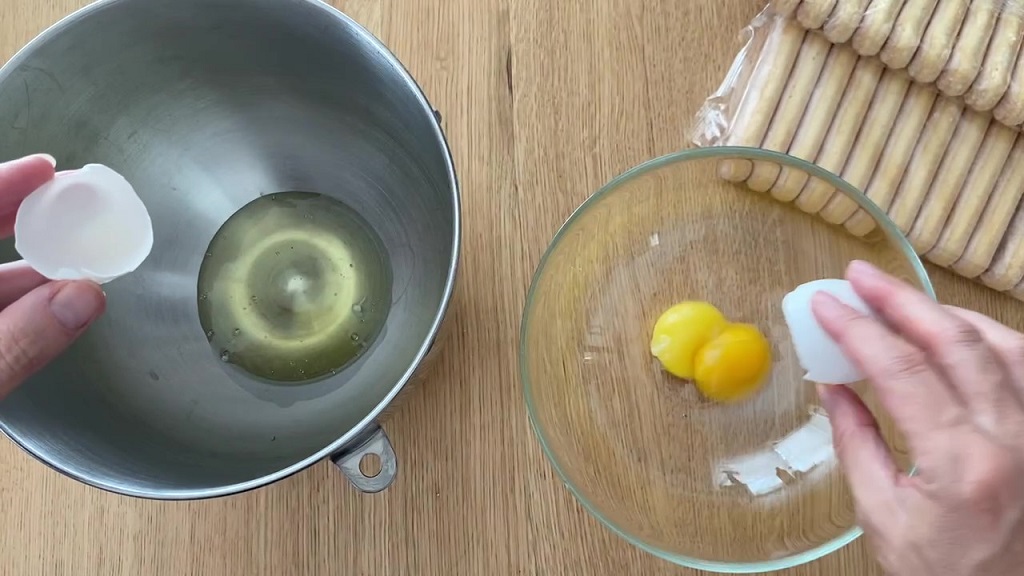 In a glass or ceramic bowl whisk sugar into the yolks.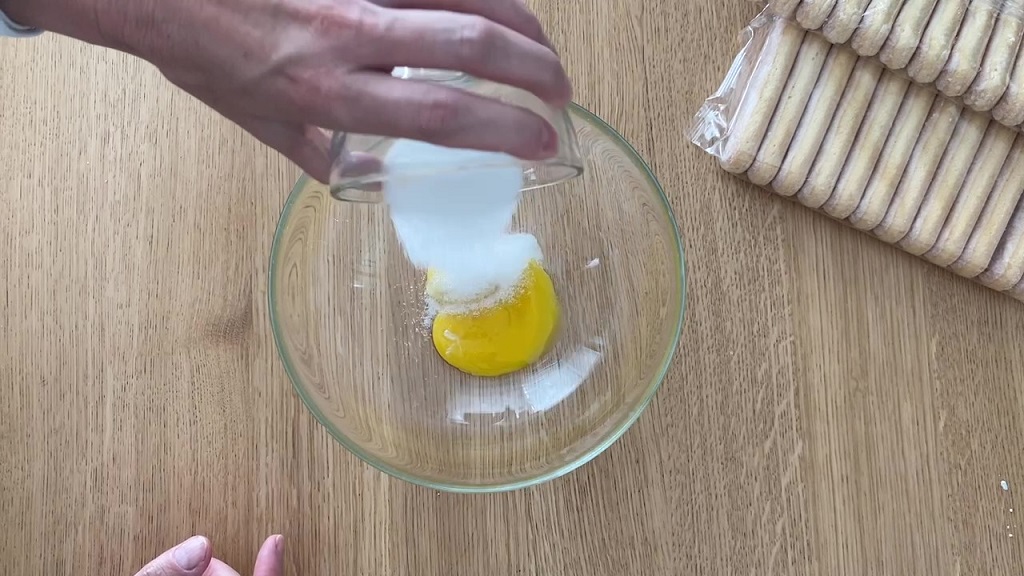 Heat up a little bit of water in a pot and leave it on low heat. Put the bowl on top and whisk yolks with sugar vigorously until the sugar dissolves and eggs become light in color and expand in volume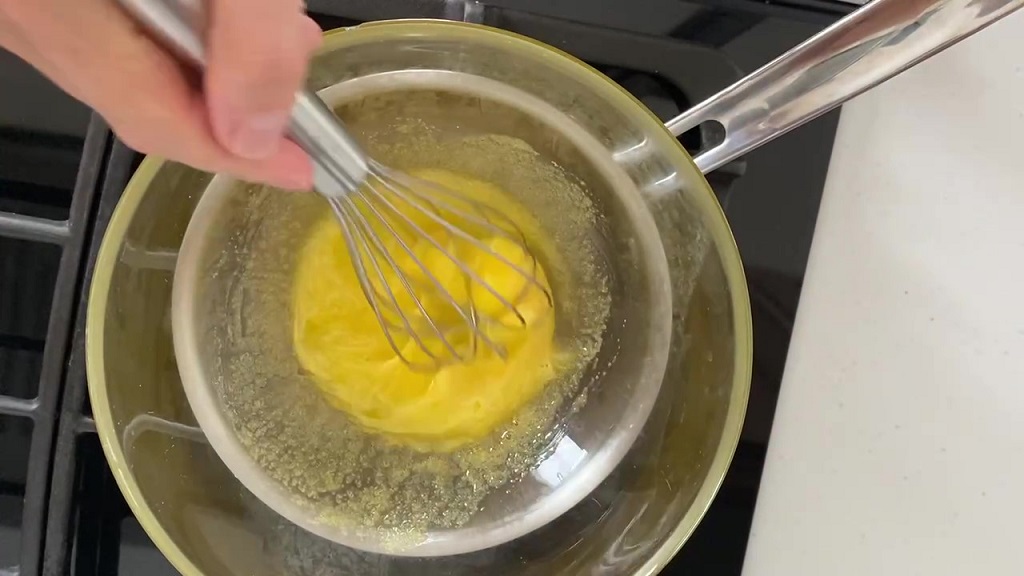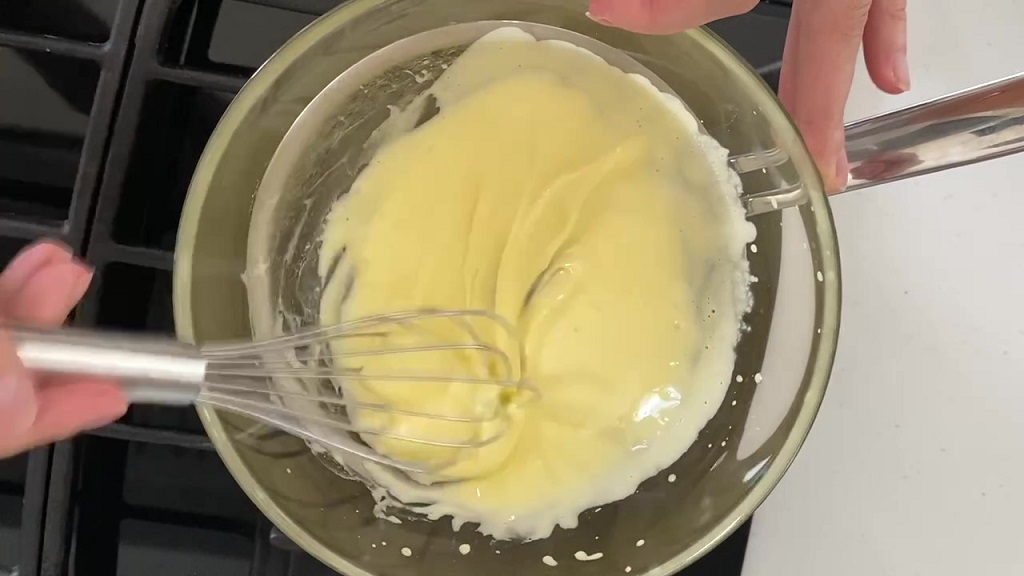 Set it aside to cool. I like to use ice bowl to speed up the process. Put the bowl with egg yolks on top of larger bowl filled with ice water and continue stirring until cooled.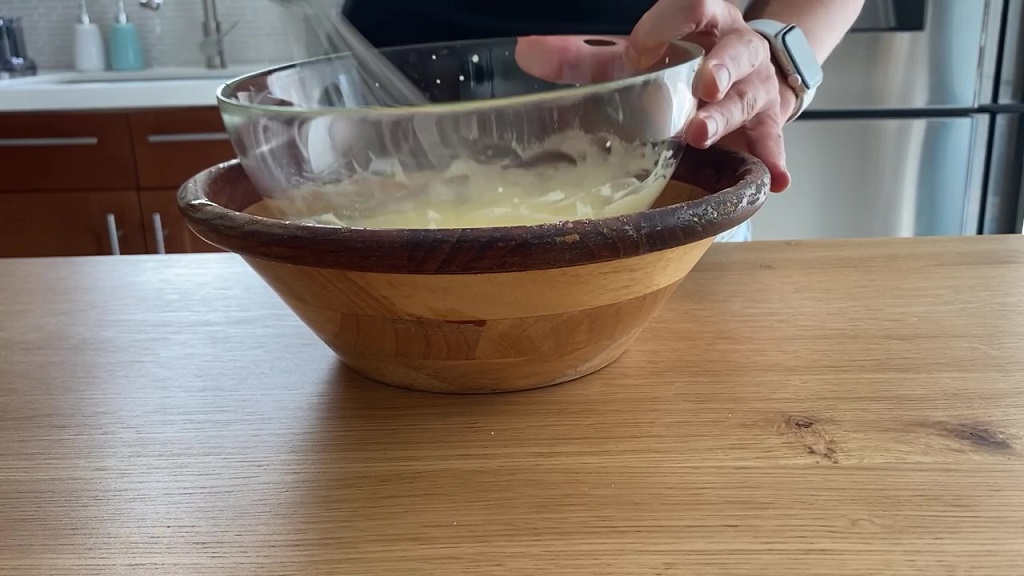 Put ricotta cheese into a food processor and process until smooth and light.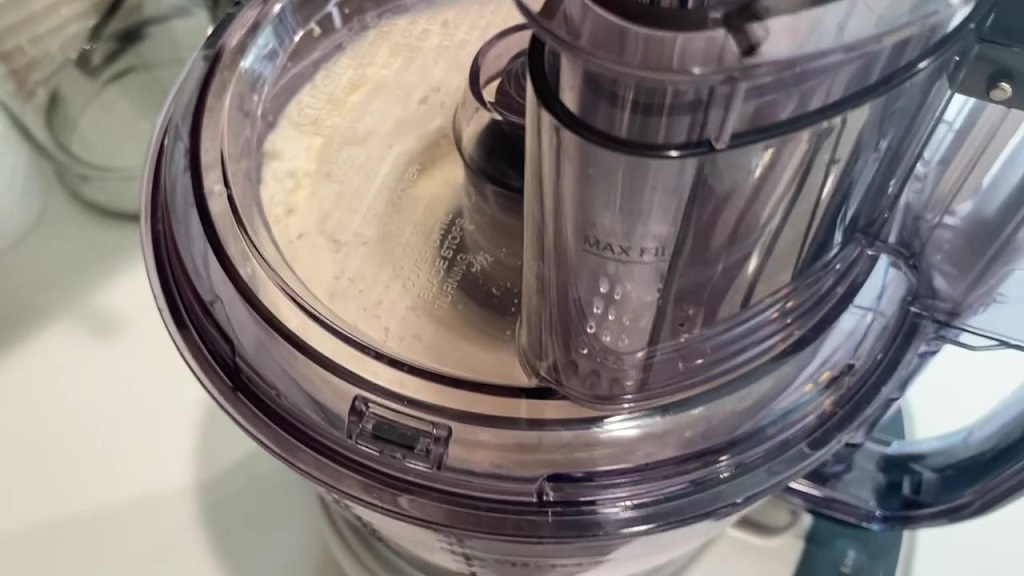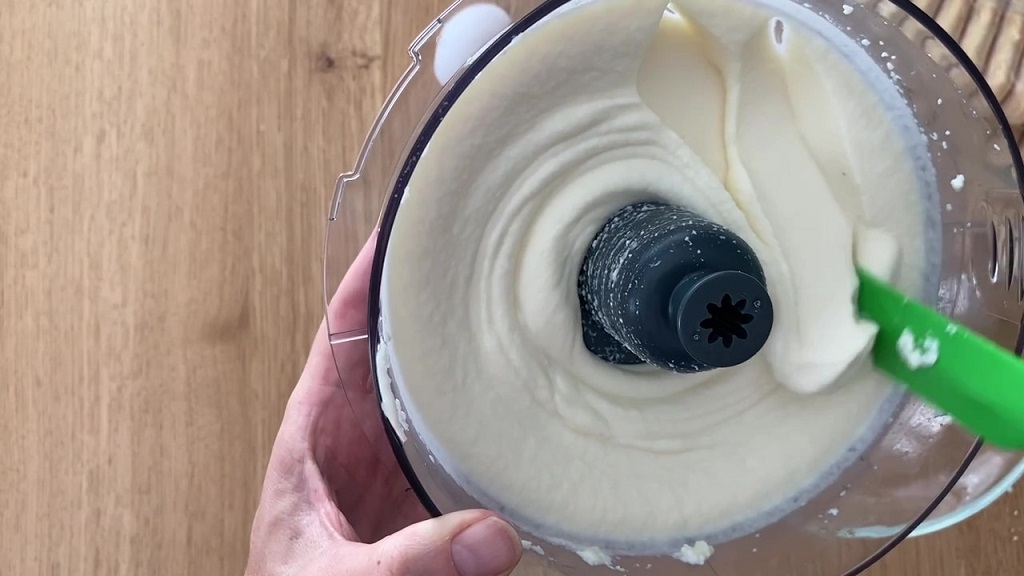 Add ricotta to the cooled egg yolks and fold it in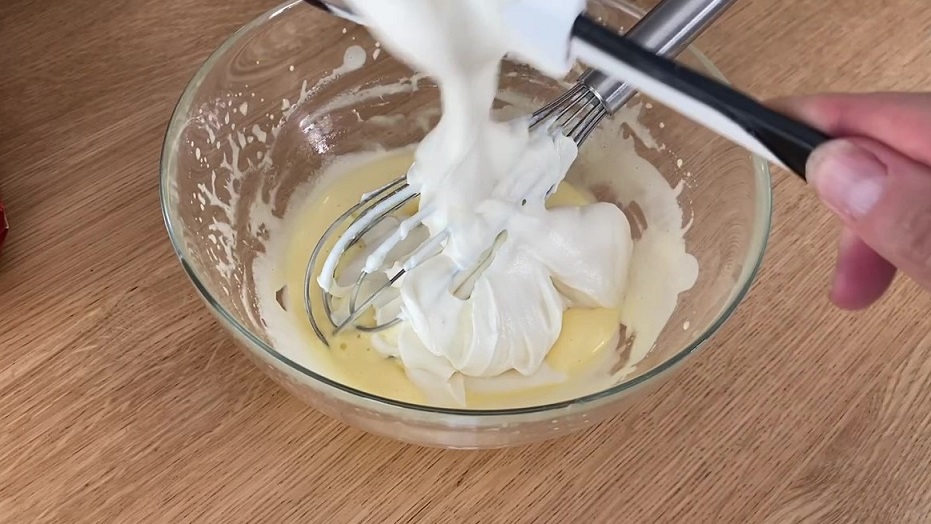 Beat egg whites to stiff peaks and fold them into ricotta and egg mixture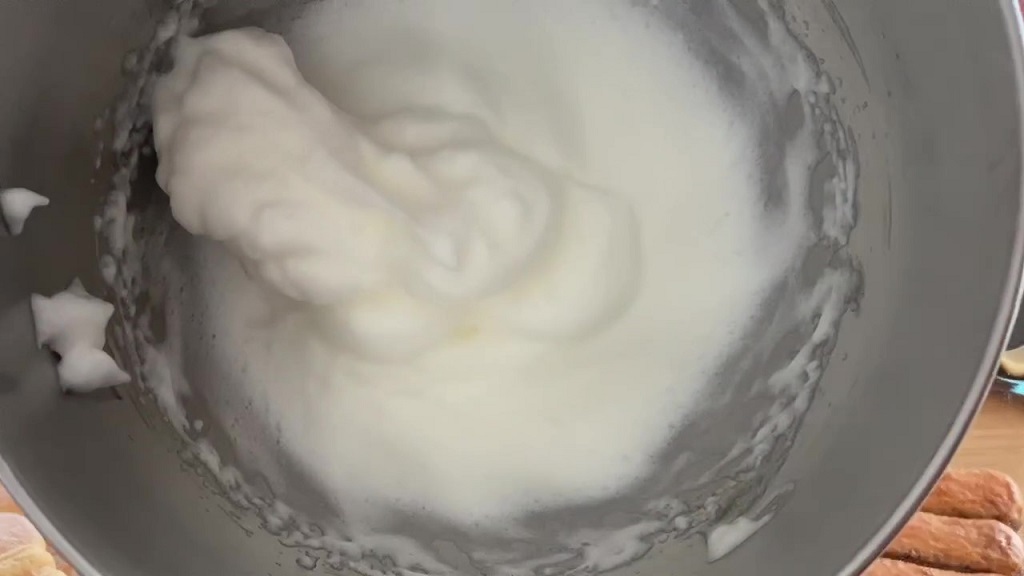 Prepare a glass container. I used a container that comes with a lid so I can put it in the freezer. The measurements are 6 inch by 6 inch on the bottom of the dish
Soak each lady finger into the coffee mixture.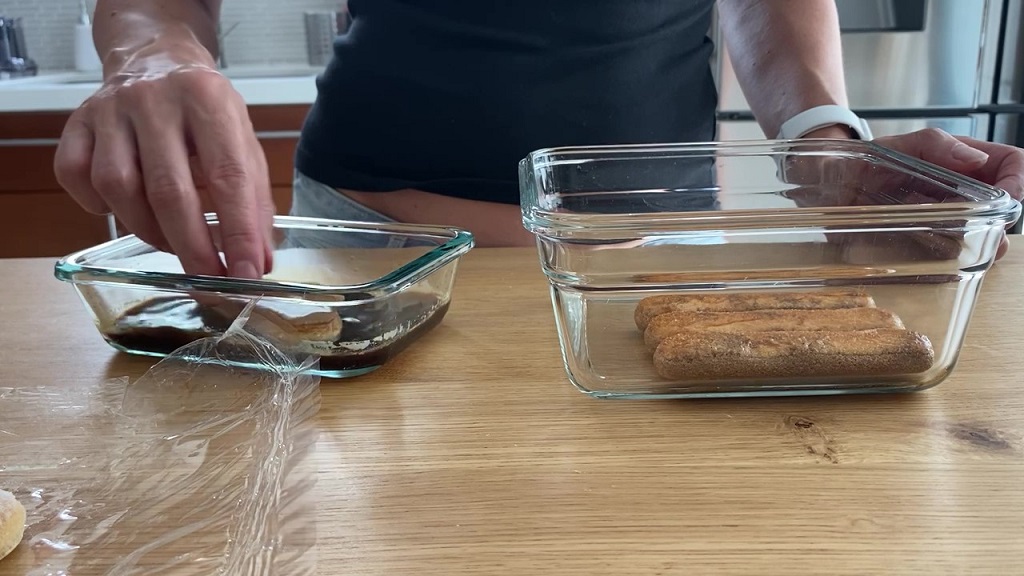 Lay first layer and top if with half of the ricotta cream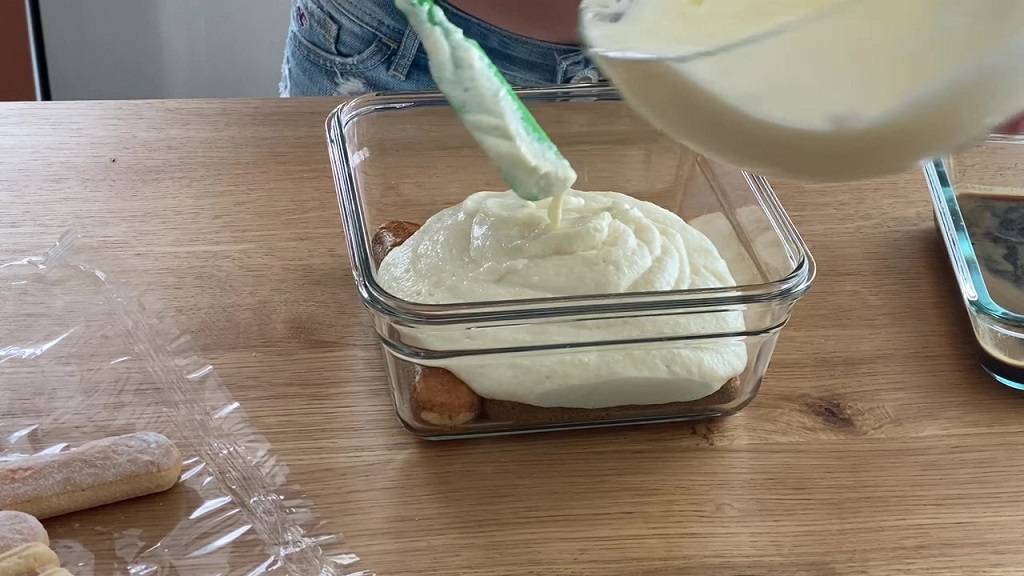 Lay second layer of coffee mix dipped lady fingers and spread remaining ricotta cream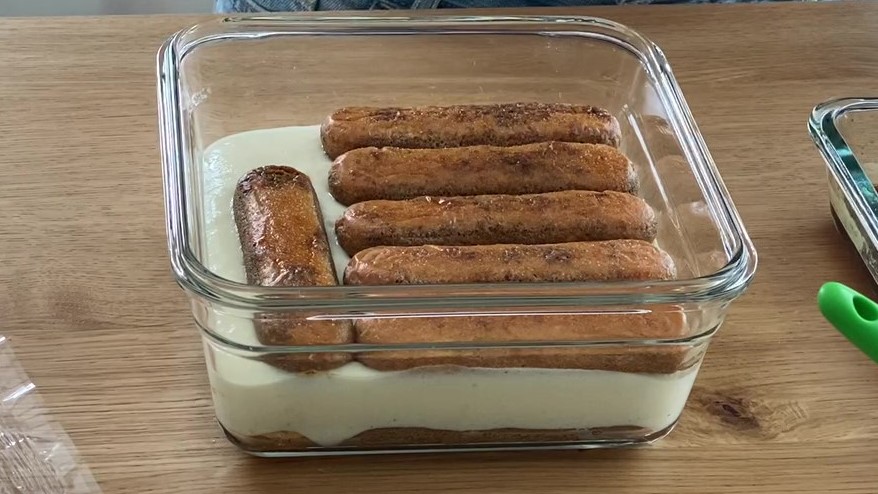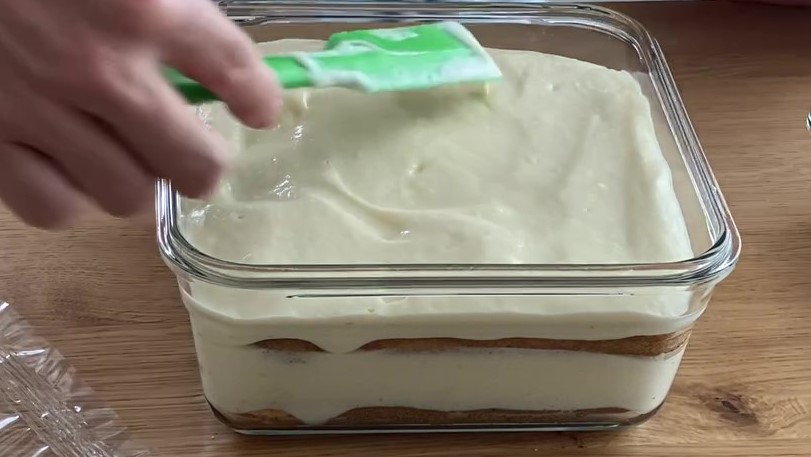 Freeze for at least 4 hours or refrigerate for at least 8.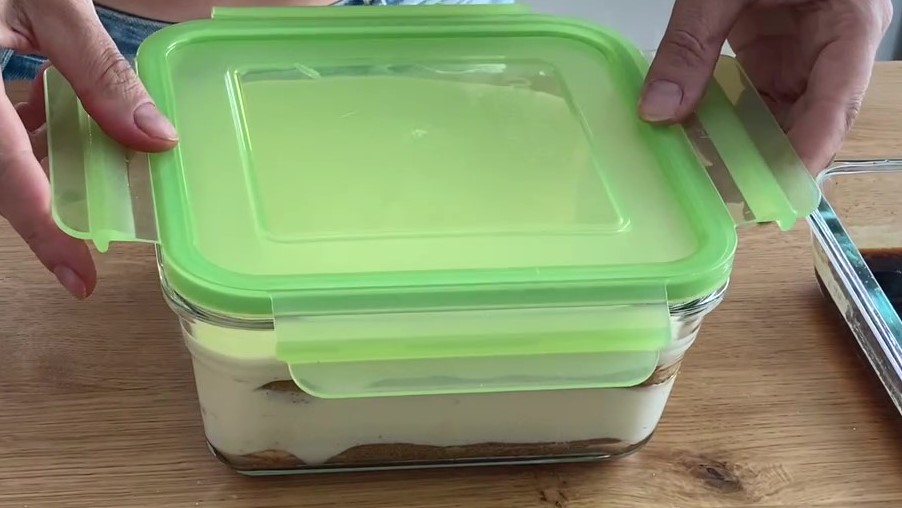 Don't forget to sprinkle some coco powder on top before serving – it just looks amazing!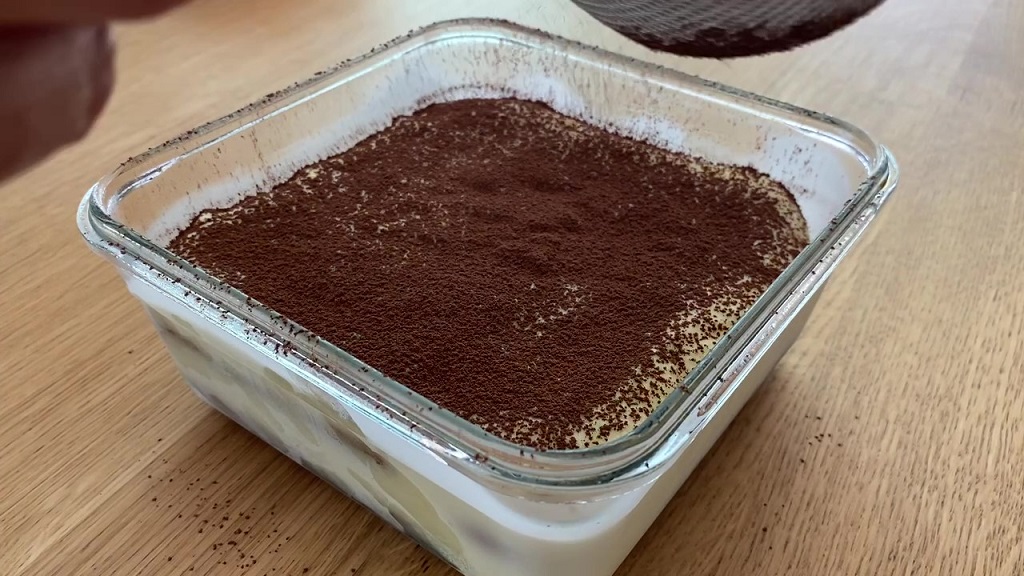 Frozen version of ricotta tiramisu
Refrigerated version of ricotta tiramisu
Few things to consider
Why do I put ricotta into a food processor first? Ricotta is grainy and this process makes a great difference in texture (unless you like the grainy texture – then skip this step)
When soaking lady fingers into coffee – just turn it twice or three times, do not let it sit in there for long as these cookies will soak up the liquid very fast and fall apart. Plus you won't even enjoy too wet cookies – trust me.
Freeze or refrigerate? The texture will be different. If you decide not to freeze it, the ricotta tiramisu will be very soft and fluffy. You will not be able to cut it, you will need a spoon. Both ways are delicious. Choose the one you enjoy the most
If you decide to freeze this ricotta tiramisu, make sure that you let it sit for about 30 minutes after taking it out of the freezer. You won't be able to cut it when it is frozen. It is as solid as a rock. You do not want to defreeze completely though – just enough to be able to cut it.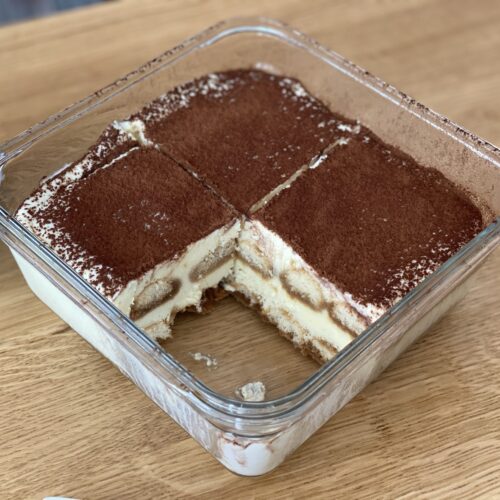 Ricotta Tiramisu Recipe
This version of tiramisu is very light in texture as well as taste. It is as delicious as original mascarpone version but you can feel better about eating it. It takes only few ingredients and it is very easy to make.
Equipment
Food processor

Glass container 6 by 6 inch with a lid

Whisk

Mixer
Ingredients  
16

oz

ricotta cheese

2

large

eggs

1 – 2

oz

granulated sugar

25g – 50g

12

lady fingers

½

cup

espresso or strong coffee

4 oz

1

oz

coffee liqueur like Kahlua

1

tsp

vanilla extract

coco powder for sprinkling on top
Instructions 
Start with draining ricotta cheese to make sure there is no liquid

Make espresso shot and add coffee liqueur and vanilla extract – set aside to cool down

Separate egg yolks from egg whites

In a glass or ceramic bowl whisk sugar into the yolks.

Heat up a little bit of water in a pot and leave it on low heat. Put the bowl on top and whisk yolks with sugar vigorously until the sugar dissolves and eggs become light in color and expand in volume

Set it aside to cool. I like to use ice bowl to speed up the process. Put the bowl with egg yolks on top of larger bowl filled with ice water and continue stirring until cooled.

Put ricotta cheese into a food processor and process until smooth and light.

Beat egg whites to stiff peaks and fold them into ricotta and egg mixture

Prepare a glass container. I used a container that comes with a lid so I can put it in the freezer. The measurements are 6 inch by 6 inch on the bottom of the dish

Soak each lady finger into the coffee mixture.

Lay first layer and top if with half of the ricotta cream

Lay second layer of coffee mix dipped lady fingers and spread remaining ricotta cream

Freeze for at least 4 hours or refrigerate for at least 8.

Don't forget to sprinkle some coco powder on top right before serving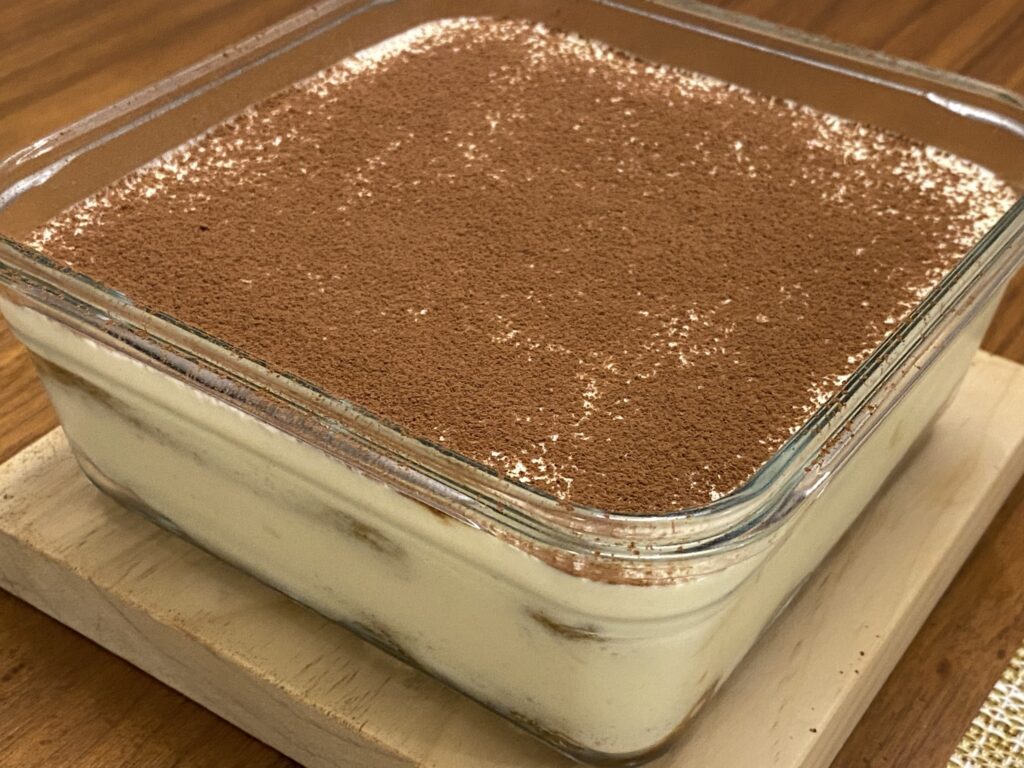 ---
---