Polish Apple Cake – Jablecznik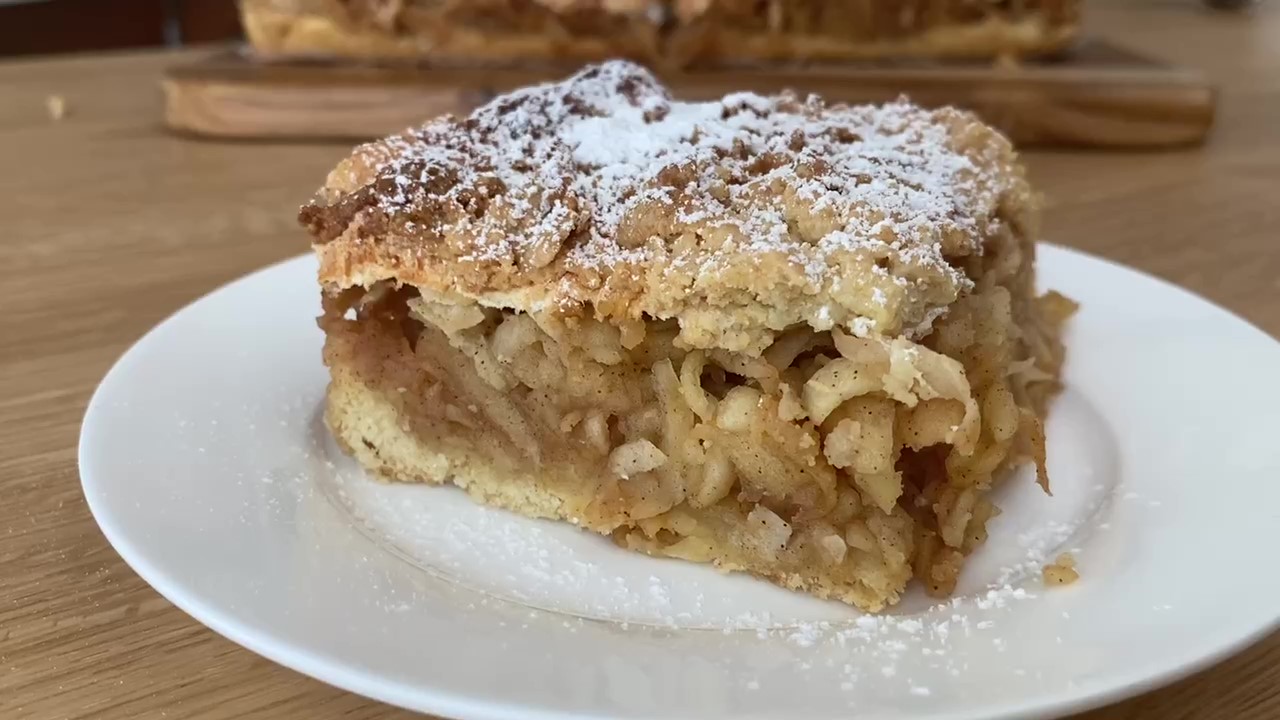 Apples are the star in this polish apple cake recipe. Most of the cake is just apple filling that does not include any added sugar. The crust is buttery and delicious. The whole cake is very low calories.
You probably wonder why I named this recipe polish apple cake. It is in fact, a cake that is very popular in Poland. You will find it in many bakeries. I created a bit lighter, less sugar option that (in my opinion) is even better.
Ingredients you will need for Polish Apple Cake
apples: mix of granny smith and golden delicious are the best type of apples for this recipe. Granny smith apples are tart and golden delicious are sweet. Together they balance the flavors perfectly.
butter: one stick of very cold butter. This dough is meant to be on a crispy side therefore, the butter needs to be cold to achieve the perfect consistency
all purpose flour
eggs
sugar: just half a cup for the dough
baking powder
baking soda
cinnamon
salt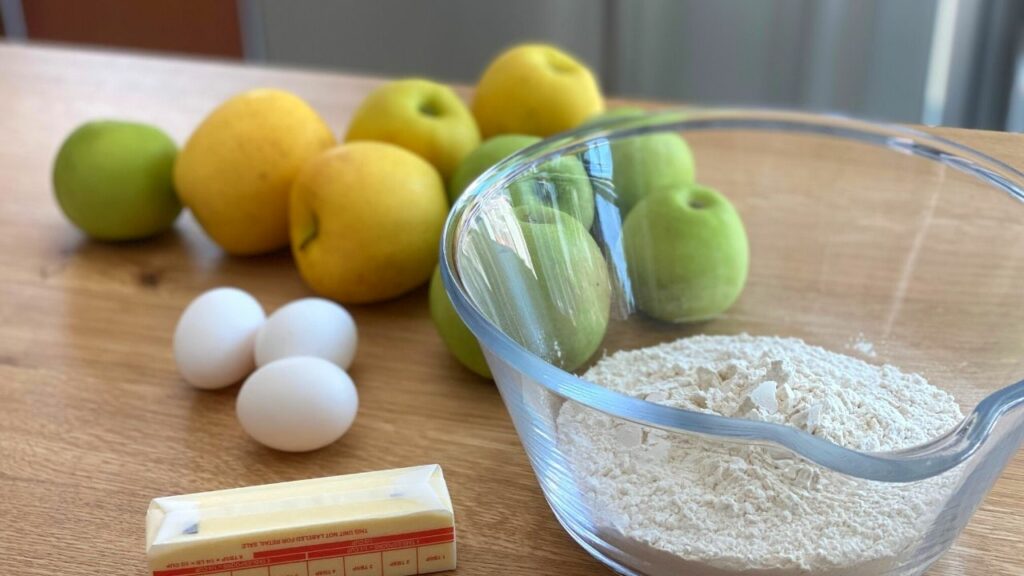 How to serve this cake?
HOT! – Yes, hot! That is by far my favorite way to eat cakes and this one is no exception. When you get this apple cake out of the oven the top is extra crispy. The longer you let the cake sit the softer it will become. If you decide to eat it the next day, the bottom will become soft because of the amount apples we have in this cake. When I do have leftovers, I put it back in the oven and reheat it.
Powdered sugar – another way to dress this cake up is simply to dust some powdered sugar
Vanilla ice cream – and if you do not have or like vanilla get any flavor you like
Whipped cream – especially the homemade one that I have on my channel. Check it out. So easy to make and you can make it with just 2 ingredients.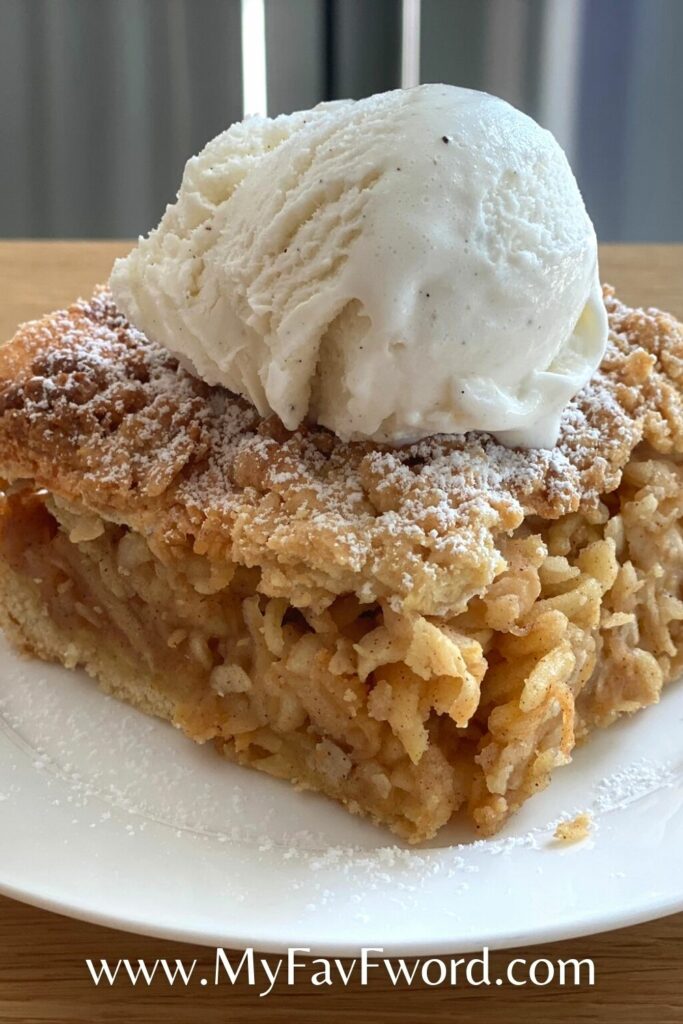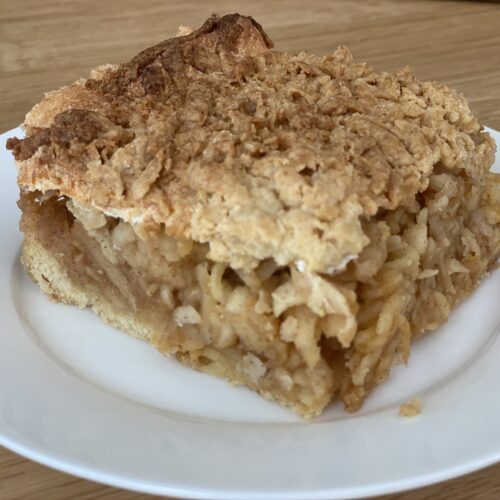 Polish Apple Cake – Jablecznik
Jablecznik is what we call it in Polish. Great dessert for any occasion. Full of apples, low in sugar, delish crispy crust.
Ingredients  
2

cups

All purpose flour

½

cup

sugar

3

large

eggs

separated

8

tbs

very cold butter

4

large

Golden Delicious apples

28 oz

6

medium

Granny Smith apples

28 oz

2

tsp

cinnamon
Instructions 
For the dough
Mix half of cup of sugar and 2 cups of flour, add 2 tsp baking powder, plus pinch of salt

Separate egg yolks from egg whites

Add 3 egg yolks to the flour mix

Dice very cold butter (8 tbs) and add to flour mix

Combine ingredients using dough and pastry blender or fork

If needed, add 2 tbs ice cold water for the dough to combine

Divide the dough: from about 1/3 of the dough form a ball, wrap in wrapping paper or place in a ziploc bag and place it in the freezer while you prepare the rest of ingredients

Place the rest of the dough on a floured surface and using rolling pin roll into a rectangle that will fit your baking dish (mine is 9 by 13 inches)

Place the dough into baking dish lined with parchment paper and press so it fits well

Pierce the dough with a fork to prevent the dough from rising in the oven when being baked

Preheat your oven to 350F and bake the dough for 15 minutes
While the dough is in the oven prepare apple filling
Peel 28 oz of Golden Delicious apples (4 large ones) and 28 oz Granny Smith apples (6 medium size) – you can also use any apples you like: these are just the ones I prefer. Golden Delicious are sweet apples and Granny Smith are harder and tart apples

Grate the apples on medium side of grater

Place the grated apples of a sieve to release the juices, you can press the apples down at the end to make sure they are not too wet as it would make soggy dough
Let the apples sit and release juices while you prepare egg white layer
Mix the 3 egg whites (previously separated) with one tbs of sugar (16 g) – mix until the egg whites form stiff peaks
Remove the dough from the oven
Add 2 tsp of cinnamon to apples and mix

Add the apples to the dough (it doesnt have to be cooled)

Press slightly to even out

Spread egg whites over the apples

Remove the frozen dough from freezer and grate it over the egg whites

Bake at 350F for 40-45 minutes
---
---