Creme Brulee Recipe – creamy with crunchy top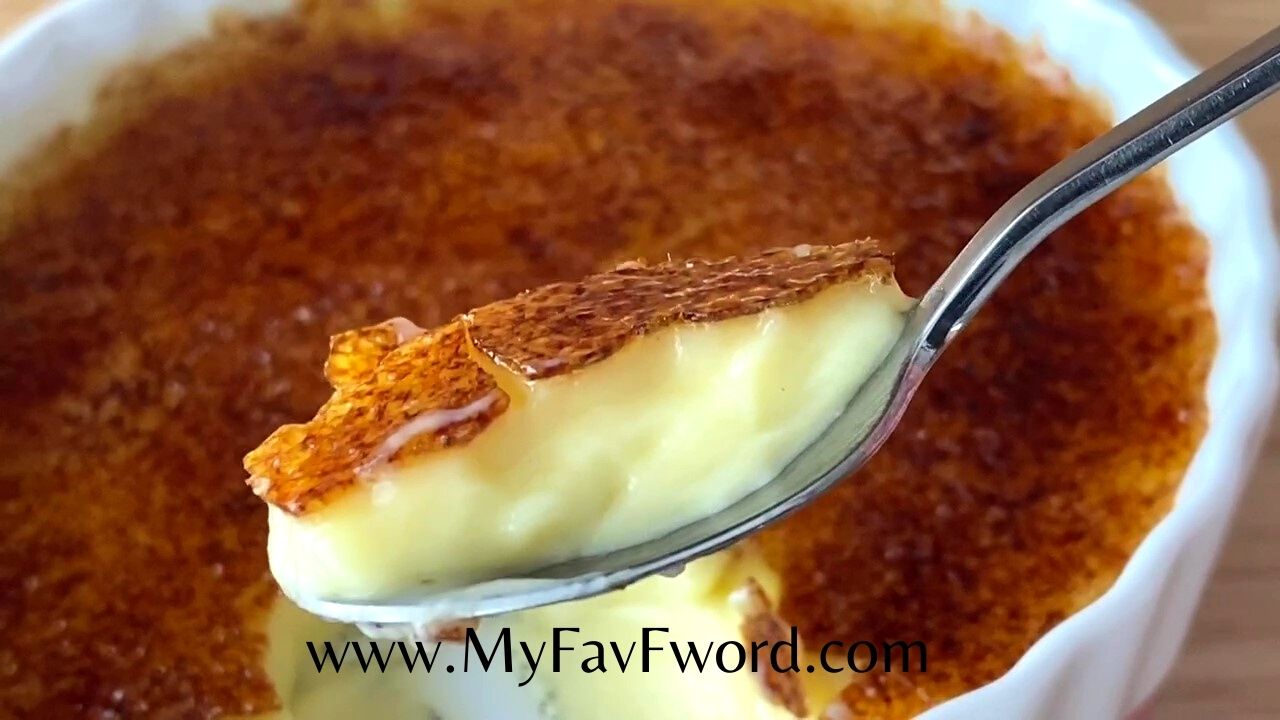 Creme brulee is a decadent dessert that is very rich and creamy. What makes it so rich you ask? This dessert's main ingredient is heavy whipping cream. Then you add egg yolks, hence, more fat. Creme brulee does not have much sugar and it doesn't need it. All together it is a great, fancy and delicious dessert. You will be surprised to learn that it is a vey simple and easy one to make. And if you use small ramekins (portion control) it could be a lower calorie option indulgence. One small ramekin has only 270 calories.
There are few things to keep in mind while making creme brulee and you can look at this video before you make it:
What do you need to make Creme Brulee
heavy whipping cream
egg yolks (I make Pavlova with the egg whites)
sugar
vanilla bean: the real thing is the best, but if you cannot find it in your store, use vanilla extract. Before you give up search online for the real thing
orange zest: this is optional but it does give the custard the extra decadence. All worth it.
thick granulated sugar: such a huge difference in creating the perfect caramelized sugary surface. I tried regular sugar and the thick granules one – big improvement.
torch: you can buy a small torch in any store nowadays but if you have difficulties go online and you will not have a problem finding one.
ramekins – pick the small one and not more than and inch or two high. The high ones will take lots of custard. My favorite part of creme brulee is the thin crispy caramel layer. So I do not want to have too much custard to overwhelm my taste buds. And let's not forget about calories. The more custard you have the more calories you will have.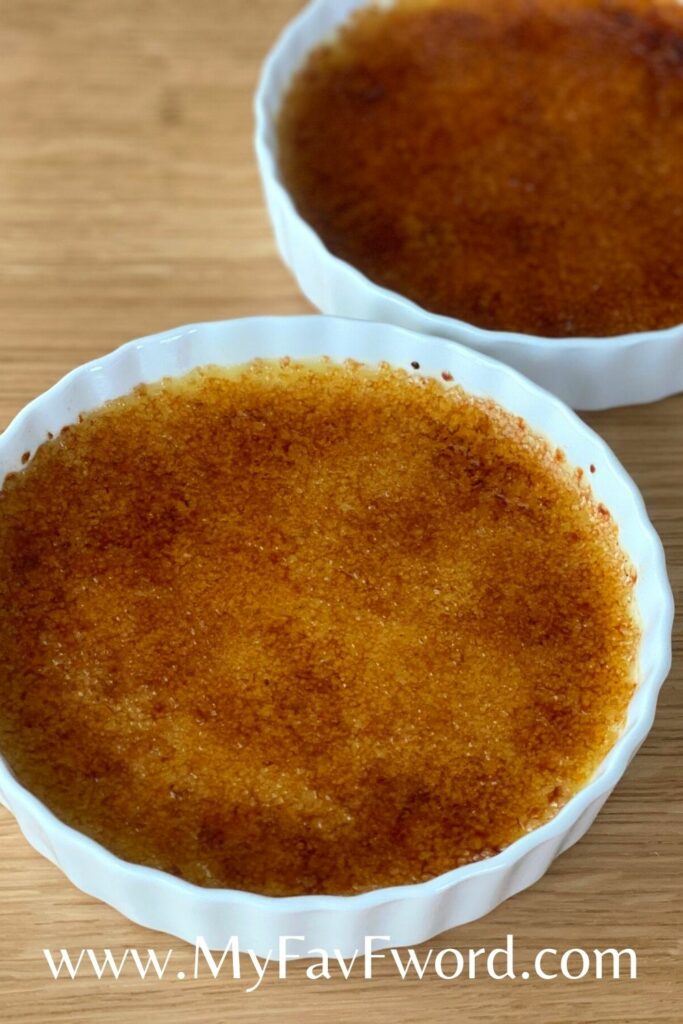 Before you make the custard
When whisking egg yolks and sugar make sure not to over mix it. You do not want to create air bubbles. It will make for a very bad texture. As when you bake the bubbles will burn and you will have a not very appetizing layer of foam.
Heat up the heavy whipping cream until it's hot but not boiling.
Strain the liquid into a bowl. Strain it again right into ramekins to make sure there are no air bubbles
Baking could be tricky if you do not know your oven well. If you see that the custard starts forming bubbles while in the oven, the temperature is too hot – lower it.
To check for doneness: using tongs grab a ramekin and gently try to shake it. If it giggles alot, it needs few more minutes. If it giggles just slightly in the middle it is ready to remove from the oven.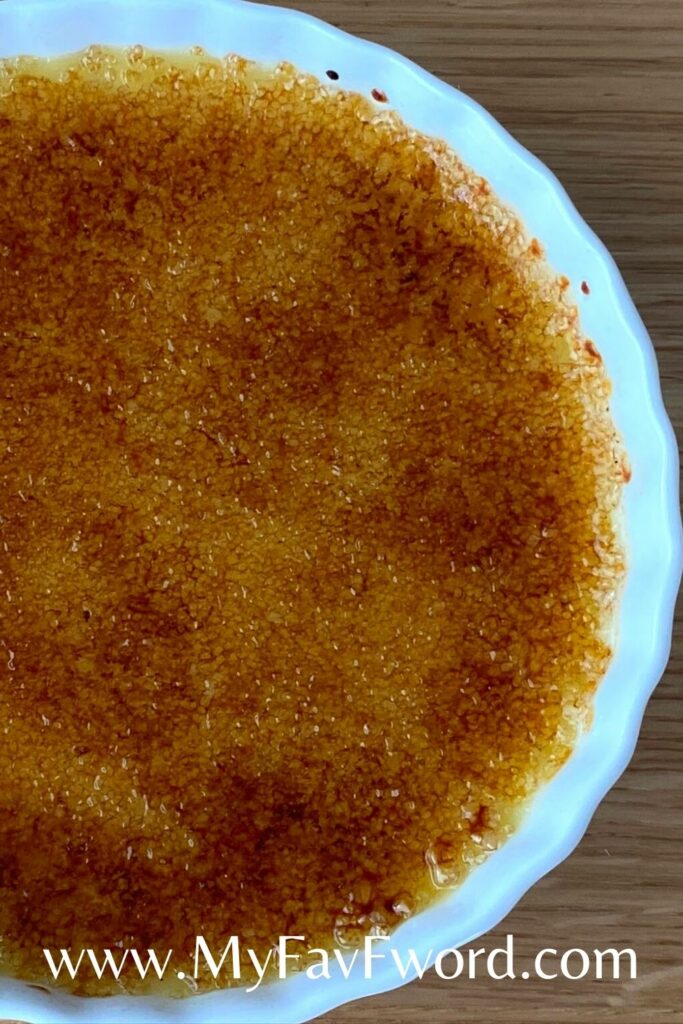 How to achieve a perfect crunchy top
use the turbinado sugar. Because this type of sugar has thick granules they just melt best under the heat of torch. I have tried regular sugar and the turbinado and the second one gave me better results
after the sugar turned brown and melted completely leave it to cool for couple of minutes before digging in
once you achieved a crunchy top, the creme brulee is ready to eat. If you let it sit for too long (30 plus minutes) the sugar will start getting soft and you will loose the crunchy texture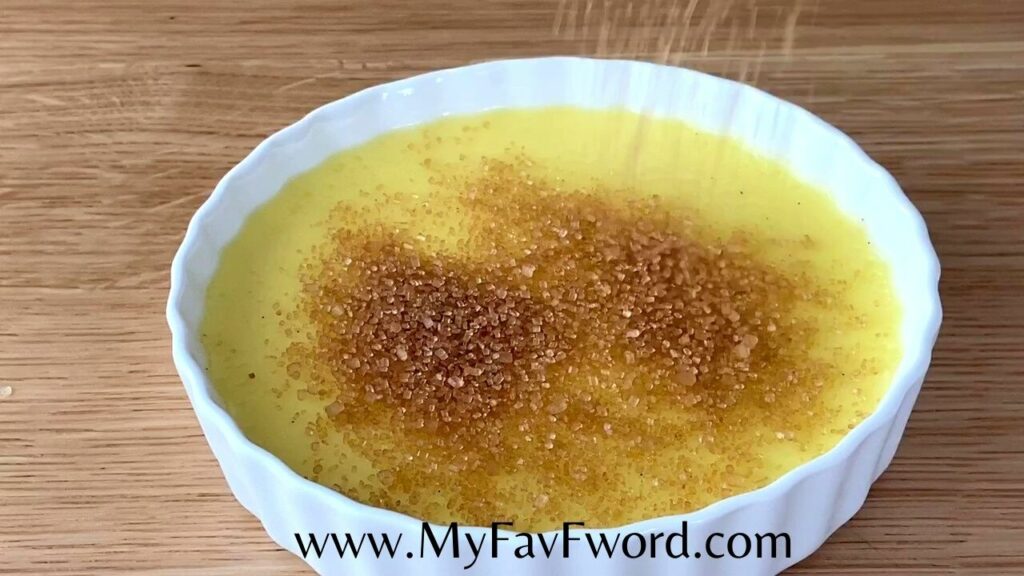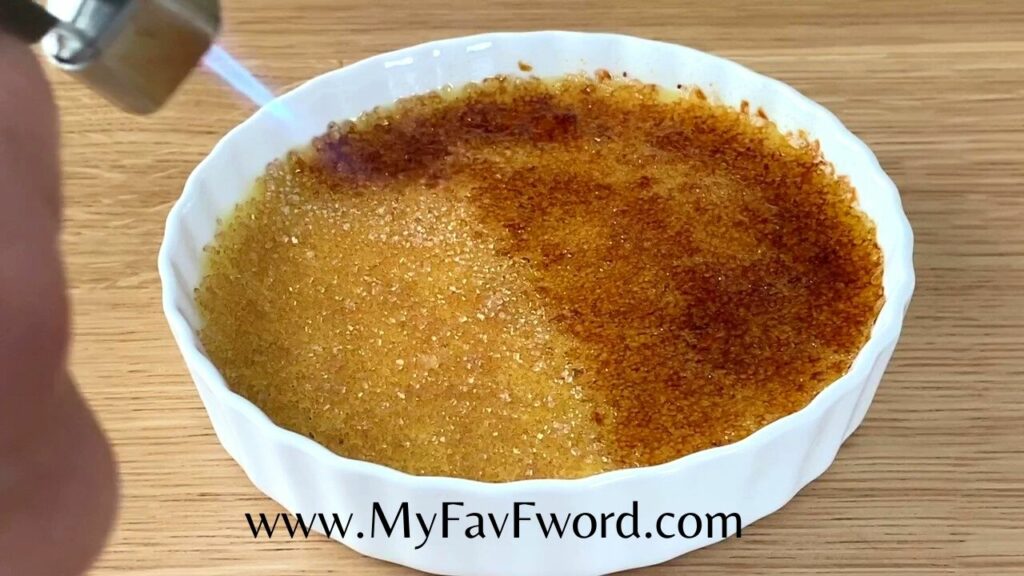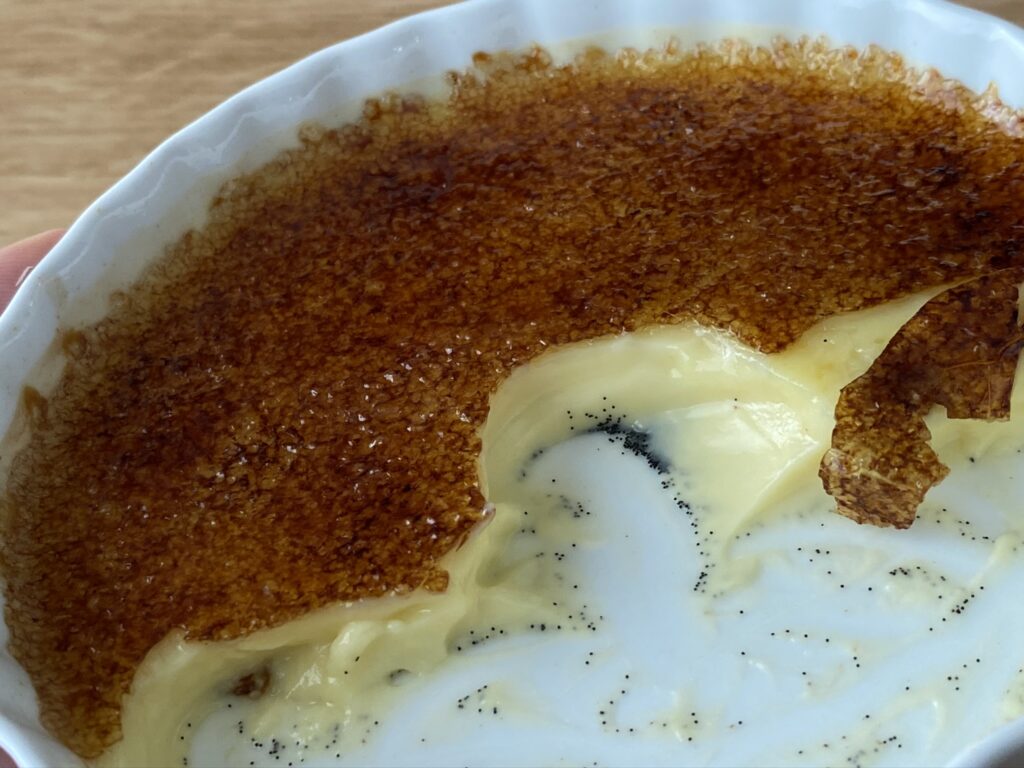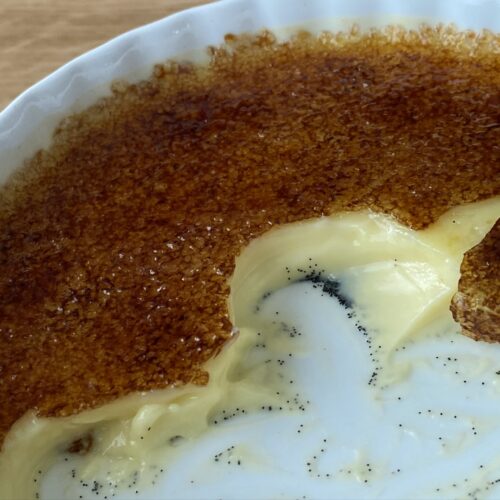 Creme Brulee
Creme brulee is a creamy custard finished with a layer of burnt (torched) sugar. It looks and taste decadent and it is so easy to make at home. As creamy and rich creme brulee is – you can still fit it in any calorie budget.
Ingredients  
1½

cup

heavy whipping cream

4

large

egg yolks

¼

cup

granulated sugar for custard

3

tbs

thick granulated sugar (like turbinado sugar)

½

stick

vanilla stick

½

tbs

orange zest
Instructions 
to a small sauce pan add cream

add vanilla stick: cut it in half length wise, scrape beans

zest half a tbs of orange zest

heat the pot and be careful not to boil

add egg yolks and sugar to a bowl and mix until just combined

add scolded cream very slowly being careful not to scramble the eggs

strain the liquid into a dish with a spout (so it is easy to pour the liquid into ramekins)

strain it again into ramekins

Line ramekins on a large tray and fill the tray with hot boiling water half way (ramekins should be submerged in water half way)

Bake for 22-25 minutes until the custard is set

Let it cool outside and refrigerate for at least 4 hours
---
---