Berry Pavlova – Easy Meringue Dessert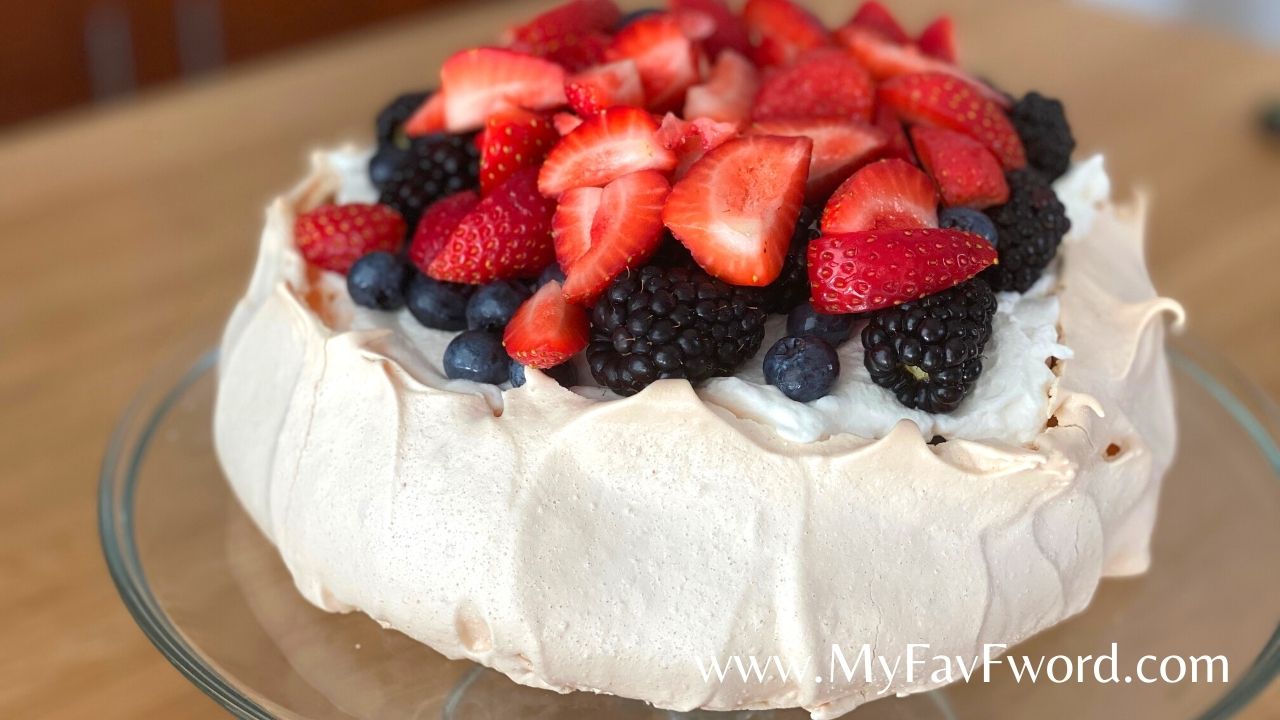 Berry Pavlova has become one of my favorite desserts. First, it is absolutely delicious, second it is actually one of the lighter desserts. The shell is made out of egg whites and sugar. You dress it up with whipped cream and fruit. That's it. Not many ingredients, makes this dessert a low calorie one comparing to other desserts like brownie or cakes.
Everyone loves this Pavlova. I make it for my family events pretty often and this is the dessert that all my family prefers to eat. Pavlova looks amazing when it comes to a presentation. You will definitely wow your guests and they will think it took some special skills. When they dig into this dessert they will be even more impressed. And only you will know it took you minimal effort and it was one of the easiest dessert you have ever made.
Before you start, watch this video for detailed instructions:
What are the 3 components of a Pavlova?
Crispy Meringue – in this recipe I will explain exactly how to make it crispy outside and chewy on the inside just like a perfect Pavlova should be like
Whipped Cream – some people mix whipped cream with mascarpone cheese
Fruit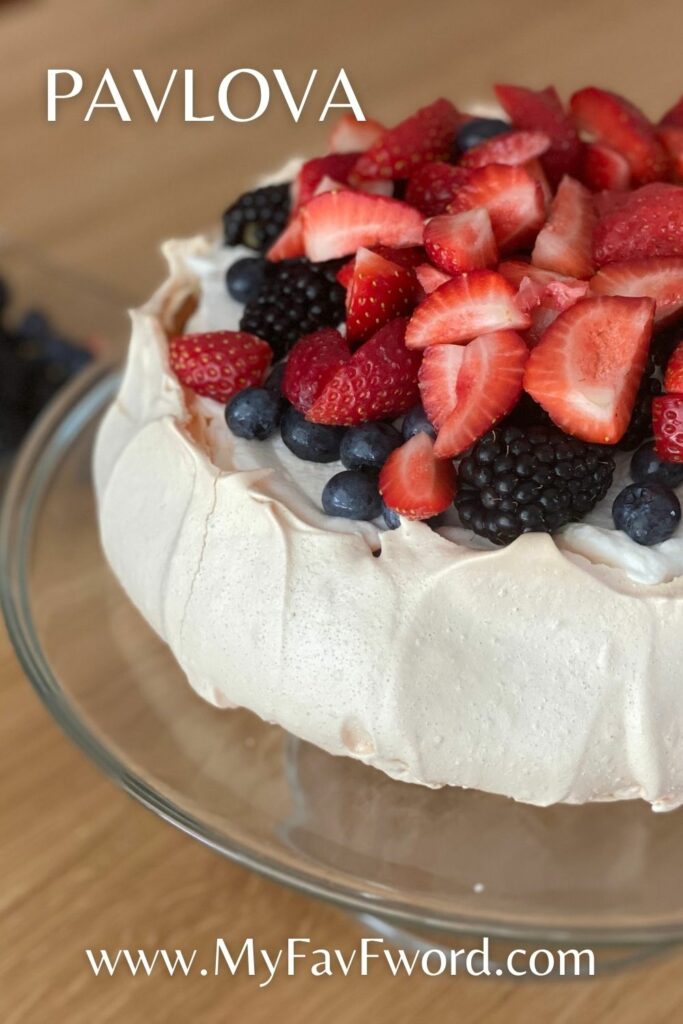 Everything about the Meringue Shell
How do I make my meringue chewy?
Regardless of what you read everywhere about the temperature and freshness of the eggs and other things, in order to get Pavlova chewy the baking process is the key. I have used whatever type of eggs I had in the fridge, I have used them at room temperature as well as cold (when I didn't have time to wait to get them to room temperature), and every time I got a perfect chewy on the inside and crispy on the outside meringue.
I bake it at 250 F degrees for an hour, turn off the oven and I leave it in the oven for the night. That's it. It is this simple.
Why is my pavlova not crispy?
Humidity will cause the meringue to start getting soft. If it is not crispy right after you took it out of the oven, it simply did not spent enough time in the oven. After Pavlova bakes in the oven, you need to leave it there for at least 4-5 hours. I prefer to leave it overnight.
When you remove it from the oven and there is moisture in the air and you leave the meringue outside for too long, it may also loose its crispiness.
Another reason I can think of, is you put the whipped cream and fruit and let it sit.
Can you leave pavlova in oven overnight?
Yes, that's what always do and recommend. The time in the oven will give Pavlova time to crisp up but stay chewy on the inside.
What temperature should Pavlova be cooked at?
250 F degrees for an hour is ideal. However, not all ovens are created equal. They may show 250 F but in fact they might not be there or may be even higher. If you bake it for the first time, watch it closely and see. If the meringue starts to brown, the oven is too hot. Slight brown shade is ok but it should not become brown.
How can you tell if a pavlova is undercooked?
Take a look and if the middle it looks wet, chances are it needs more time. If you are still not sure, I like to tap slightly on the outer shell: if it is soft = underdone, if it feels like a crispy cookie, it is done.
Why is my pavlova rubbery?
The temperature of the oven was most likely too low. As I mentioned above, not all overs are created equal and it may be possible that even though you followed the instructions exactly, your oven just not reached the 250 F as it is displaying. Next time, raise the temperature slightly and experiment to see what temperature is good for your oven.
Can you overcook a pavlova?
Yes, if you keep it for too long in a high temperature in the oven, it will be overcooked, What it means for Pavlova, it will be very dry, most likely the color will be brownish. Good news is, it is very easily to spot the mistake before it goes too far. If you start seeing the meringue is getting darker, getting into a light brownish shade, turn off the oven, you might have a chance to save it.
I have seen recipes that call for 250F degrees for an hour and a half. If I followed that my Pavlova would be overcooked. In my oven 1 hour is the sweet spot. Get to know your oven 🙂
Why is my egg white not getting stiff?
You must have some egg yolks in the egg whites or the bowl you are using had some fat residue. Egg whites are very sensitive to fat. In order to get them stiff there has to be no fat whatsoever. Make sure your bowl is very clean, no fat residue and no egg yolks fall into the whites.
To be on a safe side, when cracking the eggs, crack one at a time to a separate small bowl and after being sure no egg yolk broke, transfer to a mixing bowl.
Once the egg whites get 'contaminated' with fat there is no way to save it that I know of. You have to start from scratch.
Can you make pavlova on a humid day?
Yes, I live in Southeast Florida where there is no humid free days and my home remains warm. I have never had a problem with a Pavlova. However, once it is baked and removed from the oven you want to make sure you assemble it the same day. Do not leave it outside for another day.
Toppings for Pavlova
Whipped cream and fruit are my favorite way to dress up Pavlova. I have seen recipes with mascarpone cheese as well and I am sure it is very good. I decide not to go that route since mascarpone cheese will add tons of extra calories as it is pure fat. Nothing wrong with that if you have a huge calorie budget. I try to make my desserts as delicious as possible with minimizing the calorie impact, where possible.
Pavlova is made mostly out of egg whites and sugar, plenty of sugar. Sugar is what makes the shell crispy and chewy at the same time. But is also makes the shell very sweet. To balance it out, I love to add berries to my Pavlova. They are tart and work great with the sweet shell.
When should you put cream on a pavlova?
Make sure you add all the toppings to Pavlova when you are ready to serve it. With time, the toppings will start changing the texture of the meringue and it will no longer be as crispy.
Can you put Pavlova in the fridge?
I recommend Pavlova is eaten the day is assembled but sometimes we have leftovers and I do not like throw it out. I stored it before in the fridge – it was not as great as the first day but it held ok in the fridge.
Is Pavlova a healthy dessert?
Pavlova is a good option if you are watching your weight and looking for best options. Because it doesn't have many ingredients, no flour for starters and you can control the fat by limiting the amount of whipping cream you add, it is a lower calorie dessert than many others.
Is Pavlova high in fat?
Pavlova shell has 0 fat. It has only sugar and egg whites plus very small amount of cornstarch.
Is Pavlova high in protein?
Pavlova has a good amount of protein. One of the main ingredient, egg whites, is one of the highest protein foods that we have out there. Each egg white has 5 grams of protein. So a shell that is made out of 4 egg whites has 20 grams of protein.
How much sugar is in a Pavlova?
The rule of thumb is to have 50 g of sugar per egg white. I have toyed with this theory and reduced the sugar for 4 egg whites from 200 g to 150 g and it came out the same.
How many calories in Pavlova?
This Pavlova has 267 calories per serving and it has 8 servings.
What can you do with the yolks?
After you make this dessert you are left with 4 egg yolks, and I do not like throwing out food. So I came up with a few ways to use the egg yolks:
Every time I make Pavlova I make Creme Brulee – it is just a perfect way to use the egg yolks.
You can also make a custard and make an angel cake and fruit trifle and use the egg yolks for custard. I did that last time I made Pavlova. I bough angel food cake mix (for convenience) and made Ina Garten's custard. Assembled that with fruit and it was a hit!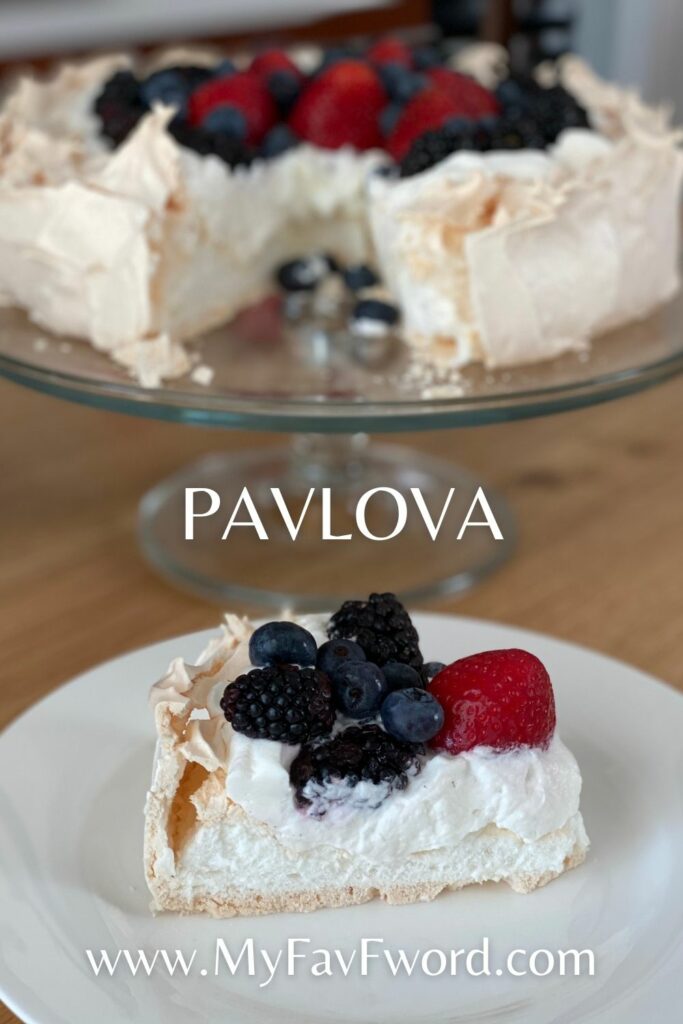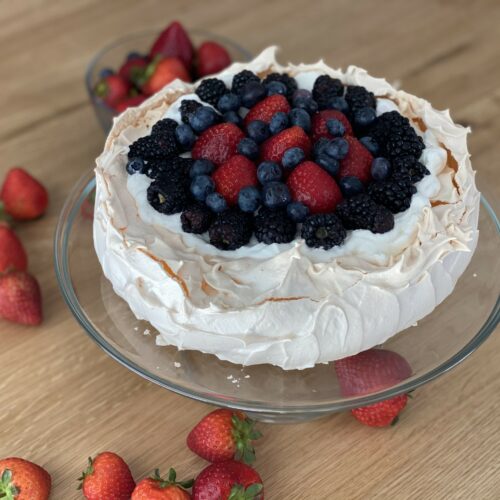 Pavlova Recipe – Low Calorie Dessert
Pavlova is easier to make than it looks. It's a luxurious looking dessert that requires only a few simple ingredients. To keep this dessert low calorie go easy on the whipping cream. I use berries in this recipe but I have used kiwis as well, or kiwis with strawberries. I like to use tart fruit because the meringue is sweet. But feel free to use any fruit you like
Equipment
Kitchen Aid Professional stand Mixer

Baking Sheet

Parchment paper
Ingredients  
4

large

egg whites

at room temperature

200

g

caster sugar

1

tbs

cornstarch

1

tsp

lemon juice or vinegar
Toppings
8

oz

heavy whipping cream

1

tbs

powdered sugar

1

tsp

vanilla extract

1

cup

strawberries

1

cup

blueberries

1

cup

blackberries
Instructions 
Meringue Shell
Prepare a large baking sheet by lining it with a parchment paper

Draw 10-11 inch circle on the parchment paper and flip it on the other side to avoid pencil marks on the meringue.

Separate eggs. Add egg whites into a clean bowl.

Make caster sugar by grinding sugar in a blender like Nutribullet. or food processor. You can also buy caster sugar and skip this step

Start whipping the egg whites on medium high speed.

When the egg whites start getting foamy add sugar a little bit at a time (2-3 tablespoons) and continue mixing until stiff peaks and the egg whites become shiny

Spread the meringue on the parchment paper and try to fit it into the drawn circle for even cake

Create walls around the shell by pushing the inside meringue onto the sides and lifting outside walls with a spatula from the bottom to the top, see the image

Bake at 250 F for 60 minutes.

Turn off the oven and leave the meringue in the oven overnight. If you make the shell earlier during the day, leave the meringue in the oven for 4-6 hours
Whipped Topping
Whip heavy cream with sugar and vanilla extract
Fruit Topping
Wash and prepare fruit of your choice.
Assemble the cake
When you are ready to serve, fill the shell with whipping cream and fruit. Serve right away
ITEMS USED IN THE RECIPE
Mikasa 40-Piece Dinnerware Set, Service for 8
*The links are affiliate links, which means at no extra cost to you, I will make a small commission if you click them and make a qualifying purchase. If you have a different purchase in mind, you can also use these store wide link below* https://amzn.to/3z2eJQm
---
---