Tzatziki Sauce with Greek Yogurt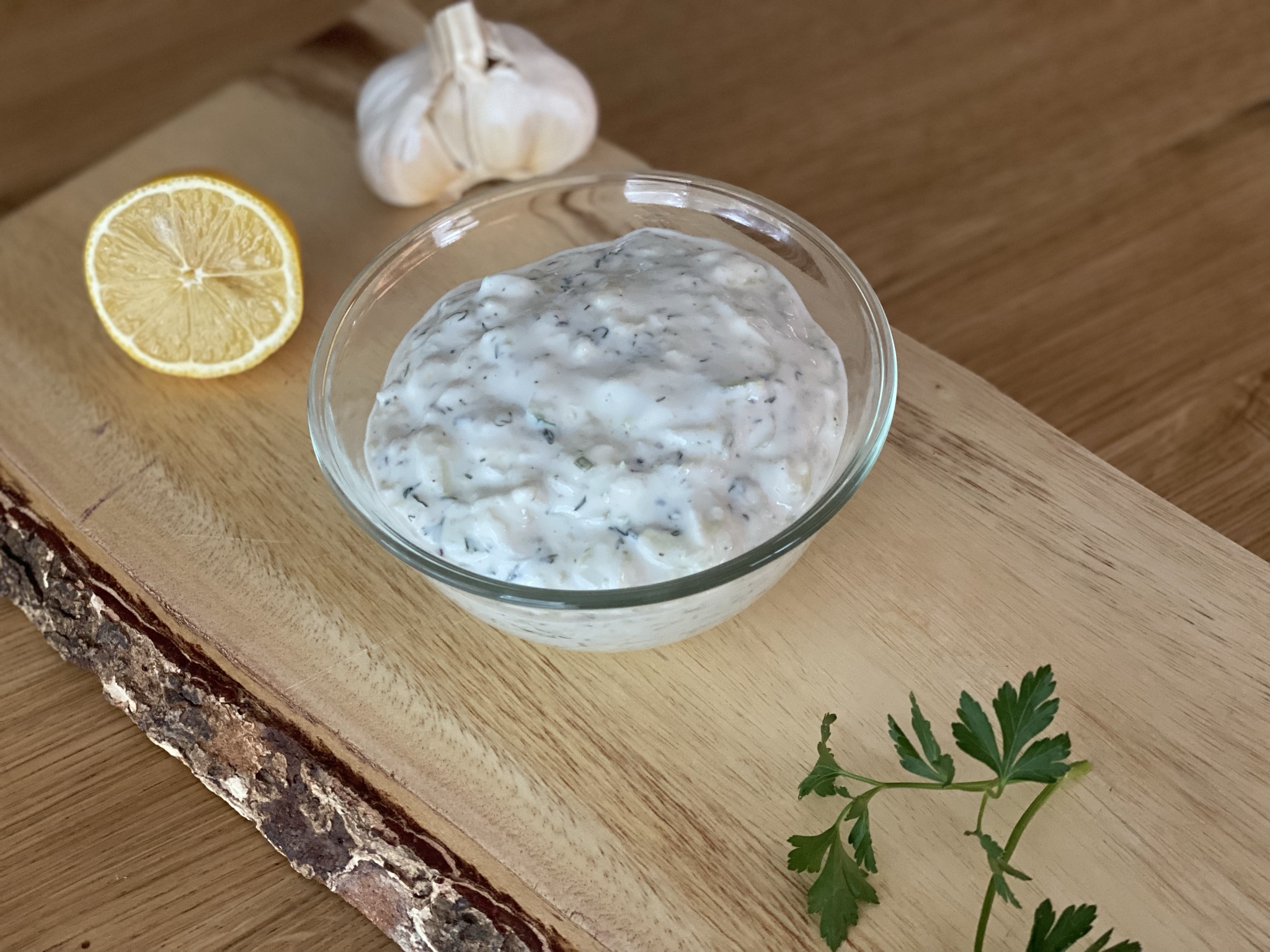 Tzatziki sauce is one of those recipes that is naturally good for you and any diet you are on. Although I have seen recipes asking for sour cream and olive oil, you really do not need those ingredients. Full fat Greek yogurt will just do the trick.
Tzatziki sauce is a middle eastern side dish that is commonly used as an appetizer or added to grilled meats. Because the main ingredient is a cucumber and greek yogurt, the sauce is very low in calories and high in protein.
For step by step guide please visit the video below:
What do you need to make Tzatziki sauce?
Cucumber – any type you like.
Full fat Greek yogurt – I use full fat (5%) because it is one of the main ingredients and I am already skipping the oil and sour cream. Full fat greek yogurt has much milder and smoother flavor than the non fat one. If you do not taste much of the difference go ahead and use the non fat yogurt.
Garlic – I love garlic and the more the better for me. If you are not a fan, use less or skip it. In my opinion, garlic is what makes the perfect tzatziki sauce
Lemon – juice and zest. And do not skip the zest as it does add so much freshness and flavor
Dill – dill is such a great herb to add to dishes like soups, dressings, even potatoes. Fresh dill spoils very fast so I like to wash it, chop it and freeze it so I always have fresh dill handy
Salt and pepper to taste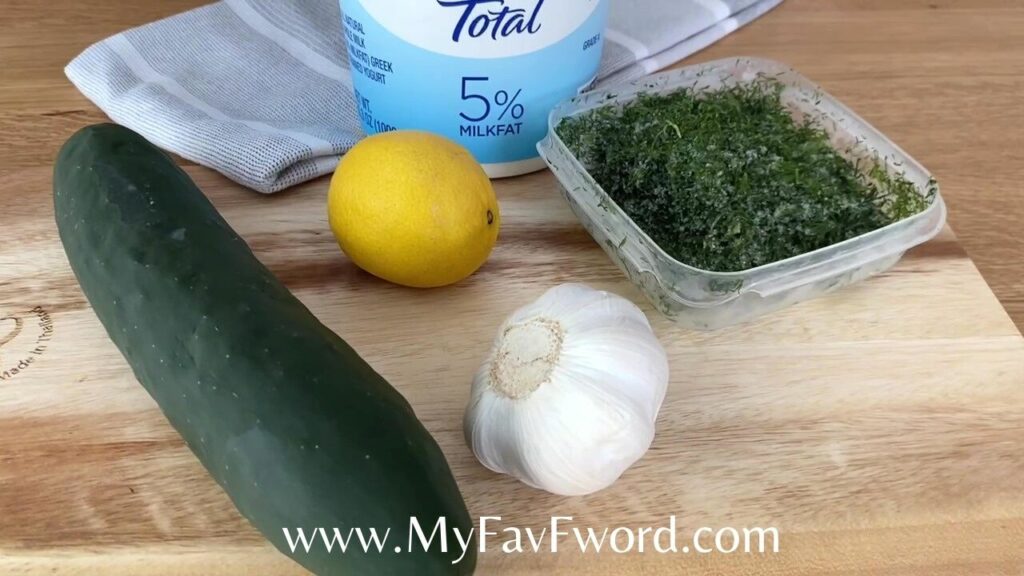 Frequently Asked Questions
Is tzatziki sauce bad for you?
Absolutely not. It is one of the best sauce you can make because it is low in calories and has lots of protein. If you add sour cream and olive oil, it may not be the lightest option but if you use this recipe you can feel good about eating it every day.
What do you eat tzatziki with?
My favorite way to serve it is with pita bread, some protein on the side like fish or meat and I make an eggplant dish as well. People serve it also as an appetizer or dip along with other dips like hummus. In the middle eastern kitchen tzatziki sauce is often served with grilled meats.
Is tzatziki sauce good for weight loss?
If you are on a low calorie diet and trying to lose weight, tzatziki sauce would be a great option instead of any other side dishes. It is one of the lowest in calories sauces you can probably make. It is better than hummus for sure. Hummus has lots of calories and even though is considered a healthy option, when your calories are low you're better of choosing tzatziki sauce instead
What is tzatziki sauce calories?
Not all recipes are created equal but this recipe has 76 calories per serving. And just to give you a breakdown:
Nutritional Facts: 3 servings per recipe Calories per Serving: 76 Total fat: 3.5 g Total Carbohydrates: 4 g Protein: 7 g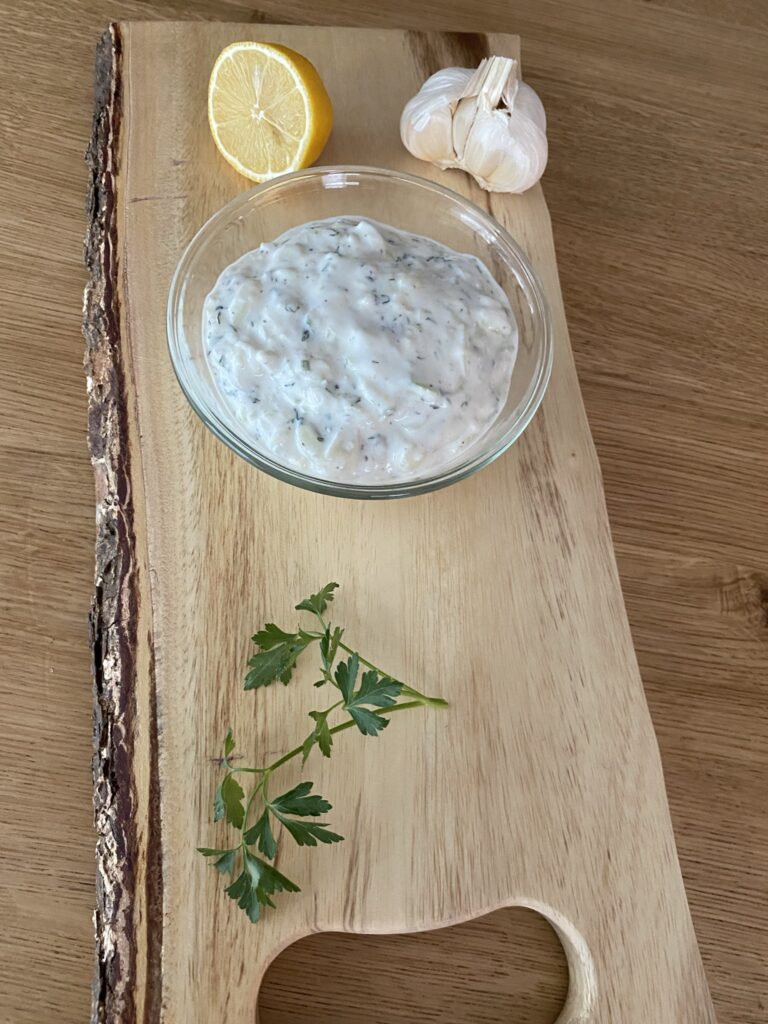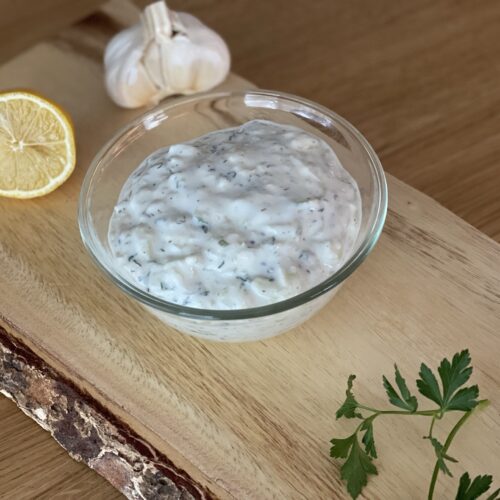 Tzatziki Sauce with Greek Yogurt
This is a recipe for low calorie and high protein dip or sauce. It can be served as an appetizer or side dish. It goes well with gyros or grilled meats.
Ingredients  
200

g

5% greek yogurt

1

large

cucumber

3

cloves

garlic

½

lemon

½

tbs

fresh dill

salt and pepper to taste
Instructions 
Strain yogurt by leaving it on a sieve for at least 30 minutes

Peel cucumber and remove seeds

Season lightly with salt and set aside on a sieve to release liquid

To strained yogurt add garlic

Zest half of the lemon and squeeze the juice

Add dill, salt and pepper and mix

Add cucumber after squeezing all the liquid out of it

Chill for at least an hour before serving
RECIPES TO VIEW NEXT:
---
---