Low Calorie Sriracha Aioli without Mayo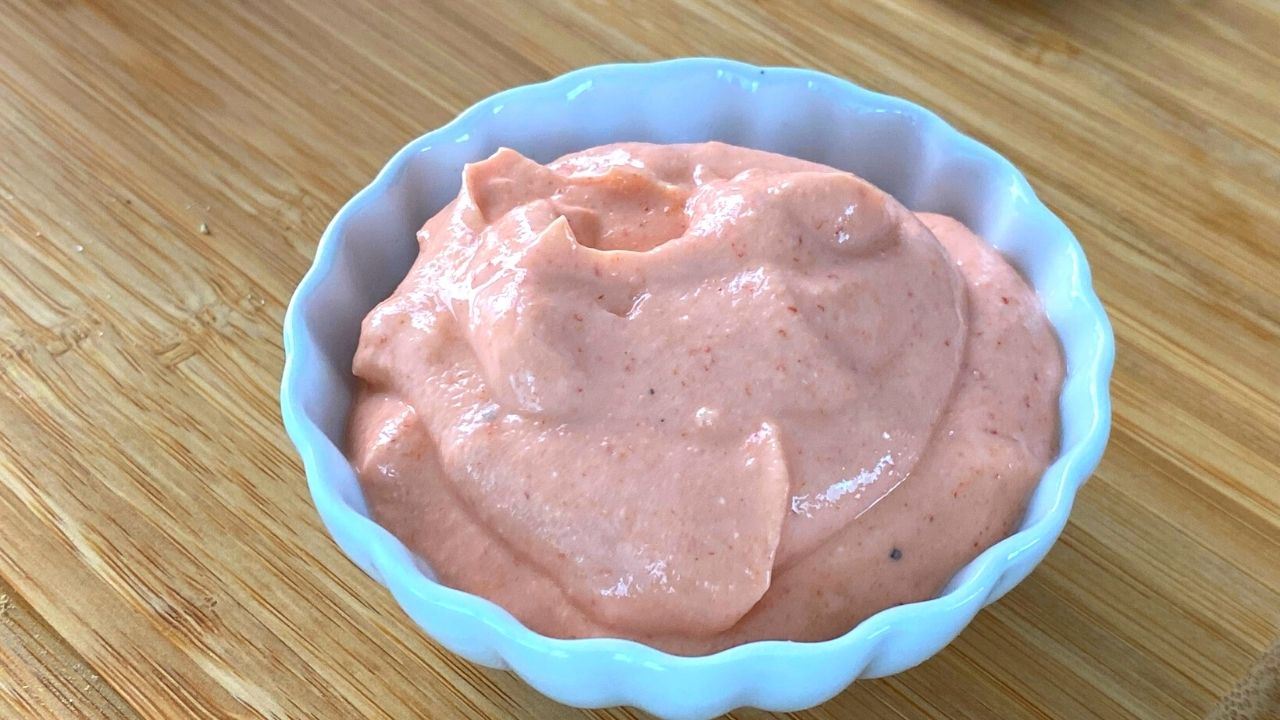 Ailoli is a fancy word for a sauce. Its base is made of olive oil and raw egg yolk. To that you add flavors like spices, garlic, lemon. This sauce is a great way to enhance the flavor of any dish. But there is one big issue that I see: it is high in calories. In this recipe I will show you how to transform sriracha aioli into a low calorie option.
You can buy prepared sriracha aioli in the store or make one from scratch. I have found many recipes online that simplify the process and use mayo as a base of the sauce. They are easy to make but mayonnaise has also tons of calories. I am going to change that.
For detailed video instructions visit the video:
What is Sriracha aioli made of?
Main ingredients are: sriracha sauce, mayonnaise or egg yolk and olive oil, vinegar.
Sriracha sauce is very low in calories but mayo is not. And that is the ingredients that I will replace for a lower calorie option like Greek yogurt.
How many calories are in Sriracha aioli?
There are 180 calories per 2 tablespoons in store bought sriracha aioli. Home made recipes that use mayo as a base will get similar caloric results because one tablespoon of mayo has 90 calories.
That is alot of calories considering most of us will not consume just one serving. The calories can add up very quickly when it comes to sauces.
How many calories in my low calorie Sriracha aioli?
This recipe has only 22 calories per 2 tablespoons. Which is a huge contrast to 180 calories in a store bought aioli. Because the main ingredient is yogurt, it also adds protein. And the flavor is just amazing!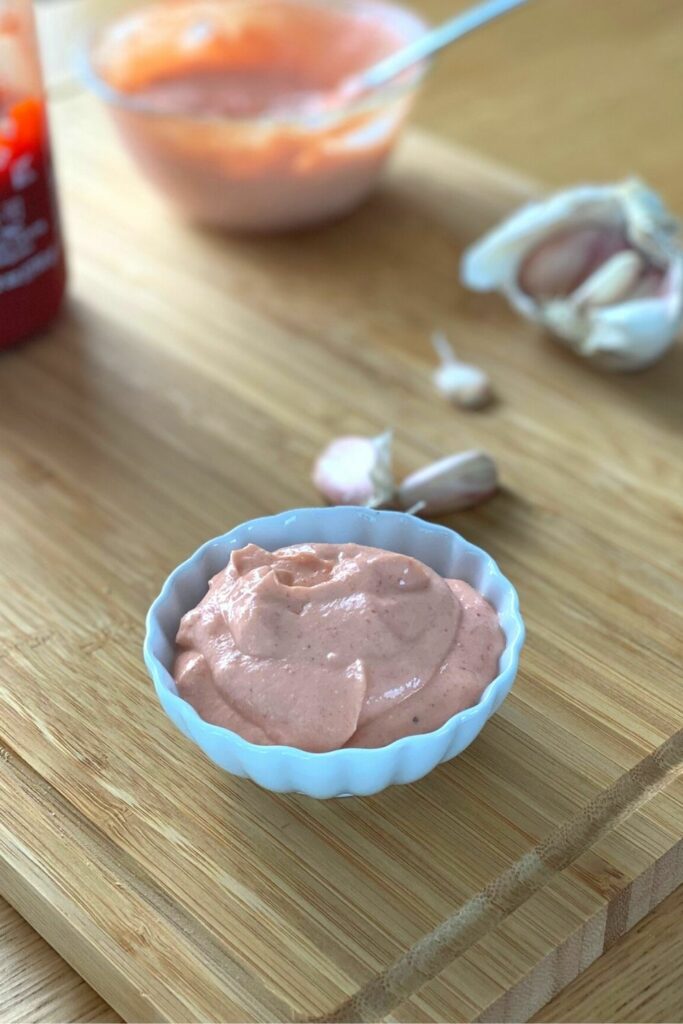 What do you eat Sriracha aioli with?
There are many ways you can eat sriracha aioli:
Wraps
Salads – use it as dressing
Hamburgers
Tacos
Dip for vegetables
Dip for fries
As a sauce for bowls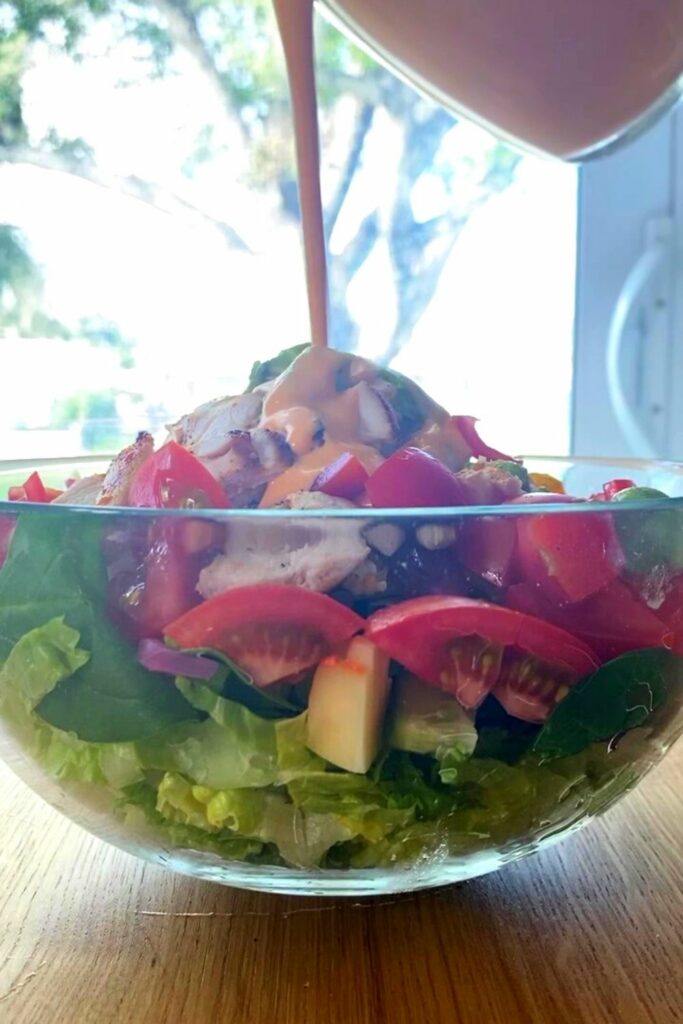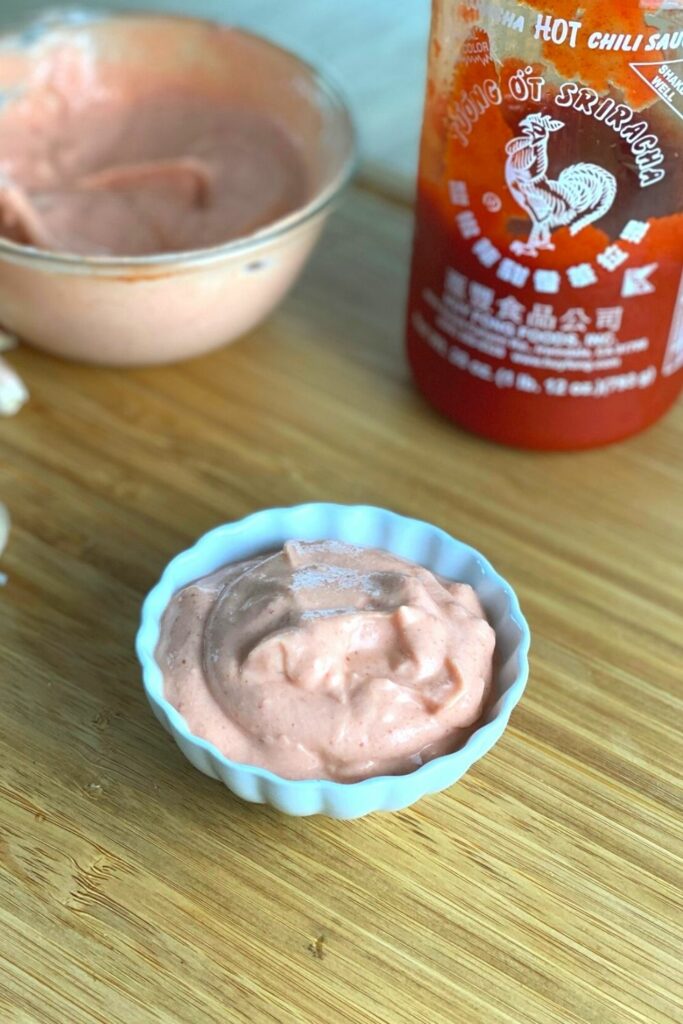 How to make low calorie sriracha aioli
You are going to need just 2 main ingredients:
Greek yogurt 5% – I use 5% fat yogurt because it adds creaminess to the recipe. I am replacing rich ingredients like mayo, or a combination of oil and yolks and I do want to preserve the flavor.
Sriracha sauce – I recommend using Huy Fung Foods sriracha. It is best tasting sriracha I have ever bought. Perfect balance of sweetness, sourness and spice with garlic flavor.
You can also add garlic, which I do very often. Also salt and pepper to taste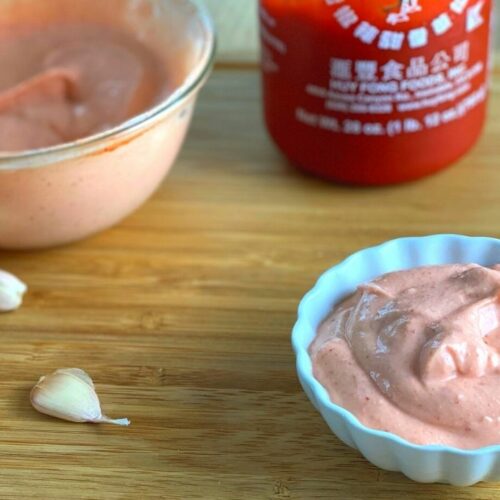 Low calorie Sriracha Aioli
This is a very simple and fast recipe to make. Only 2 ingredients. Very low in calories and high in protein. Add to your favorite dishes like bowls, wraps and salads
Ingredients  
100

g

5% fat Greek yogurt

30

g

Sriracha sauce

salt and pepper to taste
Instructions 
Put yogurt and sriracha sauce in a small mixing bowl and mix well

Taste it and season to your liking
---
---