High Protein Oat Pancakes – Out of this World!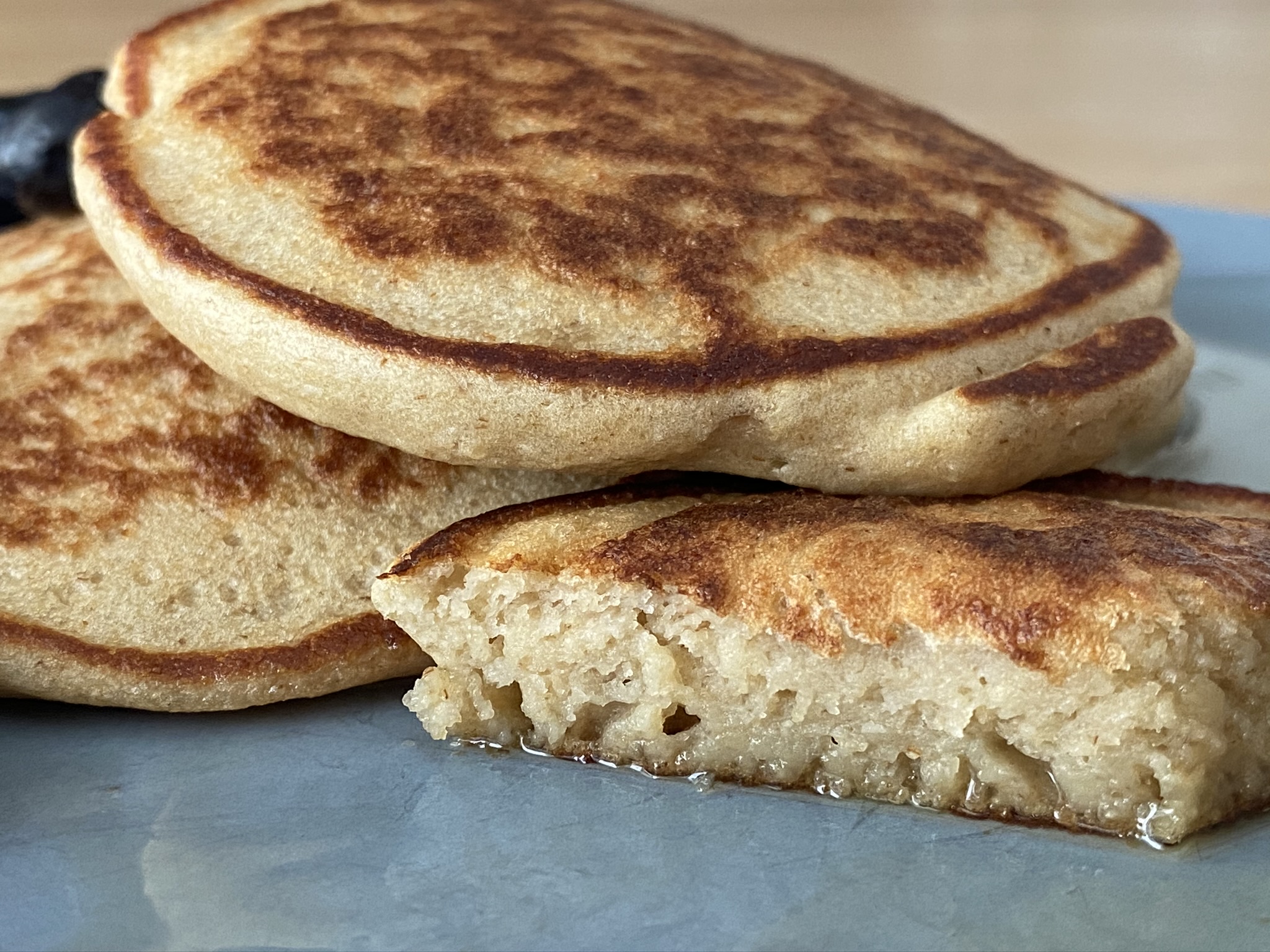 Oat pancakes anybody? Sounds healthy and for many that means not so tasty. But this recipe will blow your mind! If I can say so myself… you will like them better than the regular flour pancakes that also include substantial amount of butter and sugar. These oat pancakes include none of those ingredients.
Can you imagine eating pancakes every day?? I mean eating them guilt free and not ruining your healthy diet. I have been trying for a while to come up with oat pancakes recipes that would have enough protein in them so that make sense to replace oatmeal or an omelet. After few attempts that were not so great I finally found what I have been looking for.
Oh my! They look and taste better than regular pancakes. They are way more moist, more fragrant and more delicious. It is hard to imagine that – you just have to try them! I have to admit, every time I see pictures of these pancakes on my computer I just can't believe how great they look. There are only few ingredients and they do not include flour or sugar.
If you are tempted to use oat flour or grind the oats and add to the wet ingredients – it is not a good idea. I have tried that and the texture was not good at all. For some reason the blending old fashioned oats with all the wet ingredients and blending them well creates the perfect texture and truly delicious pancakes. For step by step instruction go to my YouTube channel and check Flourless Banana Oat Pancakes Recipe and High Protein Oat Pancakes videos.
I have made so far 2 different types of oat pancakes and I will share both of them with you.
Oat and Yogurt Pancakes
These oat pancakes are my most recent invention. And because they have the most protein and the least calories they are my favorite. I was able to use all my high protein ingredients such as greek yogurt and egg whites. It is truly amazing that from such bland ingredients (non fat yogurt) I was able to make these divine pancakes.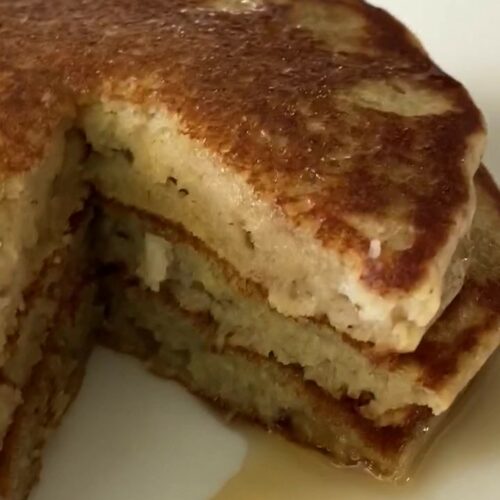 High Protein Oat Pancakes Recipe
This is a quick and easy recipe for best pancakes you will ever have. Prepare your ingredients and just blend them – the batter is ready to pan-fry. Low in calories, high in protein and amazingly tasty
Equipment
Nutribullet or another blender you have

pancake frying pan – any nonstick will do
Ingredients  
0.5

cup

old fashioned oats

41 g

1.5

oz

ripe banana (needs to be sweet enough)

2

oz

Non fat Greek Yogurt

I prefer Fage

3

tbsp

egg whites

45 g

0.5

tsp

baking powder

0.25

tsp

baking soda

pinch

salt

0.5

tsp

vanilla extract

optional
Instructions 
Put all ingredients into a blender and blend on high (make sure the batter is smooth)

Preheat a nonstick pan and butter it slightly

Pour pancake batter (you can divide batter and make small 4 pancakes)

Depending on size – cook for about 1 minute per side (when bubbles form they are ready to be flipped)
Notes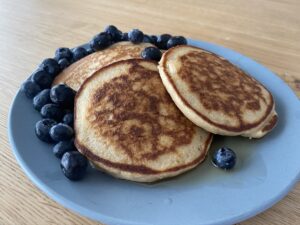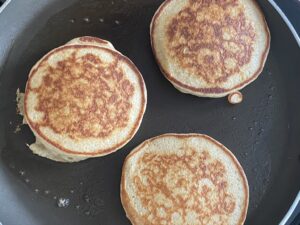 Pancakes with Cottage Cheese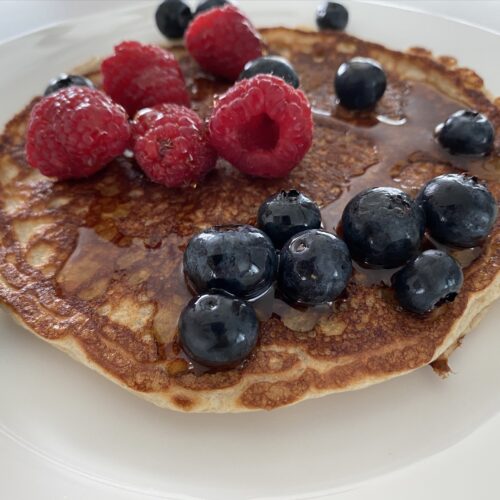 Oatmeal Pancakes with Cottage Cheese Recipe
No sugar added, no butter and no flour… and still tastes amazing! Cottage cheese adds protein and some texture, banana sweetens the batter and you get good and healthy pancake or pancakes – depends how many you want to make.
Equipment
Nutribullet or another blender you have

pancake frying pan – any nonstick will do
Ingredients  
0.5

cup

old fashioned oats

80

g

cottage cheese 2%

2

oz

banana

1

large

egg

0.25

tsp

baking powder

pinch

salt
Instructions 
Put all ingredients into a blender and blend on high (make sure the batter is smooth

Preheat a nonstick pan and butter it slightly

Pour pancake batter (you can divide batter and make small 4 pancakes)

Depending on size – cook for about 1 minute per side (when bubbles form they are ready to be flipped)
---
---