Low Calorie Bagels Recipe – High Protein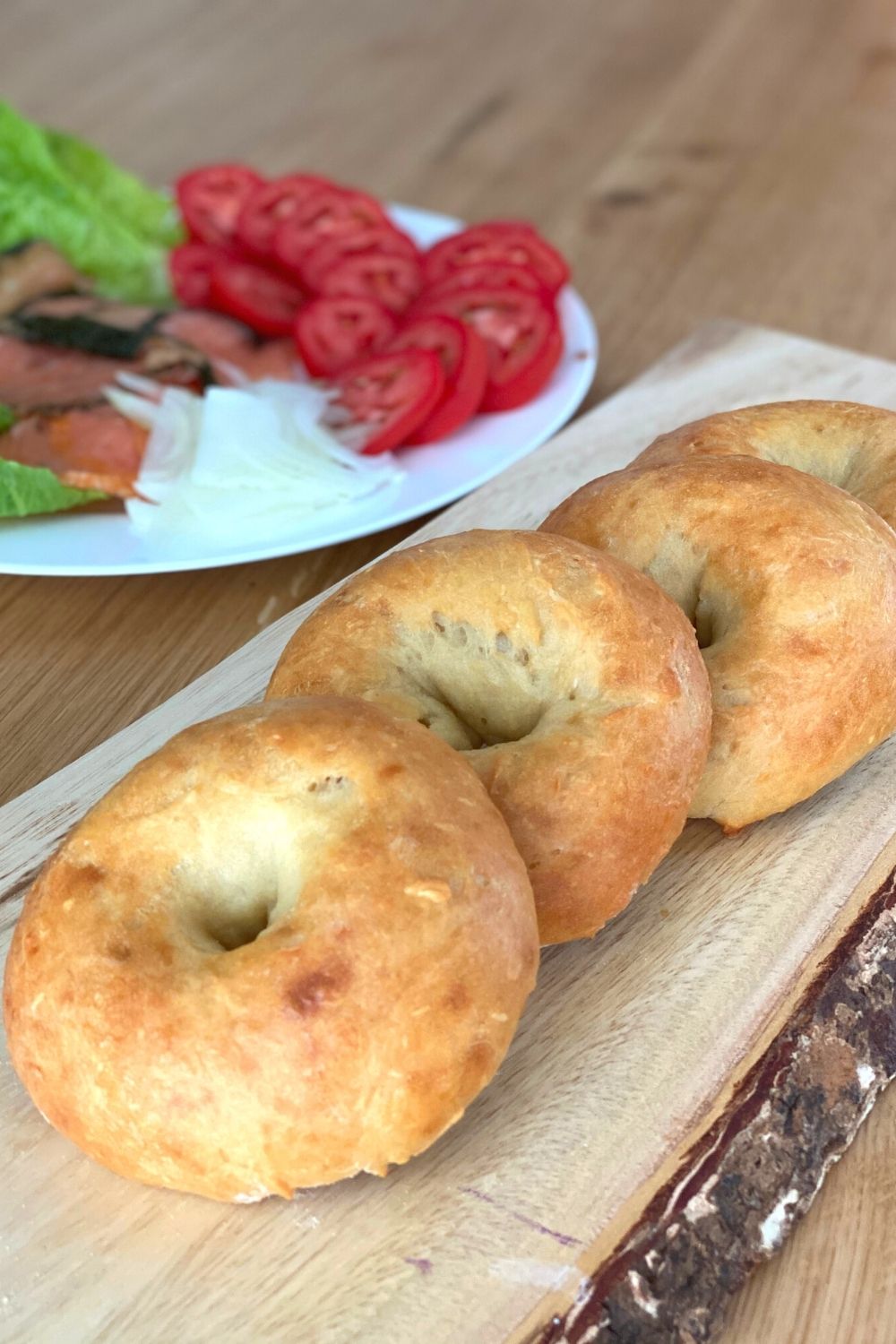 It is hard to find substitutions for certain foods when the original is so amazing and doesn't have that many ingredients. Breads are one of those foods for sure. I did not expect much from the bagels recipe that was circulating on so many social media platforms. I read the ingredients: flour? OK, yogurt? hmmm, interesting… low in calories and high in protein?? I should try them. And oh man! I am so thankful I did!
This low calorie bagels recipe should be called: 'I can't believe it's bagel'. I am glad I did make these bagels because they are amazing! I did make some changes to the original recipe (of course:).
Few things that I learned: First, make sure you do not forget to knead the dough. I did omit the step the first time I made them. They were good but the texture was not so great. Kneading the dough for these bagels is a crucial step. Second, make sure you bake them at the highest rack of your oven. They tend to get too crispy at the bottom if I bake them on the middle rack of the oven. And I prefer them lightly crispy all around:).
The dough gets very sticky when you handle it. Do not worry about it. You can continue adding flour while kneading to make it more manageable. If you are using an electric mixer you will probably not experience that. For step by step instruction and to witness my own mistakes while I was making the bagels for the first time, visit my YouTube bagels recipe video.
How do you make bagels less calories?
By mixing flour and non fat yogurt, you add volume to the flour for less calories and you are adding protein. This is a great little trick to make bagels that have less calories. Flour is what makes bagels so heavy in calories (with 110 calories for only 30 grams) and bagels are made mostly out of flour and water. Some recipes call for extra oil that adds to the calories tremendously.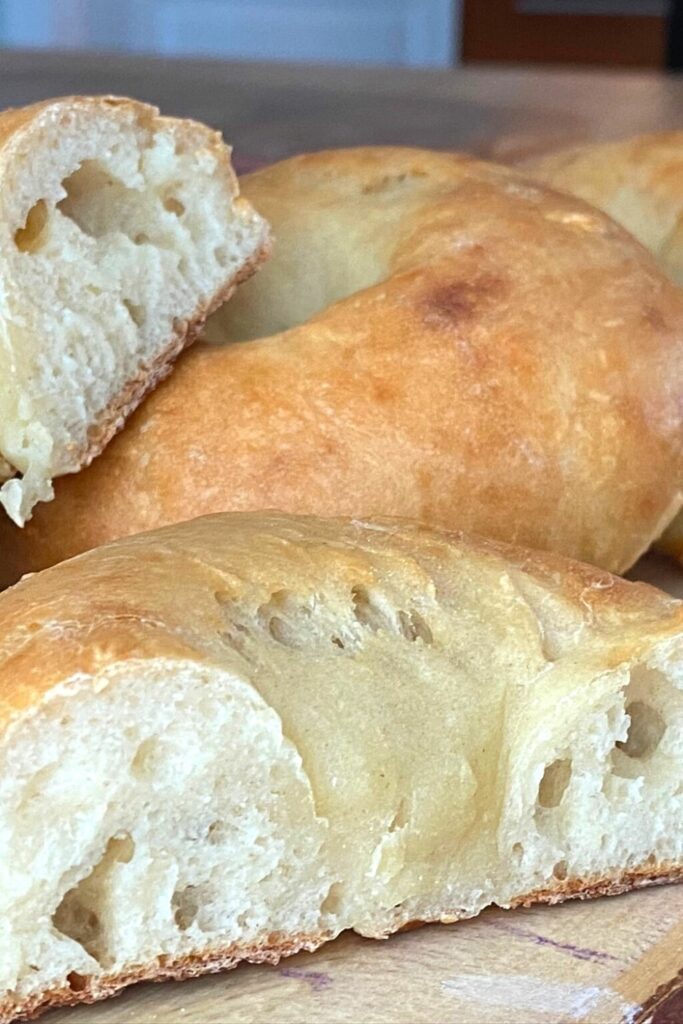 How many calories are homemade bagels versus these low calorie bagels?
Bagels usually have 210 plus calories per bagel, depending on the size. If you make them at home it is very easy to determine the amount calories per homemade bagel by weighing the flour and sugar before mixing the dough. The rest of ingredients are usually yeast, water, salt which have no calories. There are 110 calories per 30 grams of flour and 15 calories in 4 grams of sugar.
Once your dough is ready to portion into individual bagels, weigh each bagel to make sure they are similar in size. For example, if your recipe calls for 440 grams of flour and 20 grams of sugar, that is 1,710 calories per whole dough. If the recipe yields 8 bagels, that is 214 per bagel.

These low calorie bagels are 160 calories and 10 grams of protein per bagel. You can have them everyday and still be in your calorie budget, doesn't matter how low or high it is… well, if you care… But if you do not care it still won't hurt if you try them because they are so much easier and faster to make than regular bagels.
What is the healthiest thing to put on a bagel?
Eggs are a great thing to put on this bagel. Sunny side up, fried or poached, all are great options
Smoked salmon, tomato and onion
Avocado
Ham and low calorie cheese
Low sugar preserve or jam
Farmers cheese and green onions
Mozzarella, tomato and onion with balsamic glaze drizzle
Tuna Salad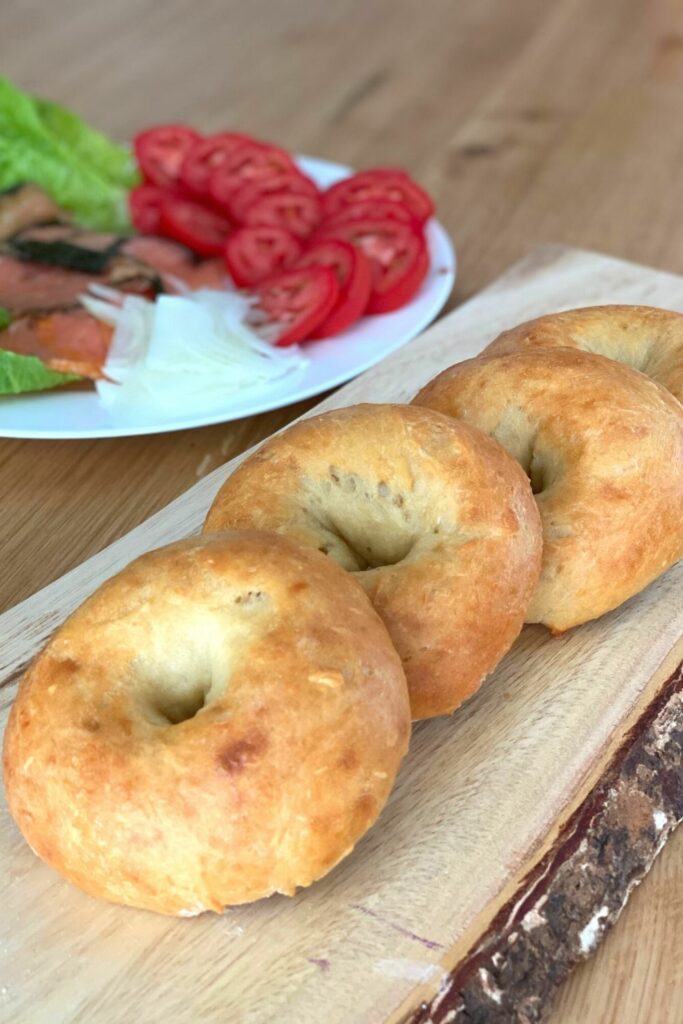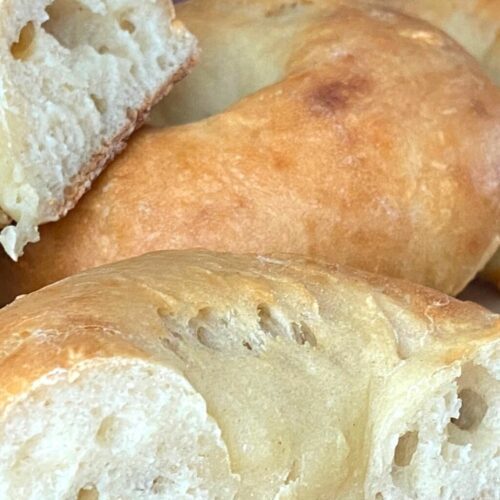 Low Calorie Bagels Recipe
These bagels are quick and easy to prepare. They are low in calories and high in protein. Most importantly these bagels taste sooo good!
Ingredients  
5

oz

All purpose flour

1

cup

Non fat Greek Yogurt (Fage)

1

large

egg

1

tsp

sea salt

2

tsp

baking powder

1

tsp

brown sugar
Instructions 
To a large bowl add flour

Add salt, baking powder, sugar and yogurt.

Add beaten egg reserving just a little bit for egg wash for the bagels

Combine all the ingredients well

Move the dough into well floured surface and knead for 5 minutes (you can also use electric mixer)

Roll each into a cylinder

Preheat the oven to 350 F. Line bagels onto baking sheet lined with silicone matt or parchment paper. Apply egg wash on bagels.

Bake on the highest rack of the oven for 20 – 25 minutes

They should look slightly browned
Video
GUILT FREE DESSERT RECIPES
NO BAKE YOGURT STRAWBERRY CHEESECAKE
COFFEE CHOCOLATE CHIP YOGURT ICE CREAM
*Links in this blog post are affiliate links, which means at no extra cost to you, I will make a small commission if you click them and make a qualifying purchase*
---
---