Polish Yeast Cake with Crumble Topping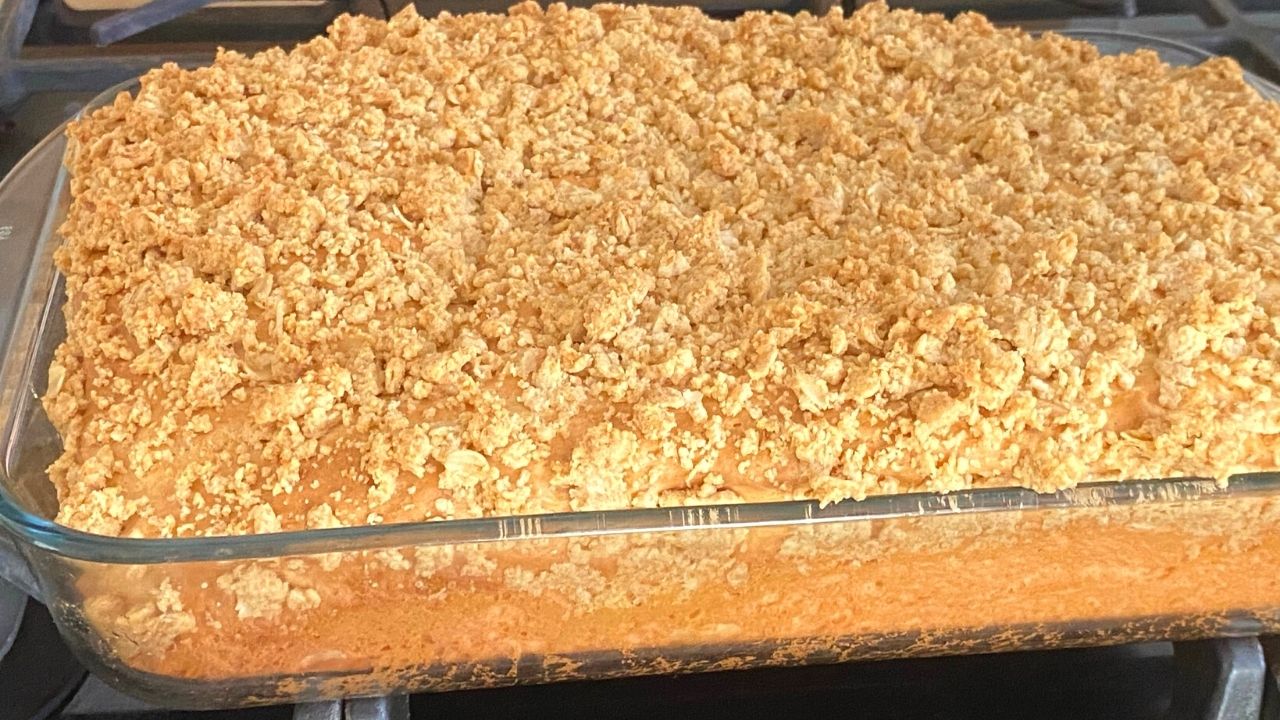 I decided to call this recipe a Yeast Cake but I am not 100% sure the name is adequate for what it actually is. This is my childhood dessert that my grandma used to make most Sundays and I only know it by Polish name: drożdżowiec. And in Poland we do not use as much sugar as I find in US desserts. Some type of breads in America are sweeter than this cake. My suggestion is: make this cake first the way it is and adjust sugar to your taste next time. If you make it and feel it is not sweet enough, this yeast cake goes well with all sort of jams, preserves and fruit sauces. You can also sprinkle more powdered sugar on top.
Where did my yeast cake come from
I personally love yeast dough desserts. Maybe because I grew up eating this type of dough, like the Blueberry Buns recipe. They are usually low in sugar and not too high in fat. It is definitely my comfort food.
I used to be scared of making yeast dough. It seemed complicated – watching my grandpa breaking sweat trying to knead the dough by hand was for sure a discouraging picture. Then the dough would rise for hours, rise after rise. And when it finally was ready for the bake I had to wait almost an hour to be ready while the aroma was all over the home. Then my grandma is not allowing me to eat it hot because it will cause a stomach ache (WHAT?!?!?). Yeah… I had never made that cake until now, when I am in my 40s.
I have wasted lots of time to realize that this cake is easy to make. Even if you over proof it or underproof it, or maybe you put too much flour and it came out dry, it is still good. You can use an electric mixer using a hook attachment to knead the dough, although I enjoy kneading it by hand and do it quite often. I live in a warm climate now so it takes less than 45 minutes for the rise and I let the cake rise again in the oven when I preheat it. All these shortcuts and cake comes out delicious.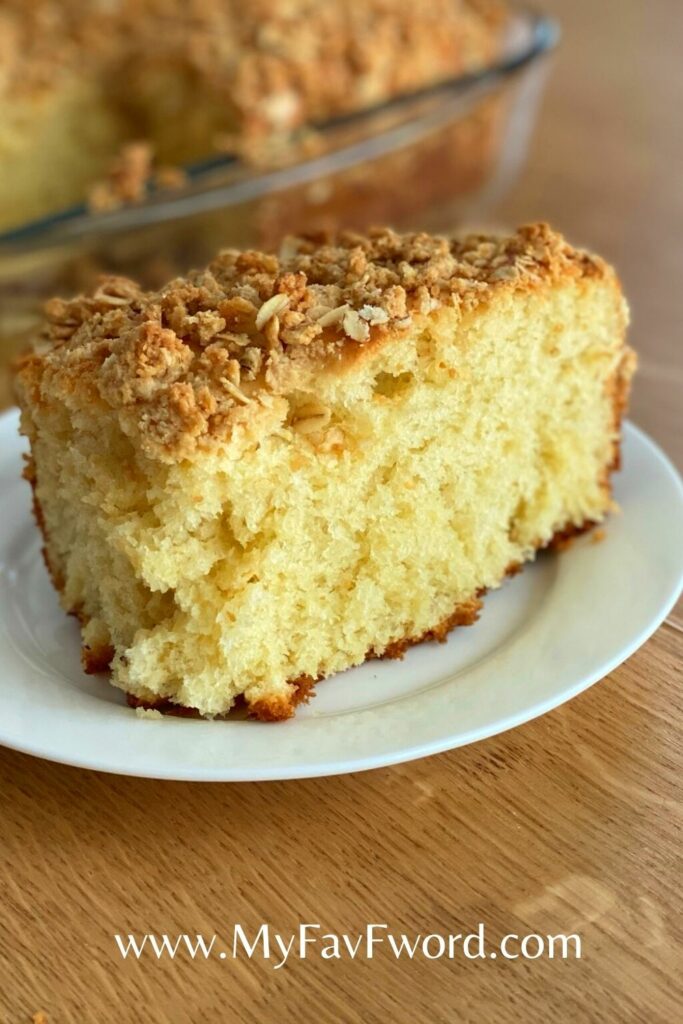 What is a yeast cake?
Yeast cake (drozdzowiec in Polish) is a soft lightly sweetened dough usually topped with crunchy crumble. You may also find recipes for yeast cake with fruit toppings like plums, berries, rhubarb. This cake is almost like a sweet bread that you can enjoy with coffee or for breakfast. It requires very few simple ingredients and it is very easy to make.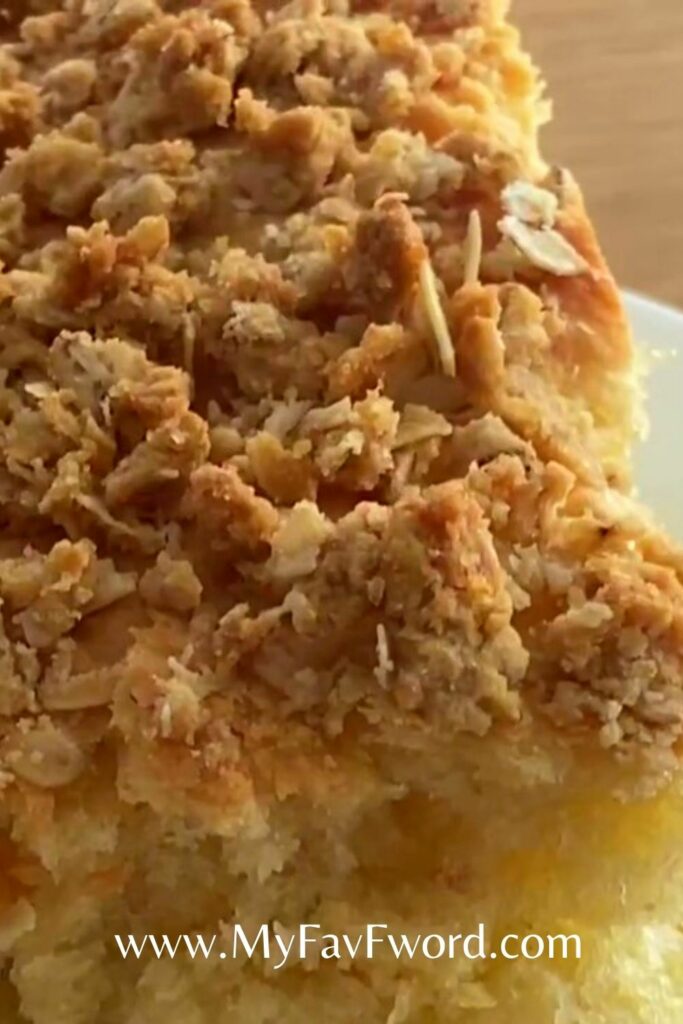 Is yeast cake healthy?
Although much lower in sugar than other dessert recipes, this yeast cake is just a treat. With 347 calories per serving you can enjoy it for breakfast but you might be hungry shortly after. Mostly because this cake is made with just all purpose flour, butter, eggs and sugar (eggs being the most nutritious ingredient). However, if you are looking for a better option for a dessert that is loaded with sugar and calories, this yeast cake will be a much better option.
What will you need to make this Polish Yeast Cake
All purpose flour
Eggs
Butter – I did reduce butter from original recipe
Sugar – also reduced
Yeast – you can use fresh or dry, either one works well and I tested that
Milk – I usually use 2% milk
Old fashioned oats – I like to add them to the crumble to improve texture and flavor, but you can use all purpose flour only
How to make Polish Yeast Cake
Prepare ingredients:
measure all ingredients, preferably by weighing them. If you do not have a food scale you can purchase one here. You do not have to spend too much money – a simple one will do
sift the flour
warm the milk to 115F
melt 6 tablespoons of butter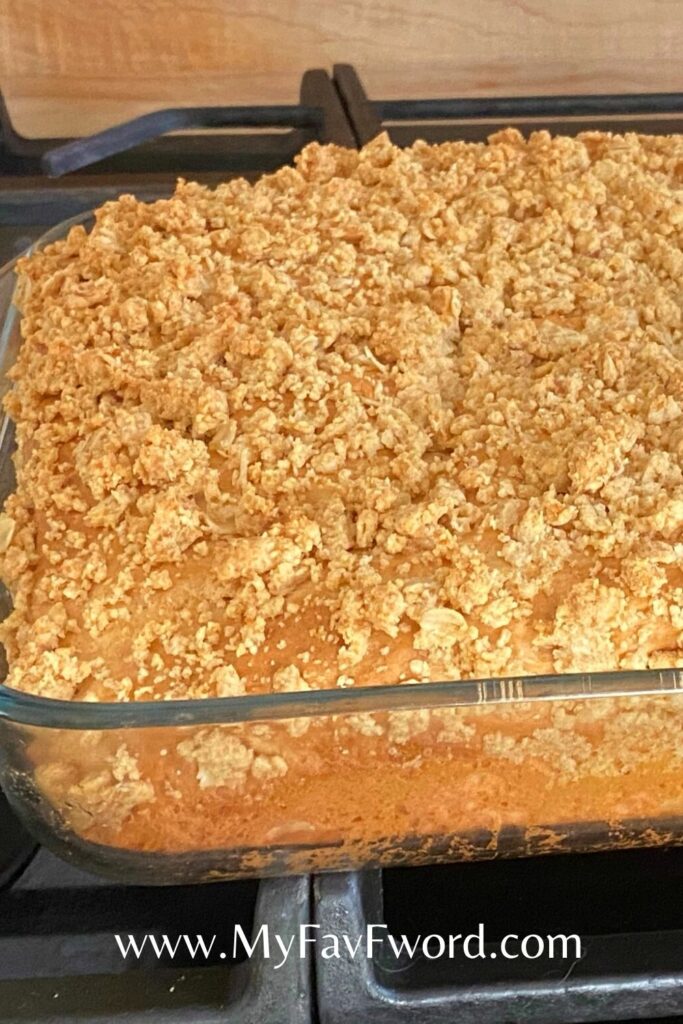 Prepare yeast starter by mixing warmed milk (115F) with yeast, sugar and a third of the sifted flour.
Whisk well and set it aside to rise for about 15 – 20 minutes. The yeast will start growing and bubbles will form.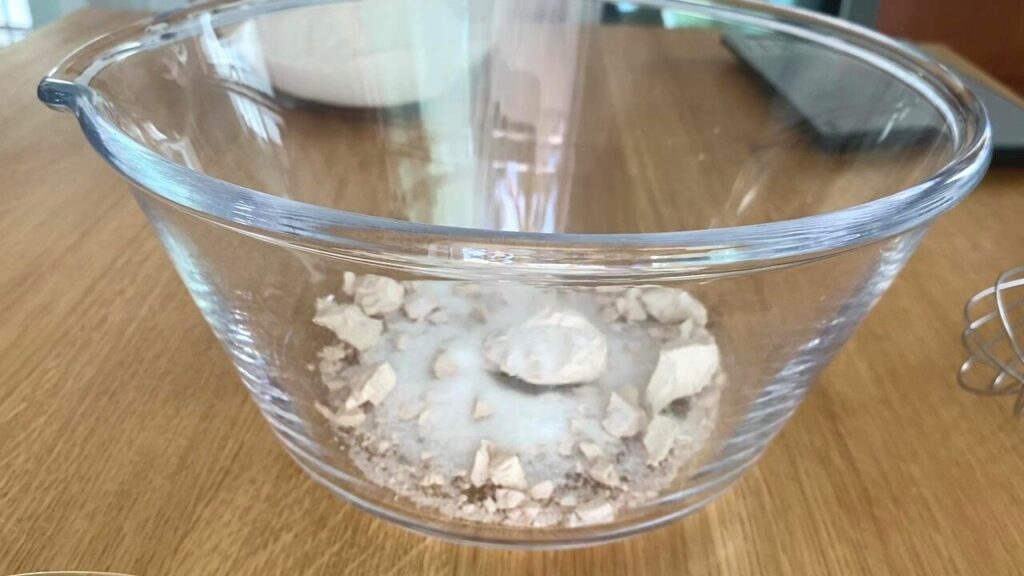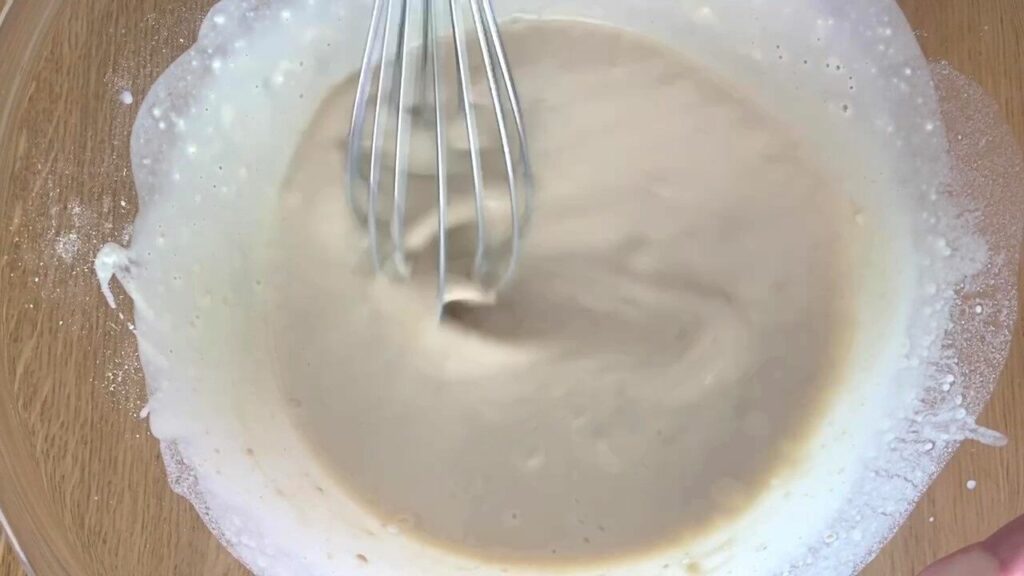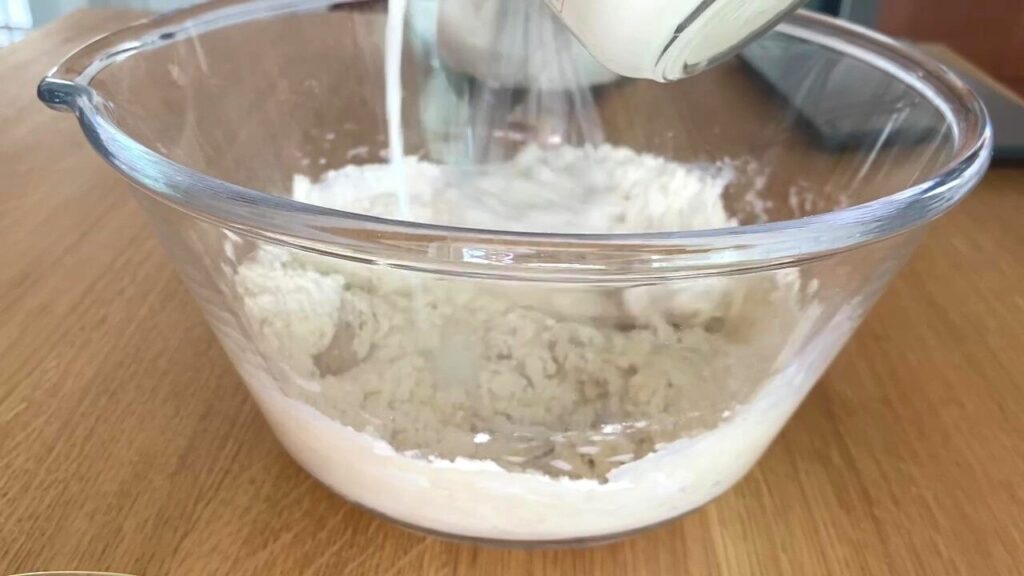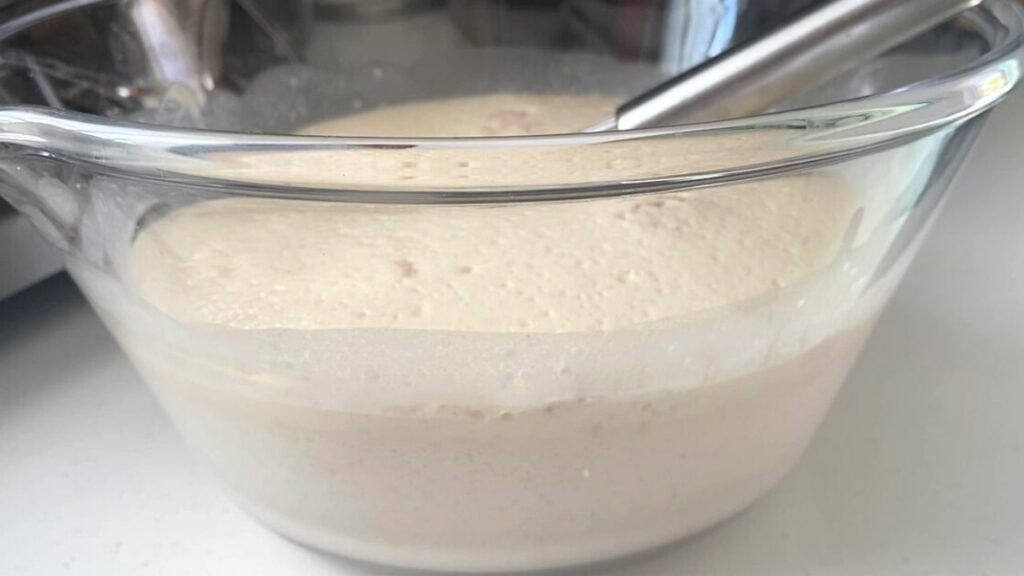 Add eggs and remaining sugar and mix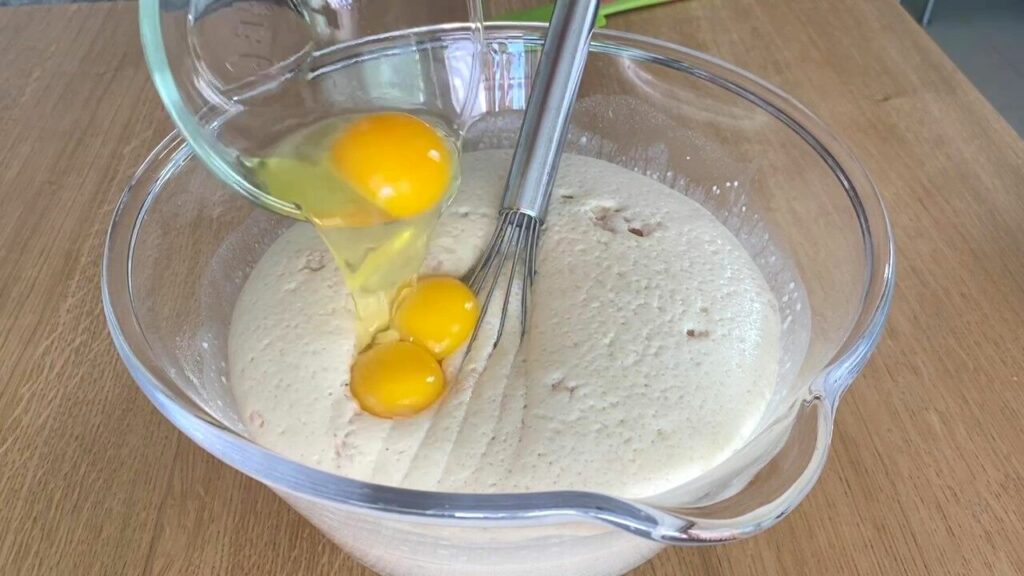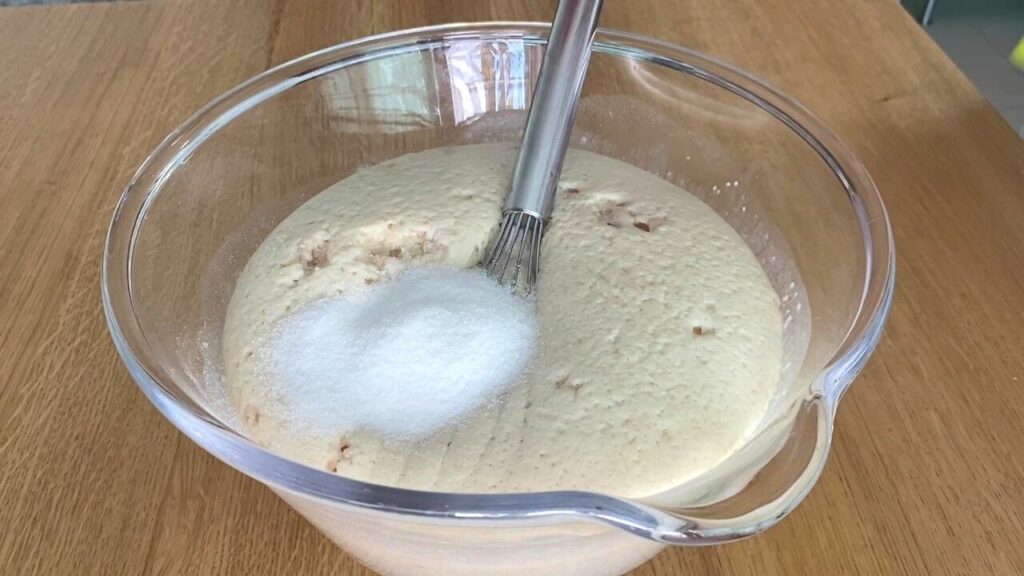 Add flour in batches.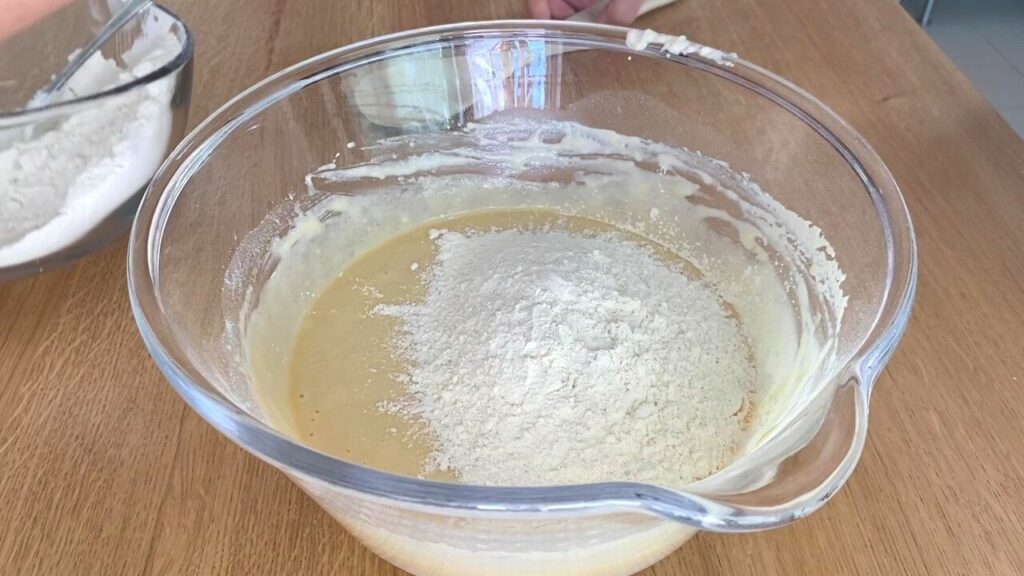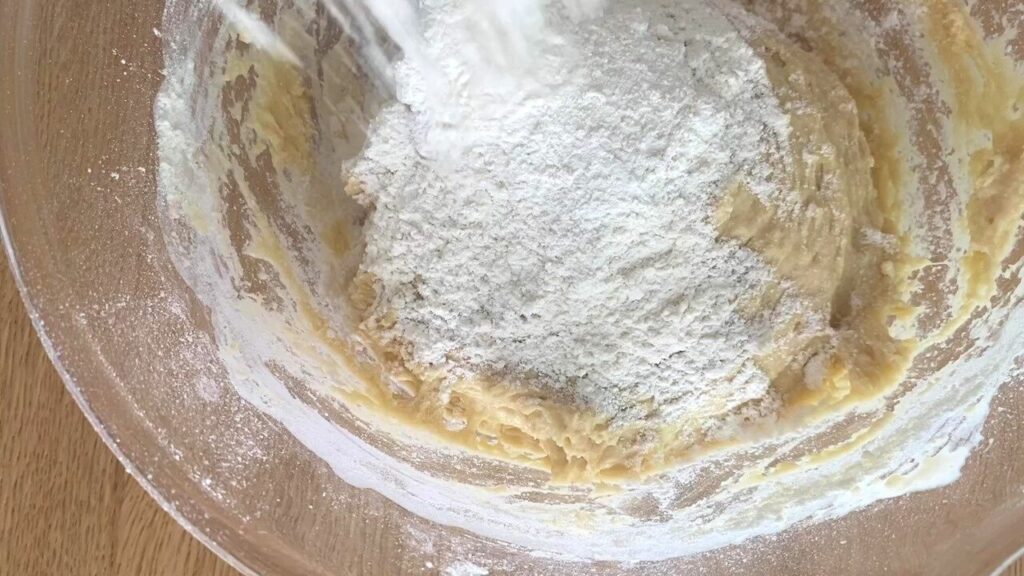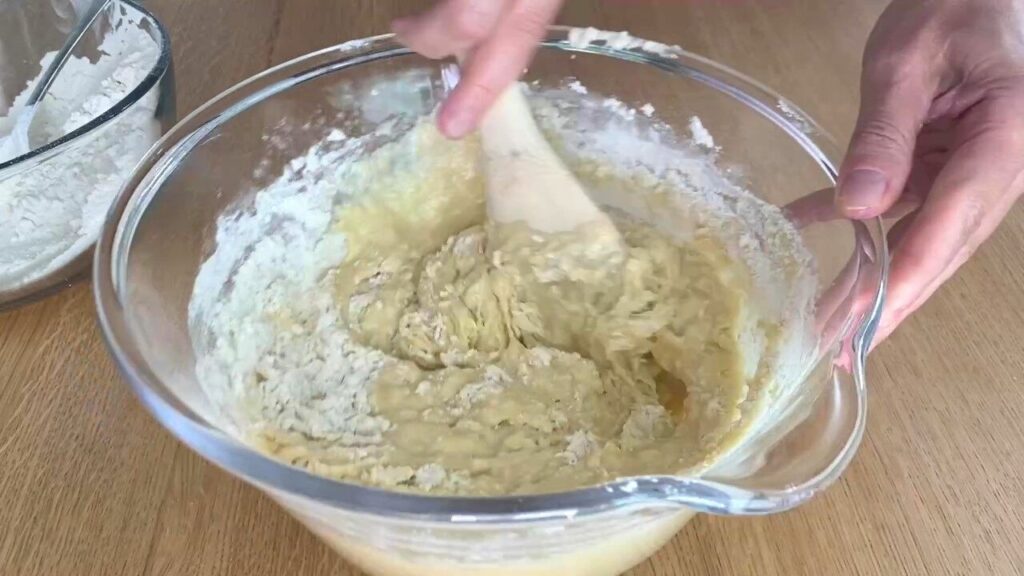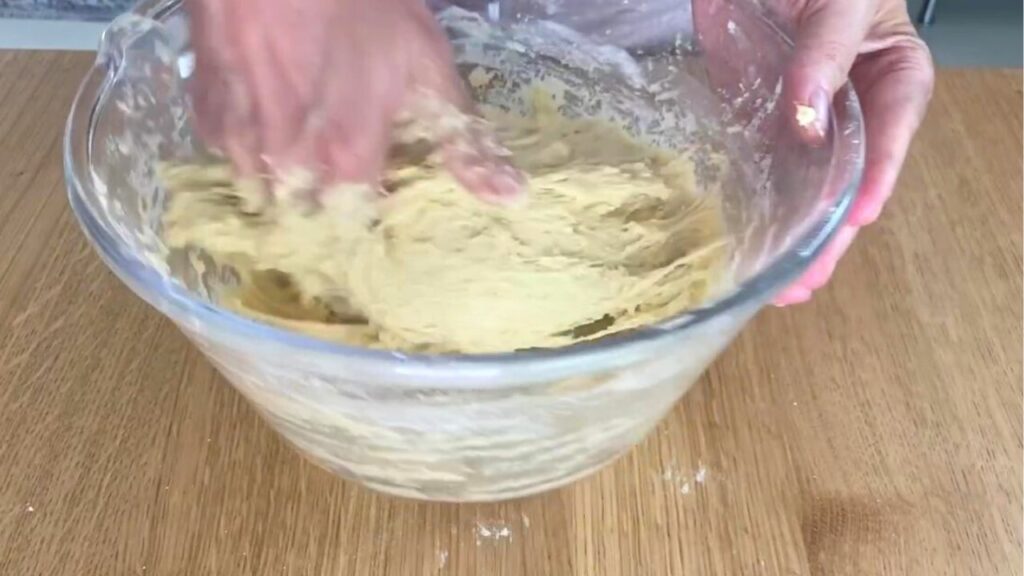 By adding flour in batches, I make sure I do not add too much flour. I do not want the dough to become tough. The dough needs to still be a but sticky and easy to knead.
Add melted and cooled butter.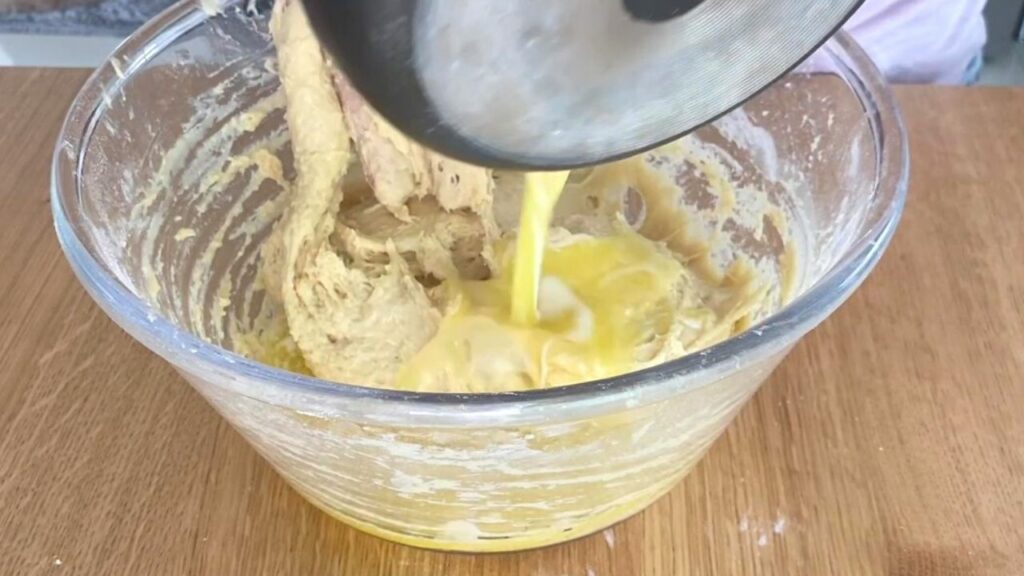 Knead by hand or mixer with a hook attachment until the dough is smooth and comes off your hand.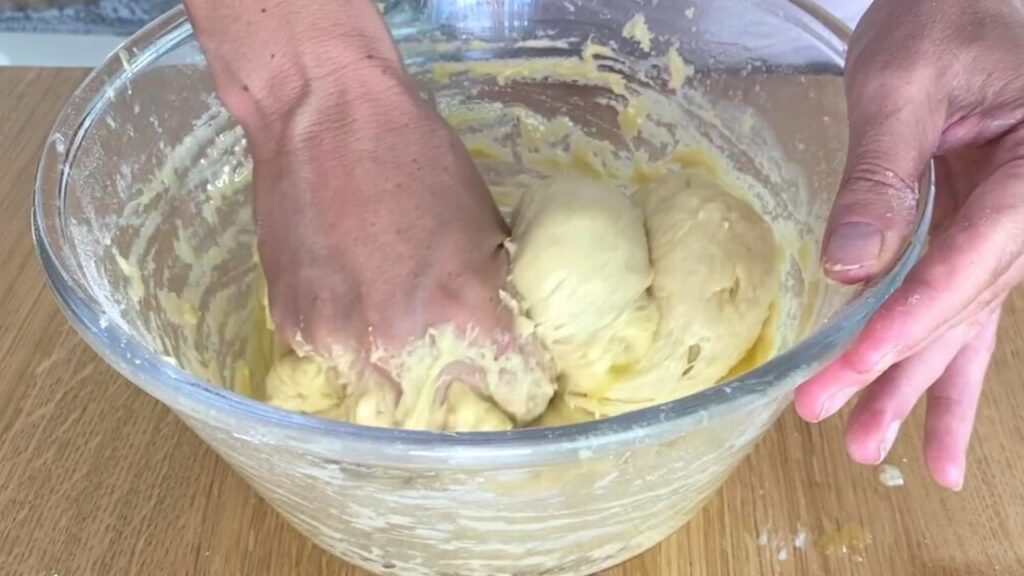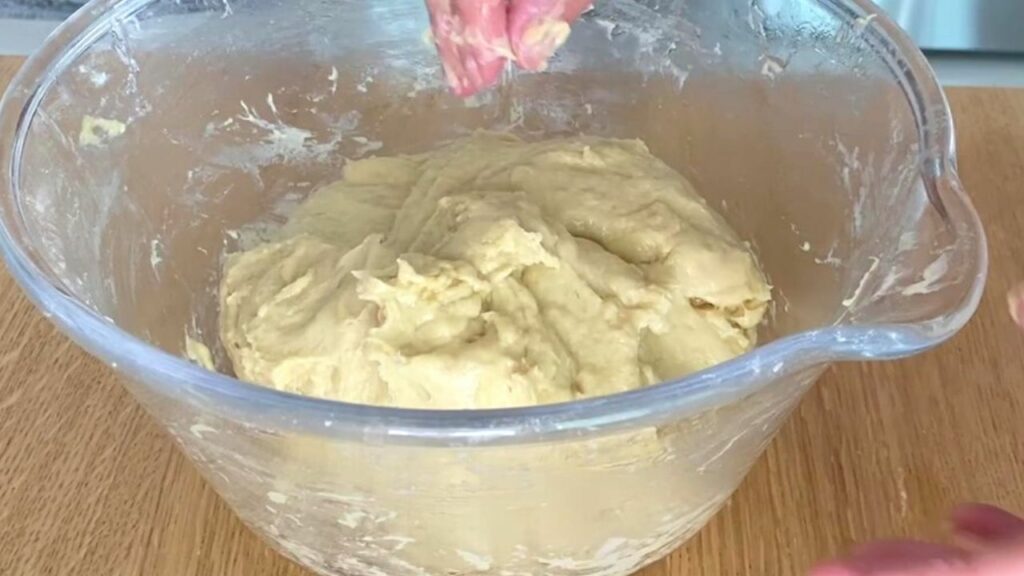 Cover the bowl with a clean towel or plastic wrap and let it rise until it doubles in size. It usually takes 45 minutes but the time will vary depending on the climate you live in, how warm your home is. I live in warm South Florida and yeast dough doubles in size in my home pretty quickly. So, do not be alarmed if in 45 minutes your dough is not ready yet.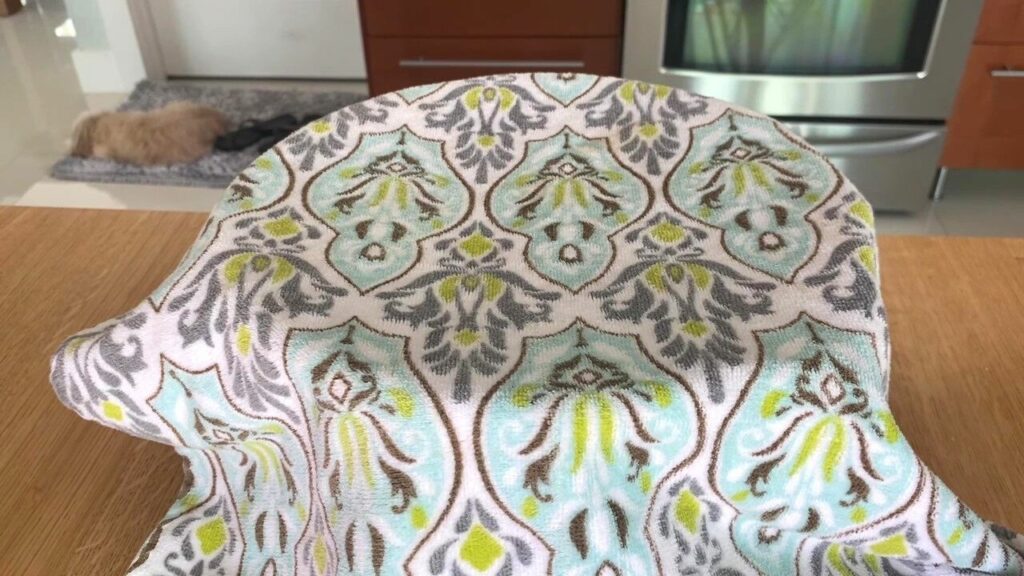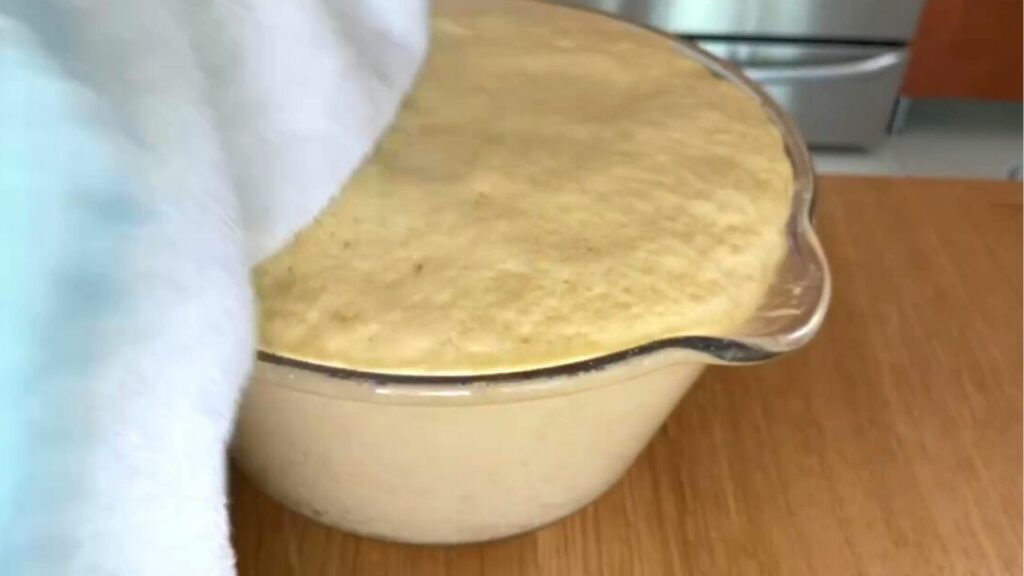 Spread the dough into a well greased baking dish (9 by 13 inch)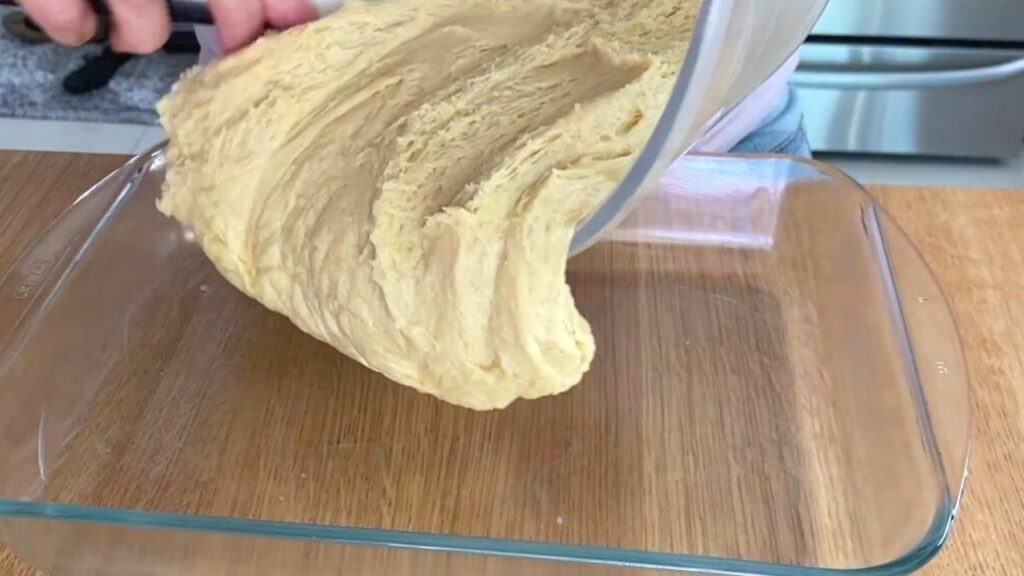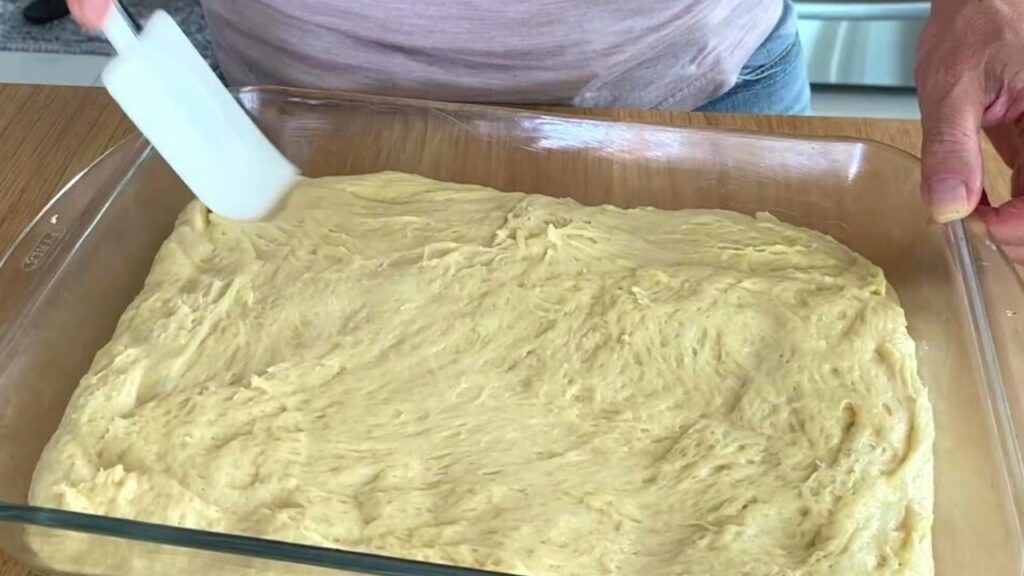 Prepare crumble by mixing softened butter, flour, sugar and oats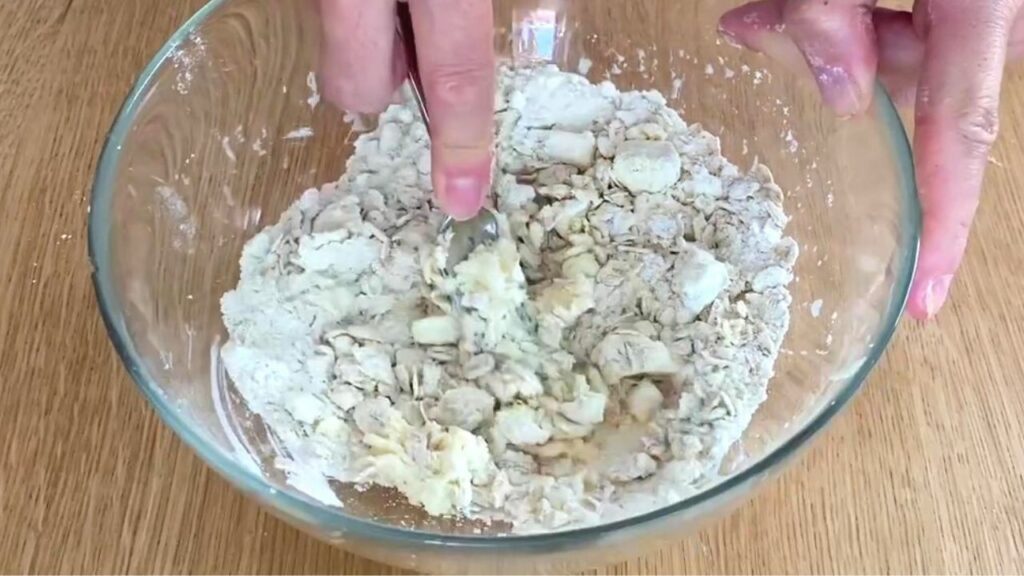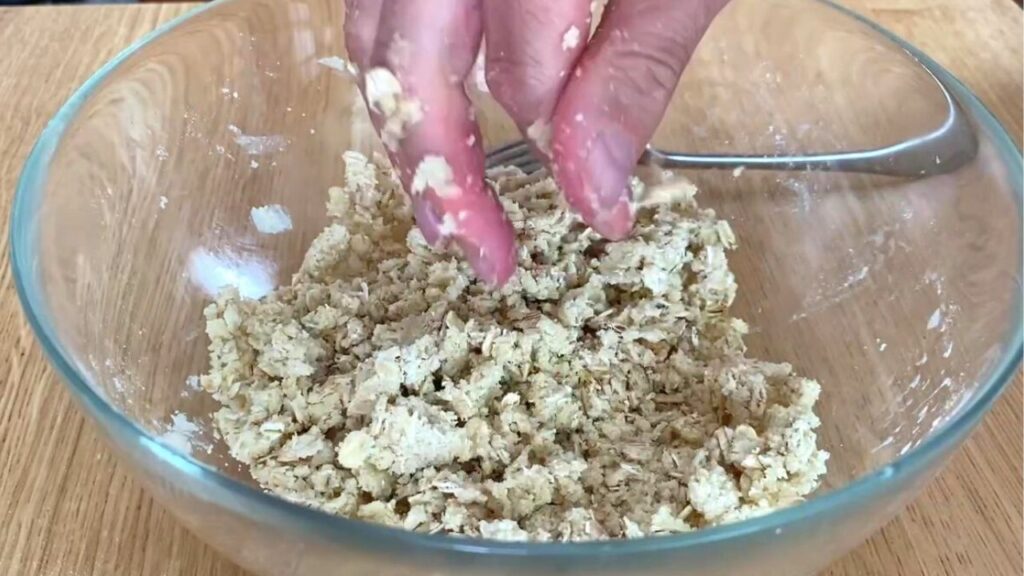 Spread the crumble topping over the dough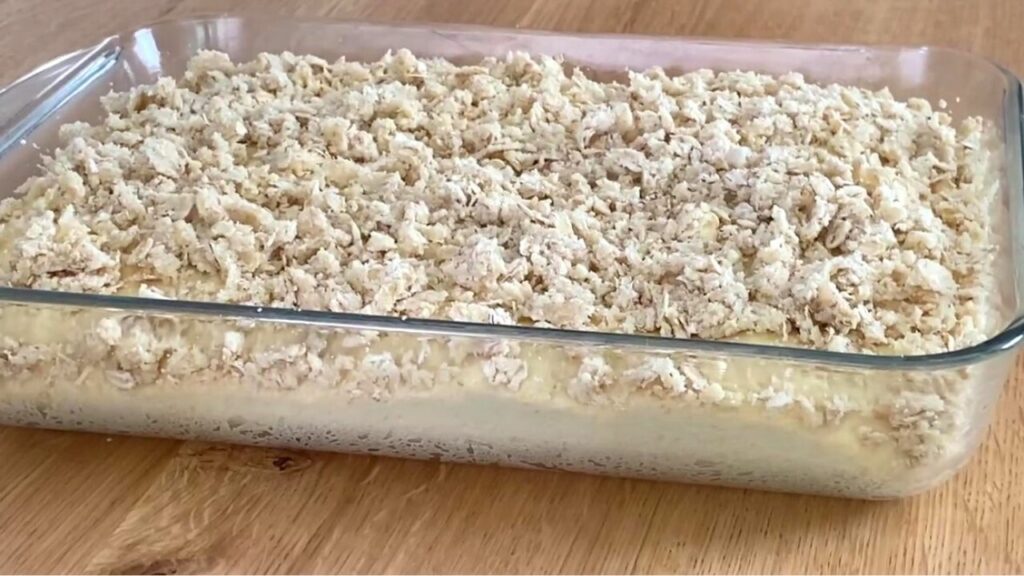 Bake at 335 F for 30 – 40 minutes. The time and temperature may vary depending on your oven. You may have to dial it in like I had to. If the temperature is too high the cake will come out dark and dry. So when you bake it for the first time, make sure to keep an eye on it while baking.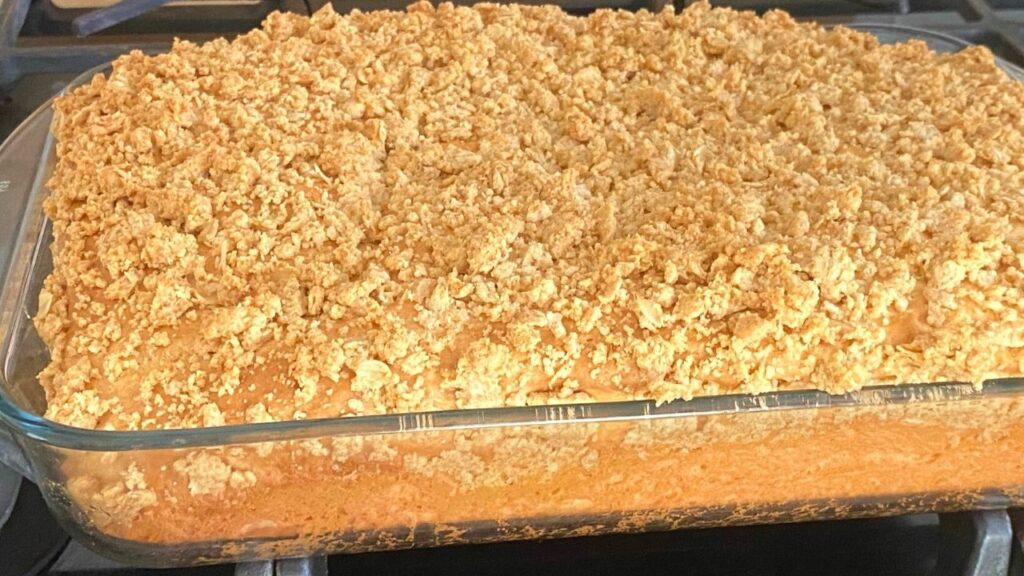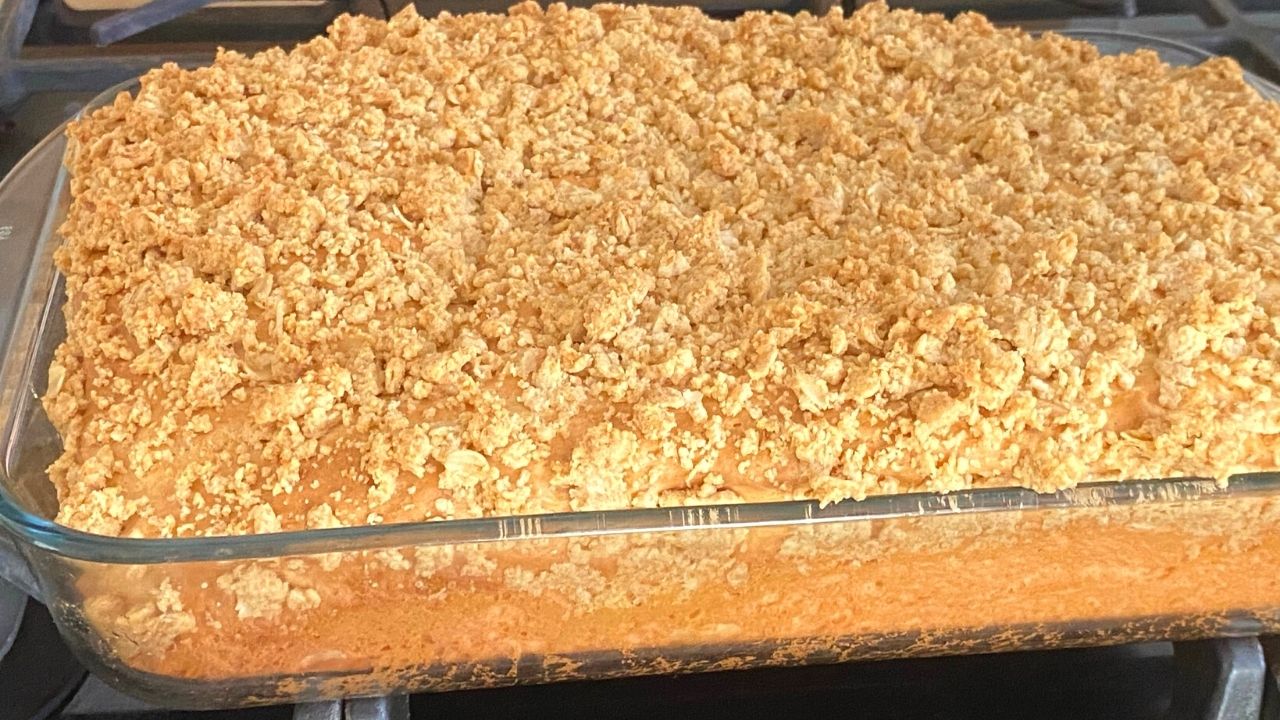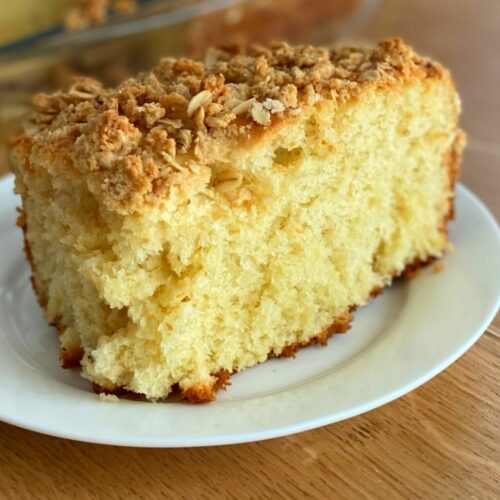 Polish Yeast Cake with Crumble Topping
Yeast dough can be time consuming but is very easy to make and requires very few ingredients and you probably have in your fridge. You can make it with fresh or dry yeast. You can also top it with fruit for even more flavor.
Ingredients  
500

g

All Purpose Flour

about 4 cups

50

g

fresh yeast or 16 g dry yeast

1

large

whole egg

2

large

egg yolks

125

g

sugar

1.5 oz

260

g

warm milk (I used 2% milk)

9 oz

85

g

melted butter

3 oz
Crumble
41

g

old fashioned oats

0.5 cup

60

g

all purpose flour

0.5 cup

40

g

sugar

1.5 oz
Instructions 
Prepare yeast starter by mixing warmed milk (115F) with yeast, sugar and a third of the sifted flour

Whisk well and set it aside to rise for about 15 – 20 minutes. The yeast will start growing and bubbles will form.

Add eggs and remaining sugar and mix

By adding flour in batches, I make sure I do not add too much flour. I do not want the dough to become tough. The dough needs to still be a but sticky and easy to knead

Add melted and cooled butter

Knead by hand or mixer with a hook attachment until the dough is smooth and comes off your hand

Cover the bowl with a clean towel or plastic wrap and let it rise until it doubles in size. It usually takes 45 minutes but the time will vary depending on the climate you live in, how warm your home is. I live in warm South Florida and yeast dough doubles in size in my home pretty quickly. So, do not be alarmed if in 45 minutes your dough is not ready yet

Spread the dough into a well greased baking dish (9 by 13 inch)

Prepare crumble by mixing softened butter, flour, sugar and oats

Spread the crumble topping over the dough

Bake at 335 F for 30 – 40 minutes. The time and temperature may vary depending on your oven. You may have to dial it in like I had to. If the temperature is too high the cake will come out dark and dry. So when you bake it for the first time, make sure to keep an eye on it while baking
*Links in this blog post are affiliate links, which means at no extra cost to you, I will make a small commission if you click them and make a qualifying purchase*
---
---